Press Pass readies NSCC promotional cards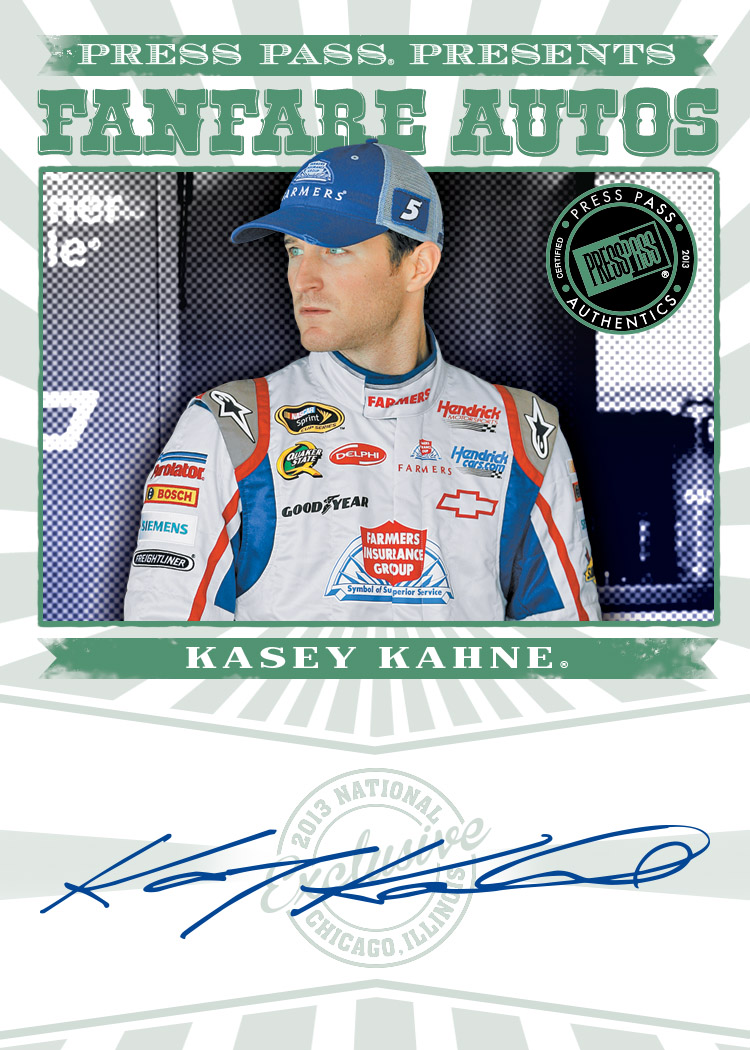 By Chris Olds | Beckett Sports Card Monthly Editor
Press Pass will be back in action at the National Sports Collectors Convention next month in Chicago with a pair of promotions available to collectors.
One will be a set only available to those who opt for the VIP ticket package, while the other will be a wrapper redemption program.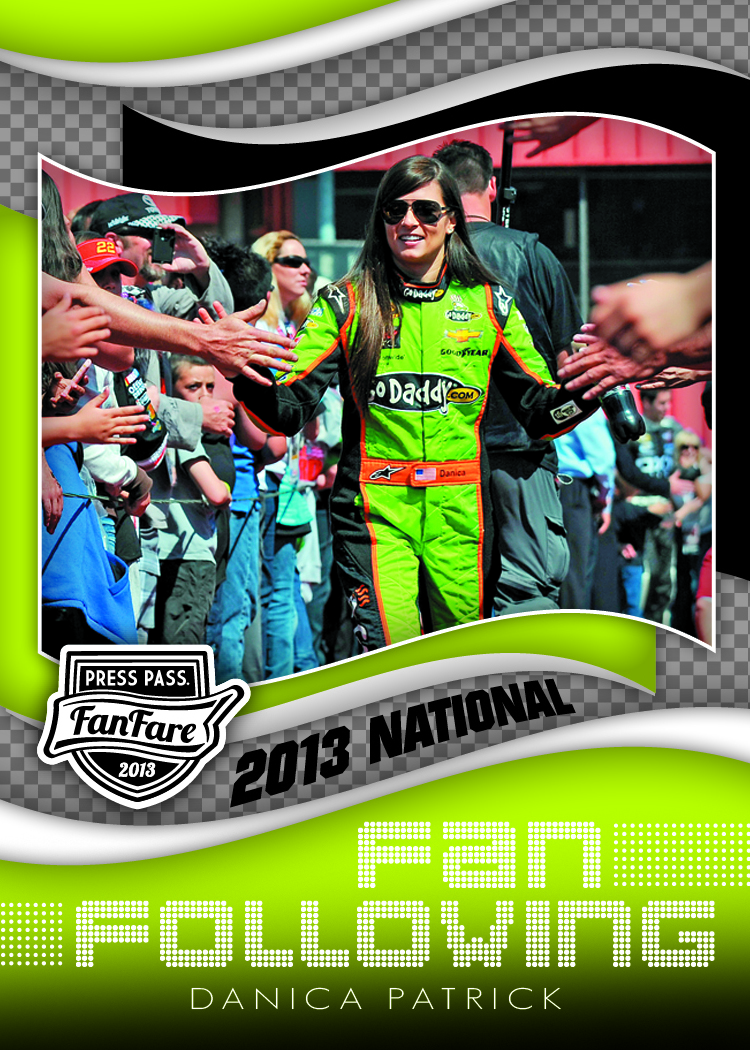 The VIP set will consist of five National-branded Fan Following cards printed on foilboard. Drivers there will include Danica Patrick, Dale Earnhardt Jr., Jeff Gordon, Tony Stewart and Jimmie Johnson.
The wrapper redemption will be for Mystery Packs, which will include a Press Pass Fanfare card limited to 10 or fewer copies made exclusively for the show along with a parallel card limited to just three. The autographs will be from 50 drivers and include the likes of Patrick, Earnhardt, Gordon, Johnson and Stewart.
Packs will be available to anyone who buys a box of 2013 Press Pass racing products on the show floor. The eligible products include 2013 Press Pass, Total Memorabilia, Ignite, Redline and Fanfare.
Update: The participating dealers include:
Dave & Adams #638
Steel City #636
Blowout #836
Chicagoland #448
Redman's Dugout #538
Marty's Sportscards #528
Chris Olds is the editor of Beckett Baseball magazine. Have a comment, question or idea? Send an email to him at colds@beckett.com. Follow him on Twitter by clicking here.
---
Autograph checklist
FFA-AA Aric Almirola NSCS
FFA-MA Marcos Ambrose NSCS
FFA-TB Trevor Bayne NSCS
FFA-GB Greg Biffle NSCS
FFA-CB Clint Bowyer NSCS
FFA-KUB Kurt Busch NSCS
FFA-KYB Kyle Busch NSCS
FFA-DEJ Dale Earnhardt Jr. NSCS
FFA-CE Carl Edwards NSCS
FFA-JG Jeff Gordon NSCS
FFA-DH Denny Hamlin NSCS
FFA-KH Kevin Harvick NSCS
FFA-JJ Jimmie Johnson NSCS
FFA-KK Kasey Kahne NSCS
FFA-MK Matt Kenseth NSCS
FFA-TK Travis Kvapil NSCS
FFA-JL Joey Logano NSCS
FFA-MM Mark Martin NSCS
FFA-MM2 Michael McDowell NSCS
FFA-JM Jamie McMurray NSCS
FFA-CM Casey Mears NSCS
FFA-PM Paul Menard NSCS
FFA-JPM Juan Pablo Montoya NSCS
FFA-RN Ryan Newman NSCS
FFA-DP Danica Patrick NSCS
FFA-DR David Ragan NSCS
FFA-DR2 David Reutimann NSCS
FFA-SS Scott Speed NSCS
FFA-RSJ Ricky Stenhouse, Jr. NSCS
FFA-TS Tony Stewart NSCS
FFA-DS David Stremme NSCS
FFA-MTJ Martin Truex Jr. NSCS
FFA-MW Michael Waltrip NSCS
FFA-JW Josh Wise NSCS
FFA-JA Justin Allgaier NNS
FFA-TB2 Trevor Bayne NNS
FFA-AD Austin Dillon NNS
FFA-TD Ty Dillon NNS
FFA-JE Jeffrey Earnhardt NNS
FFA-SHJ Sam Hornish Jr NNS
FFA-PK Parker Kligerman NNS
FFA-KL Kyle Larson NNS
FFA-JL2 Johanna Long NNS
FFA-HM Hal Martin NNS
FFA-TP Travis Pastrana NNS
FFA-NPJ Nelson Piquet Jr NNS
FFA-ES Elliott Sadler NNS
FFA-RS2 Regan Smith NNS
FFA-BS2 Brad Sweet NNS
FFA-BV Brian Vickers NNS
FFA-RB Ryan Blaney NCWTS
FFA-JB2 James Buescher NCWTS
FFA-JB3 Jeb Burton NCWTS
FFA-JJC Jennifer Jo Cobb NCWTS
FFA-BG Brendan Gaughan NCWTS
FFA-BN Brennan Newberry NCWTS
FFA-MP Miguel Paludo NCWTS
YG-DK Dylan Kwasniewski Young Guns
YG-AB Annabeth Barnes Young Guns
YG-BR Ben Rhodes Young Guns
YG-MB Mackena Bell Young Guns
YG-AD Austin Dyne Young Guns