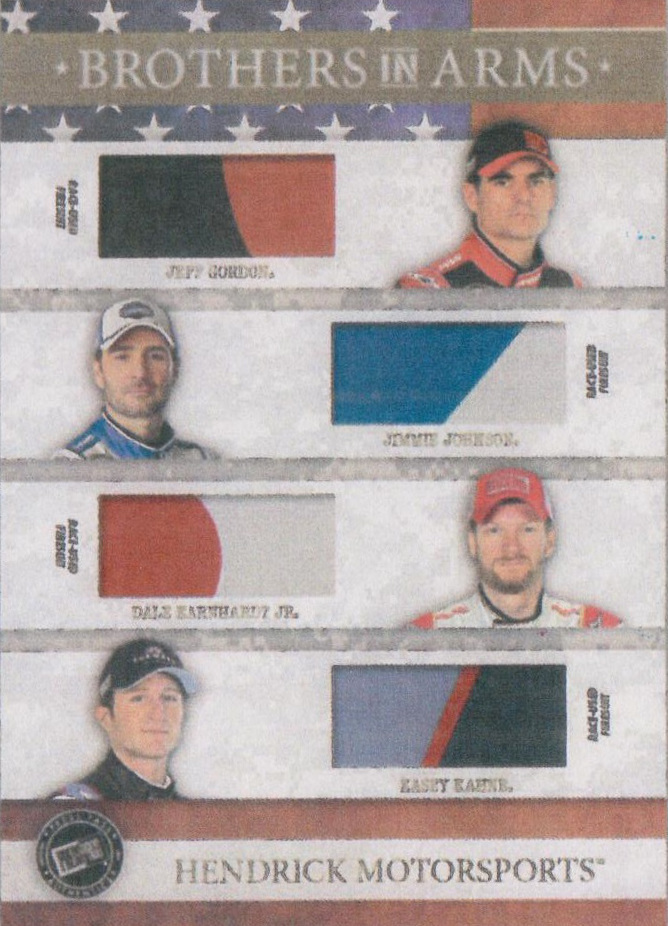 By Susan Lulgjuraj | Beckett Sports Card Monthly Editor
The Press Pass racing calendar will be smaller.
The preliminary schedule includes just six products on the upcoming calendar, putting out a racing product every other month.
The Press Pass racing schedule is as follow (subject to change):
American Thunder: May 14
Redline: July 23
Cup Chase (Showbound): Sept. 10
Press Pass 2015: Nov. 19
Total Memorabilia: Jan. 14
Legends: March 11
American Thunder
This new set will feature three hits with one autograph and two memorabilia cards in every box. This will be the first set that will use the new 2014 sponsors, teams and uniforms.
The set will include Brothers in Arms autographs and memorabilia parallels.
Also, look for a 10-card insert that highlights the 50th anniversary of Richard Petty's first Daytona 500 win. American Thunder will also feature Rookie Cards of Austin Dillon, Kyle Larson, Ryan Truex and five other drivers.
Redline Racing
Redline Racing will have five hits (two autos, three memorabilia) in every box.
Each box will have at least one autographed relic and multi-swatch relic card from a top NASCAR driver.
Redline Racing will feature Cup, Nationwide, Truck and Legends drivers, creating one of the most comprehensive sets of the year for Press Pass. Short-printed autographs of drivers in different firesuits will also be included.
Remarkable Relics will feature an autograph and memorabilia from a NASCAR legend.
Cup Chase Racing
Press Pass is toying with idea of changing Showbound's name to Cup Chase, it announced at The Industry Summit.
The Cup Chase will include three hits in every pack, and features only the top drivers who will likely make the Chase for the Spring Cup.
It will include autographed book cards with sponsor patches from authentic memorabilia. There will also be autographed materials of the top rookies numbered to 50 or less.
2015 Press Pass Racing
There will be one autograph and one memorabilia card in every box.
The base set will consist of 100 cards with multiple subsets and color proof parallels. This set will feature the first Rookie Cards of the 2015 season.
2015 Total Memorabilia
Each pack will come with one autograph or autograph memorabilia card in every pack.
The base set will contain 50 cards and only focus on top drivers and 2015 rookies.
Collectors could find autographed Signature Collection booklet cards and Clear Cut race-used windshield cards as well.
Susan Lulgjuraj is an editor at Beckett Media. You can email her here with questions, comments or ideas. Follow her on Twitter here. Follow Beckett Media on Facebook and Twitter.