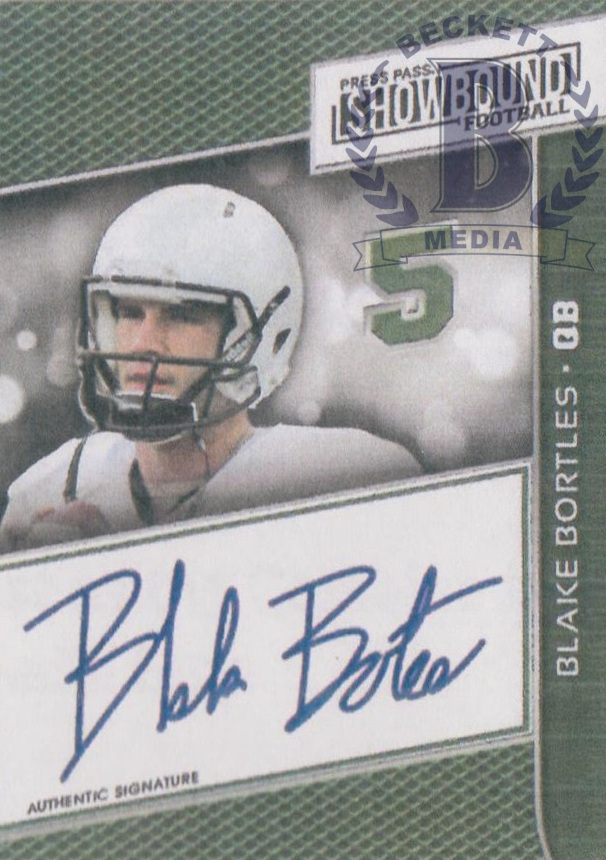 By Susan Lulgjuraj | Beckett Sports Card Monthly Editor
Press Pass is bringing chrome action to its football products.
Press Pass Showbound Football will feature all on-card autographs. There are no regular base cards in 2014 Press Pass Showbound.
Each box will have six on-card autographs with the base autographs using Chromium technology, Press Pass revealed at the 2014 Industry Summit.
About 50 NFL prospects will be on the checklist including Johnny Manziel, Blake Bortles, Teddy Bridgewater, Jadeveon Clowney, A.J. McCarron and Marqise Lee.
The base autographs will have six levels to collect.
Autographs inserts include Holofoil Class of 2014 and Paydirt. There are five levels to collect of each, numbered to 99 or less.
As Press Pass does – there will also be randomly inserted Red Ink and Inscriptions autos included.
Press Pass Showbound Football is scheduled to come out April 30.
Susan Lulgjuraj is an editor at Beckett Media. You can email her here with questions, comments or ideas. Follow her on Twitter here. Follow Beckett Media on Facebook and Twitter.