Press Pass Offers Exclusive Andrew Luck Autographs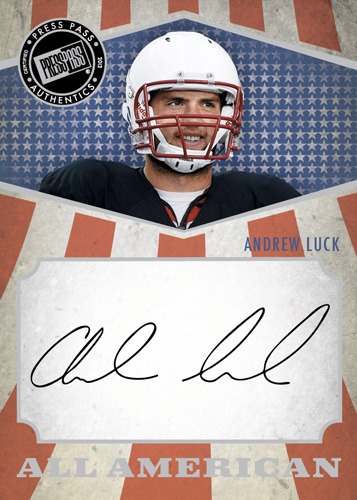 By Andrew Tolentino | Beckett Media
The Super Bowl is over. Eli Manning's Giants are officially a football dynasty, and fans will have to wait until late summer before the gridiron takes center stage again.
But that doesn't mean football collectors are out of luck.  In fact, according to today's announcement from Press Pass, it's quite the opposite.
The card maker that has become famous for its pre-pro football cards just confirmed that Andrew Luck and a lineup of other 2012 top draft prospects will appear — with autographs — in a late-March product release. 2012 Press Pass Rookie Football is expected to hit shelves on March 21 with a number of big-name college players who will undoubtedly amp up a six-per-box autograph guarantee.
More importantly though, this particular product marks the first — and only — opportunity for collectors to land non NFL-licensed authentic autograph cards from the projected No. 1 pick. Lucky you.
 "Press Pass is excited to offer collectors the only Andrew Luck autograph & relic cards until the NFL licensed products are released," said the company's VP of brand management Tom Farrell.
In addition to ink from Luck, Rookie Football will also feature Robert Griffin III, Trent Richardson, Justin Blackmon, LaMichael James, Michael Floyd, Ryan Tannehill, Alshon Jeffery, Lamar Miller, and other chase-worthy newcomers. Collectors can land the next big rookie sensation in a number of autograph insert sets.
Press Pass Signings feature more than 70 top prospects with six variations
 Gold X's & O's (numbered to 199 or less)
Bronze Hashmarks (numbered to 99 or less)
Blue Football (numbered to 50 or less)
Red Player Images (numbered to 15 or less, in Target retail versions)
Green Player Images (numbered to 15 or less, in Wal-Mart versions)
Power Picks exclusively showcase top prospective draft picks with three different numbered levels and All American cards include the best players on the college gridiron in three different numbered levels.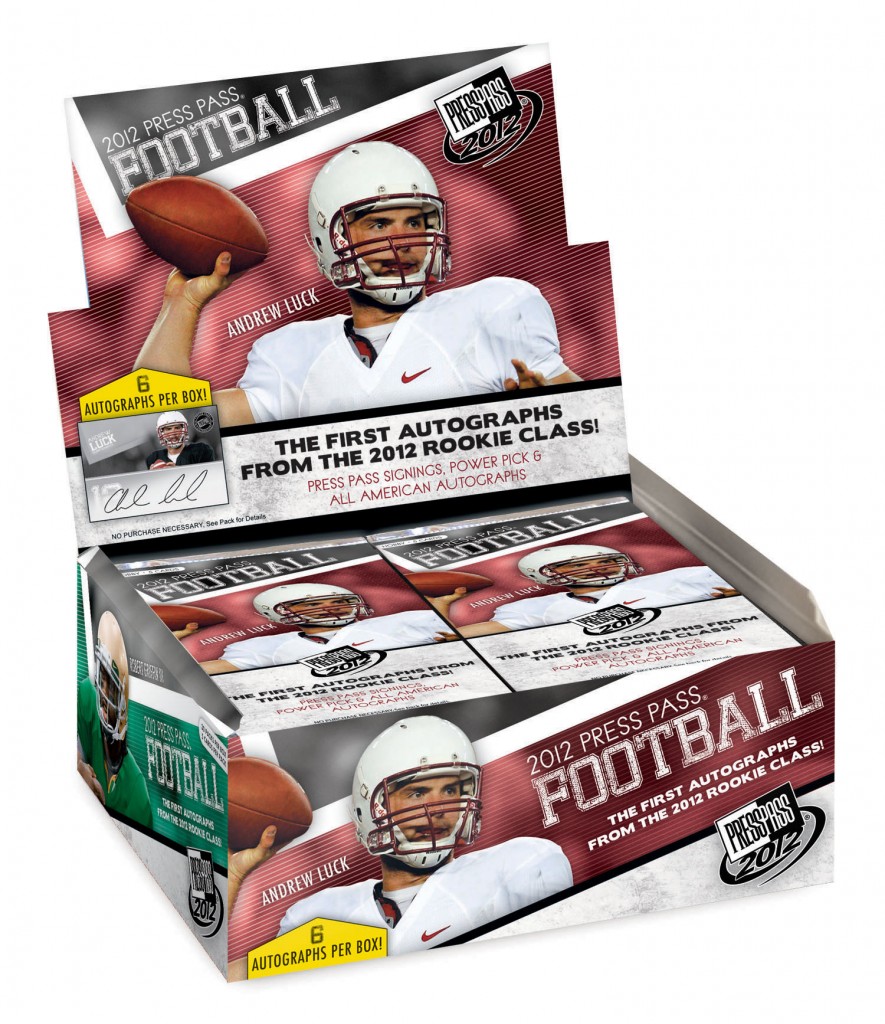 Beyond the impressive ink in this forthcoming release, collectors can chase down the 50-card base set and increasingly exclusive Reflector parallels along the way.
Holofoil Reflector parallels (numbered to 299)
Proof Edition Reflector parallels (numbered to 100)
Solo Reflector parallels (1/1)
Stay tuned to Beckett.com for more information on Press Pass' first release of the 2012 football card season.