Press Pass jumps on Parks & Recreation license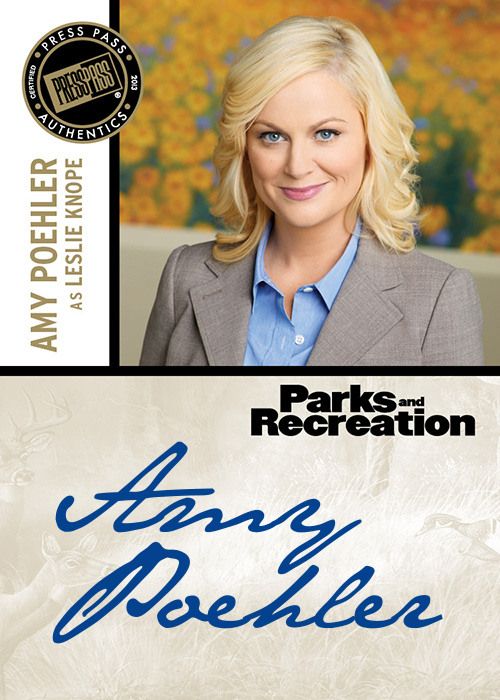 By Susan Lulgjuraj | Beckett Sports Card Monthly Editor
One of TV's top shows is coming to cards.
Press Pass announced its newest license for Parks and Recreation while at the Industry Summit in Las Vegas last week. Press Pass had licenses in the entertainment field before with Elvis and Kiss cards. But this takes the company – which usually focuses on racing and football – in a different direction.
"It's a business we've eyed for quite awhile now. We wanted to find a property we felt had some good momentum to kick things off," said Press Pass's Tom Farrell, vice president of product development. "Pop culture has been on such a role, from autograph heavy sets to numerous entertainment sets; collectors are just hungry for pop culture products."
Parks and Rec has hit that pop culture note several times, using story lines from current events and bringing in popular special guests – giving Press Pass a good list of celebrities to chase.
From the show's own list of actors, Press Pass is looking to get autographs from Amy Poehler, Rob Lowe and Rashida Jones (the pictures provided are just mock ups).
Each box of Parks and Recreation will contain two autographs and one relic card along with 24 packs. The first series, which focuses is on the first four seasons, is scheduled to release in mid-to-late May, according to Farrell. The base set will consist of 90 cards.
While Press Pass hasn't announced which celebrity guests will appear, there are several the company hopes it can pen to a deal. Celebrity guests on Parks and Recreation have included Will Forte, Joe Biden, Fred Armisen, Parker Posey, Paul Rudd, Lucy Lawless, Megan Mullaly and Andy Samberg.
Susan Lulgjuraj is an editor of Beckett Sports Card Monthly. You can email her here with questions, comments or ideas. Follow her on Twitter here. Follow Beckett Media on Facebook and Twitter.