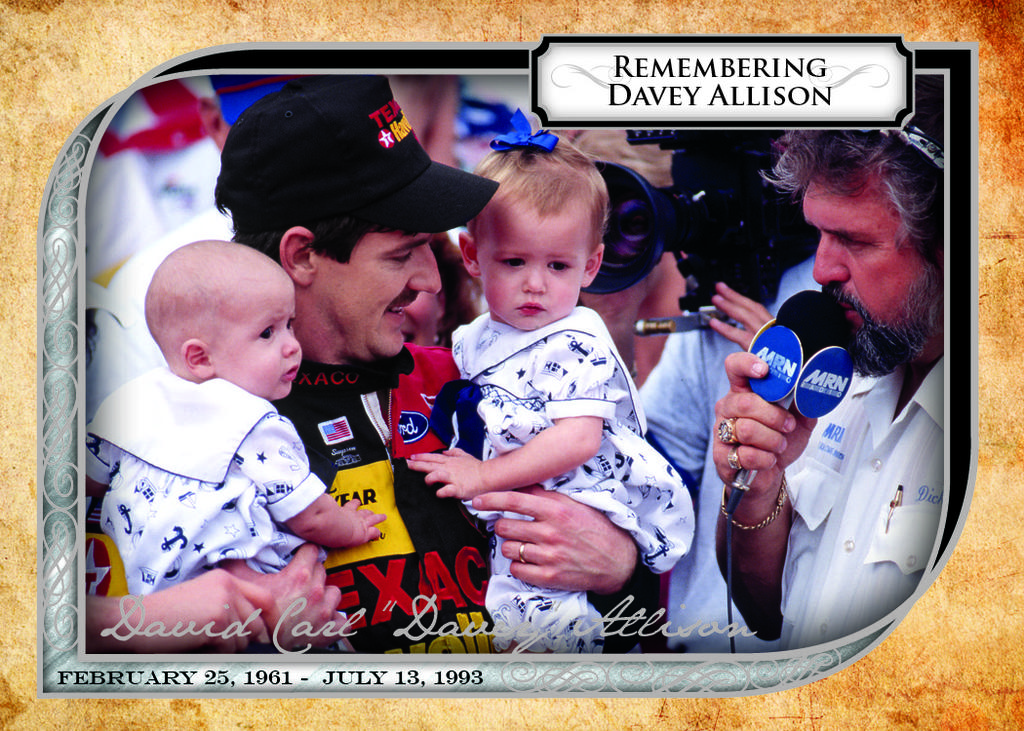 By Susan Lulgjuraj | Beckett Sports Card Monthly Editor
The new racing season is almost here and Press Pass is gearing up for its start. Throughout the year, the company will deliver products with unique memorabilia and autograph cards.
However, Press Pass isn't just looking ahead to new and popular drivers. The company is taking time to remember racing's past honoring Davey Allison who died 20 years ago.
"Twenty years later, Davey is still regarded as one of the top competitors in the sport," Press Pass said in a release. "His talent and competitiveness were matched only by his courage and kindheartedness. Press Pass was in its infancy when Davey passed away, but we strive to honor his legacy."
Allison died from injuries he sustained in a helicopter accident in 1993. He was on his way to Talladega Speedway when the crash occurred.
Press Pass will celebrate Allison's legacy with a 10-card set that will be included in 2013 products.
Allison posted 19 wins and 92 top-10 finishes in his short NASCAR Winston Cup career. He won the 1992 Daytona 500 and was the 1987 Winston Cup Series Rookie of the Year.
Here is a checklist of the cards and the products they could be found.
DA 1/10 – 1992 Daytona 500 win (2013 Total Memorabilia)
DA 2/10 – 1987 Talladega; first win (2013 Total Memorabilia)
DA 3/10 – 1987 Daytona 500 qualifying; first rookie to start on front row (2013 Ignite Racing)
DA 4/10 – 1987 Rookie of the Year (2013 Ignite Racing)
DA 5/10 – 1988 Daytona 500 (2013 Redline Racing)
DA 6/10 – 1991 Larry McReynolds is hired as crew chief (2013 Redline Racing)
DA 7/10 – 1993 Richmond; Davey's last win (2013 FanFare Racing)
DA 8/10 – Davey as a kid with his parents and siblings (2013 FanFare Racing)
DA 9/10 – Davey with his two kids 1992 (2013 Legends Racing)
DA 10/10 – Junior Johnson Hires Davey in 1986 (2013 Legends Racing)
Susan Lulgjuraj is an editor of Beckett Sports Card Monthly. You can email her here with questions, comments or ideas. Follow her on Twitter here. Follow Beckett Media on Facebook.