First Look: 2012 Press Pass Redline racing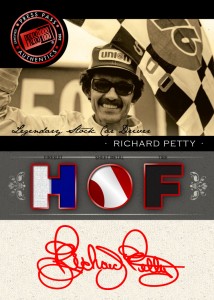 By Susan Lulgjuraj | Contributing Editor
Press Pass will unveil its newest line this June with 2012 Press Pass Redline, a high-end racing product.
Redline will feature four hits for every tin with some of the most popular drivers. The tins are pre-selling for around $130.
Each two-pack tin will include two autographs and two memorabilia cards, and at least one of the autos will be an auto/memorabilia combo card.
Even though collectors are getting just two packs, there are 10 cards in every pack. There will also be a multi-swatch memorabilia card in every tin such as Pieces of the Action triple memorabilia cards.
Here's the breakdown of the packs:
・ One numbered autograph
・ One numbered race-used memorabilia
・ One numbered Color Proof parallel (numbered either 99, 50, 15 or 1)
・ One or more inserts
・ Five base cards from the 50-card base set
The names in this set include the most-popular drivers. Danica Patrick will be featured as a rookie and one of her autographs could be found on the Rookie Year autograph subset. NASCAR newcomer Travis Pastrana will also be included.
But Press Pass isn't forgetting the top drivers. Autographs could be found Jeff Gordon, Dale Earnhardt Jr., Tony Stewart and more.
Gordon, Earnhardt, Stewart and others will have short-printed variation autograph cards of alternate sponsors.
Press Pass is also including retired drivers in the product. Richard Petty, who won the NASCAR championship seven times, will have an autograph/memorabilia card based on the preview pictures shown.
Oh, and all autographs are on-card.
Susan Lulgjuraj is a contributing editor for Beckett Media. You can email Susan here. Follow her on Twitter here.