Press Pass celebrates Richard Petty's 75th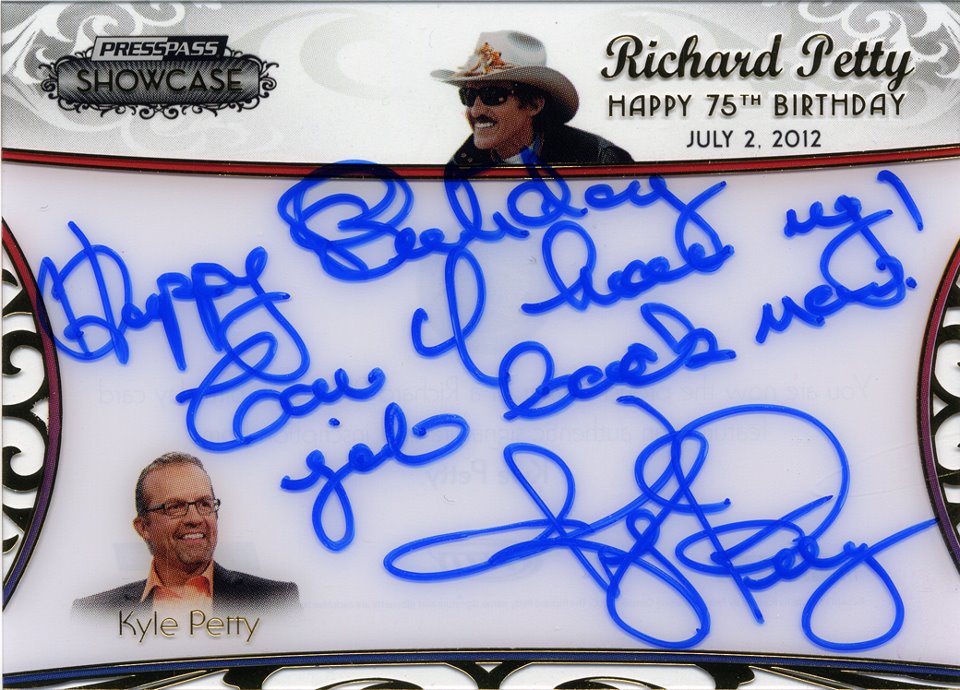 By Susan Lulgjuraj | Contributing Editor
Happy 75th birthday Richard Petty!
In celebration, Press Pass has put together Richard Petty Birthday Tribute cards that will be in 2012 Press Pass Showcase.
Showcase doesn't come out for another month, but the party has started.
In the coming days, Press Pass is going to release images from the tribute subset. In total, 16 people have signed a birthday wish inscription, including son Kyle Petty. As cards images are released, they will be added to the gallery.
Kyle signed 11 different inscriptions, including the one shown: "Happy Birthday. Can I have my job back now?"
Part of Petty's birthday gift from Press Pass will also be a set of tribute cards for himself. Other signers for the tribute cards includes Jeff Gordon, Kyle Busch, Dale Earnhardt Jr., Michael Waltrip and Rusty Wallace (the checklist is tentative).
Petty appears on a number of cards in Showcase. He has a base card but also an autograph, inserts and parallels.
For those that need a refresher on Showcase, check out Beckett's first look on the product.
There are five cards per pack with three packs in a box. Pre-sales have boxes selling for around $170. Collectors can expect one autograph or race-used memorabilia in every pack.
Susan Lulgjuraj is a contributing editor for Beckett Media. You can email Susan here. Follow her on Twitter here.