Press Pass fixes Keselowski autopen issue in Ignite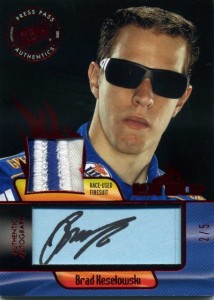 By Susan Lulgjuraj | Contributing Editor
With Press Pass' new racing product 2012 Ignite  hitting the street, some collectors noticed something strange on Brad Keselowski's autographed Ignite Ink cards.
It didn't seem as though they were hand-signed — each was the same size with exact strokes and ink widths.
Unfortunately, Press Pass learned Keselowski's autograph sheet – as opposed to individual cards – were signed using an autopen, which is a machine used for automatic signatures.
"Press Pass takes authenticity very seriously, and we want our collectors to know that we would never intentionally put autographs into our products that were not authentic hand-signed signatures," the company said in a press release.
Press Pass has said it will fix the problem. It is currently in the process of printing new cards and will have Keselowski re-sign an autograph sheet. The cards will be rebuilt with an authentic autograph and a swatch from a race-used fire suit.
Anyone who received of a Keselowski Ignite Ink autograph card is asked to send it in. Email info@presspassinc.com for instructions on how to exchange your card.
In addition, each person will receive an Ignite Racing retail box and your name will be entered into a drawing to win a trip for two to an upcoming race to watch Keselowski compete. (Need a Keselowski checklist or OPG? Click here.)
"We are confident that this is an isolated incident and that no other autographs from any driver in Ignite or any of our other products are affected," said the company statement. "Press Pass has also reached out to the drivers and team representatives and reiterated internally the importance of following the proper procedures to ensure that all autographs are authentic."
Susan Lulgjuraj is a contributing editor for Beckett Media. You can email Susan here. Follow her on Twitter here.