Press Pass' Rising Stars set full of fresh faces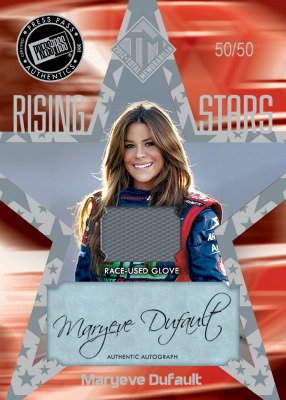 By Susan Lulgjuraj | Contributing Editor
If you ever wondered who the next up-and-coming racers were, Press Pass is making it easier for collectors with its Rising Stars insert set in 2012 Total Memorabilia.
The hit-laden set is due out in February and is a brand new product on Press Pass' 2012 trading card line up.
The Rising Stars card will have an insert and an autographed memorabilia parallel card.
The checklist features nine racers from variety of different backgrounds.
A name that jumps off the checklist is Jack Roush Jr. He's the next member of the family to get behind the wheel and see what he can do on a race course. Roush Jr. was a co-driver with Roush Performance's No. 61 Ford Mustang, which had eight podium finishes, including three wins in the Grand-Am Continental Tire Sports Car Challenge. He helped the team earn second in points.
A racer whose name collectors might not know yet – but could very soon – is Shelby Blackstock. He's the son of the country music star Reba McEntire. Blackstock will be on the Roush Performance team for 2012 and will race in the Grand-Am Tire Sports Car Challenge in his rookie season.
Harrison Burton is another potential famous son. His dad is veteran NASCAR driver Jeff Burton. But more impressive is that Harrison is just 10 years old. He's a top competitor in quarter-midget car racing.
Angela and Amber Cope made history by being the first twins to compete in a NASCAR national series event. However, the sisters are getting their own cards. Amber has competed in the ARCA Racing Series, NASCAR Camping World Series and NASCAR Nationwide Series. Angela has also competed in NASCAR Nationwide, ARCA and the Camping Truck Series.
Last season's ARCA Series winner Ty Dillon is included. He had three ARCA victories in 2010. Then followed up that campaign with seven wins and 16 top-10 finishes in 2011. Dillon is moving to the NASCAR Camping World Truck Series next season.
Other racers on the Rising Stars checklist are Maryeve Dufault, Max Gresham and Sergio Pena.
Susan Lulgjuraj is a contributing editor for Beckett Media. You can email Susan here. Follow her on Twitter here.