President Bush and the First Pitch
Seventeen years ago, America was forever changed by the horrific terrorist attacks on the World Trade Center and the Pentagon. Our nation stopped and baseball was the last thing on our mind. Commissioner Bud Selig immediately canceled that day's games. He would end up pushing the season back, canceling all of the week's games.
While baseball was in the back of everyone's mind, less than two months after the attacks, one pitch would help us bring us back together and display our strength and resilience as a nation.
The Yankees were one of the teams that was most affected as they were at home in New York at the time of the attack. Many of the Yankee players did not return home to be with their families. Instead, they went out to help their community comforting workers and victims.
The Yankees would continue to help the city with their performance on the field, defeating the 116-win Seattle Mariners in the AL Championship Series to make it to their fourth consecutive World Series.
This set the stage for one of the most memorable moments in baseball history. On October 30, 2001, President George W. Bush threw the ceremonial first pitch for Game 3 of the 2001 World Series at Yankee Stadium. As he stood there in front of a sold out crown chanting, "U-S-A, U-S-A," he gave a thumbs-up and threw a perfect strike.
Countless articles have been written about the symbolism of this pitch. ESPN even
did a 30 for 30 short film
highlighting the night.
In the years since, the moment has been immortalized on a handful of baseball cards.
President Bush's cards in 2001 Fleer Platinum, 2011 Topps Allen and Ginter, 2016 Topps Throwback Thursday and 2017 Topps Transcendent Moments Sketches all show him when he is throwing the pitch.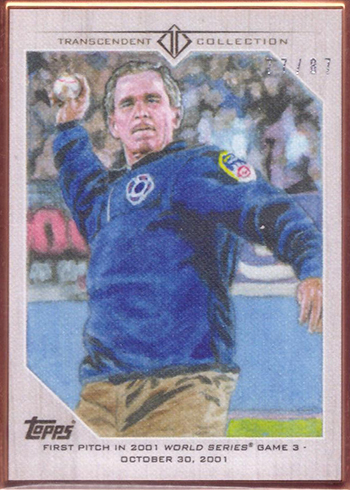 The Throwback Thursday card is a harder to find due to its limited-time, online-only release. The card has a print run of  just 306 copies.
2011 Topps Opening Day First Pitch shows the moment President Bush gave the thumb up. So do 2002 Topps American Pie First Pitch Seat Relics or 2004 Topps Presidential First Pitch Relics, and its Chrome counterpart, marking a trio of memorabilia cards.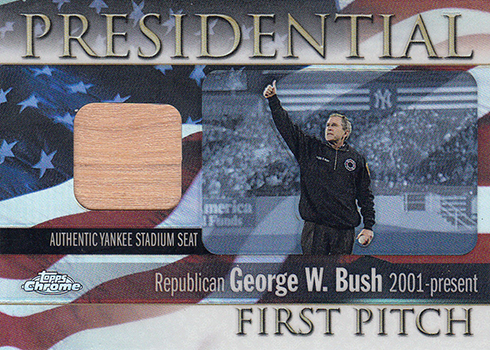 President Bush has a signed card among the 2011 Topps Allen & Ginter Mini Framed Autographs as well. It's the same photo as his base card.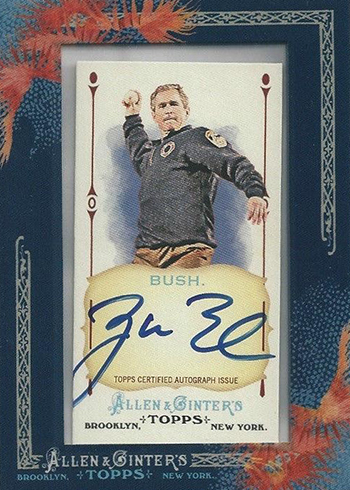 This edition of the Beckett Pricing Insider is presented by MVP Sports Collectibles.