President Barack Obama's Game-Worn High School Jersey Hits Auction Block
A 1978-79 high school game-worn basketball jersey worn by 18-year-old senior Barack Obama – then known as Barry Obama – while at Punahou (Hawaii) High School is being offered in Heritage Auctions' 2019 August 17-18 Platinum Night Sports Collectibles Auction.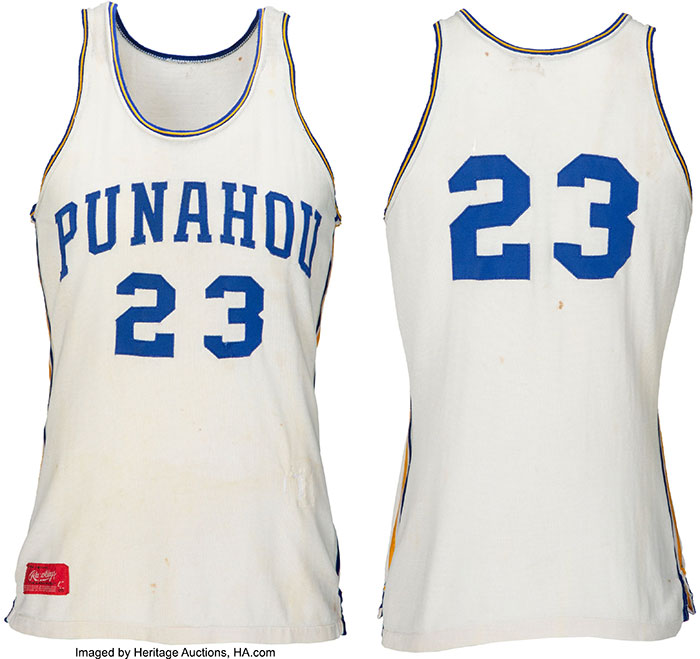 Heritage believes the jersey could bring $100,000 or more when that lot closes August 17. With more than three weeks remaining in the auction, the jersey already has reached $30,000 (with buyer's premium). The jersey will be on display at the 2019 National Sports Collectors Show next week in Chicago.
From the Heritage Auctions lot description:
" . . . a strong argument could be made that this auction lot represents the most important basketball jersey that exists. It was worn by an eighteen-year-old Barry Obama during his senior year at Punahou as a member of the 1979 Hawaii State Champion boys' varsity basketball team. It was fortuitously rescued from being discarded when the new varsity jerseys arrived on campus only because our consignor Peter Noble, three years behind Obama at Punahou, had worn the same number "23" jersey while on the junior varsity team. We can see the multiple years of wear in the softness of the tackle twill identifiers and the "Rawlings [size] 40" label at lower right front tail, and even a scattering of small stains consistent with blood, perhaps Obama's. A patched repair at lower front left likewise documents the long, rough-and-tumble history of the historic garment.
We have Mr. Noble's yearbook from Obama's senior year, his quarter-page personal layout in the section dedicated to the graduating class including a playground shot of the future President he labeled, "We go play hoop." But the key point of interest within this volume is on page 104, a photo captioned, "Barry Obama goes up for a basket against St. Louis." The jersey he wears in that photograph is the offered lot."