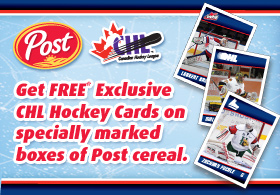 By Susan Lulgjuraj | Beckett Hockey Editor
Post Cereal has a long history of making trading cards, especially in hockey.
The food company is bringing cards back to the sport, becoming an official partner with the Canadian Hockey League, the league announced Monday.
"Teaming up with the WHL, OHL and QMJHL is an important part of Shreddies commitment to our communities. Shreddies families are passionate about their CHL hockey teams and so are we. We are looking forward to an exciting season next year," Margaret Hastings, Post Foods said.
Specially marked Post boxes in Canada will have CHL Collector Hockey cards on them.
In the mid-1990s, Post made cards for collectors including a set in 1999-00 to honor Wayne Gretzky's retirement. Cards from this 14-card set were wrapped in cellophane and were found inside packages.
The history of Post cards is long.
In 1960, Post made Cereal Sports Stars, a nine-card set that took up the entire back of Grape Nuts Flakes boxes. Players in this set included Mickey Mantle, Bob Cousy and Johnny Unitas – and can go for a good amount of money. The Mantle has a high-book value of $2,000.
Susan Lulgjuraj is an editor of Beckett Hockey. You can email her here with questions, comments or ideas. Follow her on Twitter here.