Pokémon Charizards Selling for Big Money
Collecting Pokémon cards in the late 1990s was one of the huge trends in The Hobby. Many kids and adults enjoyed the Pokémon fever that was taking place throughout the world. However, some collectors quickly lost interest in Pokémon a few years later, while other collectors kept building upon their collections. If you were fortunate to hold onto your cards since 1999 you may want to look what cards you have…especially Charizards.
Pokémon cards were first released in the United States in 1999 from packs featured in booster boxes. An un-opened booster box of Pokémon featuring the first edition base set from 1999 just sold for $54,200 in October at eBay auction! The most sought out card from the set is the Charizard Holographic card. Although there are many versions of the Charizard card, three particular versions remain the most collectible.
1999 Pokémon 1st Edition Base Charizard Holo R #4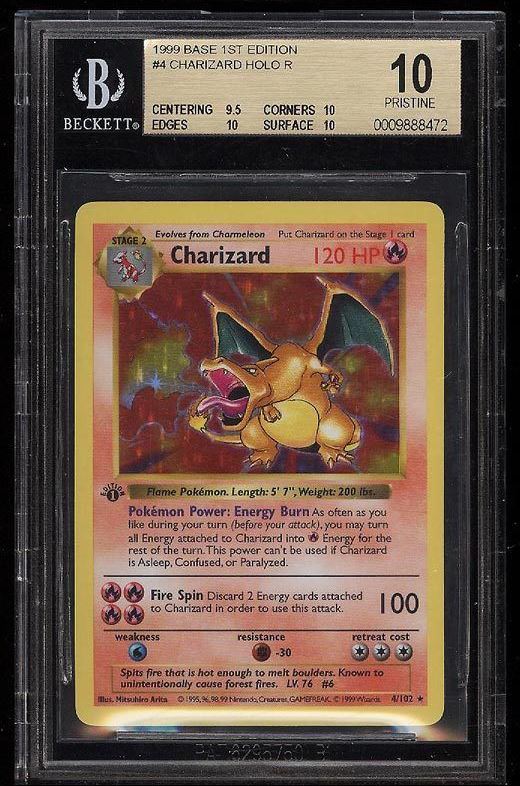 This 1st edition card of Charizard featured from 1999 is the most sought after. One way to tell if you have this particular version of the Charizard is to look for the 1st edition emblem in the middle of the card towards the left. This version is so rare that recent sales have exploded on this card! A BGS 10 graded of this card sold for $55,650 at eBay auction in August.
There are just two in existence graded a BGS 10 according to the BGS Population report. This 1st edition Charizard card also features just 31 total BGS 9.5's, which sells in the $15-18,000 range. Prior to the listing of the BGS 10 sale this card was featured on an episode of Pawn Stars in July. This episode appraised a huge Pokémon collection where the seller featured many high-end graded Charizard cards.
The collection was appraised at an estimated value of $390,000. Rick Harrison, the star of Pawn Stars, kept calling the cards "Pokeman" during the episode thinking these cards were a big joke. Many people may agree with Harrison, but those people are also missing out on huge money as this card has since skyrocketed in value!
The cause of this sudden huge increase in value is due to a number of factors according to Hunter Holder, who grades Charizard cards and other Pokémon cards for Beckett and has been a collector since the beginning.
"I believe the increase in the value of cards and collectibles is directly linked to two events – The 20th Anniversary of Pokémon and the release of the Pokémon Go game. These events occurred in the same year (2016), and the value has increased dramatically," says Holder. During 2016 the same BGS 10 1st edition Charizard card sold for $10,993.
1999 Pokémon Base Shadowless Charizard Holo R #4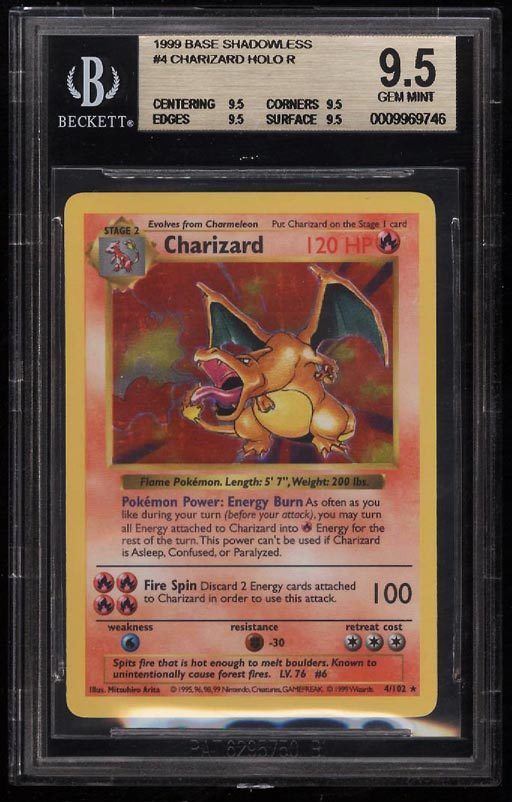 Prior to this huge spike in value Charizard has always been highly regarded in the Poke world.
"The most popular character on the market is Charizard. He is highly sought after within the Poke community, especially the older versions of his cards. However, even before 2016, Charizard dominated the majority of high-end sales," says Holder.
There are a couple a key ways to tell a Shadowless version versus an un-limited version Charizard. The most obvious way to tell is if your card is shadowless is if the bottom of the card says "1995, 96, 98, 99 Nintendo Creatures…" If the card has the year "99" at the bottom, then it is shadowless. Unlimited Cards say only "1995, 96, 98.
"Shadowless cards have a lighter background than unlimited cards. They also lack the dark shadow that can be found to the right of the picture on unlimited cards," said Holder.
Shadowless versions of Charizards are very hard to find, and it's essential to have this version graded which has paid off huge for collectors.
"With increased interest in Pokémon collectibles, grading has seen a spike in submissions. Collectors are now interested in obtaining high grade versions of cards, as the market has shown substantial growth since 2016," says Holder.
A BGS 9.5 of this Shadowless version Charizard sold in the range of $3,500-8500 at eBay auction this month!
1999 Pokémon Base Unlimited Charizard Holo R #4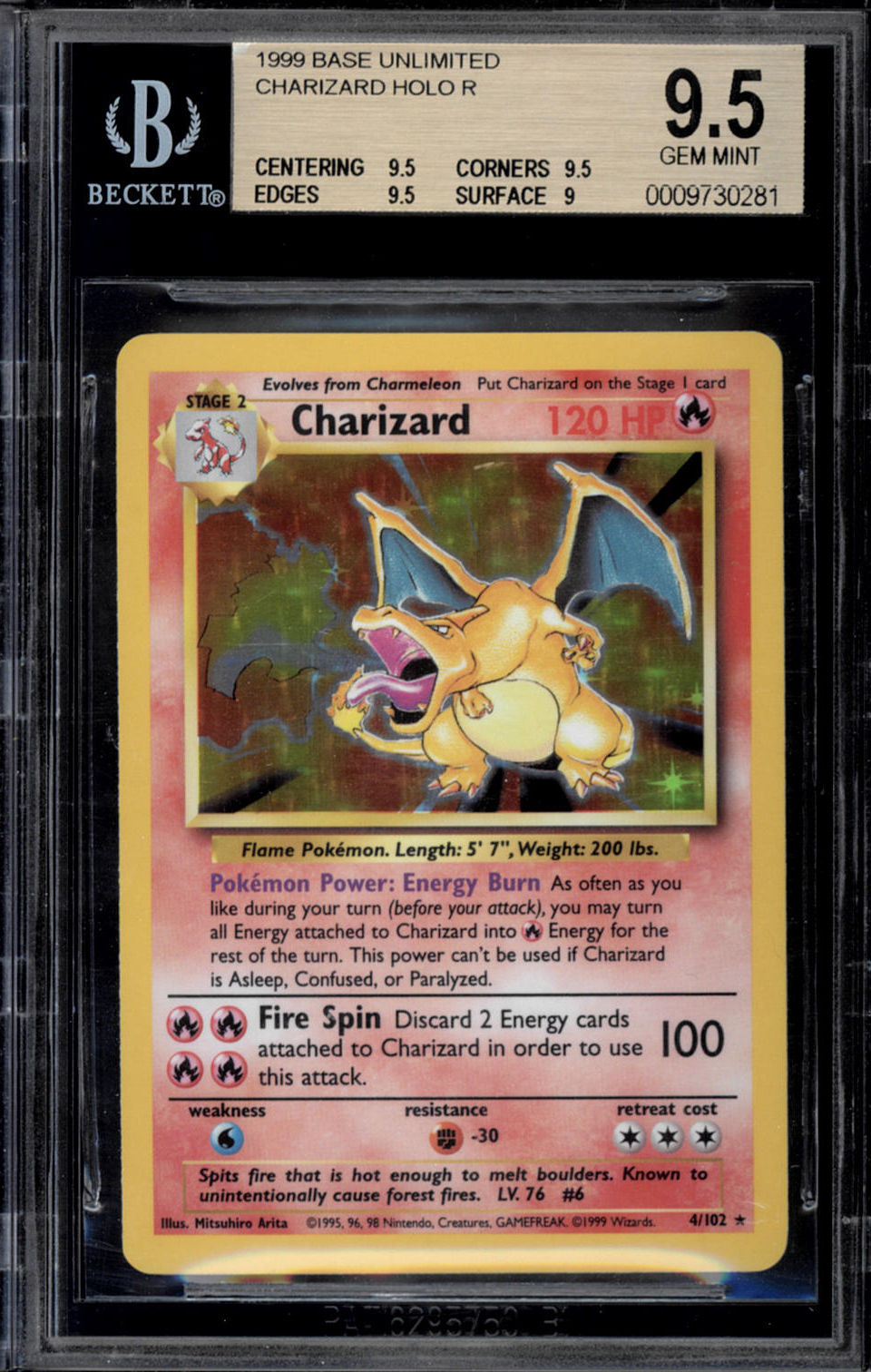 Regarded as one of the most collectible versions, the base unlimited is trending up along with the other holographic Charizards. There have been a total of 377 of this particular version submitted to BGS according to the Population Report. Only 1 BGS 10 exist and 80 9.5's. The value ranges from $350-600 in a BGS 9.5 of this card based on eBay auction within the last couple of months.
Pokémon Charizards and other related cards in the Poke verse are selling for the highest prices ever, but can they continue to grow? Time will only tell.
"As Pokémon cards and collectibles continue to sell in the coming years, I expect the prices to increase at a less dramatic rate. Nevertheless, they should be considered a worthy investment for years to come," said Holder.