Players to Watch In NFL Training Camps
The start of NFL training camp has officially begun, and every year each team seems to have a breakout training camp player. This year features another great rookie running back class, just like last season which featured Alvin Kamara, Kareem Hunt, Leonard Fournette, and Christian McCaffrey. Training camp can be a time in which later round draft picks show their worth or a time when a QB seizes a starting job. These things can have a huge affect on the Hobby.
Saquon Barkley, RB, New York Giants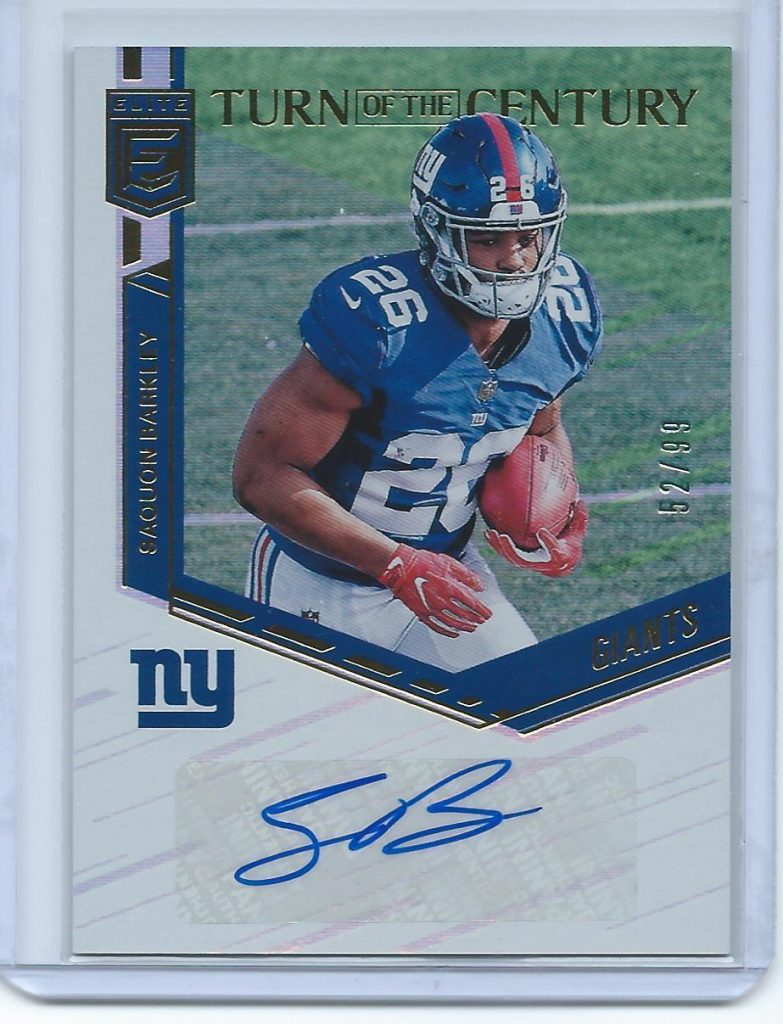 This should come as no surprise as Barkley is one of the most hyped running backs drafted since Adrian Peterson in 2007. Barkley was an absolute stud at Penn State last season. He's an every-down back with incredible agility and shiftiness. He also has the ability to catch the ball out of the back field and pass protect. The Giants thought so highly of Barkley that they took him with the 2rd overall pick during the NLF Draft this past April. He is already the most talked about rookie this NFL season and should make a huge impact with the Giants immediately. Barkley's autograph rookie cards are already on fire heading into the start of training camp. His 2018 Elite Turn of the Century Auto /99 is already selling for $150 at eBay auction.
Patrick Mahomes, QB, Kansas City Chiefs
He is set to take over as the starting quarterback for the Kansas City Chiefs this season. Mahomes was drafted 10th overall in the 2017 NFL Draft and collectors and Chiefs fans have been wanting to see this kid play for some time now. He features a very powerful throwing arm and has good mobility as well. The Chiefs offense should be very exciting to watch with Mahomes, Kareem Hunt, Travis Kelce and deep threat Tyreek Hill. Since the start of last season Mahomes has been very popular throughout the card hobby and should continue this season. One of his key cards to look for is his 2017 Panini Contenders Optic Auto, which sells for $400.00 in a BGS 9.5/10 Auto at eBay auction.
Corey Davis, WR, Tennessee Titans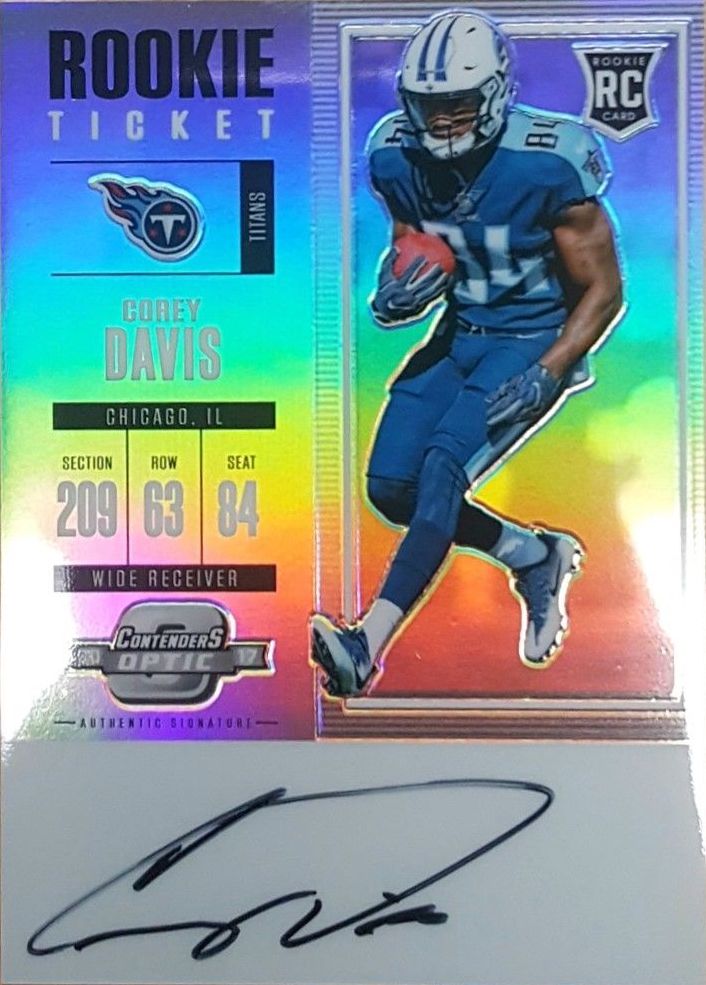 Davis was a rookie wide receiver last year and was the #5 pick overall by the Tennessee Titans. He battled injuries his rookie year but showed in the AFC Divisional game against the Patriots why he was selected so high. During the playoff game he had 5 receptions for 63 yards and 2 touchdowns, including an insane one-handed catch. Davis is projected to be the Titans number one wide receiver this season. Many fantasy experts are expecting a huge breakout season from Davis. His current card values are a bargain, his 2017 Panini Contenders Optic Auto sells for just $15 at eBay auction. This card could double or triple if Davis starts playing at a high level this season. Buy with confidence that this kid will breakout.
Joe Mixon, RB, Cincinnati Bengals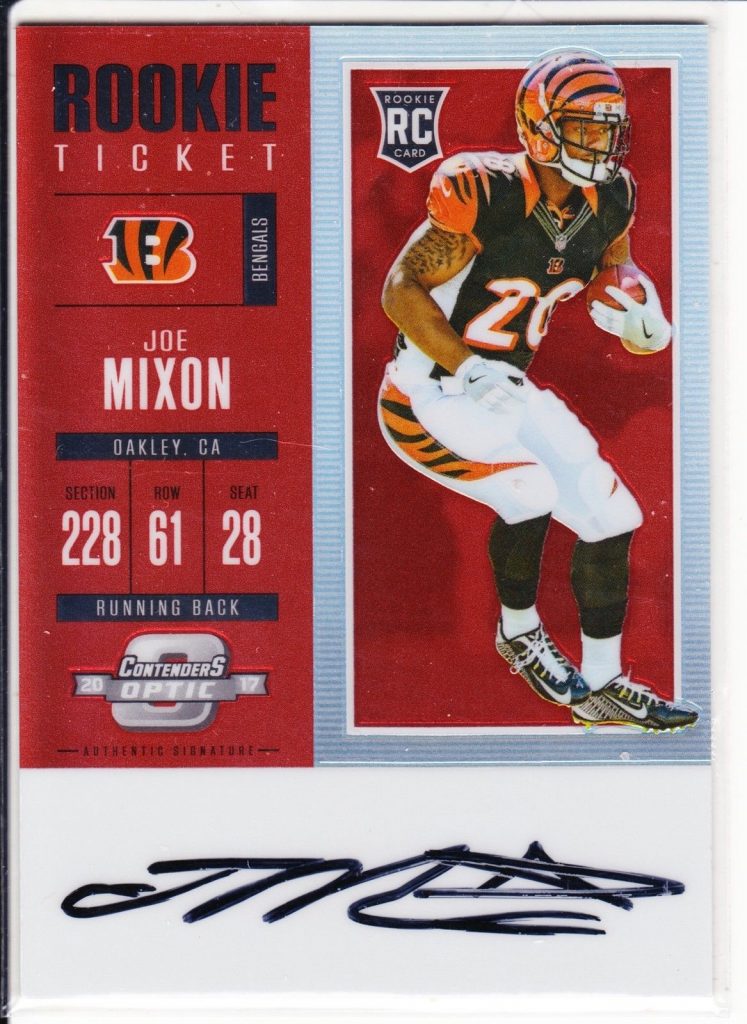 Mixon showed flashes in his rookie season as a running back with the Bengals last season. He had 626 yards with 4 touchdowns, but those statistics can both possibly double this season. Mixon will be featured early and often in the Bengals offense. Last season he wasn't the starter right away and this season he should see 20-plus touches per game. Mixon, similar to Davis, is another guy on the fantasy football radar as a breakout candidate this season. He is still only 22-years-old and offers tremendous upside this season. One card to look for of Mixon is his 2017 Panini Contenders Optic Autograph /75 Rookie which sells for $30 at eBay auction is a great buy-low before training camp begins.
Rashaad Penny, RB, Seattle Seahawks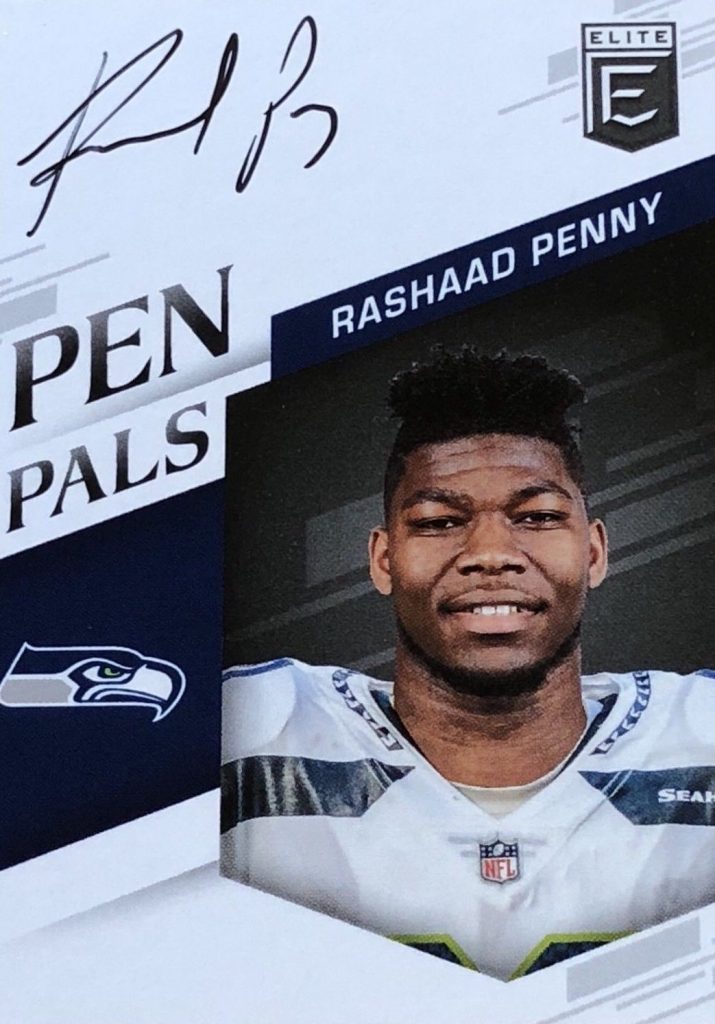 He was the second running back taken in the 2018 NFL Draft, with the 27th pick by the Seattle Seahawks. Penny is projected to be the starting running back for the Seahawks this season. Penny is the every down back that Seattle have been missing since Marshawn Lynch left. He should fit in great with this offense and make an immediate impact this season. One key card to look for of Penny is his 2018 Panini Pen Pals Black Ink Auto, which sells for $15-20 at eBay auction.
Which players will you be keeping an eye on in training camp? And which player will be this year's biggest surprise. Some other notable players to watch in camp are Nyheim Hines, Mike Williams, Sony Michel, Derrius Guice, Derrick Henry, Sam Darnold.