Pittsburgh Steelers prospect Valerian Ume-Ezeoke enjoying NFLPA Externship with Panini America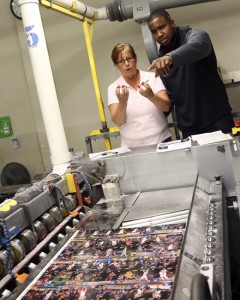 By Stephen Laroche | Beckett Sports Card Monthly Editor
Preparing for life after pro sports can be a daunting thing for many athletes. Lifestyle changes are in the mix, and more often than not, the money and perks begin to dry up as well.
Some players, however, are able to prepare for such a drastic alterations to their lives and can often rely on their educational background to break into a new field. The National Football League Players Association is at the forefront of helping its athletes adjust with the NFLPA Externship program and for the second year in a row, a player is getting some valuable work experience related to the world of trading cards at Panini America.
Valerian Ume-Ezeoke, who is on the edge of catching on the offensive line of the Pittsburgh Steelers, has spent the past three weeks in the company's Dallas office and spoke with Beckett Media about why he chose to get some experience there.
"I was actually at the NFLPA headquarters back in the Fall and it was an event for some of the guys that got injured. We had a discussion about life after football, as a player you don't usually think about it. They were telling us a little bit about the opportunities and brought up the externship. I thought it was great because as a player, playing football does not last forever. Being able to get the experience outside of the football field, I thought that would be good for me."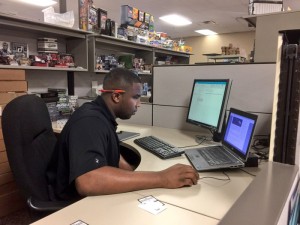 Growing up in the Dallas area in Garland, Texas, meant that Ume-Ezeoke had plenty of exposure to the game. However, he was not a major football card collector as a youth.
"I did collect Pokemon cards when I was a little kid, but I actually did have a couple of football cards, now that I think about it. Anything I could get my hands on. I remember they put the stats on the back and a little bit on the front. That's all I remember," he laughed.
Ume-Ezeoke was an All-State standout at Lakeview Centennial High School before choosing to play for New Mexico State. A force on the offensive line for the Aggies, he was named to the All-Sun Belt Conference First Team in 2014. In the process, he also earned a degree in Public Health with a 3.7 GPA.
Undrafted, he ended up initially signing with the Atlanta Falcons before being cut early in the 2015 season. Despite this setback, he inked a future/reserve deal with the Arizona Cardinals before being cut in May, 2016. Soon after, he became a member of the Pittsburgh Steelers. The bad news kept coming, though, as he suffered a lower body injury that put him on the shelf for the year.
"I knew I was going to go play football after graduating," he said. "I did want to do something in the medical field once I got done playing, but you know times change, things change. That's why when I did have the opportunity to join Panini America for three weeks, I jumped on it."
Ume-Ezeoke also discussed what spurred his decision to sign with Steelers and his future with the team.
"It's a top-of-the-line organization. The Pittsburgh Steelers have perennial Pro Bowlers and many Super Bowls to show for it. I thought it might be a great opportunity to compete with some of the best. Once I did get that offer to sign with them, I got to go with the best and I get to play with the best. There's nothing like that. I have been treated like a first-class player with the Pittsburgh Steelers, so I can't say nothing less than they are a great organization.
"I want to head into camp and have a great camp, make the team, and be a contributor to the team. That's my biggest goal, and to get better every day in all aspects. To make sure my craft is up to par when I get back into camp."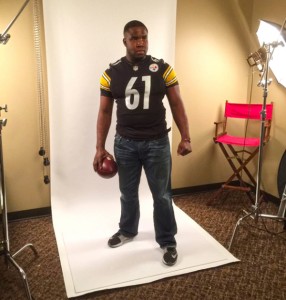 How does playing for a pro football team compare with working for a trading card manufacturer? Ume-Ezeoke said there were some aspects that could be related to both sides.
"How similar being on a football team is as being in a company like Panini America. You've got to have top-of-the-line communication. You've got to be on top of everything to make sure the output comes out well. A lot of things blew me away, like the production side – going and seeing what it takes to create cards. It really got to me because I never knew it had to take that many steps just for one single card. It goes through a crazy process. Maybe not to them, because they've been around it for a long time, but for someone seeing it for the first time, it was pretty cool."
"I am working on a set of cards that are going to come out on Father's Day. I'm going to be shining some light on some offensive linemen. You know, we're the unsung heroes, so I think it'll be pretty cool to put them in the spotlight for once. Look out for that, because it's coming out soon. Panini's Scott Prusha also has me working on the Kickoff set with linemen I pick."
Being an NFL player also has its advantages when getting some work experience at a card company as he will also appear in a set in the near future.
"My first card will be in that Father's Day set," he said. "It's great, ain't it? I'm going into my third year, and really wouldn't have thought I would have my own personal card. I just took some pictures and had a photo shoot with some of the guys here at Panini America. I'm excited about it."
But will there be an autographed version in packs as well?
"That's something Scott Prusha and I have got to talk about. I'll sign them," he laughed. "We're going to talk about that and see if we can get some things worked out!"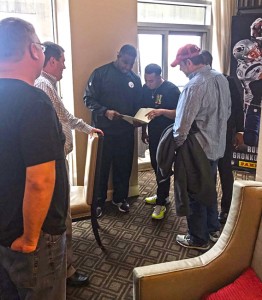 In addition to working on the production side, Ume-Ezeoke also got to go on an exciting business trip to Indianapolis for the NFL Scouting Combine.
"The guys here took me to the Combine to get that experience of helping with an event. It was unbelievable. I got to see the ins and outs of how the Combine is run and I got to sit in some negotiations for deals for Panini America and see how they work during crunch time. It was cool to see how they each bounced their own personal job off of each other. They all had to come together and work as a team. It kind of reminded me of being on that field. It's crazy to see how being with a collectibles company would have any relation to being on a field, but it does in a way, even if it is not physically demanding on the body. You have be mentally ready, just like on the field."
Ultimately, Ume-Ezeoke seems to feel that his externship experience has been a positive one.
"It's great to see things from a different perspective. Usually, when football players are done, they don't know what to do next. You play football your entire life and this is your skill set, but you don't know how to translate that into the work force. It's not going to go lift or do conditioning, it's going to work with papers and computers. Being able to get the experience will help a lot of players once they're done
playing.
"The NFL stands for 'Not For Long', you never know when you'll be done. I want to play as long as I can, but in reality, your career can last anywhere from a year to 20 years. You never know. Going into my third year, I'm excited about the future, but I'm also excited that I got the experience with a company like Panini America. I'm glad I did get the experience. Once I'm done and I retire, they had better have a job waiting for me!"
Stephen Laroche is the editor of Beckett Hockey, Beckett Basketball, and Beckett Sports Card Monthly magazines. Have a comment, question or idea? Send an e-mail to him at slaroche@beckett.com or follow him on Twitter @Stephen_Laroche.