Pitcher Pat Neshek Is an Autograph Collector, Too. And He's Got a Deal for You
Pat Neshek enjoys a lot of different things these days: Spending time with his kids. Playing Fortnite. And weekly trips to his post office box.
"I thought it would have died down by now because I've always signed," the two-time all-star pitcher says. "I mean, who doesn't have a card signed by me now? But still, every week. I'm kind of shocked. It's a nonstop flow here at the PO box."
Neshek, in case you haven't guessed, is a serious card collector and autograph collector. And he has a simple offer he extends to everyone—send him any autographed card, any sport, and he'll send you a card autographed by him. In any given week, Neshek does 30 to 70 swaps with fans from all over the world. It's great fun for Neshek, and a way to give back. Neshek started collecting baseball autographs through the mail when he was nine-years old, after picking up a copy of the old Sport Americana Baseball Address List book.
"Blue Moon Odom, Don Kirkwood, I just sent what-ever '70s cards I had, and I got a lot of them back," he says. "I remember that feeling when I was a kid, how cool that was to send a letter and get something back."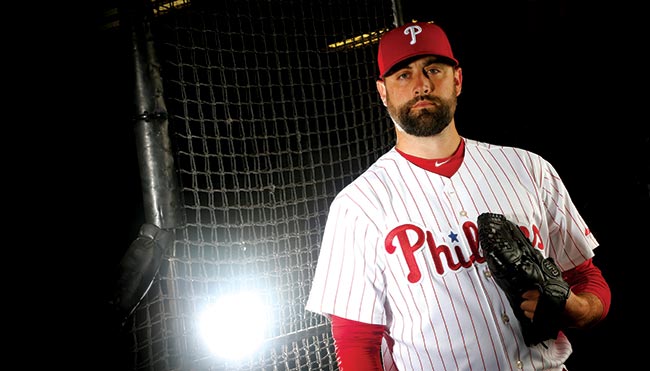 Neshek kept the thrill going after he was drafted in 2002 and entered the minor leagues.
"I had a bunch of my minor league cards, and I would tell fans if you want something signed, just send it to me. Maybe trade me one of your cards. I was always available," he says. By the time Neshek hit the bigs with the Minnesota Twins in 2006, he was buying his cards on eBay to have a supply to swap with fans.
Neshek still rips packs today. He's been an avid collector since 1985. And guess what? More MLB players are coming around to cards and memorabilia, and Neshek is their card whisperer.
"When I first broke in, there weren't many," he says. "Players would swap signed baseballs, some guys would do signed jerseys. Only a couple collected cards. Dmitri Young did, Ryan Ludwick did, but not too many. I tried to show some guys what to do, how to get them graded. I turned Josh Donaldson on to it. I've been telling him for years to buy certain cards, and now he finally wants to buy them . . . now that they're 10-times the price."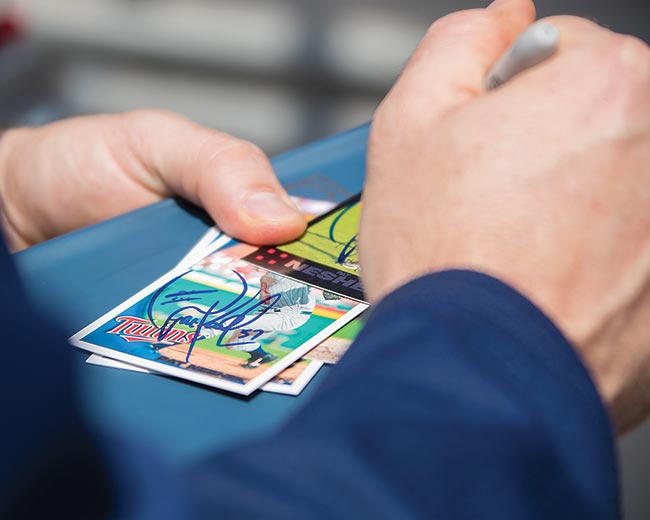 As the market heats up, Neshek's phone is blowing up. He's getting multiple texts each week from old teammates, and even players he's never played with as his number circulates through the majors and minors. Neshek says the new gateway is Pokémon, but it leads right back into baseball cards.
"I got a message from Rhys Hoskins, from Brett Phillips," he says. "The players born in the '90s were Pokémon kids, and now it's fueling this new craze in sports cards as well. There are way more people in Major League Baseball right now who are into card collecting than there ever were before."
Neshek drags a few back in himself. He haunts the message boards at SportsCollectors.net, so he knows who's signing, who's not, and who collectors want to get. Neshek got old Twins teammate Nick Blackburn to play along. The pair recently reconnected via Facebook, and decided to play Fortnite together, where things escalated as they were chatting—in a good way.
"I told him he should really do a signing, people were looking for him, he hadn't done one in almost 10 years" Neshek says. "He didn't believe anyone would care."
Neshek got Blackburn to agree, and ran a paid signing for Blackburn via his own PO box.
"We had about 150 different cards come in from about 100 people," Neshek says. "People were really thrilled to add him to their sets. He was really shocked to see that anyone cared. He got a little money, and I know people were thrilled to get an autograph they didn't think they could get. I was really happy to see that. It's nice seeing these cards get signed. Some guys just disappear after they're done playing."
Despite the success, Neshek has no interest in becoming a full-time autograph agent.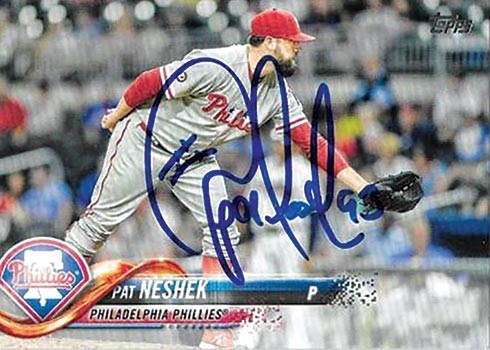 "I could probably make a really good business out of doing that," he laughs. "But I really don't have the desire to do that. I just like bringing two people together. He was happy, people were surprised, people got their autographs. I didn't take anything in the middle. I was just happy to set it up. It could be a really good business. But in another life."
In the here-and-now, Neshek will keep working on his collection. His major obsession? 1970 Topps baseball.
"I have the best 1970 Topps set on the PSA registry," Neshek says. "Almost 80% of my 1970 set is a PSA 10. Now it's hard. Getting that last 20%… I just don't know if some of the other stuff out there is for sale. To finish that set in 10s across the board, that's kind of my lifelong challenge, my Holy Grail. I don't think I'll ever sell that, unless I get some ridiculous offer. But that's it. Anything I can do to upgrade that set, that's what I'm working on, card-wise."
Neshek is thrilled to see the current uptick in interest in card collecting, whether it comes from today's players, or rank-and-file fans.
"It's awesome to see the interest," he says. "There are card shows every week here in Florida, and they're just jam-packed. You'd never see this 10 years ago. Even a year or two ago, you'd see one-third of the people. You go to Walmart and Target, you can't even find a pack anymore."
Neshek is constantly asked for advice on where to start his simple answer: Just pick what you like. He also leans heavily into the old stuff.
"If you're looking for value, look vintage," he says. "We've had 30 years to grade stuff, so if you're looking at a Mickey Mantle rookie, pretty much every one worth grading has been graded, so that registry number is more 'real.' But on modern stuff, there's still so much unopened stuff out there, who knows how high those registry numbers can go or will go?"
Neshek has played the game and won on 1951 Bowman Mickey Mantles.
"I picked up four of them at $110,000-$120,000 each. They were kind of my prize pieces," he says. "But then I get a call from Heritage [Auctions] saying, 'Hey, we got an offer for $330,000 for one of your Mantles,' and I was 'Okay, I'll definitely sell one of them at that price.'"
Today, Neshek notes that comps on the Mantle he sold for $330,000 are now at about $500,000. But he's not kicking himself. He plowed some of the money back into his 1970 Topps endeavor.
"And there are other cards I can find that I think are undervalued currently," He says. "So yeah, I'll turn around and collect some of those."
Neshek last pitched in the majors in 2019. Now at age 40, he's a free agent. But coming off hamstring surgery, and having missed the 2020 season ("Last year was such a weird COVID year," he says), he's not sure if the phone will ring with an offer.
"The weird thing is, I know I could still do it," he says. "We'll see what happens, and if nothing happens, I'm not going to 'announce' anything. I've always been the under-the-radar guy. I can just drift off into obscurity; that's okay."
Well, under-the-radar everywhere except his PO Box.
"Yes, please! Send me an autographed card of any professional player, and I'll send you one of mine," he says. "That's always been my motto. That'll never change."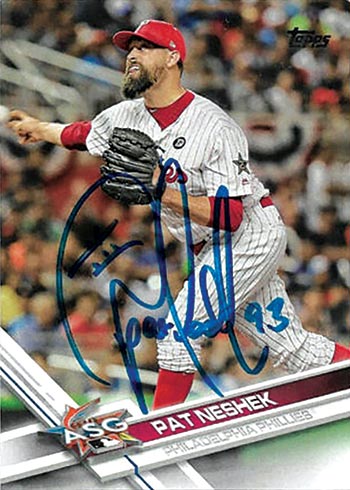 Swap with Pat
Yup. Send Pat Neshek any autographed card, and he'll send you a card autographed by him. A SASE (self-addressed stamped envelope) is an ABSOLUTE must:
Pat Neshek
PO Box 510092
Melbourne Beach, FL 32951
Check out Pat's fun and frequently updated Instagram, @NeshekCards.