2013 Topps Football SP Variations Gallery
Topps included short-printed variations of 55 different cards in 2013 Topps Football. The SPs all feature alternative photographs, from rookie poses to action shots and images of players running through the tunnel before a game.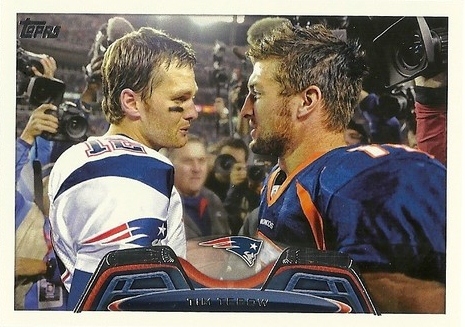 Key veteran players include Robert Griffin III, Andrew Luck, Peyton Manning and Super Bowl MVP Joe Flacco.
Rookies are also featured – including E.J. Manuel, Eddie Lacy and Geno Smith.
The most intriguing short-print belongs to Patriots acquisition Tim Tebow. Tebow began his career with the Broncos, and led Denver to the playoffs following the 2011 season. That season, the Broncos faced the Patriots in Week 15, with the Pats winning 41-23.
Following the game, Tebow and New England QB Tom Brady met at midfield, sharing platitudes and giving each other a quick hug.
A photo from that meeting now graces Tebow's super-short-printed variation, number SP-TT.
Another rare short-print shows case breaker Brent Williams, who won a contest in last year's Topps product. The Williams card shows him in a rushing pose as a member of the Dallas Cowboys.
Here's a guide to the SP variations in 2013 Topps Football.
VETERAN BASE CARD VARIATIONS
1 Adrian Peterson, Minnesota Vikings
(Running forward)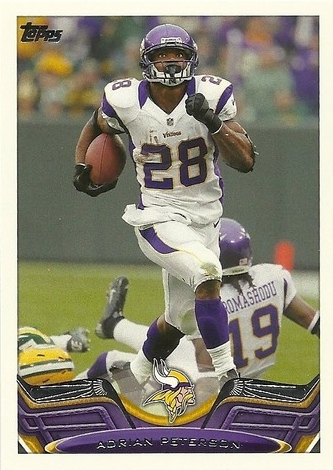 20 Matt Ryan, Atlanta Falcons
(Red jersey)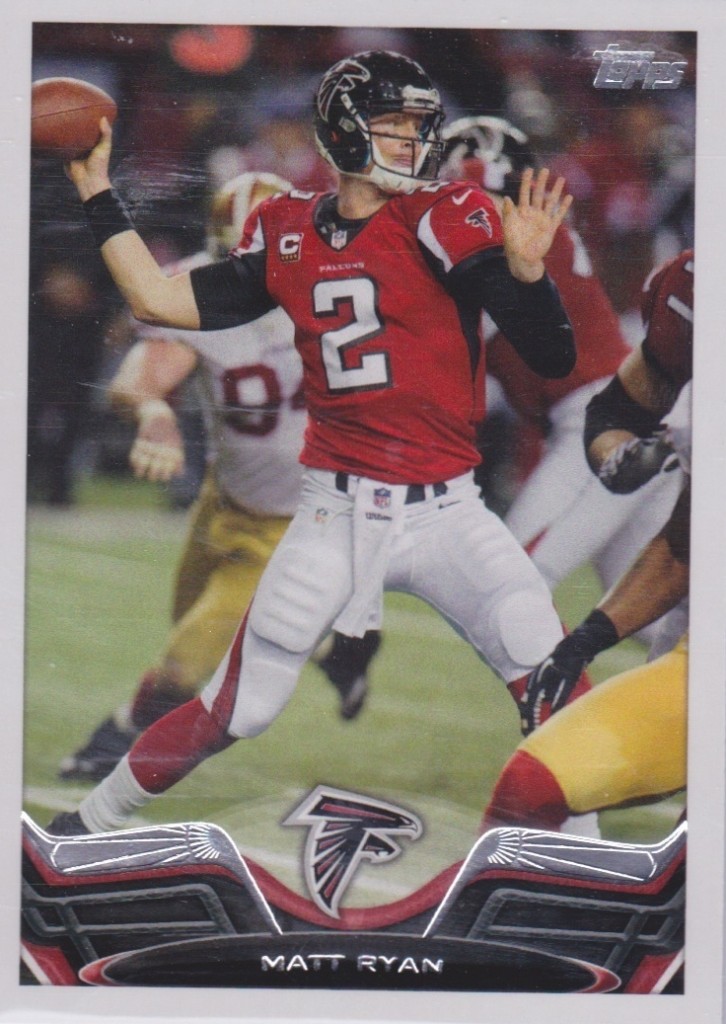 40 Anquan Boldin, San Francisco 49ers
(Running; white jersey)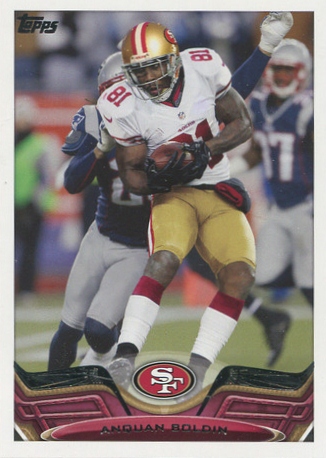 50 Andrew Luck, Indianapolis Colts
(Arms raised)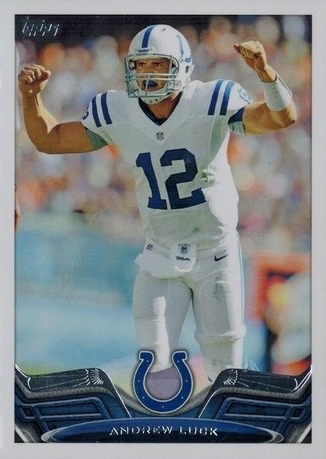 51 Demaryius Thomas, Denver Broncos
(Hurdling)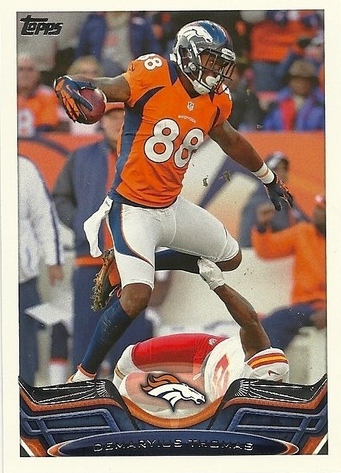 70 Alfred Morris, Washington Redskins
(Running sideways)

100 Tom Brady, New England Patriots
(Blue jersey)

120 Ed Reed, Houston Texans
(Carrying the ball)

125 C.J. Spiller, Buffalo Bills
(Pink gloves)

130 Doug Martin, Tampa Bay Buccaneers
(Running against Raiders)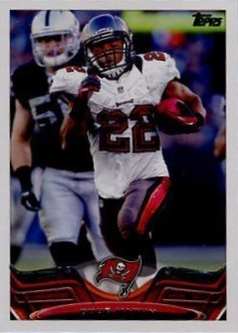 150 Robert Griffin III, Washington Redskins
(Smoke in background)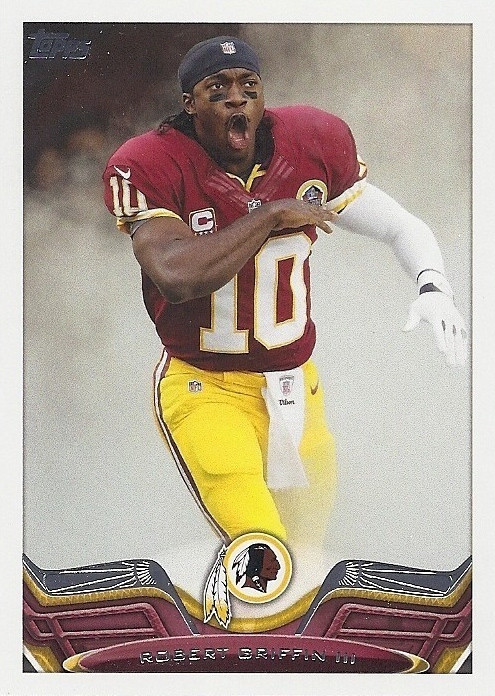 160 Trent Richardson, Cleveland Browns
(Hurdling)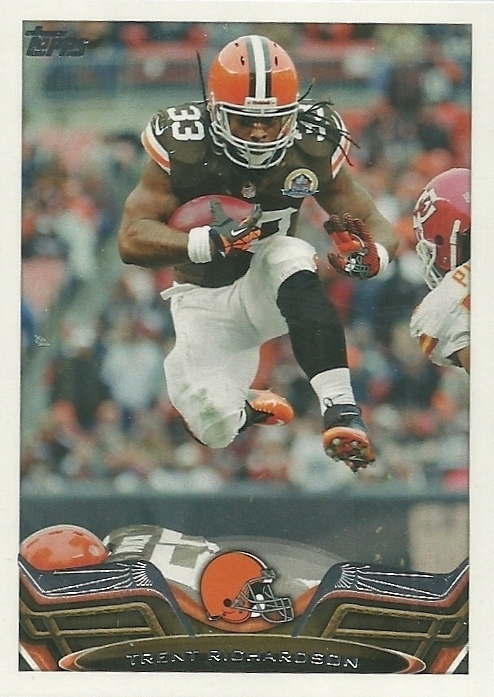 175 J.J. Watt, Houston Texans
(Smoke in background)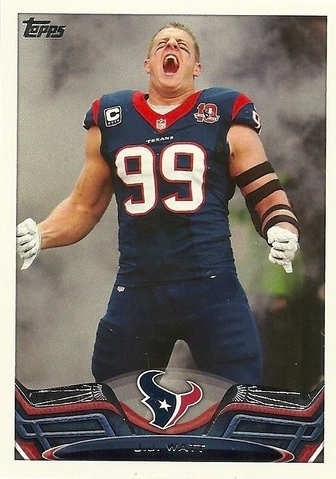 200 Peyton Manning, Denver Broncos
(Orange jersey)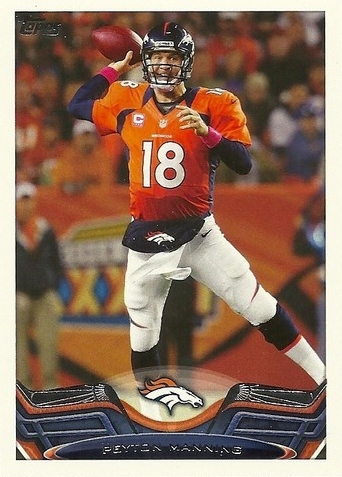 210 Rob Gronkowski, New England Patriots
(Catching pass)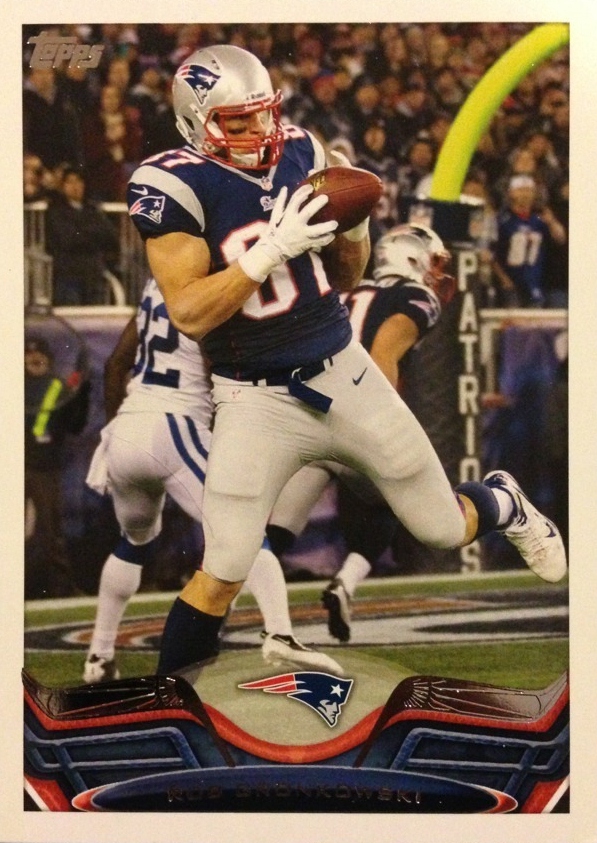 221 Clay Matthews, Green Bay Packers
(Hair flying)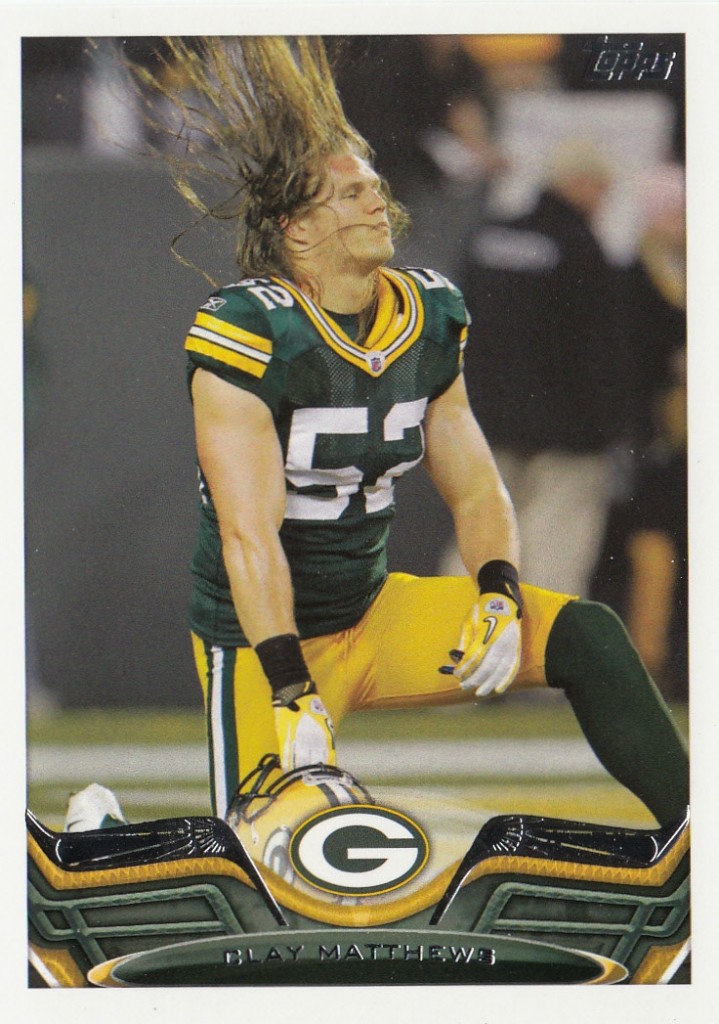 230 Arian Foster, Houston Texans
(Blue jersey)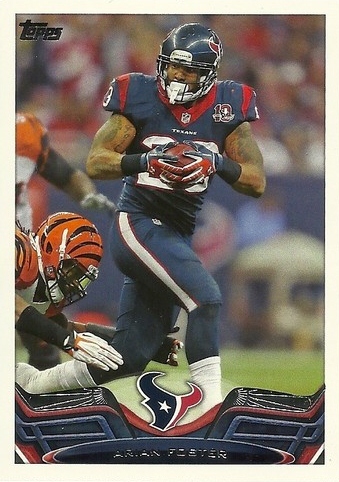 250 Calvin Johnson Jr., Detroit Lions
(Legs apart)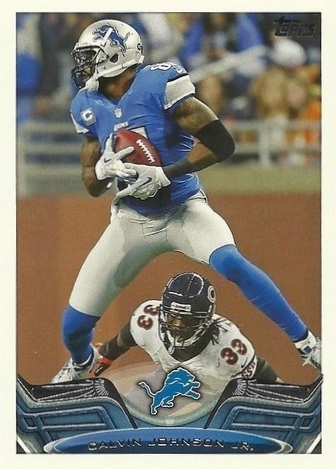 270 Julio Jones, Atlanta Falcons
(Scoring TD)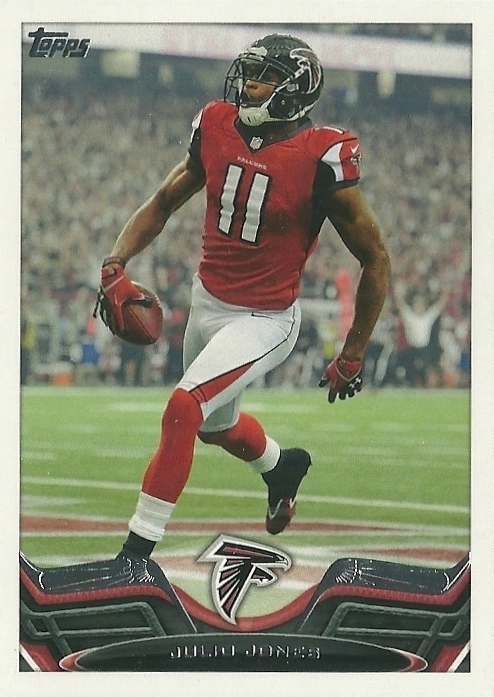 280 Russell Wilson, Seattle Seahawks
(White jersey)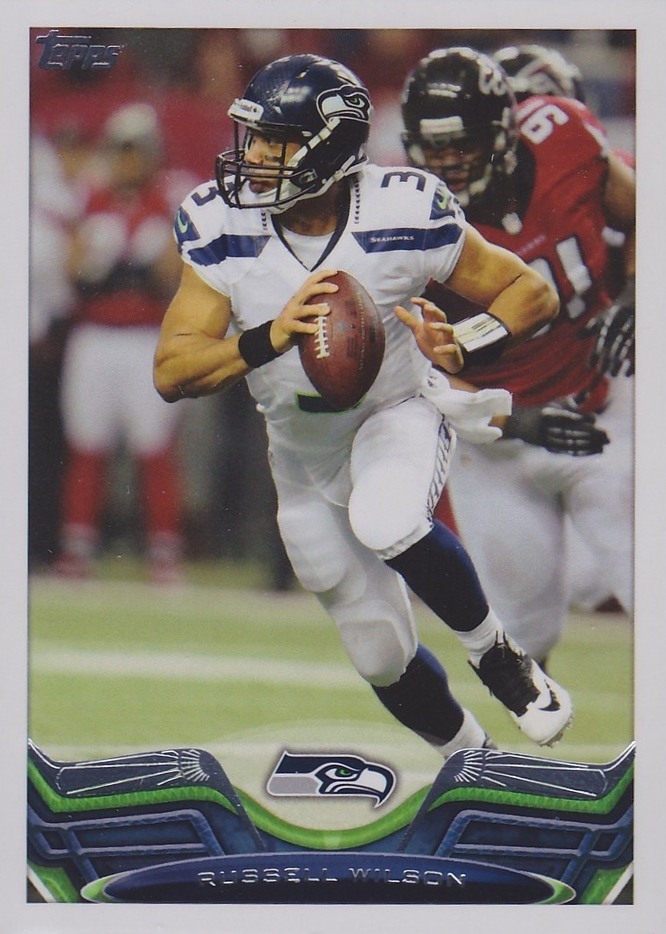 336 Colin Kaepernick, San Francisco 49ers
(Celebration)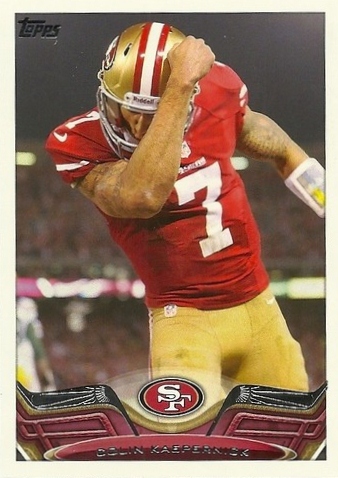 340 Wes Welker, Denver Broncos
(Blue jersey)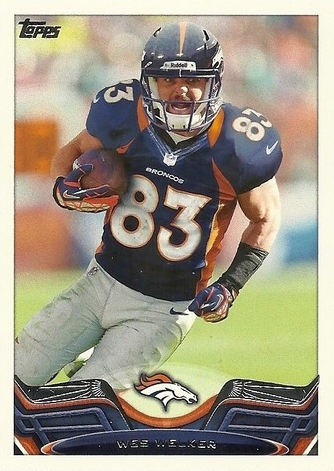 375 Dez Bryant, Dallas Cowboys
(Running with ball)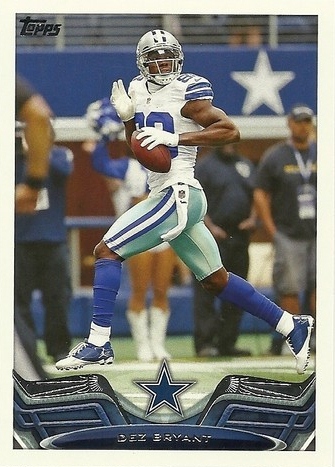 398 Jason Witten, Dallas Cowboys
(Catching pass)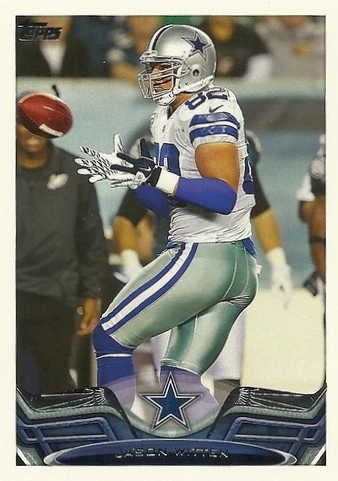 400 Drew Brees, New Orleans Saints
(White jersey)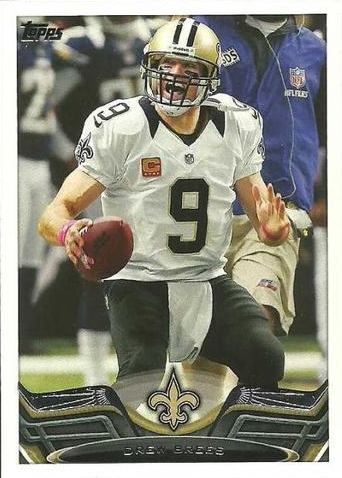 408 Michael Crabtree, San Francisco 49ers
(White gloves)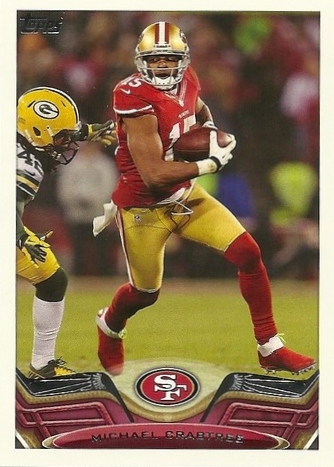 410 Andre Johnson, Houston Texans
(Looking upfield)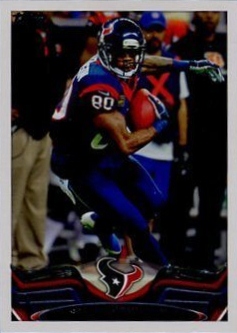 415 Randall Cobb, Green Bay Packers
(Scoring TD)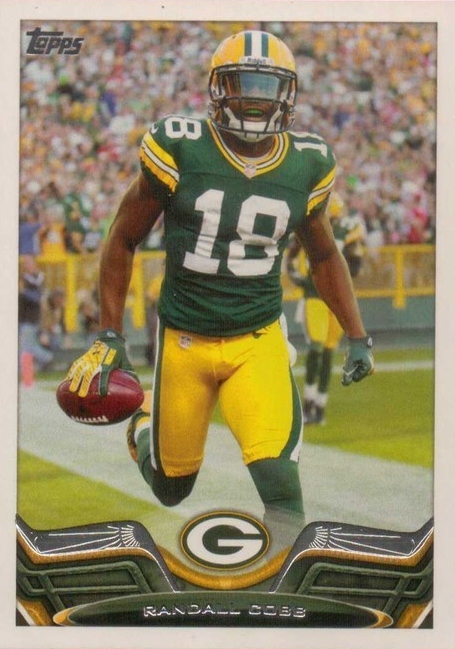 430 Larry Fitzgerald, Arizona Cardinals
(Pink gloves)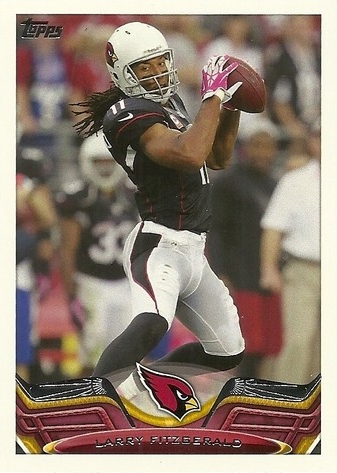 440 Joe Flacco, Baltimore Ravens
(Pumping fist)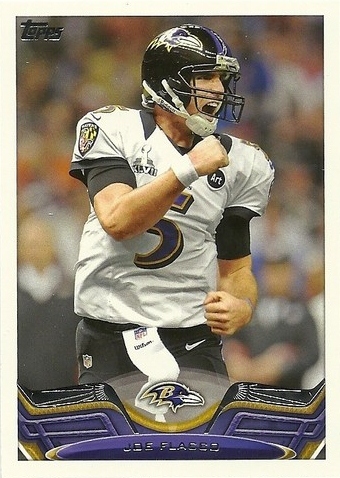 ROOKIE BASE CARD VARIATIONS

11 Manti Te'o, San Diego Chargers
(Catching the ball)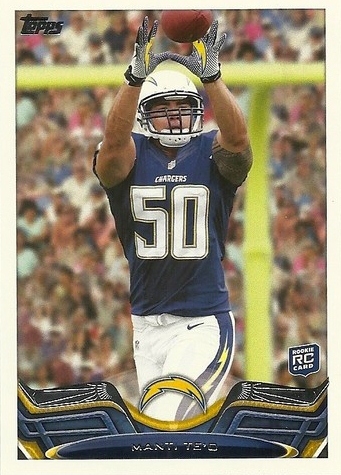 37 Andre Ellington, Arizona Cardinals
(Ball in left hand)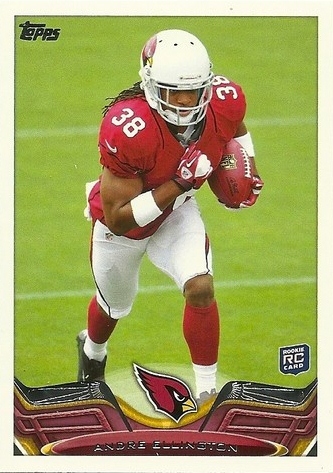 43 Mike Glennon, Tampa Bay Buccaneers
(Throwing across body)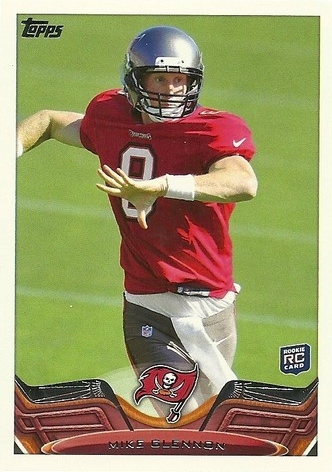 61 Montee Ball, Denver Broncos
(Catching pass)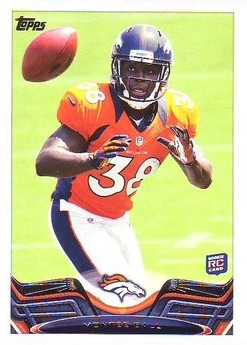 74 Stepfan Taylor, Arizona Cardinals
(Cradling ball)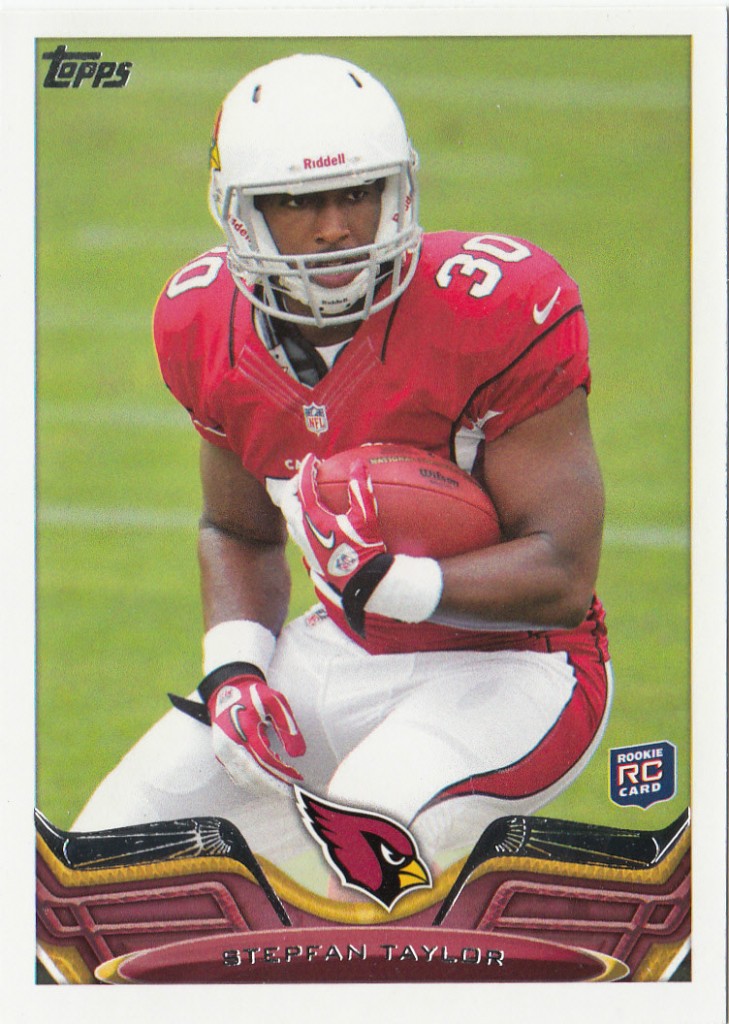 112 Tavon Austin, St. Louis Rams
(Stands in background)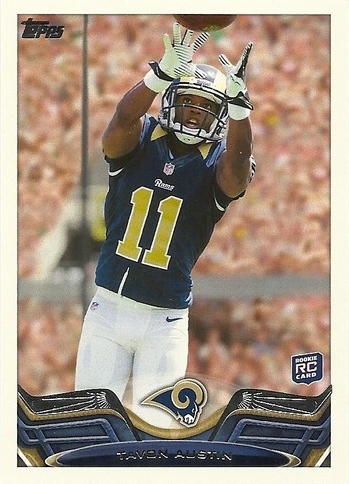 126 Geno Smith, New York Jets
(Running)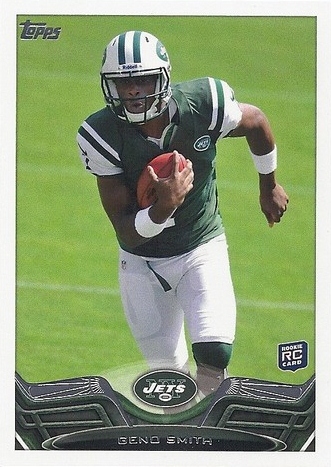 145 Johnathan Franklin, Green Bay Packers
(Catching ball)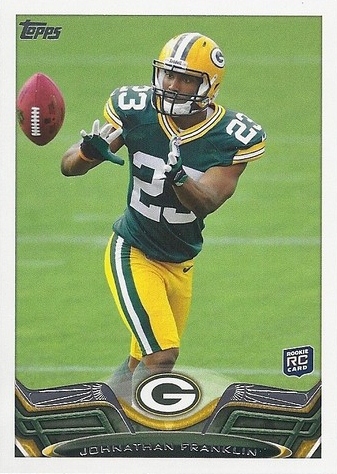 155 DeAndre Hopkins, Houston Texans
(Ball in left hand)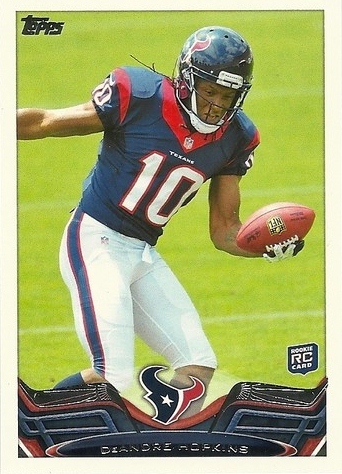 159 Ryan Nassib, New York Giants
(Ball to side)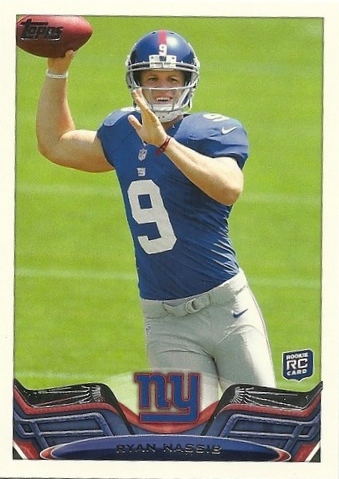 215 E.J. Manuel, Buffalo Bills
(Passing)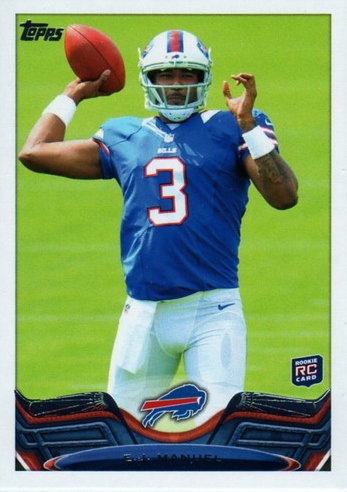 245 Matt Barkley, Philadelphia Eagles
(Crowd in background)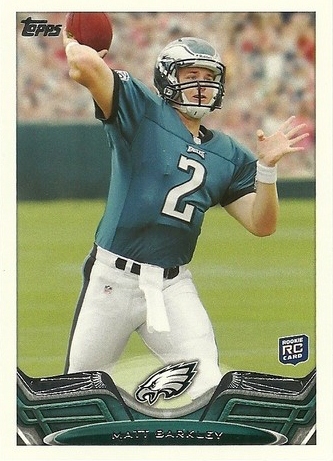 248 Justin Hunter, Tennessee Titans
(Celebration)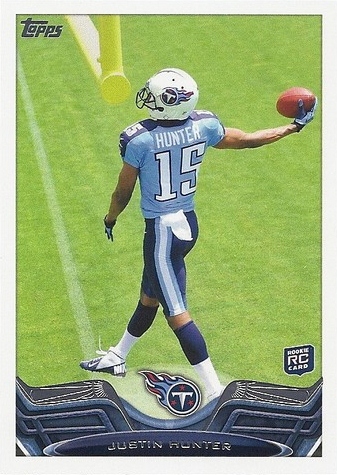 281 Robert Woods, Buffalo Bills
(Running)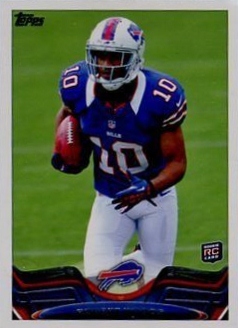 314 Marcus Lattimore, San Francisco 49ers
(Crowd in background)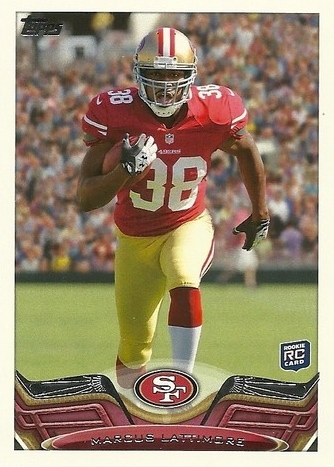 317 Jordan Reed, Washington Redskins
(Catching ball)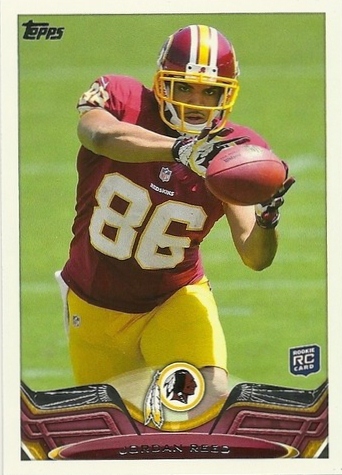 332 Tyler Wilson, Oakland Raiders
(Ball at chest)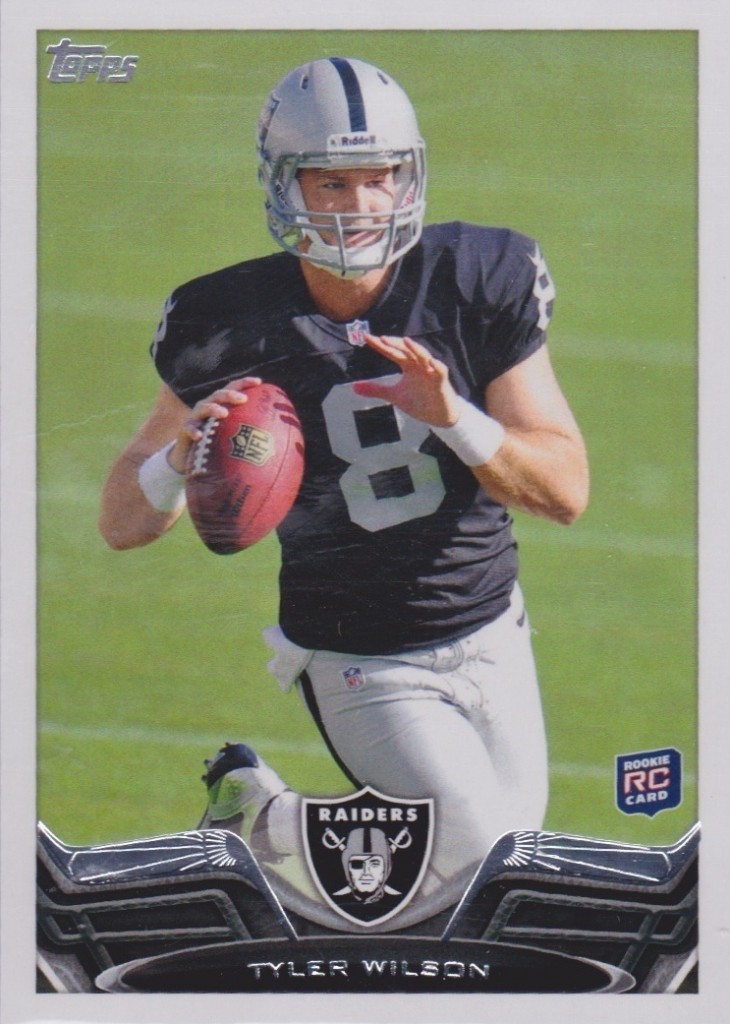 358 Giovani Bernard, Cincinnati Bengals
(Hurdling)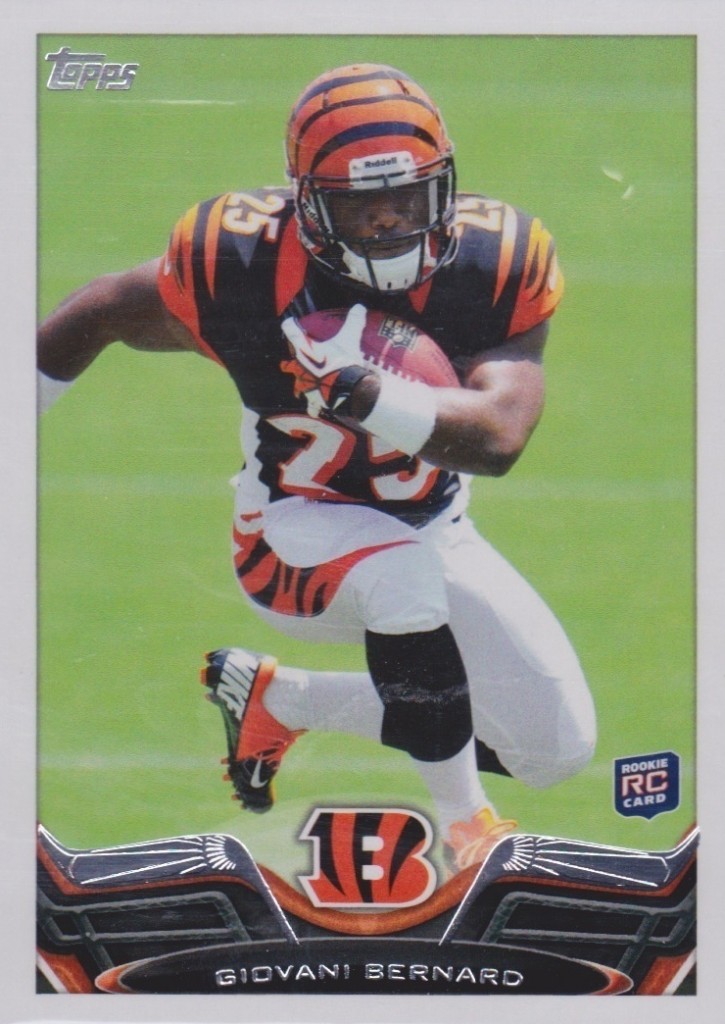 384 Zach Ertz, Philadelphia Eagles
(Celebration)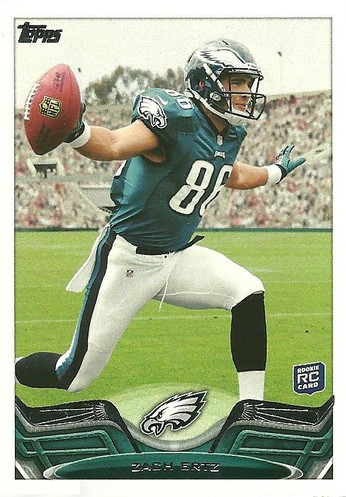 386 Cordarrelle Patterson, Minnesota Vikings
(Running)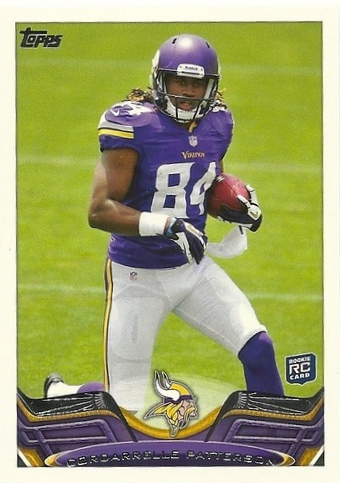 402 Aaron Dobson, New England Patriots
(Cradling ball)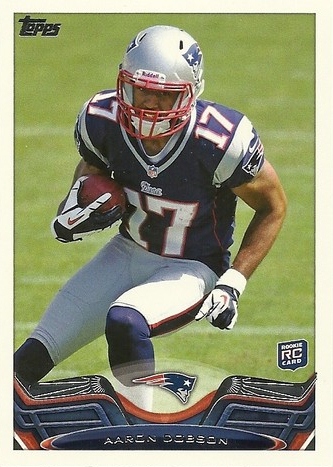 403 Le'Veon Bell, Pittsburgh Steelers
(Ball in left hand)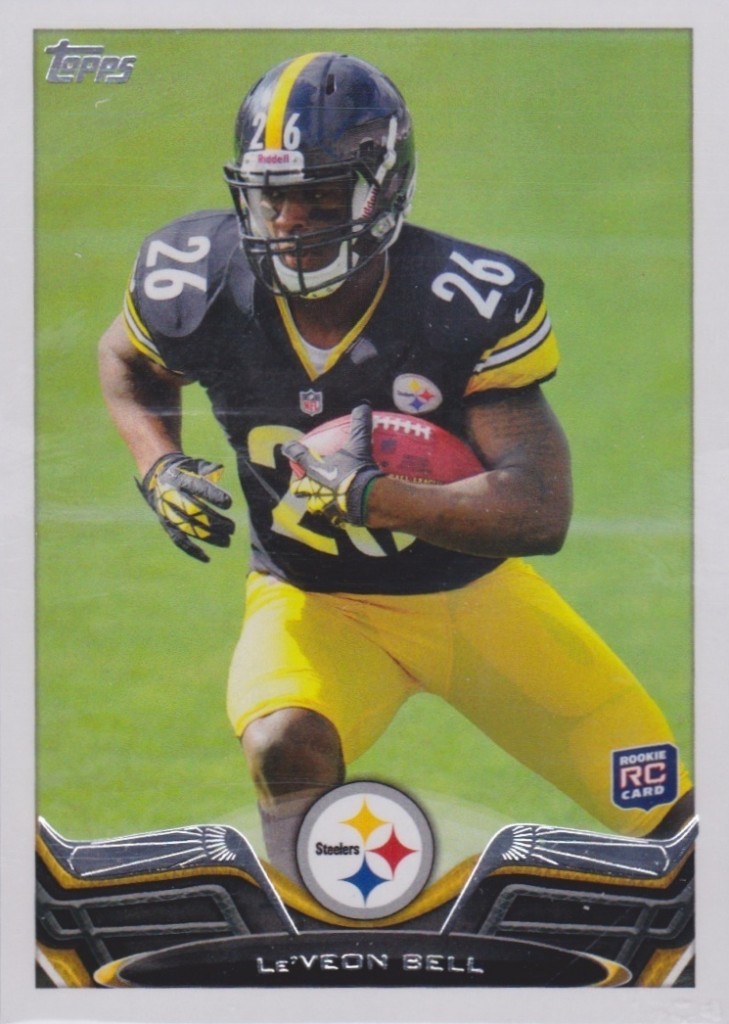 406 Eddie Lacy, Green Bay Packers
(Ball in right hand)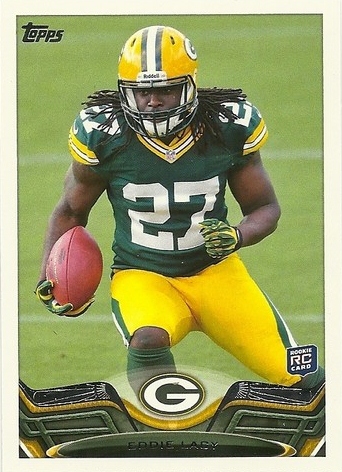 407 Tyler Eifert, Cincinnati Bengals
(Arm raised)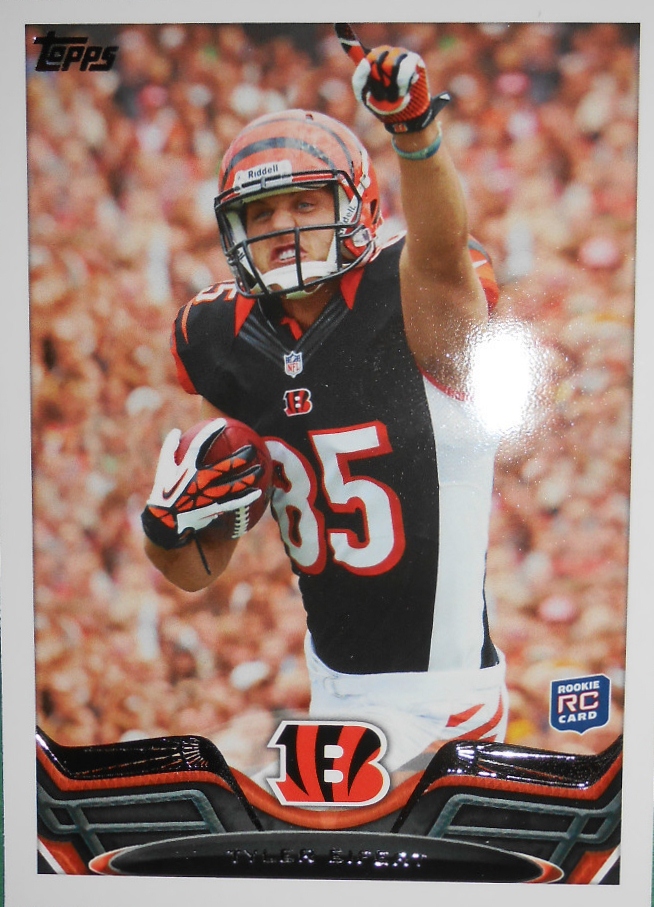 435 Keenan Allen, San Diego Chargers
(Catching ball)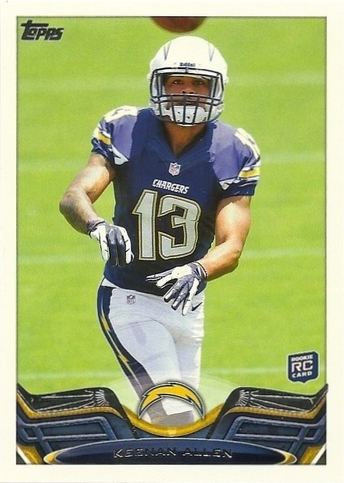 SUPER-SHORT-PRINTS

SP-TT Tim Tebow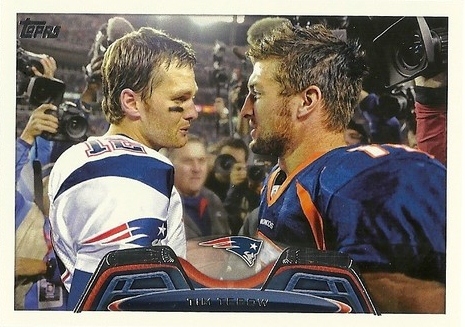 BW-SP Brent Williams