Pete Davidson Makes a Small Appearance on Basketball Card for Stephen Curry's 3-Point Record
The talk was supposed to be about Stephen Curry breaking the all-time 3-Point record. Most of it was. But actor Pete Davidson proved the power of the photobomb. Appearing courtside wearing a bright pink hoodie, he took a small piece of the spotlight as Curry celebrated.
A historic photo of Steph Curry… and Pete Davidson 😂 pic.twitter.com/BWNjjRRhDJ

— The Action Network (@ActionNetworkHQ) December 15, 2021
Given Curry's achievement, basketball cards were an inevitability. In fact, they're already happening thanks to 2021-22 Panini Instant Basketball. Two cards for Curry's achievement are available to order on Panini's website through Monday, December 20.
In case you were wondering if Davidson makes a cameo on one of the cards, he does — but just barely.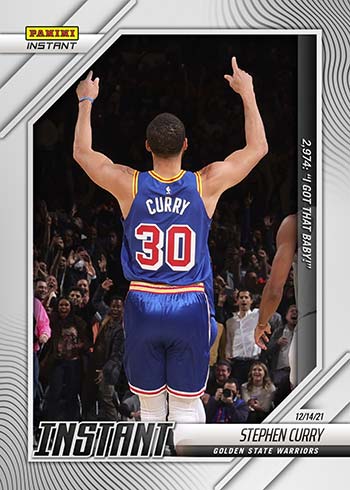 His arm is pretty clear in pink at the side of the photo. The Saturday Night Live comedian's face (and the one on his hoodie) is just out of the frame.
But there is one celebrity who is more clear. Chris Rock a couple seats over Davidson. Look over from the pink arm and right next to Curry's hip and there's the CB4 star, SNL alum and two-time Academy Awards host.
In case your mind jumped to "Chris Rock Rookie Card!", he's been on cards before courtesy of 1992 Star Pics Saturday Night Live. Rock appears on a handful of cards in the set.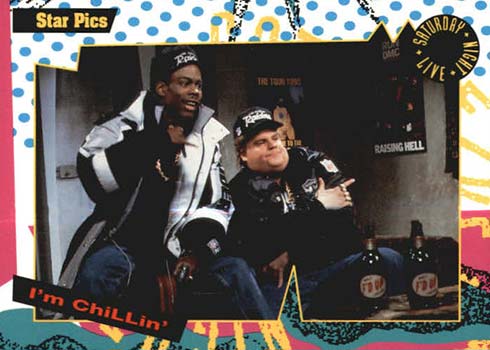 On the other side of Davidson at the game in New York, and nowhere to be seen on the Curry card, was Jon Stewart, former host of The Daily Show.
2021-22 Panini Instant Basketball is a print-on-demand set available through their website. That means that the number of cards ordered make up the print run. Versicolor (/5) and Black (1/1) parallels sold out very quickly. Individual copies are $9.99, although there are discounts for buying larger lots of five, ten and 25 copies. It normally takes a few weeks for Panini Instant cards to arrive after the sales window closes.
It's possible that Curry's moment (and Davidson's photobomb) could appear on additional cards in the future. For now, though, it's the record, Chris Rock and the sleeve of a very pink sweater.