Peeking inside Panini Americana's auto checklist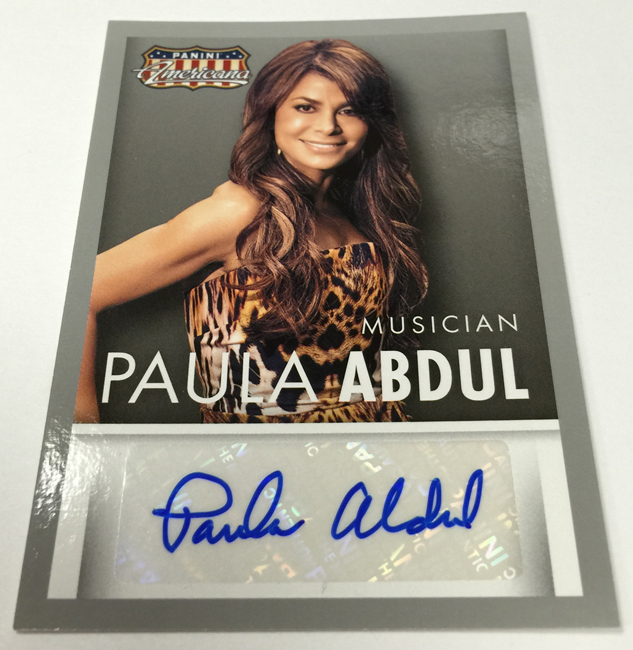 By Chris Olds | Beckett Sports Card Monthly Editor | Commentary
Panini America's top non-sports/celebrity brand, Americana, is back tomorrow after a three-year hiatus with a new crop of celebrity signers and that means one thing — another chance to work on those oddball autograph collections based on your favorite films, TV shows or other non-traditional niches.
I got my first peek at the checklist for this one on Tuesday and here's a rundown of some notable names that stood out to me on the autograph checklist for non-traditional reasons.
There's a former Laker Girl, several memorable TV stars and even some sports stars from the reel world to be found here. Check 'em out …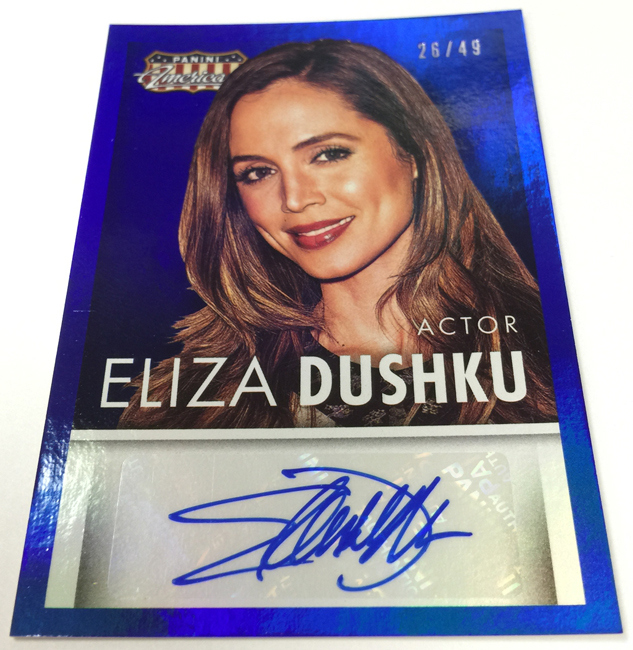 Eliza Dushku, Ali Larter and Shannon Elizabeth — If you know your View Askew films then you know this trio to be three-fourths of the gang from Jay and Silent Bob Strike Back who knocked off the Colorado Diamond Exchange while Jay and Silent Bob freed all the animals from the Provasik testing lab. Chrissy, Sissy and Justice can all now be found with certified autographs in the same place — we're just missing Missy, aka Jennifer Schwalbach Smith, who's married to Silent Bob. Some of the View Askew actors are easy graphs — others are named Ben Affleck, Matt Damon and Jason Lee. There's a while non-sport set just waiting to happen here.
Katrina Bowden — You can now collect autos for all three of the stars seen on the poster for the horror-comedy Tucker & Dale vs. Evil. Bowden had a Fans of the Game auto in 2013-14 Crown Royale hockey but I've not seen one. You can find Tucker (Alan Tudyk) and Dale (Tyler Labine) in some past non-sports sets.
Molly Ringwald — This 1980s icon has only signed for one other card set in the past. Pick your favorite John Hughes ensemble film she's in and start collecting there.
John C. McGinley — You may know him from Scrubs, but you can add him to your sports movies collection, too. He played Red Barber in 42. (He's a past Fans of the Game celeb, too.)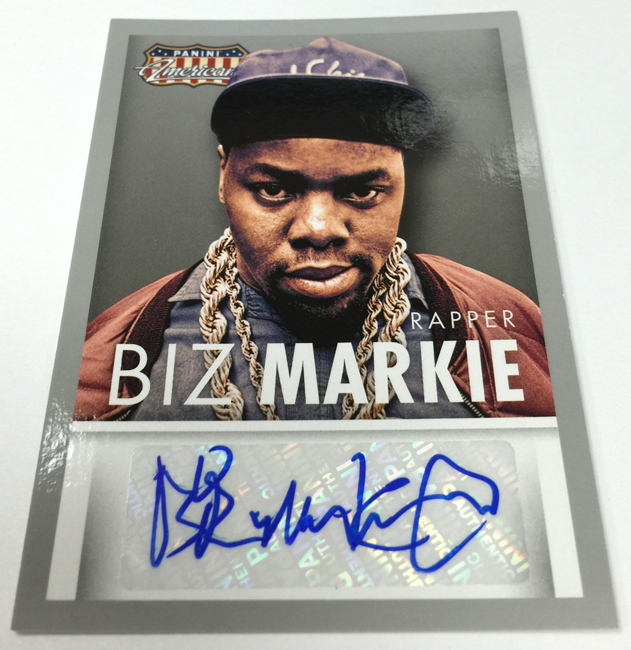 Biz Markie — Oh, baby you … got a card I need.
Vanilla Ice — I'd make an Ice Ice Baby joke, but that would be too cold. I could see this being a hot autograph. This is his first certified autograph.
Coolio, DJ Jazzy Jeff, DJ Kool, Rev Run, Darryl McDaniels, MC Lyte — There's a mix of music autographs in this one with its own subset but some of these performers go beyond just music. I would get a kick out of these autos — or start a musical stash if I pulled more than one.
Jaleel White — You won't find him as Steve Urkel on his card, but you all know the name.
Corbin Bernsen — Roger Dorn has had a few autograph options for Major League fans, but here's a new option in case you haven't seen one.
D.B. Sweeney — You'll have a tough time tracking down a "Shoeless" Joe Jackson autograph, but you can get the next-best thing with this star from Eight Men Out. He doesn't have a certified autograph.
Paula Abdul — If you're younger, you know her from American Idol. If you're older, you know her from MTV. If you're an old basketball fan, you might know her as a former Laker Girl. She was the team's choreographer. That led to work in entertainment — and the rest is history. Despite all that history, this is her first non-cut certified autograph release.
Sylvester Stallone — He's a pricey autograph in general, so he'll be in demand. And that's just for the Rocky collectors. FYI: Brigitte Nielsen is in a past Americana set and you can find others in past sets.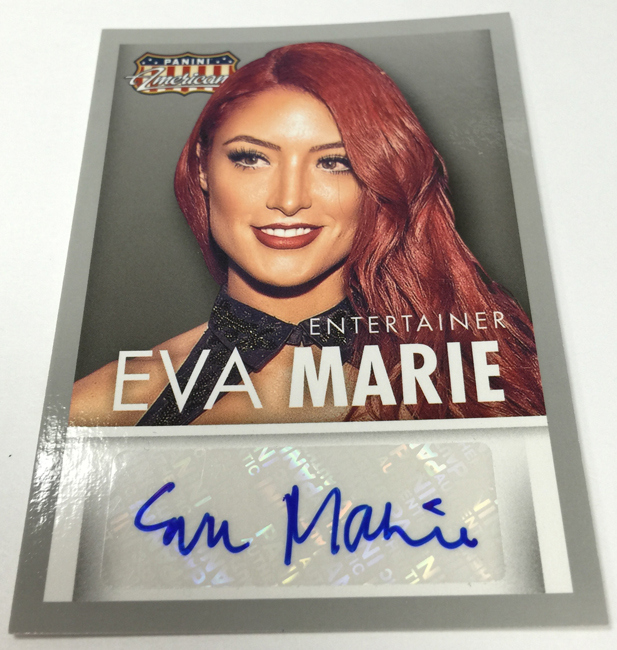 Eva Marie — This one was a surprise to see. Typically active WWE performers don't show up in non-WWE card sets. Sounds like the perfect kind of controversy for a Total Divas episode … and the start of a collecting niche for some. (Chris Jericho is also in the checklist but he's only a part-time WWE performer at this point.)
Ian Ziering and Tiffani Thiessen — The Beverly Hills 90210 collection starts here and I'm sure you can find others in past releases. Not a big fan here, but I know there are a lot of them out there.
Jordana Brewster — Sure, some of you might have her autograph pegged for a Fast & Furious collection — and there are a few signers there — but I'll call it a start of a D.E.B.S. collection. (I know, about three of you will get that.) This is her first autographed card.
Rose McGowan — Americana has had quite a few stars of Quentin Tarantino films found in its packs through the years, including Tarantino himself. Now, we have a chance to find Pam/Cherry from the Grindhouse double feature. Hopefully these cards will be more-affordable than her past Charmed card.
Laura Prepon — I'm not sure how many members of the That '70s Show cast have certified autographs, but odds are you might not recognize Donna Pinciotti on her card (she's moved away from the red hair). You can start by cross-referencing the IMDB cast list with searches on Beckett.com. For Prepon, this is a certified autograph debut.
There are countless other first-time signers — a lot of reality TV and chef inclusions if I scanned the list correctly — to be found in Americana, too. These are just the ones I'll be watching first.
Chris Olds is the editor of Beckett Baseball and Beckett Sports Card Monthly magazines. Have a comment, question or idea? Send an email to him at colds@beckett.com. Follow him on Twitter @chrisolds2009.