Paul Rudd and Evangeline Lilly Autographs Don't Sting – Beckett Pricing Insider
With the release of Upper Deck's Ant-Man and the Wasp product, I thought it would be interesting to take a look at the previous autographs that are already out there for its main stars, Paul Rudd and Evangeline Lilly.
This is one of those good news, bad news situations so, naturally, I'll deliver the bad news first.
Paul Rudd doesn't have many autographs.
That isn't very fitting for the world's greatest grandma, but it's true. There is only one product that was able to snag Rudd — 2013 Press Pass Parks and Recreation. The silver lining is that his base autographs are still fairly affordable at $25-$60. He also has a couple of parallels, some of which also have inscriptions.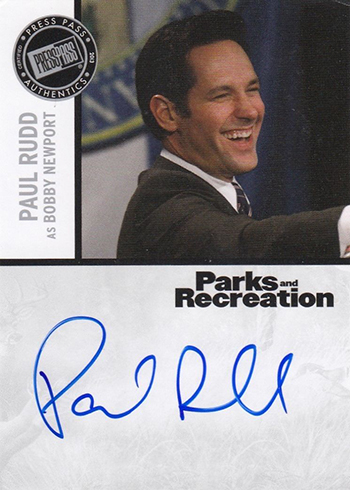 Unfortunately for collectors of MCU autographs, there are no Ant-Man autographs for Paul yet. Perhaps in Upper Deck's upcoming 2019 Marvel Cinematic Universe 10th Anniversary product? Time will tell.
Now for the good news. Evangeline Lilly has several autographs available. Spread across three distinct franchises, Lilly has autographs in products for Lost, The Hobbit and, of course, both Ant-Man films.
Lilly, along with Scarlett Johansson, Zoe Saldana and Brie Larson, has become one of the premier leading ladies in the MCU. So it shouldn't be a surprise that no matter the set, her autographs are in high demand.
Currently her most sought-after autograph would be her 2015 Ant-Man Autographs #AAEL ($150-$300).