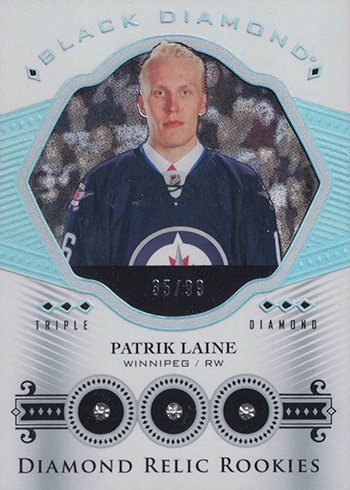 By Ryan Cracknell | Hobby Editor
Heading into the season, Patrik Laine Rookie Cards were going to be a big deal. He may not have had quite the same level of excitement as his Maple Leafs rival initially, but a fast start ensured that Laine was soon on the hobby radar.
The Winnipeg Jets took the talented and confident Finnish winger with the second overall pick in the 2016 NHL Draft. Some pondered whether Laine should have gone first, but it appears to have worked out just fine for the Jets.
Having developed his skills in Finland, very few Patrik Laine cards were available to North American audiences prior to his arrival in the NHL. He appeared in European sets but those can be tricky to find. Even his first mainstream cards that came out following his arrival with the Jets aren't actually all that mainstream. Then Upper Deck pushed him to Series 2 for his Young Guns base card. But after an initial lull, Patrik Laine Rookie Cards are arriving.
Patrik Laine Rookie Cards
Here's a look at the Patrik Laine Rookie Cards that have been released so far. Stay tuned as we'll be adding all of his rookie cards throughout the season.
2016-17 Black Diamond Patrik Laine RC #BDRPL /99
The 2016-17 Black Diamond Patrik Laine was the right winger's first Rookie Card released to the market. And it's also one of the biggest. Limited to 99 copies, it comes with three small diamond embedded in it, taking the set's name in a more literal direction. This is just the second year since Black Diamond was reworked to become a high-end product but the distinct nature of the Rookies seem to have held collector interest as Laine and others continue to command strong prices.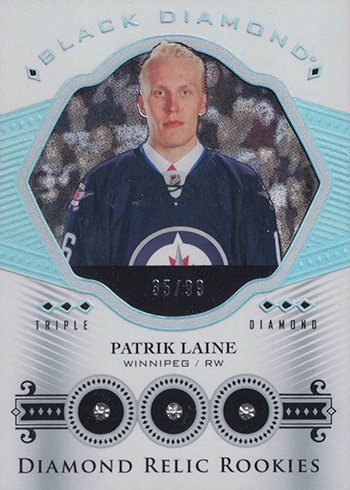 Parallels: Pure Black (1/1)
Buy on:
• eBay
2016-17 Exquisite Collection Patrik Laine RC #RPL /29
2016-17 Exquisite Collection Hockey is a bonus set of sorts included across a few high-end products. This particular card is found in bonus packs that came with 2016-17 Black Diamond. Limited to 29 copies — Laine's jersey number — it's understandably on the rare side. How rare? We have yet to even see one.
Parallels: Rookie Spectrum (1/1)
Buy on:
• eBay
2016-17 Parkhurst Patrik Laine RC #375
The 2016-17 Parkhurst Patrik Laine is a simple card, other than the fact that it's part of a retail-only distribution. That said, it's not a short print, it's not numbered and it's not signed. It just fits right in with the rest of the base set. While it has a couple of parallels, it is different from the card included in specially marked 2016-17 Upper Deck Series 1 blasters. That card (#PR9) uses a similar design but it uses a fully-body shot of Laine versus the waist-up photo used on the Rookie Card.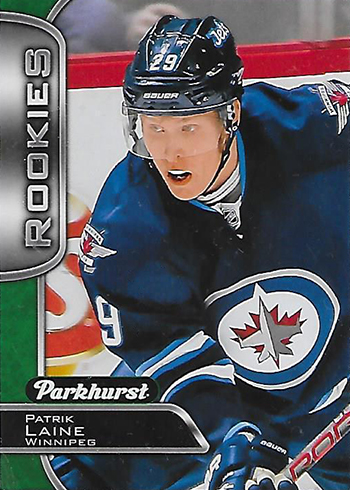 Parallels: Black, Red
Buy on:
2016-17 Upper Deck Trilogy Patrik Laine #52 /999
With 999 serial-numbered copies, the 2016-17 Upper Deck Trilogy Patrik Laine Rookie Card isn't ridiculously tough to find. For fans of foil cards, it walks the line of being a basic Rookie Card and one that's a little more upscale. It's not his cheapest card, but it's still far from the top. Laine also has cards numbered to 175 and 49 that are part of the main Trilogy set, both of which are autographed.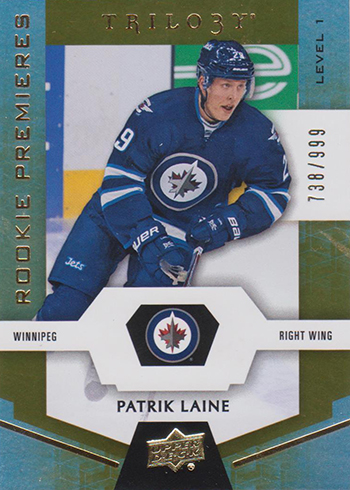 Parallels: Rainbow Green Jersey (/399), Rainbow Black (/99)
Buy on:
Other Notable Early Patrik Laine Cards
2015-16 Finnish Cardset Patrik Laine #376 /999
2015-16 Finnish Cardset landed Laine on its Series 2 checklist. His main card is serial-numbered to 999 copies. The product also has a Patrik Laine autograph that has 125 copies. Because of the overseas distribution, they're not all that common in North America.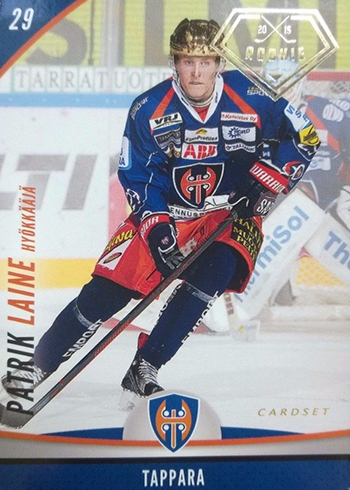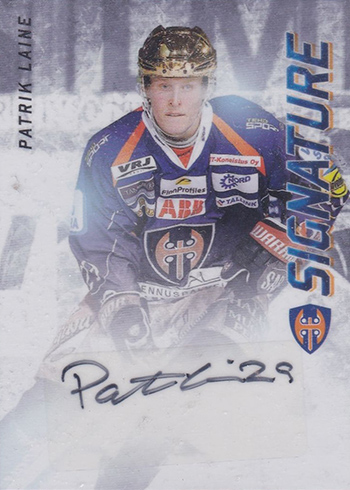 2016 Sereal Team Finland Patrik Laine
Distributed in Europe, Patrik Laine can be found in Sereal's 2016 Team Finland release. The winger is featured throughout the checklist including limited autographs and memorabilia cards. Here's a full list of the Patrik Laine cards in the set: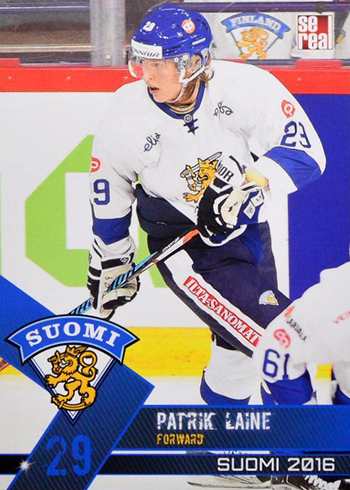 • Base #FIN-BAS-015
• Base Blue #FIN-BAS-015 /100
• Base Silver #FIN-BAS-015 /60
• Base Gold #FIN-BAS-015 1/1
• Under 20 World Champions #FIN-U20-016
• Autograph Series #FIN-AUT-015 /25
• Under 20 World Champions Autographs #FIN-U20-A05 /25
• Jersey Series #FIN-JER-015 /111
• Jersey Flag Series #FIN-JER-F15 /30
• Letter Patch #FIN-LTR-015 /5
• Patch Series #FIN-PAT-015 /21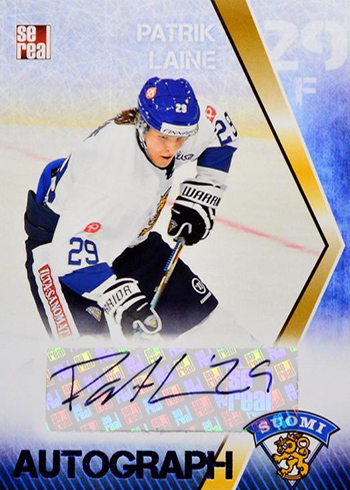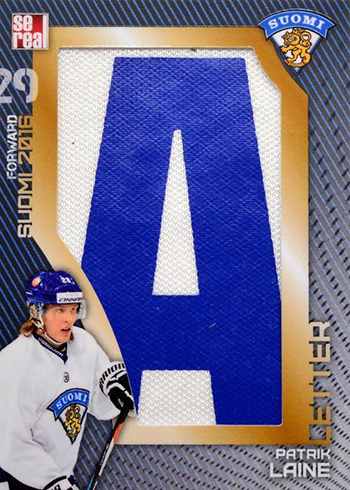 Buy on:
• eBay
2016 Upper Deck World Cup of Hockey Patrik Laine #WCH25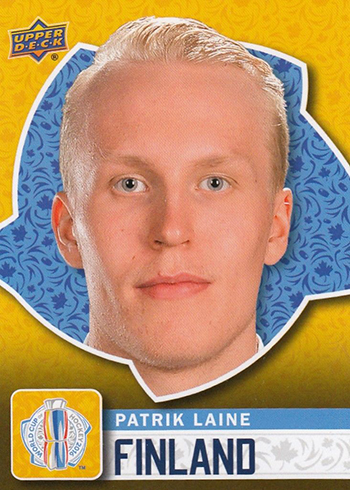 When it comes to North American releases, 2016 Upper Deck World Cup of Hockey is Laine's first. Not a full-blown release, it's closer to a promo set. In addition to the base card, there are four different Printing Plates, each one-of-a-kind. Some of the value the card holds now is because there isn't much in the way of alternatives. As Laine's NHL cards start to surface, they will likely overtake this one as far as interest goes.
Buy on:
• eBay
2016 Upper Deck Heritage Classic Patrik Laine #JETS-0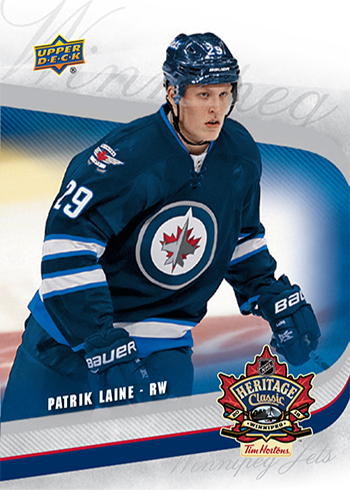 This is Laine's first card wearing a Jets uniform. Like the World Cup card, it's part of a promo set. But there's a bit of a regional twist. Released in conjunction with the October Heritage Classic game between the Jets and Edmonton Oilers, it's a bonus card for the special set. To get one you had to purchase a box from select Winnipeg-area card shops. It was available separately from the rest of the set, which was given out with a smaller $20 purchase.
Patrik Laine Rookie Redemption Cards
2015-16 Upper Deck Portfolio XRC Redemptions #2
2015-16 Upper Deck Portfolio brought with it some forward thinking. They have several levels of redemptions good for members of the 2016-17 rookie class. Each group has six players, three of which were players who debuted too late in 2015-16 to be included in that year's products. Laine was one of the last to be confirmed. All Rookie #2 versions are good for the Jets winger.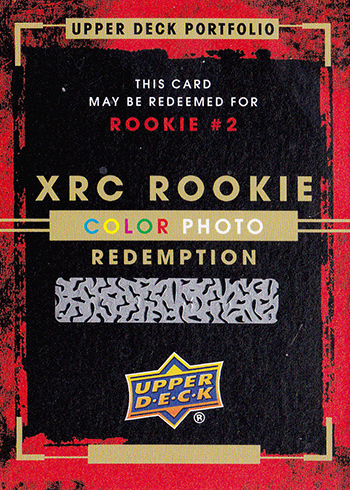 Buy on:
• eBay
2016-17 Upper Deck Artifacts Rookie Redemptions #RED210
To the surprise of nobody, Laine has been named the 2016-17 Upper Deck Artifacts Rookie Redemption for the Winnipeg Jets card (#RED210). Once the final cards are shipped out, they should join the main set checklist and be added to the official Rookie Card list.
Besides the general Rookie Redemption, Laine is also part of the Rookie Autograph and Memorabilia card redemptions. Those with 2016-17 Artifacts Rookie Redemptions II receive Laine.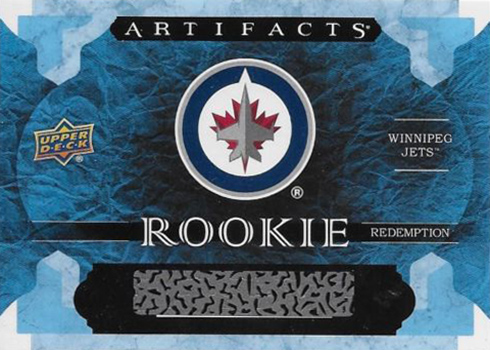 Buy on:
• eBay
Comments? Questions? Contact Ryan Cracknell on Twitter @tradercracks.