Pat Summitt's news may put focus on her few cards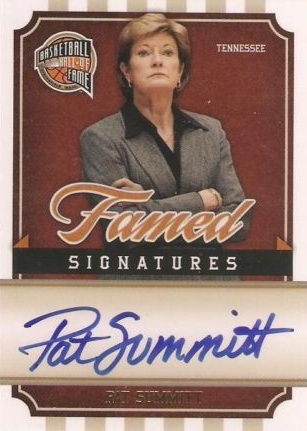 By Chris Olds | Beckett Basketball Editor | Commentary
A coaching legend's sad news announced Tuesday may not spark any pity parties — she won't allow it — but there will certainly be more than a few fans who are prompted to pick up a piece of her memorabilia.
Basketball Hall of Famer and Tennessee Lady Vols coach Pat Summitt has been diagnosed with early onset dementia, Alzheimer's type, but plans to remain as coach this season. The 59-year-old has coached the Lady Vols for 37 years, winning 1,071 games and eight national championships.
"She's our John Wooden. If you are a Tennessee fan or not, there's no denying her place in women's basketball," Baylor Coach Kim Mulkey told The Associated Press. "I played for the woman. She's as tough as nails. People think I'm tough. I'm a pussycat compared to Pat Summitt …. Pat Summitt will fight. Pat Summitt will be on a crusade to help people with dementia."
Summit has won more games than any other coach in college basketball history, yet, despite her accolades, she's signed just one certified trading card for any manufacturer — Panini America last year — and appears on just 21 cards total in the Beckett.com database.
Summitt's lone signed card can be found in the 2009-10 Hall of Fame Famed Signatures set with just 599 copies in existence. It typically sells for $40 or less.
Summitt's earliest card in the database comes from the 1990-91 Tennessee Women set, a school-issued release, while she also appeared on UT cards in subsequent years as well as on cards for her involvement with USA Basketball and in a couple of other college sets.
I've been to just one major college basketball game on the women's side, seeing the Lady Vols take on the Alabama Crimson Tide years ago. The support of the Tennessee fans — even when traveling to see their team — was obvious that day in Tuscaloosa's Coleman Coliseum as it literally was packed with fans … most wearing orange.
Summitt's arrival onto the floor before the game was met with a thunderous concert-like roar. It was one of those sports moments that I'll always remember — one that perfectly defined greatness without needing to look anywhere near a stat sheet or a record book. You knew that greatness, you knew that Pat Summitt, had arrived.
Let's hope Panini's deal to produce Basketball Hall of Fame cards means there's more on the way for Summitt and other legends who aren't all that well-represented on cardboard.
Chris Olds is the editor of Beckett Basketball magazine. Have a comment, question or idea? Send an email to him at colds@beckett.com. Follow him on Twitter by clicking here.