Passing the Torch Greats – Beckett Pricing Insider
This edition of the Beckett Pricing Insider is brought to you by GTS Distribution. Watch Go GTS Live – The Hobby's Web Show, every Thursday at 9 PM EST.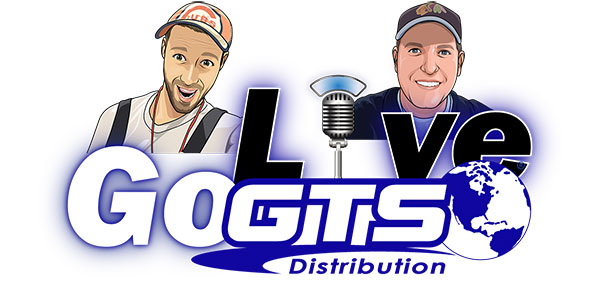 Panini has released this year's edition of Elite Football. Returning once again are the always-popular Passing the Torch Autographs. There have been some amazing and truly iconic cards that have come out of this set over the years, particularly when it comes to the dual signatures.
Here's a look at some recent big sales from past Passing the Torch sets.
2014 Elite Passing the Torch Autographs #1 Peyton Manning/Tom Brady /2 – $1,425
Let's start off with one of the most sought-after cards ever. Any collector would love to get a card with two of the greatest quarterbacks of all-time autographs (even the Brady haters).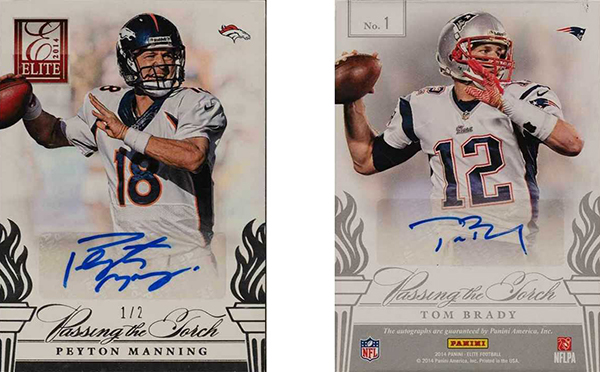 2000 Donruss Elite Passing the Torch Autographs #PT13 Jerry Rice/Randy Moss /50 – $790
Getting autographs of two of the best wide receivers of all time would make a good day. This card;s design is iconic and is worth more than some cards with lower print runs. The print run on the card says 500 but only the first 50 are autographed.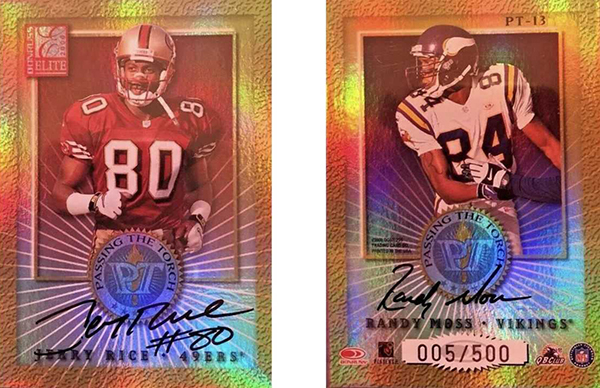 2000 Donruss Elite Passing the Torch Autographs #PT15 Joe Monana/Steve Young /50 BGS 8.5 – $405
If there was ever a more appropriate time to use the phrase "Passing the Torch" than giving a nod to Steve Young taking over the quarterback duties from Joe Montana in San Francisco. Both of them are Super Bowl winners and Hall of Famers.