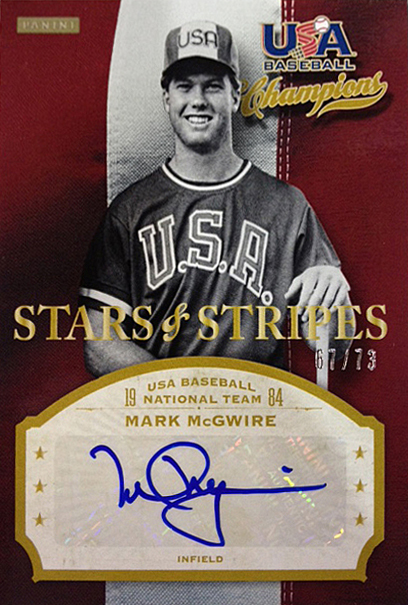 By Chris Olds | Beckett Baseball Editor
The Red, White and Blue are back in packs — and for the first time, it's an entire product issued in pack form just for USA Baseball. 
But that's not all that Panini America's 2013 USA Baseball Champions has to offer if collectors are patriotically inclined.
Besides the inclusion of the latest young players to take the field for America, there are several notable USA Baseball alumni who have certified autographs for the first time in years.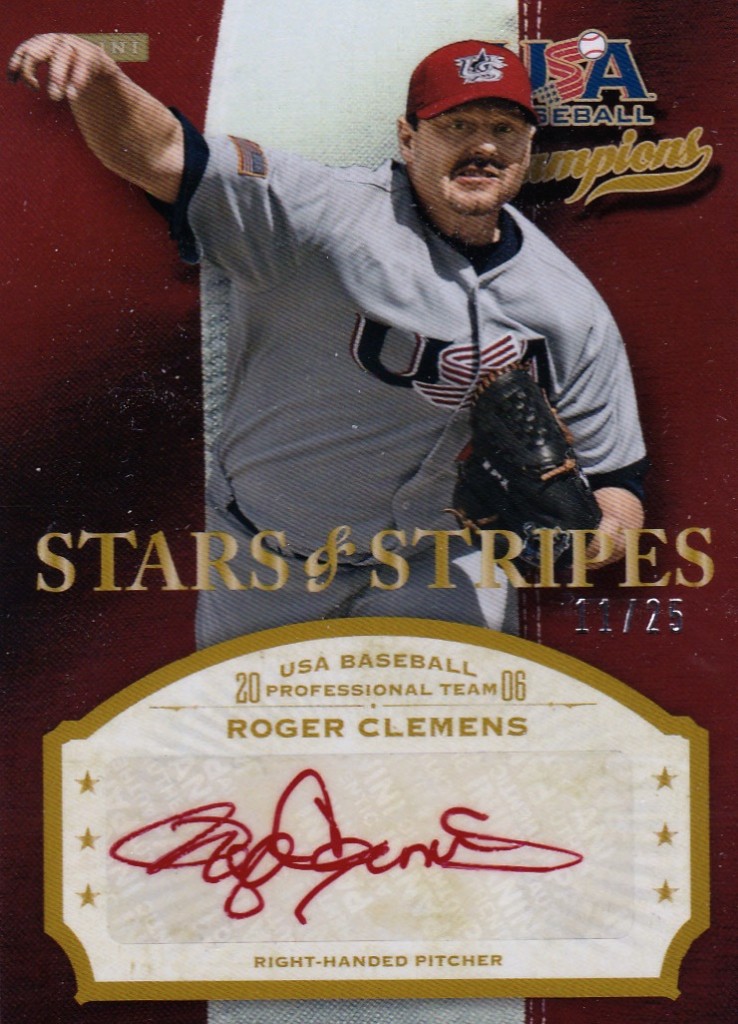 The Stars & Stripes Signatures set features autographs from past MLB stars as well as recent USA players now working their ways up. While some players have 700 or 900 copies of their autographs, others have relatively few — and they may not be players who have signed much in the last few years. (Recipes for some surprising values? Perhaps. Click here to see new auctions.)
A glimpse at the checklist shows former single-season home run champ Mark McGwire signing a total of 100 cards for the product — 73 standard sigs, 25 red-ink sigs and two green-ink sigs. The former Bash Brother only has 137 total certified autograph cards in existence and has not signed anything in this kind of quantity since 2003.
Another A-list player in baseball history — and also one with allegations of performance-enhancing drug issues that have also affected demand for his cardboard — is Roger Clemens. He, too, signed 100 cards here — his first for Donruss/Playoff-Panini since 2005 and his biggest quantity of sigs since signing for TRISTAR alongside his son, Koby, in 2010.
Some of the rarer sigs here will include future Hall of Famers Ken Griffey Jr. and Chipper Jones and past inductee Frank Robinson. Griffey signed just 100 standard cards, while the other two are limited to just 50.
Some rarer signers can also be found here. Former Twins ace and Cy Young winner Frank Viola is here, and he has just eight previous certified autos. Indians manager Terry Francona also signed on to improve upon his previous total of just six certified autos. Yankees manager Joe Girardi is signing few cards in this one as well — about the same volume as McGwire — with just 14 previous certified sigs to his credit.
Several members of the 1988 USA Baseball squad — a memorable one on the field and on cardboard — have signed on, including Jim Abbott, Robin Ventura, Tino Martinez and Ty Griffin. Abbott has just 86 previous certifieds, while Martinez has just 66. This product marks Griffin's certified autograph debut.
Other big-leaguers here will include former Pirate Jeff King, who signed 800 cards but has only five previous autos, along with the Blue Jays' World Series hero Joe Carter, ex-Angels star Wally Joyner (46 previous certifieds), former Cy Young winner Jack McDowell (39 previous), Giants star Will Clark, Reds star and Hall of Famer Barry Larkin, former Orioles ace Mike Mussina, future Hall of Famer Frank Thomas and even former Boston Red Sox stars Nomar Garciaparra, Johnny Damon and Jason Varitek.
(Click here for a checklist or OPG on Beckett.com when it's available.)

Chris Olds is the editor of Beckett Baseball magazine. Have a comment, question or idea? Send an email to him at colds@beckett.com. Follow him on Twitter by clicking here.