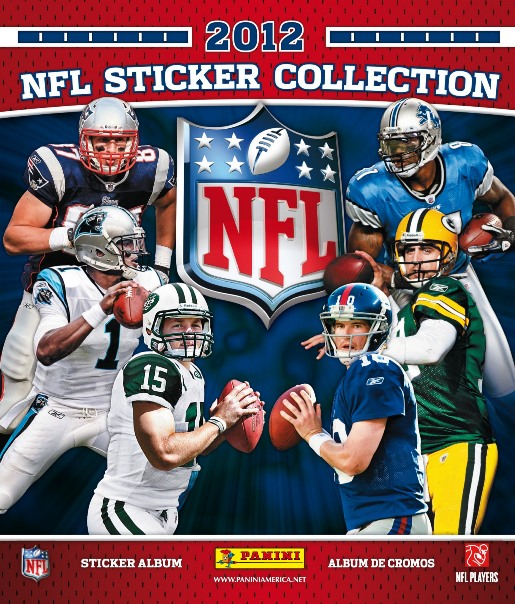 By Susan Lulgjuraj | Beckett Football Editor
What do Eli Manning, Tim Tebow, Aaron Rodgers, Cam Newton, Rob Gronkowski and Calvin Johnson have in common?
They are the cover boys for Panini America's 2012 NFL Sticker & Album Collection.
With 72 pages and 494 stickers (354 glossy, 100 holographic stickers, 40 micro-etched stickers), collectors are going to need plenty of time to chase down a complete book. Seven-sticker packs are $1 each and albums are $2.
"Our Official NFL Sticker & Album Collection continues to grow in popularity every year and over its first two seasons has been enjoyed by millions of fans and collectors," Panini America CEO Mark Warsop said in a press release. "It's a unique fan experience that is fun and affordable for the entire family while also appealing to the most hardcore fans. We're truly excited about the launch of the 2012 edition."
The album will have special sections of top rookies for the upcoming season, which includes Robert Griffin III and Andrew Luck, a recap of the 2011 playoffs and Super Bowl XLVI.
There will also be a one-page tribute to the 2012 Pro Football Hall of Fame Inductees.
In connection with Panini's partnership with Pop Warner football, the card company is promoting concussion awareness. By collecting 2012 NFL Sticker wrappers, Pop Warner teams will be eligible to receive new helmets.
"As millions of kids suit up for the upcoming football season, the NFL Sticker Collection serves as a unique platform to help parents, participants and coaches understand the symptoms to identify concussions," said Jason Howarth, Panini America Vice President of Marketing. "As kids collect their favorite NFL players and look to complete their 2012 NFL Sticker Collection, we look forward to awarding new helmets to Pop Warner programs around the country."
Susan Lulgjuraj is the Beckett Football Editor. You can email Susan here with any questions, ideas or comments. Follow her on Twitter here.