Panini's 2011-12 Titanium Hockey marks another brand revival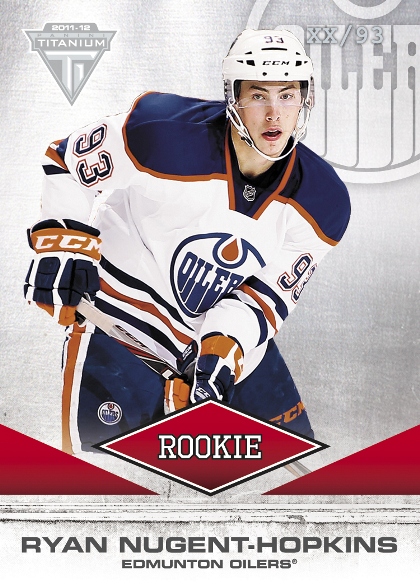 By Andrew Tolentino | Hockey Editor
Over the weekend Panini America gave collectors a sneak peek at the latest chapter in its hockey brand revival saga. This time, the card maker took us back to the early 2000s to reawaken Pacific Trading Cards product Titanium Hockey.
Retaining original Rookie Card appeal and updated to meet current hobby standards, 2011-12 Titanium Hockey will hit  the streets in April — seven years after the brand's last installment.As Panini's Tracy Hackler noted, the original Pacific Trading Cards release featured Rookie Cards limited to each player's jersey number. "The brand took scarce RCs to an entirely new level and created tremendous buzz every step of the way." Revamped with fresh faces, autographs and memorabilia, the new-look Titanium line is a tribute to the not-so-distant past.
Aside from the potential of pulling a limited-to-93 Ryan Nugent-Hopkins Rookie Card, Titanium offers a number of attribute-heavy subsets like Home Sweaters Autographs, Hat Tricks, Four Star and Six Star multiple memorabilia pieces, Quad Memorabilia Autos and Game-Worn Gear Patches.
Details, details

Each pack comes with  a $20 SRP
Four cards per pack

One autograph or memorabilia card per pack

Five packs per box
16 boxes per case

One Rookie Card limited to the player's jersey number in each case