BREAKING: Panini lands MLBPA baseball card license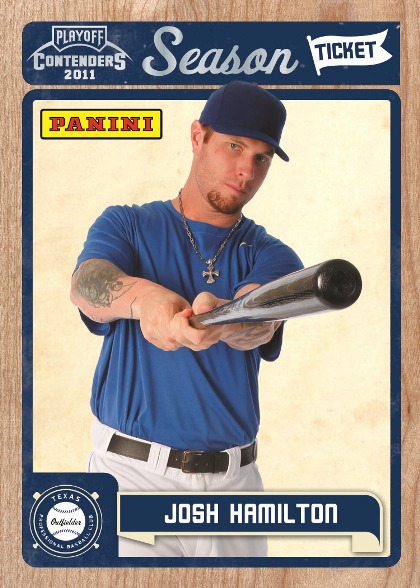 By Chris Olds | Beckett Baseball Editor
ARLINGTON, Texas | If you wanted more baseball cards, you're getting them — and you're getting them soon.
Panini America and the Major League Baseball Players Association have signed a multi-year deal giving the Texas-based division of the world's largest collectibles company the right to make MLBPA-approved baseball cards beginning this year.
The company just made a formal announcement of the deal Thursday afternoon in Arlington, home of the Texas Rangers, with reigning American League MVP Josh Hamilton on hand to discuss his role with the company as a spokesman along with MLBPA Director of Licensing and Business Development Evan Kaplan and Panini America CEO Mark Warsop.

This deal makes Panini the only trading card company with a licensing presence in all four major U.S. sports. Internationally, last year alone, its business brought in more than €800 million (Euros), or $1.1 billion, between its nine divisions. (Its home is in Modena, Italy, with other divisions based in France, Spain, Germany, Brazil, Chile, Mexico and Istanbul. Meanwhile it has distributors in 100 countries worldwide.)
The debut product under the MLBPA deal will be 2011 Elite Extra Edition, a prospect-focused offering, while hot on its tracks will be 2011 Contenders, which will include Hamilton autographs as well as the All-Star outfielder on the product's packaging.
"We're very pleased to be working with Panini," Kaplan said in a prepared statement. "They have consistently developed innovative products that appeal to collectors of all ages both here in America and around the world. Panini's MLBPA-licensed products will present major league baseball players in a unique and exciting way."
It's been a quick entrance into the U.S. trading card market for Panini as it has done all that in little over two years. In March 2009 it purchased the Donruss/Playoff company, making its former Arlington home the base for its American operations (now based in Irving). The company made that move not long after signing an exclusive NBA card deal that began that fall before it added an NHL license in March 2010 to go with its NFL license from under the Donruss regime.
Donruss formerly produced fully licensed baseball cards — cards approved by MLB Properties as well as the MLBPA — until 2005 when Properties opted for just Topps and Upper Deck as it sought to streamline and tailor its card market more toward its vision. In August 2009, Properties opted to only sign a new deal with Topps, starting an exclusive relationship in 2010. That deal remains in place today as Topps remains the lone dually licensed MLB card manufacturer.
"The relationship with the MLBPA represents the culmination of a goal that we committed to when Panini entered the U.S. market just over two years ago," Warsop said in a prepared statement, "that of having a licensed presence in all four of the major sports … and to utilize Panini's creative approach to enhance the overall experience for collectors.
"We are excited to join as a partner of the MLBPA and look forward to working with the MLBPA to continue to raise the visibility of their players and engage new collectors."
There's more to come — stay tuned to Beckett.com/news as we'll have more on this breaking news this afternoon.
Chris Olds is the editor of Beckett Baseball magazine. Have a comment, question or idea? Send an email to him at colds@beckett.com. Follow him on Twitter by clicking here.