Panini turns 2011 National Treasures error into a redemption (kind of)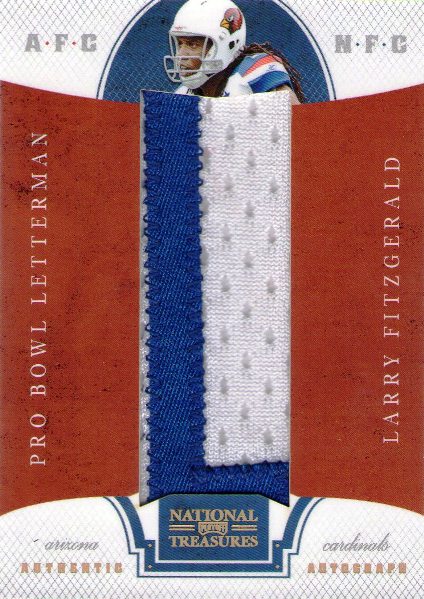 By Andrew Tolentino | Football Editor
Making an altruistic move this morning, Panini America just gave collectors good reason to dig up inserts from last year's National Treasures Football product.
Company officials announced that the 97 cards from the 2011 National Treasures Pro Football Letterman insert set which mistakenly read, "Authentic Autograph" can now be exchanged for a random NFL signature.
According to Panini's blog, "the cards were not intended to be autographed and contain no authentication copy on the back …" Vice President of Marketing Jason Howarth apologized as Panini turned the mistake into a positive. "We go to great lengths to ensure that errors don't occur, and we regret that this one did … But in an effort to make this situation right, we will give a randomly selected NFL autograph to our collectors who pull these cards and contact Panini America Customer Service."
Collectors holding (or currently clicking away to hunt down) one of the following error cards can start the exchange process by contacting hobby@paniniamerica.net with the phrase, "Pro Bowl Letterman" in the subject line.
| | | | |
| --- | --- | --- | --- |
| Card # | Player | Team | Print Run |
| 1 | Darrelle Revis | New York Jets | 5 |
| 2 | Drew Brees | New Orleans Saints | 5 |
| 3 | Michael Vick | Philadelphia Eagles | 4 |
| 4 | Tony Gonzalez | Atlanta Falcons | 8 |
| 5 | Larry Fitzgerald | Arizona Cardinals | 10 |
| 6 | Terrell Suggs | Baltimore Ravens | 5 |
| 7 | Dwayne Bowe | Kansas City Chiefs | 4 |
| 8 | London Fletcher | Washington Redskins | 8 |
| 9 | Jamaal Charles | Kansas City Chiefs | 7 |
| 10 | Jerod Mayo | New England Patriots | 4 |
| 11 | Reggie Wayne | Indianapolis Colts | 5 |
| 12 | Zach Miller | Oakland Raiders | 6 |
| 13 | Arian Foster | Houston Texans | 6 |
| 14 | Devin McCourty | New England Patriots | 8 |
| 15 | Ray Lewis | Baltimore Ravens | 5 |
| 16 | Steven Jackson | St. Louis Rams | 7 |