Panini Offers Damian Lillard Autographs Through Wrapper Redemption
Panini America is creating a special group of Damian Lillard autograph cards featured on designs from the 2012-13 season.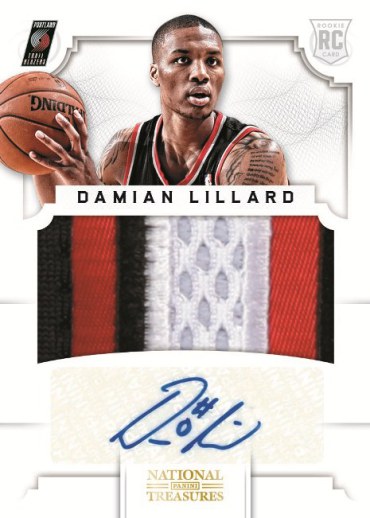 Panini will create 400 new Lillard cards to be used in a redemption mail-in program. The designs will be from National Treasures, Preferred Silhouettes, Gold Standard and Select.
Collectors can earn points toward these cards using wrappers, UPC codes and store receipts from select 12-13 Panini NBA products. Collectors need to earn 300 points to get one blind-wrapped Lillard card.
The cards won't be tagged as Rookie Cards in Beckett's database because Lillard has base RCs in these sets, according to analyst Brian Fleischer. However, once these cards go live, Beckett will determine where to catalogue them.
Here's how the points breakdown on eligible products:
| | |
| --- | --- |
| Eligible Products | Points Per Box |
| 2012-13 Momentum Basketball | 30 |
| 2012-13 Panini Signatures Basketball | 15 |
| 2012-13 Elite Series Basketball | 35 |
| 2012-13 Gold Standard Basketball | 25 |
| 2012-13 Panini Intrigue Basketball | 20 |
| 2012-13 Innovation Basketball | 15 |
Essentially, you have had to spend more than $1,000 to be eligible for a Lillard autograph redemption.
There is a maximum of 10 cards per person.
Send your UPC codes, receipts and wrappers to:
Panini America
Damian Lillard Redemption
5325 FAA Boulevard, Suite 100
Irving, Texas 75061-3601
Update: A Panini America official clarified on the company's blog that receipts for purchased products have to be dated starting Oct. 31. Anything with a date earlier will not be accepted.
Essentially, these have to be new purchases of the products listed above.