Panini teases more to come in Donruss Elite Extra Edition and Playoff Contenders baseball sets
By Chris Olds | Beckett Baseball Editor
Panini America didn't waste time with the unveiling of additional images and plenty of details for its first baseball card set under its licensing agreement with the MLB Players Association.
While there are a few months to go before the arrival of 2011 Donruss Elite Extra Edition on Dec. 21 followed swiftly by 2011 Playoff Contenders, which will arrive on Jan. 11, 2012, barring any unforeseen delays, we have images and details for both releases.
Oh, and the details besides autographs of potential future Kansas City Royals star Bubba Starling in DEEE? You can get those and see more … after the jump.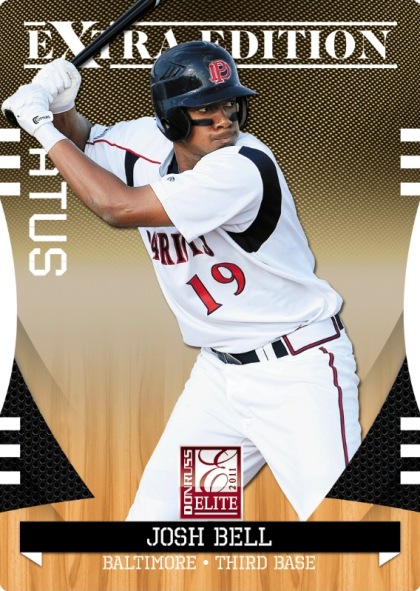 According to the company, Elite Extra Edition promises to include (so far), autographs from more than 30 first-round picks among a checklist that includes 50 on-card autographs among the 150 prospects signing for the product. Among them will be No. 1 overall pick Gerrit Cole out of UCLA, his teammate and Golden Spikes Award winner Trevor Bauer, Starling, Danny Hultzen, Dylan Bundy, Anthony Rendon, Archie Bradley, Matthew Purke, Jackie Bradley Jr., Kyle Parker, Leonys Martin and Josh Bell.
"The compilation of EEE will be familiar to collectors, but there are … more on-card autographs than ever before," said brand manager Mike Payne. "EEE still is the most comprehensive baseball draft product on the market and stretches beyond just the obvious names in the first round or a few that spill into the second round – names we do have, by the way."
Current major league players will appear in the set, too, with reigning AL MVP Josh Hamilton (an apparent change from his previously announced Contenders debut), NL Cy Young hopeful Clayton Kershaw, AL Cy Young and MVP candidate Justin Verlander and Rookie of the Year contender Eric Hosmer along with Mariners rookie Michael Pineda on standard cards to name just a few.
But it's the rookie ink which Panini is pushing — and there's a bit of a legacy there with the line for collectors who remember it the first time around.
"By going beyond the first round, EEE has introduced the first autographs of Austin Jackson, Domonic Brown, Brandon Belt, Matt Moore and Paul Goldschmidt," Payne said. "That's part of EEE's identity."
Contenders, meanwhile, will include autographs from prospects as well as the first signed Panini cards of big-leaguers such as Hamilton.
Contenders also will include autographs from 150 prospects — another 50 signing on-card — with 20 of those being first-time signers who will not appear in Elite.
Also forthcoming will be some printing technology and names that are part of the Donruss legacy of brands with Museum Collection parallel cards and Nufex printing for the Season Ticket and Rookie Ticket cards, while there also will be Rookie Ticket Artist's Proofs and First Day Printer's Proofs in the fold.
Chris Olds is the editor of Beckett Baseball magazine. Have a comment, question or idea? Send an email to him at colds@beckett.com. Follow him on Twitter by clicking here.