Panini snaps my favorite player's signing slump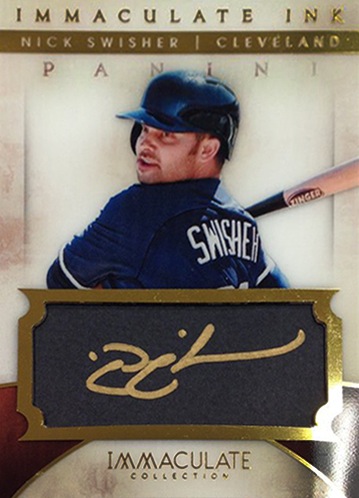 By Chris Olds | Beckett Baseball Editor | Commentary
My fellow collectors, my long national collecting nightmare is over.
A reference to a presidential address older than I am probably isn't fitting here — nor is this a development that will change the collecting landscape once and for all because it's not that important to that many baseball fans.
Except, it's important to me — and maybe a few of you in the Brohio section of the ol' ballpark in Cleveland or a few of you among his 1.72 million Twitter followers — and I'm writing it, anyway.
My collecting conundrum — call it a drought, call it a slump, call it whatever — of the last few years will soon be over as I received a tip via a top-secret Twitter DM Friday night from a source I'll simply dub "Deep Tracy."
The scoop? Panini America is releasing autographed cards of Cleveland Indians first baseman Nick Swisher, my favorite player, in 2014 Panini Immaculate arriving on Sept. 24. They're his first autographs (ones actually showing him on the card, anyway) since 2010, and they're the first not on stickers since 2008. This one's signed on what the company is calling "black tweedweave" and it was inked after the card was assembled.
This isn't something to stop the presses over — Beckett Baseball shipped off to the printer a week ago today, by the way — but it's a development a few years in the making. That trend is something that many probably hadn't noticed, especially this year, as Swisher had the worst season of his 11-year career end last month with double knee surgery and the first non-20-homer total for a full season. (It's the kind of year that's forgettable — on and off cardboard. Even for me.)
Some collectors out there might simply utter a sarcastic thank-you to a different card company, but this drought wasn't created by any one particular group at all. Swisher wasn't signing for any of a few companies before they stopped making MLB cards, and before that he signed plenty of stickers during his younger years in Oakland. (He appears on 261 different signed cards in the Beckett.com database.) From what I have heard — different top-secret sources, not "Deep Tracy" — my player had been one who simply didn't sign for new sets because his asking price topped his typical sales. In other words, basic math. If a player wants too much to sign a card — more than us collectors might pay for it — then it doesn't make economic sense for any card company to pursue his ink … especially if fewer of us are.
Let's analyze this a different way and push it forward, though. For four seasons, Swisher was a New York Yankee. It's no secret that those players in pinstripes are more in-demand while they are in The Big Apple. There are deals to be had there with other collecting-oriented companies, and signed memorabilia is a different animal than card autographs. For the last two seasons, though, the former Ohio State star has been back on his "home turf" of sorts — out of the spotlight and probably out of the minds of some collectors post-pinstripes. Now, thanks to Panini, his new fans have a chance at some new ink and there's less of that old ink to go around. (No, I didn't buy it all … but I try.)
I mention my Swisher collecting habits from time to time here, that's no secret. But my career as a Swishfan has had some lulls in the last couple of years — in part because of no new ink, but also because I've worked to pick off the stuff I needed from back in the day. There's not much old stuff left on my want list — and that has slowed me with not much new. Not seeing Swisher autographs on checklists led to looking for memorabilia — in full form and on cards — as well as exploring a wider net of collecting as, inevitably, his playing days will ultimately come to an end at some point. After a poor season like this one, he's not even necessarily a given to be on a checklist at all and it might have seemed like he was already done. So this new ink is welcome news.
This is something a lot of us deal with for our teams, our players, our particularly niched needs — especially with autograph droughts. (Derek Jeter fans know how this goes — he's gone sig-less just as long, if not longer, than his former teammate. Maybe retirement will lead him to an appearance or two … maybe via USA Baseball? Another thought for another day.) Card companies will spot trends like this one when they can and do what they can to reverse them — if a player is interested and of-interest. Sometimes they are, sometimes they aren't.
I'll hope these Swisher cards are the start of even more, maybe another first — a signed card of Swisher with his father, Steve, who was a big-leaguer for nine seasons with the Cubs, Cardinals and Padres. He's never signed a certified card, though he was an All-Star once just like his son. Why would I want a card like this? Not because it's expensive and not because there's all kinds of demand. Why? Because it just reflects something interesting in the history of the game — and, of course, it's my player.
First things first, though, I'll have to track down a copy of Nick Swisher's new ink just like the rest of you. I know this piece won't win me a Pulitzer as I have clearly admitted a bit too much fandom, but when I get my hands on a new Swisher autograph it'll feel just as special.
Maybe I'll even put it beside my autographs of Woodward and Bernstein … you'll never guess who made those.
Chris Olds is the editor of Beckett Baseball and Beckett Sports Card Monthly magazines. Have a comment, question or idea? Send an email to him at colds@beckett.com. Follow him on Twitter by clicking here.