Panini shows off upcoming Prime Hockey (with checklist)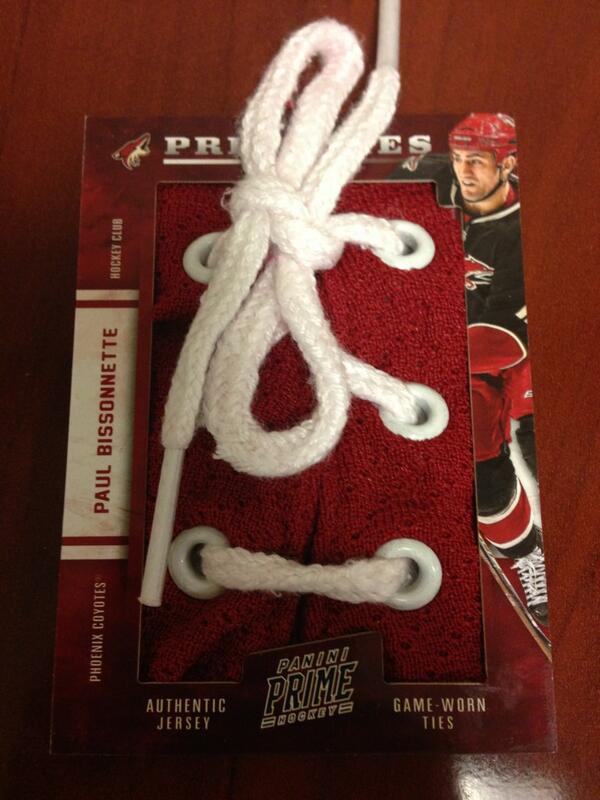 By Susan Lulgjuraj | Beckett Hockey Editor
If you follow Panini America on Twitter, you might have caught the preview images of Prime Hockey it posted this morning.
The second-year product is the last on the 2012-13 hockey calendar, but one that looks like it won't disappoint with its jumbo patches and popular tie cards. Here are the images Panini showed off on its Twitter feed for everyone to get a look.
Prime is scheduled to come out at the end of the month.
Susan Lulgjuraj is an editor of Beckett Hockey. You can email her here with questions, comments or ideas. Follow her on Twitter here. Follow Beckett Media on Facebook and Twitter.
---
Cardset Card Number Player Team Seq #
All Star Selections 1 Alexander Edler Vancouver Canucks 6
All Star Selections 2 Brian Campbell Florida Panthers 6
All Star Selections 3 Carey Price Montreal Canadiens 3
All Star Selections 4 Corey Perry Anaheim Ducks 6
All Star Selections 5 Dan Girardi New York Rangers 6
All Star Selections 6 Daniel Alfredsson Ottawa Senators 6
All Star Selections 7 Daniel Sedin Vancouver Canucks 4
All Star Selections 8 Dion Phaneuf Toronto Maple Leafs 6
All Star Selections 9 Erik Karlsson Ottawa Senators 6
All Star Selections 10 Evgeni Malkin Pittsburgh Penguins 6
All Star Selections 11 Gabriel Landeskog Colorado Avalanche 5
All Star Selections 12 Henrik Lundqvist New York Rangers 4
All Star Selections 13 Henrik Sedin Vancouver Canucks 4
All Star Selections 14 Claude Giroux Philadelphia Flyers 6
All Star Selections 15 Jamie Benn Dallas Stars 3
All Star Selections 16 Jarome Iginla Calgary Flames 3
All Star Selections 17 Jason Spezza Ottawa Senators 6
All Star Selections 18 Jimmy Howard Detroit Red Wings 4
All Star Selections 19 Joffrey Lupul Toronto Maple Leafs 6
All Star Selections 20 John Tavares New York Islanders 4
All Star Selections 21 Jonathan Quick Los Angeles Kings 3
All Star Selections 22 Jordan Eberle Edmonton Oilers 4
All Star Selections 23 Keith Yandle Phoenix Coyotes 3
All Star Selections 24 Kris Letang Pittsburgh Penguins 3
All Star Selections 25 Logan Couture San Jose Sharks 2
All Star Selections 26 Luke Adam Buffalo Sabres 6
All Star Selections 27 Marian Gaborik New York Rangers 6
All Star Selections 28 Marian Hossa Chicago Blackhawks 6
All Star Selections 29 Matt Read Philadelphia Flyers 3
All Star Selections 30 Patrick Kane Chicago Blackhawks 3
All Star Selections 31 Pavel Datsyuk Detroit Red Wings 4
All Star Selections 32 Phil Kessel Toronto Maple Leafs 3
All Star Selections 33 Raphael Diaz Montreal Canadiens 3
All Star Selections 34 Ryan Johansen Columbus Blue Jackets 4
All Star Selections 35 Ryan Suter Minnesota Wild 6
All Star Selections 36 Scott Hartnell Philadelphia Flyers 6
All Star Selections 37 Sean Couturier Philadelphia Flyers 4
All Star Selections 38 Shea Weber Nashville Predators 6
All Star Selections 39 Steven Stamkos Tampa Bay Lightning 6
All Star Selections 40 Tim Thomas New York Islanders 4
All Star Selections 41 Tyler Seguin Boston Bruins 6
All Star Selections 42 Zdeno Chara Boston Bruins 6
All Star Selections 43 Cam Fowler Anaheim Ducks 6
All Star Selections 44 Michael Grabner New York Islanders 8
All Star Selections 45 Logan Couture San Jose Sharks 7
All Star Selections 46 Taylor Hall Edmonton Oilers 4
All Star Selections Signatures 1 Brian Elliott St. Louis Blues 3
All Star Selections Signatures 4 Henrik Lundqvist New York Rangers 2
All Star Selections Signatures 6 Colin Greening Ottawa Senators 2
All Star Selections Signatures 7 Craig Smith Nashville Predators 3
All Star Selections Signatures 11 James Neal Pittsburgh Penguins 3
All Star Selections Signatures 13 Jarome Iginla Calgary Flames 3
All Star Selections Signatures 14 Jimmy Howard Detroit Red Wings 2
All Star Selections Signatures 15 John Tavares New York Islanders 2
All Star Selections Signatures 18 Keith Yandle Phoenix Coyotes 3
All Star Selections Signatures 19 Kris Letang Pittsburgh Penguins 3
All Star Selections Signatures 21 Matt Read Philadelphia Flyers 3
All Star Selections Signatures 22 Patrick Kane Chicago Blackhawks 3
All Star Selections Signatures 24 Phil Kessel Toronto Maple Leafs 3
All Star Selections Signatures 25 Raphael Diaz Montreal Canadiens 3
All Star Selections Signatures 28 Tim Thomas New York Islanders 2
All Star Selections Signatures 30 Taylor Hall Edmonton Oilers 2
Black 1 Craig Anderson Ottawa Senators 1
Black 2 Dave Andreychuk Tampa Bay Lightning 1
Black 3 Artem Anisimov Columbus Blue Jackets 1
Black 4 David Backes St. Louis Blues 1
Black 5 Mikael Backlund Calgary Flames 1
Black 6 Niklas Backstrom Minnesota Wild 1
Black 7 Ed Belfour Chicago Blackhawks 1
Black 8 Jamie Benn Dallas Stars 1
Black 9 Sergei Bobrovsky Columbus Blue Jackets 1
Black 10 Ray Bourque Boston Bruins 1
Black 11 Martin Brodeur New Jersey Devils 1
Black 12 Pavel Bure Florida Panthers 1
Black 13 Alexander Burmistrov Winnipeg Jets 1
Black 14 Bobby Clarke Philadelphia Flyers 1
Black 15 Scott Clemmensen Florida Panthers 1
Black 16 Logan Couture San Jose Sharks 1
Black 17 Sidney Crosby Pittsburgh Penguins 1
Black 18 Pavel Datsyuk Detroit Red Wings 1
Black 19 Devan Dubnyk Edmonton Oilers 1
Black 20 Matt Duchene Colorado Avalanche 1
Black 21 Jordan Eberle Edmonton Oilers 1
Black 22 Loui Eriksson Dallas Stars 1
Black 23 Mike Fisher Nashville Predators 1
Black 24 Marc-Andre Fleury Pittsburgh Penguins 1
Black 25 Ryan Getzlaf Anaheim Ducks 1
Black 26 Doug Gilmour Toronto Maple Leafs 1
Black 27 Brian Gionta Montreal Canadiens 1
Black 28 Claude Giroux Philadelphia Flyers 1
Black 29 Taylor Hall Edmonton Oilers 1
Black 30 Dale Hawerchuk Winnipeg Jets 1
Black 31 Adam Henrique New Jersey Devils 1
Black 32 Cody Hodgson Buffalo Sabres 1
Black 33 Braden Holtby Washington Capitals 1
Black 34 Gordie Howe (R) Detroit Red Wings 1
Black 35 Brett Hull St. Louis Blues 1
Black 36 Jarome Iginla Pittsburgh Penguins 1
Black 37 Jaromir Jagr Boston Bruins 1
Black 38 Ryan Johansen Columbus Blue Jackets 1
Black 39 Ed Jovanovski Florida Panthers 1
Black 40 Patrick Kane Chicago Blackhawks 1
Black 41 Erik Karlsson Ottawa Senators 1
Black 42 Phil Kessel Toronto Maple Leafs 1
Black 43 Olaf Kolzig Washington Capitals 1
Black 44 Anze Kopitar Los Angeles Kings 1
Black 45 Andrew Ladd Winnipeg Jets 1
Black 46 Pat LaFontaine Buffalo Sabres 1
Black 47 Gabriel Landeskog Colorado Avalanche 1
Black 48 Adam Larsson New Jersey Devils 1
Black 49 Brian Leetch New York Rangers 1
Black 50 Mario Lemieux Pittsburgh Penguins 1
Black 51 Anders Lindback Tampa Bay Lightning 1
Black 52 Eric Lindros Philadelphia Flyers 1
Black 53 Henrik Lundqvist New York Rangers 1
Black 54 Al MacInnis St. Louis Blues 1
Black 55 Evgeni Malkin Pittsburgh Penguins 1
Black 56 Mark Messier Edmonton Oilers 1
Black 57 Stan Mikita Chicago Blackhawks 1
Black 58 Ryan Miller Buffalo Sabres 1
Black 59 Mike Modano Dallas Stars 1
Black 60 Matt Moulson New York Islanders 1
Black 61 Kirk Muller Montreal Canadiens 1
Black 62 Rick Nash New York Rangers 1
Black 63 Joe Nieuwendyk Calgary Flames 1
Black 64 Owen Nolan Quebec Nordiques 1
Black 65 Ryan Nugent-Hopkins Edmonton Oilers 1
Black 66 Alex Ovechkin Washington Capitals 1
Black 67 Max Pacioretty Montreal Canadiens 1
Black 68 Zach Parise Minnesota Wild 1
Black 69 Ondrej Pavelec Winnipeg Jets 1
Black 70 Joe Pavelski San Jose Sharks 1
Black 71 Alex Pietrangelo St. Louis Blues 1
Black 72 Felix Potvin New York Islanders 1
Black 73 Carey Price Montreal Canadiens 1
Black 74 Jonathan Quick Los Angeles Kings 1
Black 75 Tuukka Rask Boston Bruins 1
Black 76 Matt Read Philadelphia Flyers 1
Black 77 James Reimer Toronto Maple Leafs 1
Black 78 Mike Richards Los Angeles Kings 1
Black 79 Pekka Rinne Nashville Predators 1
Black 80 Luc Robitaille Los Angeles Kings 1
Black 81 Patrick Roy Montreal Canadiens 1
Black 82 Bobby Ryan Anaheim Ducks 1
Black 83 Joe Sakic Quebec Nordiques 1
Black 84 Tyler Seguin Boston Bruins 1
Black 85 Teemu Selanne Anaheim Ducks 1
Black 86 Jeff Skinner Carolina Hurricanes 1
Black 87 Billy Smith New York Islanders 1
Black 88 Craig Smith Nashville Predators 1
Black 89 Mike Smith Phoenix Coyotes 1
Black 90 Eric Staal Carolina Hurricanes 1
Black 91 Steven Stamkos Tampa Bay Lightning 1
Black 92 Ryan Suter Minnesota Wild 1
Black 93 John Tavares New York Islanders 1
Black 94 Joe Thornton San Jose Sharks 1
Black 95 Jonathan Toews Chicago Blackhawks 1
Black 96 Keith Yandle Phoenix Coyotes 1
Black 97 Cam Ward Carolina Hurricanes 1
Black 98 Steve Yzerman Detroit Red Wings 1
Black 99 Henrik Zetterberg Detroit Red Wings 1
Black 100 Mika Zibanejad Ottawa Senators 1
Black Autograph 1 Craig Anderson Ottawa Senators 1
Black Autograph 4 David Backes St. Louis Blues 1
Black Autograph 5 Mikael Backlund Calgary Flames 1
Black Autograph 6 Niklas Backstrom Minnesota Wild 1
Black Autograph 7 Ed Belfour Chicago Blackhawks 1
Black Autograph 10 Ray Bourque Boston Bruins 1
Black Autograph 20 Matt Duchene Colorado Avalanche 1
Black Autograph 26 Doug Gilmour Toronto Maple Leafs 1
Black Autograph 27 Brian Gionta Montreal Canadiens 1
Black Autograph 29 Taylor Hall Edmonton Oilers 1
Black Autograph 31 Adam Henrique New Jersey Devils 1
Black Autograph 34 Gordie Howe (R) Detroit Red Wings 1
Black Autograph 35 Brett Hull St. Louis Blues 1
Black Autograph 36 Jarome Iginla Pittsburgh Penguins 1
Black Autograph 40 Patrick Kane Chicago Blackhawks 1
Black Autograph 42 Phil Kessel Toronto Maple Leafs 1
Black Autograph 45 Andrew Ladd Winnipeg Jets 1
Black Autograph 46 Pat LaFontaine Buffalo Sabres 1
Black Autograph 49 Brian Leetch New York Rangers 1
Black Autograph 52 Eric Lindros Philadelphia Flyers 1
Black Autograph 53 Henrik Lundqvist New York Rangers 1
Black Autograph 54 Al MacInnis St. Louis Blues 1
Black Autograph 57 Stan Mikita Chicago Blackhawks 1
Black Autograph 58 Ryan Miller Buffalo Sabres 1
Black Autograph 59 Mike Modano Dallas Stars 1
Black Autograph 60 Matt Moulson New York Islanders 1
Black Autograph 63 Joe Nieuwendyk Calgary Flames 1
Black Autograph 65 Ryan Nugent-Hopkins Edmonton Oilers 1
Black Autograph 66 Alex Ovechkin Washington Capitals 1
Black Autograph 67 Max Pacioretty Montreal Canadiens 1
Black Autograph 70 Joe Pavelski San Jose Sharks 1
Black Autograph 71 Alex Pietrangelo St. Louis Blues 1
Black Autograph 72 Felix Potvin New York Islanders 1
Black Autograph 76 Matt Read Philadelphia Flyers 1
Black Autograph 77 James Reimer Toronto Maple Leafs 1
Black Autograph 80 Luc Robitaille Los Angeles Kings 1
Black Autograph 81 Patrick Roy Montreal Canadiens 1
Black Autograph 82 Bobby Ryan Anaheim Ducks 1
Black Autograph 83 Joe Sakic Quebec Nordiques 1
Black Autograph 84 Tyler Seguin Boston Bruins 1
Black Autograph 86 Jeff Skinner Carolina Hurricanes 1
Black Autograph 88 Craig Smith Nashville Predators 1
Black Autograph 89 Mike Smith Phoenix Coyotes 1
Black Autograph 90 Eric Staal Carolina Hurricanes 1
Black Autograph 93 John Tavares New York Islanders 1
Black Autograph 94 Joe Thornton San Jose Sharks 1
Black Autograph 96 Keith Yandle Phoenix Coyotes 1
Black Autograph 100 Mika Zibanejad Ottawa Senators 1
Captains Cloth 1 Adam Foote Colorado Avalanche 2
Captains Cloth 2 Ales Hemsky Edmonton Oilers 2
Captains Cloth 3 Andrei Markov Montreal Canadiens 2
Captains Cloth 4 Barret Jackman St. Louis Blues 2
Captains Cloth 5 Brenden Morrow Dallas Stars 2
Captains Cloth 6 Brett Hull St. Louis Blues 2
Captains Cloth 7 Brian Gionta Montreal Canadiens 2
Captains Cloth 8 Cam Neely Boston Bruins 2
Captains Cloth 9 Daniel Briere Philadelphia Flyers 2
Captains Cloth 10 Dave Taylor Los Angeles Kings 2
Captains Cloth 11 David Backes St. Louis Blues 2
Captains Cloth 12 Dustin Byfuglien Winnipeg Jets 2
Captains Cloth 13 Henrik Zetterberg Detroit Red Wings 2
Captains Cloth 14 Jarome Iginla Calgary Flames 2
Captains Cloth 15 Jason Pominville Buffalo Sabres 2
Captains Cloth 16 Jay Bouwmeester Calgary Flames 2
Captains Cloth 17 Jeremy Roenick Los Angeles Kings 2
Captains Cloth 18 Joe Sakic Colorado Avalanche 2
Captains Cloth 19 Joe Thornton San Jose Sharks 2
Captains Cloth 20 John LeClair Philadelphia Flyers 2
Captains Cloth 21 Josh Gorges Montreal Canadiens 2
Captains Cloth 22 Keith Primeau Philadelphia Flyers 2
Captains Cloth 23 Keith Primeau Carolina Hurricanes 2
Captains Cloth 24 Loui Eriksson Dallas Stars 2
Captains Cloth 25 Mario Lemieux Pittsburgh Penguins 2
Captains Cloth 26 Mike Gartner New York Rangers 2
Captains Cloth 27 Milan Hejduk Colorado Avalanche 2
Captains Cloth 28 Nicklas Backstrom Washington Capitals 2
Captains Cloth 29 Paul Coffey Los Angeles Kings 2
Captains Cloth 30 Paul Stastny Colorado Avalanche 2
Captains Cloth 31 Pierre Turgeon Montreal Canadiens 2
Captains Cloth 32 Rob Blake Los Angeles Kings 2
Captains Cloth 33 Rod Brind'Amour Carolina Hurricanes 2
Captains Cloth 34 Rod Brind'Amour Philadelphia Flyers 2
Captains Cloth 35 Shawn Horcoff Edmonton Oilers 2
Captains Cloth 36 Shea Weber Nashville Predators 2
Captains Cloth 37 Teemu Selanne Anaheim Ducks 2
Captains Cloth 38 Zach Parise New Jersey Devils 2
Captains Cloth 39 Zdeno Chara Boston Bruins 2
Captains Cloth 40 Mark Messier Vancouver Canucks 2
Captains Cloth 41 Alex Ovechkin Washington Capitals 2
Captains Cloth 42 Al MacInnis St. Louis Blues 2
Captains Cloth 44 Andy McDonald St. Louis Blues 2
Captains Cloth 45 Anze Kopitar Los Angeles Kings 2
Captains Cloth 46 Brad Richards New York Rangers 2
Captains Cloth 47 Brendan Shanahan Detroit Red Wings 2
Captains Cloth 48 Brian Campbell Florida Panthers 2
Captains Cloth 49 Brooks Orpik Pittsburgh Penguins 2
Captains Cloth 50 Chris Pronger Philadelphia Flyers 2
Captains Cloth 51 Corey Perry Anaheim Ducks 2
Captains Cloth 52 Dan Boyle San Jose Sharks 2
Captains Cloth 53 Daniel Alfredsson Ottawa Senators 2
Captains Cloth 54 Dion Phaneuf Toronto Maple Leafs 2
Captains Cloth 55 Eric Lindros Philadelphia Flyers 2
Captains Cloth 56 Eric Tangradi Pittsburgh Penguins 2
Captains Cloth 57 Evgeni Malkin Pittsburgh Penguins 2
Captains Cloth 58 Henrik Sedin Vancouver Canucks 2
Captains Cloth 59 Ilya Kovalchuk New Jersey Devils 2
Captains Cloth 60 Jason Spezza Ottawa Senators 2
Captains Cloth 61 John Tavares New York Islanders 2
Captains Cloth 62 Johnny Bucyk Boston Bruins 2
Captains Cloth 63 Jonathan Toews Chicago Blackhawks 2
Captains Cloth 64 Jordan Staal Pittsburgh Penguins 2
Captains Cloth 65 Kimmo Timonen Philadelphia Flyers 2
Captains Cloth 66 Kyle Okposo New York Islanders 2
Captains Cloth 67 Marc Staal New York Rangers 2
Captains Cloth 68 Mark Messier New York Rangers 2
Captains Cloth 69 Matt Greene Los Angeles Kings 2
Captains Cloth 70 Mike Bossy New York Islanders 2
Captains Cloth 71 Mike Richards Philadelphia Flyers 2
Captains Cloth 72 Nicklas Lidstrom Detroit Red Wings 2
Captains Cloth 73 Pat Verbeek Hartford Whalers 2
Captains Cloth 74 Patrice Bergeron Boston Bruins 2
Captains Cloth 75 Patrick Sharp Chicago Blackhawks 2
Captains Cloth 76 Patrick Marleau San Jose Sharks 2
Captains Cloth 77 Patrik Elias New Jersey Devils 2
Captains Cloth 78 Paul Coffey Detroit Red Wings 2
Captains Cloth 79 Pavel Datsyuk Detroit Red Wings 2
Captains Cloth 80 Ray Bourque Boston Bruins 2
Captains Cloth 81 Ray Bourque Colorado Avalanche 2
Captains Cloth 82 Ron Francis Carolina Hurricanes 2
Captains Cloth 83 Ryan Callahan New York Rangers 2
Captains Cloth 84 Ryan Getzlaf Anaheim Ducks 2
Captains Cloth 85 Ryan Kesler Vancouver Canucks 2
Captains Cloth 86 Saku Koivu Anaheim Ducks 2
Captains Cloth 87 Scott Hartnell Philadelphia Flyers 2
Captains Cloth 88 Sidney Crosby Pittsburgh Penguins 2
Captains Cloth 89 Steve Yzerman Detroit Red Wings 2
Captains Cloth 90 Vincent Lecavalier Tampa Bay Lightning 2
Captains Cloth 91 Bob Gainey Montreal Canadiens 2
Captains Cloth 92 Dustin Brown Los Angeles Kings 2
Captains Cloth 93 Drew Stafford Buffalo Sabres 2
Captains Cloth 94 Duncan Keith Chicago Blackhawks 2
Captains Cloth 95 Steven Stamkos Tampa Bay Lightning 2
Captains Cloth 96 Sidney Crosby Pittsburgh Penguins 2
Captains Cloth 97 Alex Ovechkin Washington Capitals 2
Captains Cloth 98 Jason Pominville Buffalo Sabres 2
Captains Cloth 99 Joe Sakic Quebec Nordiques 2
Captains Cloth 100 Joe Thornton San Jose Sharks 2
Collision Course 1 Kris Letang Pittsburgh Penguins 4
Collision Course 2 John Tavares New York Islanders 5
Collision Course 3 Claude Giroux Philadelphia Flyers 4
Collision Course 4 Logan Couture San Jose Sharks 6
Collision Course 5 Jason Spezza Ottawa Senators 6
Collision Course 6 James Neal Pittsburgh Penguins 5
Collision Course 7 Dan Girardi New York Rangers 6
Collision Course 8 Scott Hartnell Philadelphia Flyers 5
Collision Course 9 Milan Michalek Ottawa Senators 6
Collision Course 10 Henrik Sedin Vancouver Canucks 5
Collision Course 11 Daniel Alfredsson Ottawa Senators 6
Collision Course 12 Jason Pominville Buffalo Sabres 5
Collision Course 13 Alexander Edler Vancouver Canucks 4
Collision Course 14 Erik Karlsson Ottawa Senators 6
Collision Course 15 Steven Stamkos Tampa Bay Lightning 5
Collision Course 16 Matt Read Philadelphia Flyers 5
Collision Course 17 Craig Smith Nashville Predators 5
Collision Course 18 Daniel Sedin Vancouver Canucks 5
Collision Course 19 Shea Weber Nashville Predators 5
Collision Course 20 Keith Yandle Phoenix Coyotes 5
Common 1 Craig Anderson Ottawa Senators 249
Common 2 Dave Andreychuk Tampa Bay Lightning 249
Common 3 Artem Anisimov Columbus Blue Jackets 249
Common 4 David Backes St. Louis Blues 249
Common 5 Mikael Backlund Calgary Flames 249
Common 6 Niklas Backstrom Minnesota Wild 249
Common 7 Ed Belfour Chicago Blackhawks 249
Common 8 Jamie Benn Dallas Stars 249
Common 9 Sergei Bobrovsky Columbus Blue Jackets 249
Common 10 Ray Bourque Boston Bruins 249
Common 11 Martin Brodeur New Jersey Devils 249
Common 12 Pavel Bure Florida Panthers 249
Common 13 Alexander Burmistrov Winnipeg Jets 249
Common 14 Bobby Clarke Philadelphia Flyers 249
Common 15 Scott Clemmensen Florida Panthers 249
Common 16 Logan Couture San Jose Sharks 249
Common 17 Sidney Crosby Pittsburgh Penguins 249
Common 18 Pavel Datsyuk Detroit Red Wings 249
Common 19 Devan Dubnyk Edmonton Oilers 249
Common 20 Matt Duchene Colorado Avalanche 249
Common 21 Jordan Eberle Edmonton Oilers 249
Common 22 Loui Eriksson Dallas Stars 249
Common 23 Mike Fisher Nashville Predators 249
Common 24 Marc-Andre Fleury Pittsburgh Penguins 249
Common 25 Ryan Getzlaf Anaheim Ducks 249
Common 26 Doug Gilmour Toronto Maple Leafs 249
Common 27 Brian Gionta Montreal Canadiens 249
Common 28 Claude Giroux Philadelphia Flyers 249
Common 29 Taylor Hall Edmonton Oilers 249
Common 30 Dale Hawerchuk Winnipeg Jets 249
Common 31 Adam Henrique New Jersey Devils 249
Common 32 Cody Hodgson Buffalo Sabres 249
Common 33 Braden Holtby Washington Capitals 249
Common 34 Gordie Howe (R) Detroit Red Wings 249
Common 35 Brett Hull St. Louis Blues 249
Common 36 Jarome Iginla Pittsburgh Penguins 249
Common 37 Jaromir Jagr Boston Bruins 249
Common 38 Ryan Johansen Columbus Blue Jackets 249
Common 39 Ed Jovanovski Florida Panthers 249
Common 40 Patrick Kane Chicago Blackhawks 249
Common 41 Erik Karlsson Ottawa Senators 249
Common 42 Phil Kessel Toronto Maple Leafs 249
Common 43 Olaf Kolzig Washington Capitals 249
Common 44 Anze Kopitar Los Angeles Kings 249
Common 45 Andrew Ladd Winnipeg Jets 249
Common 46 Pat LaFontaine Buffalo Sabres 249
Common 47 Gabriel Landeskog Colorado Avalanche 249
Common 48 Adam Larsson New Jersey Devils 249
Common 49 Brian Leetch New York Rangers 249
Common 50 Mario Lemieux Pittsburgh Penguins 249
Common 51 Anders Lindback Tampa Bay Lightning 249
Common 52 Eric Lindros Philadelphia Flyers 249
Common 53 Henrik Lundqvist New York Rangers 249
Common 54 Al MacInnis St. Louis Blues 249
Common 55 Evgeni Malkin Pittsburgh Penguins 249
Common 56 Mark Messier Edmonton Oilers 249
Common 57 Stan Mikita Chicago Blackhawks 249
Common 58 Ryan Miller Buffalo Sabres 249
Common 59 Mike Modano Dallas Stars 249
Common 60 Matt Moulson New York Islanders 249
Common 61 Kirk Muller Montreal Canadiens 249
Common 62 Rick Nash New York Rangers 249
Common 63 Joe Nieuwendyk Calgary Flames 249
Common 64 Owen Nolan Quebec Nordiques 249
Common 65 Ryan Nugent-Hopkins Edmonton Oilers 249
Common 66 Alex Ovechkin Washington Capitals 249
Common 67 Max Pacioretty Montreal Canadiens 249
Common 68 Zach Parise Minnesota Wild 249
Common 69 Ondrej Pavelec Winnipeg Jets 249
Common 70 Joe Pavelski San Jose Sharks 249
Common 71 Alex Pietrangelo St. Louis Blues 249
Common 72 Felix Potvin New York Islanders 249
Common 73 Carey Price Montreal Canadiens 249
Common 74 Jonathan Quick Los Angeles Kings 249
Common 75 Tuukka Rask Boston Bruins 249
Common 76 Matt Read Philadelphia Flyers 249
Common 77 James Reimer Toronto Maple Leafs 249
Common 78 Mike Richards Los Angeles Kings 249
Common 79 Pekka Rinne Nashville Predators 249
Common 80 Luc Robitaille Los Angeles Kings 249
Common 81 Patrick Roy Montreal Canadiens 249
Common 82 Bobby Ryan Anaheim Ducks 249
Common 83 Joe Sakic Quebec Nordiques 249
Common 84 Tyler Seguin Boston Bruins 249
Common 85 Teemu Selanne Anaheim Ducks 249
Common 86 Jeff Skinner Carolina Hurricanes 249
Common 87 Billy Smith New York Islanders 249
Common 88 Craig Smith Nashville Predators 249
Common 89 Mike Smith Phoenix Coyotes 249
Common 90 Eric Staal Carolina Hurricanes 249
Common 91 Steven Stamkos Tampa Bay Lightning 249
Common 92 Ryan Suter Minnesota Wild 249
Common 93 John Tavares New York Islanders 249
Common 94 Joe Thornton San Jose Sharks 249
Common 95 Jonathan Toews Chicago Blackhawks 249
Common 96 Keith Yandle Phoenix Coyotes 249
Common 97 Cam Ward Carolina Hurricanes 249
Common 98 Steve Yzerman Detroit Red Wings 249
Common 99 Henrik Zetterberg Detroit Red Wings 249
Common 100 Mika Zibanejad Ottawa Senators 249
Dominion 1 Teemu Selanne Anaheim Ducks 125
Dominion 2 Corey Perry Anaheim Ducks 125
Dominion 3 Cam Fowler Anaheim Ducks 125
Dominion 4 Jarome Iginla Pittsburgh Penguins 125
Dominion 5 Miikka Kiprusoff Calgary Flames 125
Dominion 6 Al MacInnis Calgary Flames 125
Dominion 7 Patrick Kane Chicago Blackhawks 125
Dominion 8 Jonathan Toews Chicago Blackhawks 125
Dominion 9 Ed Belfour Chicago Blackhawks 125
Dominion 10 Gabriel Landeskog Colorado Avalanche 125
Dominion 11 Joe Sakic Colorado Avalanche 125
Dominion 12 Matt Duchene Colorado Avalanche 125
Dominion 13 Artem Anisimov Columbus Blue Jackets 125
Dominion 14 Sergei Bobrovsky Columbus Blue Jackets 125
Dominion 15 Jack Johnson Columbus Blue Jackets 125
Dominion 16 Jaromir Jagr Boston Bruins 125
Dominion 17 Loui Eriksson Dallas Stars 125
Dominion 18 Mike Modano Dallas Stars 125
Dominion 19 Henrik Zetterberg Detroit Red Wings 125
Dominion 20 Gordie Howe (R) Detroit Red Wings 125
Dominion 21 Steve Yzerman Detroit Red Wings 125
Dominion 22 Pavel Datsyuk Detroit Red Wings 125
Dominion 23 Mark Messier Edmonton Oilers 125
Dominion 24 Ryan Nugent-Hopkins Edmonton Oilers 125
Dominion 25 Taylor Hall Edmonton Oilers 125
Dominion 26 Jordan Eberle Edmonton Oilers 125
Dominion 27 Jonathan Quick Los Angeles Kings 125
Dominion 28 Anze Kopitar Los Angeles Kings 125
Dominion 29 Luc Robitaille Los Angeles Kings 125
Dominion 30 Dustin Brown Los Angeles Kings 125
Dominion 31 Zach Parise Minnesota Wild 125
Dominion 32 Niklas Backstrom Minnesota Wild 125
Dominion 33 Ryan Suter Minnesota Wild 125
Dominion 34 Pekka Rinne Nashville Predators 125
Dominion 35 Craig Smith Nashville Predators 125
Dominion 36 Shea Weber Nashville Predators 125
Dominion 37 Mike Smith Phoenix Coyotes 125
Dominion 38 Oliver Ekman-Larsson Phoenix Coyotes 125
Dominion 39 Mikkel Boedker Phoenix Coyotes 125
Dominion 40 Joe Thornton San Jose Sharks 125
Dominion 41 Logan Couture San Jose Sharks 125
Dominion 42 Jeremy Roenick San Jose Sharks 125
Dominion 43 Alex Pietrangelo St. Louis Blues 125
Dominion 44 T.J. Oshie St. Louis Blues 125
Dominion 45 Brett Hull St. Louis Blues 125
Dominion 46 Pavel Bure Vancouver Canucks 125
Dominion 47 Daniel Sedin Vancouver Canucks 125
Dominion 48 Cory Schneider Vancouver Canucks 125
Dominion 49 Tyler Seguin Boston Bruins 125
Dominion 50 Tuukka Rask Boston Bruins 125
Dominion 51 Cam Neely Boston Bruins 125
Dominion 52 Ryan Miller Buffalo Sabres 125
Dominion 53 Thomas Vanek Buffalo Sabres 125
Dominion 54 Pierre Turgeon Buffalo Sabres 125
Dominion 55 Cody Hodgson Buffalo Sabres 125
Dominion 56 Jordan Staal Carolina Hurricanes 125
Dominion 57 Eric Staal Carolina Hurricanes 125
Dominion 58 Cam Ward Carolina Hurricanes 125
Dominion 59 Scott Clemmensen Florida Panthers 125
Dominion 60 George Parros Florida Panthers 125
Dominion 61 John Vanbiesbrouck Florida Panthers 125
Dominion 62 Carey Price Montreal Canadiens 125
Dominion 63 Patrick Roy Montreal Canadiens 125
Dominion 64 Michael Ryder Montreal Canadiens 125
Dominion 65 Ilya Kovalchuk New Jersey Devils 125
Dominion 66 Adam Henrique New Jersey Devils 125
Dominion 67 Martin Brodeur New Jersey Devils 125
Dominion 68 John Tavares New York Islanders 125
Dominion 69 Pat LaFontaine New York Islanders 125
Dominion 70 Matt Moulson New York Islanders 125
Dominion 71 Rick Nash New York Rangers 125
Dominion 72 Henrik Lundqvist New York Rangers 125
Dominion 73 Mike Richter New York Rangers 125
Dominion 74 Marian Gaborik Columbus Blue Jackets 125
Dominion 75 Daniel Alfredsson Ottawa Senators 125
Dominion 76 Mika Zibanejad Ottawa Senators 125
Dominion 77 Erik Karlsson Ottawa Senators 125
Dominion 78 Claude Giroux Philadelphia Flyers 125
Dominion 79 Simon Gagne Philadelphia Flyers 125
Dominion 80 Eric Lindros Philadelphia Flyers 125
Dominion 81 Sidney Crosby Pittsburgh Penguins 125
Dominion 82 Mario Lemieux Pittsburgh Penguins 125
Dominion 83 Marc-Andre Fleury Pittsburgh Penguins 125
Dominion 84 Evgeni Malkin Pittsburgh Penguins 125
Dominion 85 Vincent Lecavalier Tampa Bay Lightning 125
Dominion 86 Steven Stamkos Tampa Bay Lightning 125
Dominion 87 Anders Lindback Tampa Bay Lightning 125
Dominion 88 James van Riemsdyk Toronto Maple Leafs 125
Dominion 89 Felix Potvin Toronto Maple Leafs 125
Dominion 90 Phil Kessel Toronto Maple Leafs 125
Dominion 91 Nazem Kadri Toronto Maple Leafs 125
Dominion 92 Alex Ovechkin Washington Capitals 125
Dominion 93 Nicklas Backstrom Washington Capitals 125
Dominion 94 Braden Holtby Washington Capitals 125
Dominion 95 Mike Gartner Washington Capitals 125
Dominion 96 Andrew Ladd Winnipeg Jets 125
Dominion 97 Mark Scheifele Winnipeg Jets 125
Dominion 98 Ondrej Pavelec Winnipeg Jets 125
Dominion 99 Dustin Byfuglien Winnipeg Jets 125
Dominion 100 Dale Hawerchuk Winnipeg Jets 125
Dominion Autograph Patch 1 Chris Kreider New York Rangers 60
Dominion Autograph Patch 2 Jaden Schwartz St. Louis Blues 60
Dominion Autograph Patch 3 Jakob Silfverberg Ottawa Senators 60
Dominion Autograph Patch 5 Reilly Smith Dallas Stars 60
Dominion Autograph Patch 6 Jussi Rynnas Toronto Maple Leafs 60
Dominion Autograph Patch 7 Sven Baertschi Calgary Flames 60
Dominion Autograph Patch 8 Chet Pickard Nashville Predators 60
Dominion Autograph Patch 9 J.T. Brown Tampa Bay Lightning 60
Dominion Autograph Patch 10 Carter Ashton Toronto Maple Leafs 60
Dominion Autograph Patch 11 Casey Cizikas New York Islanders 60
Dominion Autograph Patch 12 Jason Zucker Minnesota Wild 60
Dominion Autograph Patch 13 Michael Stone Phoenix Coyotes 60
Dominion Autograph Patch 14 Robert Mayer Montreal Canadiens 60
Dominion Autograph Patch 15 Travis Turnbull Buffalo Sabres 60
Dominion Autograph Patch 16 Tyler Cuma Minnesota Wild 60
Dominion Autograph Patch 17 Tyson Barrie Colorado Avalanche 60
Dominion Autograph Patch 18 Andrew Joudrey Columbus Blue Jackets 60
Dominion Autograph Patch 19 Ryan Hamilton Toronto Maple Leafs 60
Dominion Autograph Patch 20 Brandon Manning Philadelphia Flyers 60
Dominion Autograph Patch 21 Matt Watkins New York Islanders 60
Dominion Autograph Patch 22 Matt Donovan New York Islanders 60
Dominion Autograph Patch 23 Mark Stone Ottawa Senators 60
Dominion Autograph Patch 24 Lane MacDermid Dallas Stars 60
Dominion Autograph Patch 25 Kris Foucault Minnesota Wild 60
Dominion Autograph Patch 26 Jordan Nolan Los Angeles Kings 60
Dominion Autograph Patch 27 Jeremy Welsh Carolina Hurricanes 60
Dominion Autograph Patch 28 Shawn Hunwick Columbus Blue Jackets 60
Dominion Autograph Patch 29 Riley Sheahan Detroit Red Wings 60
Dominion Autograph Patch 31 Joe Pavelski San Jose Sharks 60
Dominion Autograph Patch 32 Henrik Lundqvist New York Rangers 25
Dominion Autograph Patch 33 John Tavares New York Islanders 60
Dominion Autograph Patch 36 James Neal Pittsburgh Penguins 60
Dominion Autograph Patch 37 Dustin Brown Los Angeles Kings 60
Dominion Autograph Patch 39 Colin Wilson Nashville Predators 60
Dominion Autograph Patch 40 Cory Schneider Vancouver Canucks 60
Dominion Autograph Patch 41 Bobby Ryan Anaheim Ducks 60
Dominion Autograph Patch 42 Patrick Kane Chicago Blackhawks 25
Dominion Autograph Patch 45 Marc-Andre Fleury Pittsburgh Penguins 25
Dominion Autograph Patch 47 Roberto Luongo Vancouver Canucks 10
Dominion Autograph Patch 48 Jay Bouwmeester St. Louis Blues 60
Dominion Autograph Patch 49 Stu Grimson Nashville Predators 60
Dominion Autograph Patch 50 Richard Bachman Dallas Stars 60
Dominion Autograph Patch 51 Stan Mikita Chicago Blackhawks 25
Dominion Autograph Patch 52 Cody Goloubef Columbus Blue Jackets 60
Dominion Autograph Patch 54 Bernie Parent Philadelphia Flyers 25
Dominion Autograph Patch 55 Matt Duchene Colorado Avalanche 60
Dominion Autograph Patch 58 Pat LaFontaine New York Islanders 25
Dominion Autograph Patch 59 Phil Kessel Toronto Maple Leafs 60
Dominion Autograph Patch 60 Ryan Nugent-Hopkins Edmonton Oilers 60
Dominion Autograph Patch 61 Joe Thornton San Jose Sharks 25
Dominion Autograph Patch 63 Patrick Marleau San Jose Sharks 60
Dominion Autograph Patch 64 Nikolai Kulemin Toronto Maple Leafs 60
Dominion Autograph Patch 65 Mason Raymond Vancouver Canucks 60
Dominion Autograph Patch 66 Martin St. Louis Tampa Bay Lightning 60
Dominion Autograph Patch 68 Semyon Varlamov Colorado Avalanche 60
Dominion Autograph Patch 69 Ray Bourque Boston Bruins 25
Dominion Autograph Patch 70 Reggie Leach Philadelphia Flyers 60
Dominion Autograph Patch 72 Ryan Miller Buffalo Sabres 25
Dominion Autograph Patch 74 Pierre Turgeon Montreal Canadiens 60
Dominion Autograph Patch 79 Keith Yandle Phoenix Coyotes 60
Dominion Autograph Patch 80 Jordan Eberle Edmonton Oilers 60
Dominion Autograph Patch 82 Martin Brodeur New Jersey Devils 25
Dominion Autograph Patch 84 Claude Giroux Philadelphia Flyers 60
Dominion Autograph Patch 85 Sidney Crosby Pittsburgh Penguins 10
Dominion Autograph Patch 86 Steve Yzerman Detroit Red Wings 10
Dominion Autograph Patch 88 Luc Robitaille Detroit Red Wings 25
Dominion Autograph Patch 89 Taylor Hall Edmonton Oilers 60
Dominion Autograph Patch 90 Brett Hull St. Louis Blues 25
Dominion Autograph Patch 91 Ed Belfour Florida Panthers 25
Dominion Autograph Patch 92 Rod Brind'Amour Carolina Hurricanes 60
Dominion Autograph Patch 93 Ron Francis Pittsburgh Penguins 25
Dominion Autograph Patch 94 Joe Sakic Quebec Nordiques 25
Dominion Autograph Patch 95 Eric Lindros Philadelphia Flyers 10
Dominion Autograph Patch 96 Igor Larionov Detroit Red Wings 25
Dominion Autograph Patch 97 Patrick Roy Colorado Avalanche 10
Dominion Autograph Patch 98 Mark Messier New York Rangers 10
Dominion Autograph Patch 99 Mario Lemieux Pittsburgh Penguins 10
Dominion Autograph Patch 100 Gordie Howe (R) Hartford Whalers 5
Dominion Black 1 Teemu Selanne Anaheim Ducks 1
Dominion Black 2 Corey Perry Anaheim Ducks 1
Dominion Black 3 Cam Fowler Anaheim Ducks 1
Dominion Black 4 Jarome Iginla Pittsburgh Penguins 1
Dominion Black 5 Miikka Kiprusoff Calgary Flames 1
Dominion Black 6 Al MacInnis Calgary Flames 1
Dominion Black 7 Patrick Kane Chicago Blackhawks 1
Dominion Black 8 Jonathan Toews Chicago Blackhawks 1
Dominion Black 9 Ed Belfour Chicago Blackhawks 1
Dominion Black 10 Gabriel Landeskog Colorado Avalanche 1
Dominion Black 11 Joe Sakic Colorado Avalanche 1
Dominion Black 12 Matt Duchene Colorado Avalanche 1
Dominion Black 13 Artem Anisimov Columbus Blue Jackets 1
Dominion Black 14 Sergei Bobrovsky Columbus Blue Jackets 1
Dominion Black 15 Jack Johnson Columbus Blue Jackets 1
Dominion Black 16 Jaromir Jagr Boston Bruins 1
Dominion Black 17 Loui Eriksson Dallas Stars 1
Dominion Black 18 Mike Modano Dallas Stars 1
Dominion Black 19 Henrik Zetterberg Detroit Red Wings 1
Dominion Black 20 Gordie Howe (R) Detroit Red Wings 1
Dominion Black 21 Steve Yzerman Detroit Red Wings 1
Dominion Black 22 Pavel Datsyuk Detroit Red Wings 1
Dominion Black 23 Mark Messier Edmonton Oilers 1
Dominion Black 24 Ryan Nugent-Hopkins Edmonton Oilers 1
Dominion Black 25 Taylor Hall Edmonton Oilers 1
Dominion Black 26 Jordan Eberle Edmonton Oilers 1
Dominion Black 27 Jonathan Quick Los Angeles Kings 1
Dominion Black 28 Anze Kopitar Los Angeles Kings 1
Dominion Black 29 Luc Robitaille Los Angeles Kings 1
Dominion Black 30 Dustin Brown Los Angeles Kings 1
Dominion Black 31 Zach Parise Minnesota Wild 1
Dominion Black 32 Niklas Backstrom Minnesota Wild 1
Dominion Black 33 Ryan Suter Minnesota Wild 1
Dominion Black 34 Pekka Rinne Nashville Predators 1
Dominion Black 35 Craig Smith Nashville Predators 1
Dominion Black 36 Shea Weber Nashville Predators 1
Dominion Black 37 Mike Smith Phoenix Coyotes 1
Dominion Black 38 Oliver Ekman-Larsson Phoenix Coyotes 1
Dominion Black 39 Mikkel Boedker Phoenix Coyotes 1
Dominion Black 40 Joe Thornton San Jose Sharks 1
Dominion Black 41 Logan Couture San Jose Sharks 1
Dominion Black 42 Jeremy Roenick San Jose Sharks 1
Dominion Black 43 Alex Pietrangelo St. Louis Blues 1
Dominion Black 44 T.J. Oshie St. Louis Blues 1
Dominion Black 45 Brett Hull St. Louis Blues 1
Dominion Black 46 Pavel Bure Vancouver Canucks 1
Dominion Black 47 Daniel Sedin Vancouver Canucks 1
Dominion Black 48 Cory Schneider Vancouver Canucks 1
Dominion Black 49 Tyler Seguin Boston Bruins 1
Dominion Black 50 Tuukka Rask Boston Bruins 1
Dominion Black 51 Cam Neely Boston Bruins 1
Dominion Black 52 Ryan Miller Buffalo Sabres 1
Dominion Black 53 Thomas Vanek Buffalo Sabres 1
Dominion Black 54 Pierre Turgeon Buffalo Sabres 1
Dominion Black 55 Cody Hodgson Buffalo Sabres 1
Dominion Black 56 Jordan Staal Carolina Hurricanes 1
Dominion Black 57 Eric Staal Carolina Hurricanes 1
Dominion Black 58 Cam Ward Carolina Hurricanes 1
Dominion Black 59 Scott Clemmensen Florida Panthers 1
Dominion Black 60 George Parros Florida Panthers 1
Dominion Black 61 John Vanbiesbrouck Florida Panthers 1
Dominion Black 62 Carey Price Montreal Canadiens 1
Dominion Black 63 Patrick Roy Montreal Canadiens 1
Dominion Black 64 Michael Ryder Montreal Canadiens 1
Dominion Black 65 Ilya Kovalchuk New Jersey Devils 1
Dominion Black 66 Adam Henrique New Jersey Devils 1
Dominion Black 67 Martin Brodeur New Jersey Devils 1
Dominion Black 68 John Tavares New York Islanders 1
Dominion Black 69 Pat LaFontaine New York Islanders 1
Dominion Black 70 Matt Moulson New York Islanders 1
Dominion Black 71 Rick Nash New York Rangers 1
Dominion Black 72 Henrik Lundqvist New York Rangers 1
Dominion Black 73 Mike Richter New York Rangers 1
Dominion Black 74 Marian Gaborik Columbus Blue Jackets 1
Dominion Black 75 Daniel Alfredsson Ottawa Senators 1
Dominion Black 76 Mika Zibanejad Ottawa Senators 1
Dominion Black 77 Erik Karlsson Ottawa Senators 1
Dominion Black 78 Claude Giroux Philadelphia Flyers 1
Dominion Black 79 Simon Gagne Philadelphia Flyers 1
Dominion Black 80 Eric Lindros Philadelphia Flyers 1
Dominion Black 81 Sidney Crosby Pittsburgh Penguins 1
Dominion Black 82 Mario Lemieux Pittsburgh Penguins 1
Dominion Black 83 Marc-Andre Fleury Pittsburgh Penguins 1
Dominion Black 84 Evgeni Malkin Pittsburgh Penguins 1
Dominion Black 85 Vincent Lecavalier Tampa Bay Lightning 1
Dominion Black 86 Steven Stamkos Tampa Bay Lightning 1
Dominion Black 87 Anders Lindback Tampa Bay Lightning 1
Dominion Black 88 James van Riemsdyk Toronto Maple Leafs 1
Dominion Black 89 Felix Potvin Toronto Maple Leafs 1
Dominion Black 90 Phil Kessel Toronto Maple Leafs 1
Dominion Black 91 Nazem Kadri Toronto Maple Leafs 1
Dominion Black 92 Alex Ovechkin Washington Capitals 1
Dominion Black 93 Nicklas Backstrom Washington Capitals 1
Dominion Black 94 Braden Holtby Washington Capitals 1
Dominion Black 95 Mike Gartner Washington Capitals 1
Dominion Black 96 Andrew Ladd Winnipeg Jets 1
Dominion Black 97 Mark Scheifele Winnipeg Jets 1
Dominion Black 98 Ondrej Pavelec Winnipeg Jets 1
Dominion Black 99 Dustin Byfuglien Winnipeg Jets 1
Dominion Black 100 Dale Hawerchuk Winnipeg Jets 1
Dominion Bonus 1 Mika Zibanejad Ottawa Senators 60 2011-12 Dominion Autograph Patch #66
Dominion Bonus 2 Cody Hodgson Buffalo Sabres 5 2011-12 Dominion Rookie Patch Autograph Emerald #184
Dominion Bonus 3 Mika Zibanejad Ottawa Senators 5 2011-12 Dominion Rookie Patch Autograph Emerald #194
Dominion Bonus 4 Cody Hodgson Buffalo Sabres 40 2011-12 Dominion Peerless Patches Autograph #10
Dominion Bonus 5 Brendan Shanahan Detroit Red Wings 40 2011-12 Dominion Peerless Patches Autograph #32
Dominion Bonus 6 Mika Zibanejad Ottawa Senators 40 2011-12 Dominion Peerless Patches Autograph #67
Dominion Bonus 7 Mario Lemieux Pittsburgh Penguins 5 2011-12 Dominion Peerless Patches Dual Autograph #29
Dominion Bonus 7 Jaromir Jagr Pittsburgh Penguins 2011-12 Dominion Peerless Patches Dual Autograph #29
Dominion Bonus 8 Ron Hextall Philadelphia Flyers 5 2011-12 Dominion Peerless Patches Dual Autograph #33
Dominion Bonus 8 Felix Potvin Toronto Maple Leafs 2011-12 Dominion Peerless Patches Dual Autograph #33
Dominion Bonus 9 Teemu Hartikainen Edmonton Oilers 1 2011-12 Dominion Rookie Ensign #18
Dominion Bonus 121 Tim Erixon New York Rangers 10 2011-12 Dominion RPS Pen Pals Quad #ESLP
Dominion Bonus 121 Marc Staal New York Rangers 2011-12 Dominion RPS Pen Pals Quad #ESLP
Dominion Bonus 121 Brian Leetch New York Rangers 2011-12 Dominion RPS Pen Pals Quad #ESLP
Dominion Bonus 121 Brad Park New York Rangers 2011-12 Dominion RPS Pen Pals Quad #ESLP
Dominion Bonus 122 Brendan Shanahan New York Rangers 25 2011-12 Dominion Stickside Signatures #21
Dominion Bonus 123 Brendan Shanahan New York Rangers 20 2011-12 Dominion Tape To Tape #6
Dominion Emerald 1 Teemu Selanne Anaheim Ducks 5
Dominion Emerald 2 Corey Perry Anaheim Ducks 5
Dominion Emerald 3 Cam Fowler Anaheim Ducks 5
Dominion Emerald 4 Jarome Iginla Pittsburgh Penguins 5
Dominion Emerald 5 Miikka Kiprusoff Calgary Flames 5
Dominion Emerald 6 Al MacInnis Calgary Flames 5
Dominion Emerald 7 Patrick Kane Chicago Blackhawks 5
Dominion Emerald 8 Jonathan Toews Chicago Blackhawks 5
Dominion Emerald 9 Ed Belfour Chicago Blackhawks 5
Dominion Emerald 10 Gabriel Landeskog Colorado Avalanche 5
Dominion Emerald 11 Joe Sakic Colorado Avalanche 5
Dominion Emerald 12 Matt Duchene Colorado Avalanche 5
Dominion Emerald 13 Artem Anisimov Columbus Blue Jackets 5
Dominion Emerald 14 Sergei Bobrovsky Columbus Blue Jackets 5
Dominion Emerald 15 Jack Johnson Columbus Blue Jackets 5
Dominion Emerald 16 Jaromir Jagr Boston Bruins 5
Dominion Emerald 17 Loui Eriksson Dallas Stars 5
Dominion Emerald 18 Mike Modano Dallas Stars 5
Dominion Emerald 19 Henrik Zetterberg Detroit Red Wings 5
Dominion Emerald 20 Gordie Howe (R) Detroit Red Wings 5
Dominion Emerald 21 Steve Yzerman Detroit Red Wings 5
Dominion Emerald 22 Pavel Datsyuk Detroit Red Wings 5
Dominion Emerald 23 Mark Messier Edmonton Oilers 5
Dominion Emerald 24 Ryan Nugent-Hopkins Edmonton Oilers 5
Dominion Emerald 25 Taylor Hall Edmonton Oilers 5
Dominion Emerald 26 Jordan Eberle Edmonton Oilers 5
Dominion Emerald 27 Jonathan Quick Los Angeles Kings 5
Dominion Emerald 28 Anze Kopitar Los Angeles Kings 5
Dominion Emerald 29 Luc Robitaille Los Angeles Kings 5
Dominion Emerald 30 Dustin Brown Los Angeles Kings 5
Dominion Emerald 31 Zach Parise Minnesota Wild 5
Dominion Emerald 32 Niklas Backstrom Minnesota Wild 5
Dominion Emerald 33 Ryan Suter Minnesota Wild 5
Dominion Emerald 34 Pekka Rinne Nashville Predators 5
Dominion Emerald 35 Craig Smith Nashville Predators 5
Dominion Emerald 36 Shea Weber Nashville Predators 5
Dominion Emerald 37 Mike Smith Phoenix Coyotes 5
Dominion Emerald 38 Oliver Ekman-Larsson Phoenix Coyotes 5
Dominion Emerald 39 Mikkel Boedker Phoenix Coyotes 5
Dominion Emerald 40 Joe Thornton San Jose Sharks 5
Dominion Emerald 41 Logan Couture San Jose Sharks 5
Dominion Emerald 42 Jeremy Roenick San Jose Sharks 5
Dominion Emerald 43 Alex Pietrangelo St. Louis Blues 5
Dominion Emerald 44 T.J. Oshie St. Louis Blues 5
Dominion Emerald 45 Brett Hull St. Louis Blues 5
Dominion Emerald 46 Pavel Bure Vancouver Canucks 5
Dominion Emerald 47 Daniel Sedin Vancouver Canucks 5
Dominion Emerald 48 Cory Schneider Vancouver Canucks 5
Dominion Emerald 49 Tyler Seguin Boston Bruins 5
Dominion Emerald 50 Tuukka Rask Boston Bruins 5
Dominion Emerald 51 Cam Neely Boston Bruins 5
Dominion Emerald 52 Ryan Miller Buffalo Sabres 5
Dominion Emerald 53 Thomas Vanek Buffalo Sabres 5
Dominion Emerald 54 Pierre Turgeon Buffalo Sabres 5
Dominion Emerald 55 Cody Hodgson Buffalo Sabres 5
Dominion Emerald 56 Jordan Staal Carolina Hurricanes 5
Dominion Emerald 57 Eric Staal Carolina Hurricanes 5
Dominion Emerald 58 Cam Ward Carolina Hurricanes 5
Dominion Emerald 59 Scott Clemmensen Florida Panthers 5
Dominion Emerald 60 George Parros Florida Panthers 5
Dominion Emerald 61 John Vanbiesbrouck Florida Panthers 5
Dominion Emerald 62 Carey Price Montreal Canadiens 5
Dominion Emerald 63 Patrick Roy Montreal Canadiens 5
Dominion Emerald 64 Michael Ryder Montreal Canadiens 5
Dominion Emerald 65 Ilya Kovalchuk New Jersey Devils 5
Dominion Emerald 66 Adam Henrique New Jersey Devils 5
Dominion Emerald 67 Martin Brodeur New Jersey Devils 5
Dominion Emerald 68 John Tavares New York Islanders 5
Dominion Emerald 69 Pat LaFontaine New York Islanders 5
Dominion Emerald 70 Matt Moulson New York Islanders 5
Dominion Emerald 71 Rick Nash New York Rangers 5
Dominion Emerald 72 Henrik Lundqvist New York Rangers 5
Dominion Emerald 73 Mike Richter New York Rangers 5
Dominion Emerald 74 Marian Gaborik Columbus Blue Jackets 5
Dominion Emerald 75 Daniel Alfredsson Ottawa Senators 5
Dominion Emerald 76 Mika Zibanejad Ottawa Senators 5
Dominion Emerald 77 Erik Karlsson Ottawa Senators 5
Dominion Emerald 78 Claude Giroux Philadelphia Flyers 5
Dominion Emerald 79 Simon Gagne Philadelphia Flyers 5
Dominion Emerald 80 Eric Lindros Philadelphia Flyers 5
Dominion Emerald 81 Sidney Crosby Pittsburgh Penguins 5
Dominion Emerald 82 Mario Lemieux Pittsburgh Penguins 5
Dominion Emerald 83 Marc-Andre Fleury Pittsburgh Penguins 5
Dominion Emerald 84 Evgeni Malkin Pittsburgh Penguins 5
Dominion Emerald 85 Vincent Lecavalier Tampa Bay Lightning 5
Dominion Emerald 86 Steven Stamkos Tampa Bay Lightning 5
Dominion Emerald 87 Anders Lindback Tampa Bay Lightning 5
Dominion Emerald 88 James van Riemsdyk Toronto Maple Leafs 5
Dominion Emerald 89 Felix Potvin Toronto Maple Leafs 5
Dominion Emerald 90 Phil Kessel Toronto Maple Leafs 5
Dominion Emerald 91 Nazem Kadri Toronto Maple Leafs 5
Dominion Emerald 92 Alex Ovechkin Washington Capitals 5
Dominion Emerald 93 Nicklas Backstrom Washington Capitals 5
Dominion Emerald 94 Braden Holtby Washington Capitals 5
Dominion Emerald 95 Mike Gartner Washington Capitals 5
Dominion Emerald 96 Andrew Ladd Winnipeg Jets 5
Dominion Emerald 97 Mark Scheifele Winnipeg Jets 5
Dominion Emerald 98 Ondrej Pavelec Winnipeg Jets 5
Dominion Emerald 99 Dustin Byfuglien Winnipeg Jets 5
Dominion Emerald 100 Dale Hawerchuk Winnipeg Jets 5
Dominion Engravatures 1 Mike Richter New York Rangers 10
Dominion Engravatures 2 Kris Draper Detroit Red Wings 10
Dominion Engravatures 3 Bernie Parent Philadelphia Flyers 10
Dominion Engravatures 4 Phil Esposito Boston Bruins 10
Dominion Engravatures 5 Reggie Leach Philadelphia Flyers 10
Dominion Engravatures 6 Bob Gainey Montreal Canadiens 10
Dominion Engravatures 7 Kirk Muller Montreal Canadiens 10
Dominion Engravatures 8 Ken Morrow New York Islanders 10
Dominion Engravatures 9 Chris Chelios Detroit Red Wings 10
Dominion Engravatures 10 Rob Blake Colorado Avalanche 10
Dominion Engravatures 11 Milt Schmidt Boston Bruins 10
Dominion Engravatures 12 Yvan Cournoyer Montreal Canadiens 10
Dominion Engravatures 13 Mike Modano Dallas Stars 10
Dominion Engravatures 14 Rod Brind'Amour Carolina Hurricanes 10
Dominion Engravatures 15 Dave Andreychuk Tampa Bay Lightning 10
Dominion Engravatures 16 Billy Smith New York Islanders 10
Dominion Engravatures 17 Larry Robinson Montreal Canadiens 10
Dominion Engravatures 18 Al MacInnis Calgary Flames 10
Dominion Engravatures 19 Dave Schultz Philadelphia Flyers 10
Dominion Engravatures 20 John LeClair Montreal Canadiens 10
Dominion Engravatures 21 Ted Lindsay Detroit Red Wings 10
Dominion Engravatures 22 Johnny Bower Toronto Maple Leafs 10
Dominion Engravatures 23 Jari Kurri Edmonton Oilers 10
Dominion Engravatures 24 Bob Baun Toronto Maple Leafs 10
Dominion Engravatures 25 Alex Delvecchio Detroit Red Wings 10
Dominion Engravatures Kings 1 Dustin Brown Los Angeles Kings 15
Dominion Engravatures Kings 2 Anze Kopitar Los Angeles Kings 15
Dominion Engravatures Kings 3 Justin Williams Los Angeles Kings 15
Dominion Engravatures Kings 4 Dustin Penner Los Angeles Kings 15
Dominion Engravatures Kings 5 Mike Richards Los Angeles Kings 15
Dominion Engravatures Kings 6 Jeff Carter Los Angeles Kings 15
Dominion Engravatures Kings 7 Jarret Stoll Los Angeles Kings 15
Dominion Engravatures Kings 8 Simon Gagne Los Angeles Kings 15
Dominion Engravatures Kings 9 Jordan Nolan Los Angeles Kings 15
Dominion Engravatures Kings 10 Kyle Clifford Los Angeles Kings 15
Dominion Engravatures Kings 11 Rob Scuderi Los Angeles Kings 15
Dominion Engravatures Kings 12 Drew Doughty Los Angeles Kings 15
Dominion Engravatures Kings 13 Willie Mitchell Los Angeles Kings 15
Dominion Engravatures Kings 14 Slava Voynov Los Angeles Kings 15
Dominion Engravatures Kings 15 Alec Martinez Los Angeles Kings 15
Dominion Engravatures Kings 16 Matt Greene Los Angeles Kings 15
Dominion Engravatures Kings 17 Davis Drewiske Los Angeles Kings 15
Dominion Engravatures Kings 18 Jonathan Quick Los Angeles Kings 15
Dominion Engravatures Kings 19 Jonathan Bernier Los Angeles Kings 15
Dominion Engravatures Kings 20 Trevor Lewis Los Angeles Kings 15
Dominion Engravatures Kings 21 Dwight King Los Angeles Kings 15
Dominion Engravatures Kings 22 Darryl Sutter Los Angeles Kings 15
Dominion Engravatures Kings 23 Ron Hextall Los Angeles Kings 15
Dominion Engravatures Kings 24 Luc Robitaille Los Angeles Kings 15
Dominion Engravatures Kings 25 Los Angeles Kings Los Angeles Kings 15
Dominion Ensigns 1 Teemu Selanne Anaheim Ducks 1
Dominion Ensigns 2 Tyler Seguin Boston Bruins 1
Dominion Ensigns 3 Thomas Vanek Buffalo Sabres 1
Dominion Ensigns 4 Jarome Iginla Pittsburgh Penguins 1
Dominion Ensigns 5 Jordan Staal Carolina Hurricanes 1
Dominion Ensigns 6 Jonathan Toews Chicago Blackhawks 1
Dominion Ensigns 7 Gabriel Landeskog Colorado Avalanche 1
Dominion Ensigns 8 Jack Johnson Columbus Blue Jackets 1
Dominion Ensigns 9 Loui Eriksson Dallas Stars 1
Dominion Ensigns 10 Henrik Zetterberg Detroit Red Wings 1
Dominion Ensigns 11 Jordan Eberle Edmonton Oilers 1
Dominion Ensigns 12 Scott Clemmensen Florida Panthers 1
Dominion Ensigns 13 Jonathan Quick Los Angeles Kings 1
Dominion Ensigns 14 Zach Parise Minnesota Wild 1
Dominion Ensigns 15 Carey Price Montreal Canadiens 1
Dominion Ensigns 16 Shea Weber Nashville Predators 1
Dominion Ensigns 17 Martin Brodeur New Jersey Devils 1
Dominion Ensigns 18 John Tavares New York Islanders 1
Dominion Ensigns 19 Henrik Lundqvist New York Rangers 1
Dominion Ensigns 20 Daniel Alfredsson Ottawa Senators 1
Dominion Ensigns 21 Brayden Schenn Philadelphia Flyers 1
Dominion Ensigns 22 Shane Doan Phoenix Coyotes 1
Dominion Ensigns 23 Sidney Crosby Pittsburgh Penguins 1
Dominion Ensigns 24 Patrick Marleau San Jose Sharks 1
Dominion Ensigns 25 David Backes St. Louis Blues 1
Dominion Ensigns 26 Vincent Lecavalier Tampa Bay Lightning 1
Dominion Ensigns 27 Dion Phaneuf Toronto Maple Leafs 1
Dominion Ensigns 28 Cory Schneider Vancouver Canucks 1
Dominion Ensigns 29 Alex Ovechkin Washington Capitals 1
Dominion Ensigns 30 Dustin Byfuglien Winnipeg Jets 1
Dominion Ensigns 31 Joe Sakic Colorado Avalanche 1
Dominion Ensigns 32 Cam Neely Boston Bruins 1
Dominion Ensigns 33 Jeremy Roenick Los Angeles Kings 1
Dominion Ensigns 34 John Vanbiesbrouck Philadelphia Flyers 1
Dominion Ensigns 35 Mark Messier New York Rangers 1
Dominion Ensigns 36 Luc Robitaille Los Angeles Kings 1
Dominion Ensigns 37 Mike Modano Dallas Stars 1
Dominion Ensigns 38 Curtis Joseph Toronto Maple Leafs 1
Dominion Ensigns 39 Mario Lemieux Pittsburgh Penguins 1
Dominion Ensigns 40 Ray Bourque Boston Bruins 1
Dominion Ensigns 41 Brett Hull St. Louis Blues 1
Dominion Ensigns 42 Pavel Datsyuk Detroit Red Wings 1
Dominion Ensigns 43 Daniel Sedin Vancouver Canucks 1
Dominion Ensigns 44 Marian Gaborik Columbus Blue Jackets 1
Dominion Ensigns 45 Patrick Kane Chicago Blackhawks 1
Dominion Ensigns 46 Taylor Hall Edmonton Oilers 1
Dominion Ensigns 47 Jaromir Jagr Boston Bruins 1
Dominion Ensigns 48 Saku Koivu Anaheim Ducks 1
Dominion Ensigns 49 Ilya Kovalchuk New Jersey Devils 1
Dominion Ensigns 50 Evgeni Malkin Pittsburgh Penguins 1
Dominion Gold 1 Teemu Selanne Anaheim Ducks 25
Dominion Gold 2 Corey Perry Anaheim Ducks 25
Dominion Gold 3 Cam Fowler Anaheim Ducks 25
Dominion Gold 4 Jarome Iginla Pittsburgh Penguins 25
Dominion Gold 5 Miikka Kiprusoff Calgary Flames 25
Dominion Gold 6 Al MacInnis Calgary Flames 25
Dominion Gold 7 Patrick Kane Chicago Blackhawks 25
Dominion Gold 8 Jonathan Toews Chicago Blackhawks 25
Dominion Gold 9 Ed Belfour Chicago Blackhawks 25
Dominion Gold 10 Gabriel Landeskog Colorado Avalanche 25
Dominion Gold 11 Joe Sakic Colorado Avalanche 25
Dominion Gold 12 Matt Duchene Colorado Avalanche 25
Dominion Gold 13 Artem Anisimov Columbus Blue Jackets 25
Dominion Gold 14 Sergei Bobrovsky Columbus Blue Jackets 25
Dominion Gold 15 Jack Johnson Columbus Blue Jackets 25
Dominion Gold 16 Jaromir Jagr Boston Bruins 25
Dominion Gold 17 Loui Eriksson Dallas Stars 25
Dominion Gold 18 Mike Modano Dallas Stars 25
Dominion Gold 19 Henrik Zetterberg Detroit Red Wings 25
Dominion Gold 20 Gordie Howe (R) Detroit Red Wings 25
Dominion Gold 21 Steve Yzerman Detroit Red Wings 25
Dominion Gold 22 Pavel Datsyuk Detroit Red Wings 25
Dominion Gold 23 Mark Messier Edmonton Oilers 25
Dominion Gold 24 Ryan Nugent-Hopkins Edmonton Oilers 25
Dominion Gold 25 Taylor Hall Edmonton Oilers 25
Dominion Gold 26 Jordan Eberle Edmonton Oilers 25
Dominion Gold 27 Jonathan Quick Los Angeles Kings 25
Dominion Gold 28 Anze Kopitar Los Angeles Kings 25
Dominion Gold 29 Luc Robitaille Los Angeles Kings 25
Dominion Gold 30 Dustin Brown Los Angeles Kings 25
Dominion Gold 31 Zach Parise Minnesota Wild 25
Dominion Gold 32 Niklas Backstrom Minnesota Wild 25
Dominion Gold 33 Ryan Suter Minnesota Wild 25
Dominion Gold 34 Pekka Rinne Nashville Predators 25
Dominion Gold 35 Craig Smith Nashville Predators 25
Dominion Gold 36 Shea Weber Nashville Predators 25
Dominion Gold 37 Mike Smith Phoenix Coyotes 25
Dominion Gold 38 Oliver Ekman-Larsson Phoenix Coyotes 25
Dominion Gold 39 Mikkel Boedker Phoenix Coyotes 25
Dominion Gold 40 Joe Thornton San Jose Sharks 25
Dominion Gold 41 Logan Couture San Jose Sharks 25
Dominion Gold 42 Jeremy Roenick San Jose Sharks 25
Dominion Gold 43 Alex Pietrangelo St. Louis Blues 25
Dominion Gold 44 T.J. Oshie St. Louis Blues 25
Dominion Gold 45 Brett Hull St. Louis Blues 25
Dominion Gold 46 Pavel Bure Vancouver Canucks 25
Dominion Gold 47 Daniel Sedin Vancouver Canucks 25
Dominion Gold 48 Cory Schneider Vancouver Canucks 25
Dominion Gold 49 Tyler Seguin Boston Bruins 25
Dominion Gold 50 Tuukka Rask Boston Bruins 25
Dominion Gold 51 Cam Neely Boston Bruins 25
Dominion Gold 52 Ryan Miller Buffalo Sabres 25
Dominion Gold 53 Thomas Vanek Buffalo Sabres 25
Dominion Gold 54 Pierre Turgeon Buffalo Sabres 25
Dominion Gold 55 Cody Hodgson Buffalo Sabres 25
Dominion Gold 56 Jordan Staal Carolina Hurricanes 25
Dominion Gold 57 Eric Staal Carolina Hurricanes 25
Dominion Gold 58 Cam Ward Carolina Hurricanes 25
Dominion Gold 59 Scott Clemmensen Florida Panthers 25
Dominion Gold 60 George Parros Florida Panthers 25
Dominion Gold 61 John Vanbiesbrouck Florida Panthers 25
Dominion Gold 62 Carey Price Montreal Canadiens 25
Dominion Gold 63 Patrick Roy Montreal Canadiens 25
Dominion Gold 64 Michael Ryder Montreal Canadiens 25
Dominion Gold 65 Ilya Kovalchuk New Jersey Devils 25
Dominion Gold 66 Adam Henrique New Jersey Devils 25
Dominion Gold 67 Martin Brodeur New Jersey Devils 25
Dominion Gold 68 John Tavares New York Islanders 25
Dominion Gold 69 Pat LaFontaine New York Islanders 25
Dominion Gold 70 Matt Moulson New York Islanders 25
Dominion Gold 71 Rick Nash New York Rangers 25
Dominion Gold 72 Henrik Lundqvist New York Rangers 25
Dominion Gold 73 Mike Richter New York Rangers 25
Dominion Gold 74 Marian Gaborik Columbus Blue Jackets 25
Dominion Gold 75 Daniel Alfredsson Ottawa Senators 25
Dominion Gold 76 Mika Zibanejad Ottawa Senators 25
Dominion Gold 77 Erik Karlsson Ottawa Senators 25
Dominion Gold 78 Claude Giroux Philadelphia Flyers 25
Dominion Gold 79 Simon Gagne Philadelphia Flyers 25
Dominion Gold 80 Eric Lindros Philadelphia Flyers 25
Dominion Gold 81 Sidney Crosby Pittsburgh Penguins 25
Dominion Gold 82 Mario Lemieux Pittsburgh Penguins 25
Dominion Gold 83 Marc-Andre Fleury Pittsburgh Penguins 25
Dominion Gold 84 Evgeni Malkin Pittsburgh Penguins 25
Dominion Gold 85 Vincent Lecavalier Tampa Bay Lightning 25
Dominion Gold 86 Steven Stamkos Tampa Bay Lightning 25
Dominion Gold 87 Anders Lindback Tampa Bay Lightning 25
Dominion Gold 88 James van Riemsdyk Toronto Maple Leafs 25
Dominion Gold 89 Felix Potvin Toronto Maple Leafs 25
Dominion Gold 90 Phil Kessel Toronto Maple Leafs 25
Dominion Gold 91 Nazem Kadri Toronto Maple Leafs 25
Dominion Gold 92 Alex Ovechkin Washington Capitals 25
Dominion Gold 93 Nicklas Backstrom Washington Capitals 25
Dominion Gold 94 Braden Holtby Washington Capitals 25
Dominion Gold 95 Mike Gartner Washington Capitals 25
Dominion Gold 96 Andrew Ladd Winnipeg Jets 25
Dominion Gold 97 Mark Scheifele Winnipeg Jets 25
Dominion Gold 98 Ondrej Pavelec Winnipeg Jets 25
Dominion Gold 99 Dustin Byfuglien Winnipeg Jets 25
Dominion Gold 100 Dale Hawerchuk Winnipeg Jets 25
Dominion Peerless Patch 1 Chris Kreider New York Rangers 40
Dominion Peerless Patch 2 Jaden Schwartz St. Louis Blues 40
Dominion Peerless Patch 3 Jakob Silfverberg Ottawa Senators 40
Dominion Peerless Patch 5 Reilly Smith Dallas Stars 40
Dominion Peerless Patch 6 Jussi Rynnas Toronto Maple Leafs 40
Dominion Peerless Patch 7 Sven Baertschi Calgary Flames 40
Dominion Peerless Patch 8 Chet Pickard Nashville Predators 40
Dominion Peerless Patch 9 J.T. Brown Tampa Bay Lightning 40
Dominion Peerless Patch 10 Carter Ashton Toronto Maple Leafs 40
Dominion Peerless Patch 11 Casey Cizikas New York Islanders 40
Dominion Peerless Patch 12 Jason Zucker Minnesota Wild 40
Dominion Peerless Patch 13 Michael Stone Phoenix Coyotes 40
Dominion Peerless Patch 14 Robert Mayer Montreal Canadiens 40
Dominion Peerless Patch 15 Travis Turnbull Buffalo Sabres 40
Dominion Peerless Patch 16 Tyler Cuma Minnesota Wild 40
Dominion Peerless Patch 17 Tyson Barrie Colorado Avalanche 40
Dominion Peerless Patch 18 Andrew Joudrey Columbus Blue Jackets 40
Dominion Peerless Patch 19 Ryan Hamilton Toronto Maple Leafs 40
Dominion Peerless Patch 20 Brandon Manning Philadelphia Flyers 40
Dominion Peerless Patch 21 Matt Watkins New York Islanders 40
Dominion Peerless Patch 22 Matt Donovan New York Islanders 40
Dominion Peerless Patch 23 Mark Stone Ottawa Senators 40
Dominion Peerless Patch 24 Lane MacDermid Dallas Stars 40
Dominion Peerless Patch 25 Kris Foucault Minnesota Wild 40
Dominion Peerless Patch 26 Jordan Nolan Los Angeles Kings 40
Dominion Peerless Patch 27 Jeremy Welsh Carolina Hurricanes 40
Dominion Peerless Patch 28 Shawn Hunwick Columbus Blue Jackets 40
Dominion Peerless Patch 29 Riley Sheahan Detroit Red Wings 40
Dominion Peerless Patch 31 Joe Pavelski San Jose Sharks 40
Dominion Peerless Patch 33 John Tavares New York Islanders 40
Dominion Peerless Patch 34 Gabriel Landeskog Colorado Avalanche 40
Dominion Peerless Patch 36 James Neal Pittsburgh Penguins 40
Dominion Peerless Patch 37 Dustin Brown Los Angeles Kings 40
Dominion Peerless Patch 39 Colin Wilson Nashville Predators 40
Dominion Peerless Patch 40 Cory Schneider Vancouver Canucks 40
Dominion Peerless Patch 41 Bobby Ryan Anaheim Ducks 40
Dominion Peerless Patch 42 Patrick Kane Chicago Blackhawks 25
Dominion Peerless Patch 44 Jonathan Quick Los Angeles Kings 40
Dominion Peerless Patch 45 Marc-Andre Fleury Pittsburgh Penguins 25
Dominion Peerless Patch 46 Loui Eriksson Dallas Stars 40
Dominion Peerless Patch 48 Jay Bouwmeester St. Louis Blues 40
Dominion Peerless Patch 50 Richard Bachman Dallas Stars 40
Dominion Peerless Patch 51 Jhonas Enroth Buffalo Sabres 40
Dominion Peerless Patch 52 Henrik Lundqvist New York Rangers 25
Dominion Peerless Patch 54 Jonathan Bernier Los Angeles Kings 40
Dominion Peerless Patch 55 Matt Duchene Colorado Avalanche 40
Dominion Peerless Patch 57 Stephen Weiss Florida Panthers 30
Dominion Peerless Patch 58 David Backes St. Louis Blues 40
Dominion Peerless Patch 59 Phil Kessel Toronto Maple Leafs 40
Dominion Peerless Patch 60 Ryan Nugent-Hopkins Edmonton Oilers 40
Dominion Peerless Patch 61 Joe Thornton San Jose Sharks 25
Dominion Peerless Patch 63 Patrick Marleau San Jose Sharks 40
Dominion Peerless Patch 64 Nikolai Kulemin Toronto Maple Leafs 40
Dominion Peerless Patch 65 Mason Raymond Vancouver Canucks 40
Dominion Peerless Patch 66 Martin St. Louis Tampa Bay Lightning 40
Dominion Peerless Patch 68 Semyon Varlamov Colorado Avalanche 40
Dominion Peerless Patch 69 Matt Read Philadelphia Flyers 40
Dominion Peerless Patch 70 Kris Letang Pittsburgh Penguins 40
Dominion Peerless Patch 74 Mikael Backlund Calgary Flames 40
Dominion Peerless Patch 76 Pavel Datsyuk Detroit Red Wings 25
Dominion Peerless Patch 79 Keith Yandle Phoenix Coyotes 40
Dominion Peerless Patch 80 Jordan Eberle Edmonton Oilers 40
Dominion Peerless Patch 81 Evgeni Malkin Pittsburgh Penguins 25
Dominion Peerless Patch 82 Martin Brodeur New Jersey Devils 10
Dominion Peerless Patch 84 Claude Giroux Philadelphia Flyers 40
Dominion Peerless Patch 85 Sidney Crosby Pittsburgh Penguins 10
Dominion Peerless Patch 86 Steve Yzerman Detroit Red Wings 10
Dominion Peerless Patch 87 Felix Potvin Toronto Maple Leafs 40
Dominion Peerless Patch 88 Luc Robitaille Detroit Red Wings 25
Dominion Peerless Patch 89 John LeClair Philadelphia Flyers 40
Dominion Peerless Patch 90 Brett Hull Detroit Red Wings 25
Dominion Peerless Patch 91 Ed Belfour Dallas Stars 5
Dominion Peerless Patch 92 Keith Primeau Detroit Red Wings 40
Dominion Peerless Patch 93 Joe Sakic Colorado Avalanche 10
Dominion Peerless Patch 94 Eric Lindros Philadelphia Flyers 10
Dominion Peerless Patch 95 Igor Larionov Detroit Red Wings 10
Dominion Peerless Patch 96 Ron Francis Pittsburgh Penguins 25
Dominion Peerless Patch 97 Patrick Roy Montreal Canadiens 10
Dominion Peerless Patch 98 Mark Messier Vancouver Canucks 10
Dominion Peerless Patch 99 Mario Lemieux Pittsburgh Penguins 10
Dominion Peerless Patch 100 Gordie Howe (R) Hartford Whalers 5
Dominion Plate Black 1 Teemu Selanne Anaheim Ducks 1
Dominion Plate Black 2 Corey Perry Anaheim Ducks 1
Dominion Plate Black 3 Cam Fowler Anaheim Ducks 1
Dominion Plate Black 4 Jarome Iginla Pittsburgh Penguins 1
Dominion Plate Black 5 Miikka Kiprusoff Calgary Flames 1
Dominion Plate Black 6 Al MacInnis Calgary Flames 1
Dominion Plate Black 7 Patrick Kane Chicago Blackhawks 1
Dominion Plate Black 8 Jonathan Toews Chicago Blackhawks 1
Dominion Plate Black 9 Ed Belfour Chicago Blackhawks 1
Dominion Plate Black 10 Gabriel Landeskog Colorado Avalanche 1
Dominion Plate Black 11 Joe Sakic Colorado Avalanche 1
Dominion Plate Black 12 Matt Duchene Colorado Avalanche 1
Dominion Plate Black 13 Artem Anisimov Columbus Blue Jackets 1
Dominion Plate Black 14 Sergei Bobrovsky Columbus Blue Jackets 1
Dominion Plate Black 15 Jack Johnson Columbus Blue Jackets 1
Dominion Plate Black 16 Jaromir Jagr Boston Bruins 1
Dominion Plate Black 17 Loui Eriksson Dallas Stars 1
Dominion Plate Black 18 Mike Modano Dallas Stars 1
Dominion Plate Black 19 Henrik Zetterberg Detroit Red Wings 1
Dominion Plate Black 20 Gordie Howe (R) Detroit Red Wings 1
Dominion Plate Black 21 Steve Yzerman Detroit Red Wings 1
Dominion Plate Black 22 Pavel Datsyuk Detroit Red Wings 1
Dominion Plate Black 23 Mark Messier Edmonton Oilers 1
Dominion Plate Black 24 Ryan Nugent-Hopkins Edmonton Oilers 1
Dominion Plate Black 25 Taylor Hall Edmonton Oilers 1
Dominion Plate Black 26 Jordan Eberle Edmonton Oilers 1
Dominion Plate Black 27 Jonathan Quick Los Angeles Kings 1
Dominion Plate Black 28 Anze Kopitar Los Angeles Kings 1
Dominion Plate Black 29 Luc Robitaille Los Angeles Kings 1
Dominion Plate Black 30 Dustin Brown Los Angeles Kings 1
Dominion Plate Black 31 Zach Parise Minnesota Wild 1
Dominion Plate Black 32 Niklas Backstrom Minnesota Wild 1
Dominion Plate Black 33 Ryan Suter Minnesota Wild 1
Dominion Plate Black 34 Pekka Rinne Nashville Predators 1
Dominion Plate Black 35 Craig Smith Nashville Predators 1
Dominion Plate Black 36 Shea Weber Nashville Predators 1
Dominion Plate Black 37 Mike Smith Phoenix Coyotes 1
Dominion Plate Black 38 Oliver Ekman-Larsson Phoenix Coyotes 1
Dominion Plate Black 39 Mikkel Boedker Phoenix Coyotes 1
Dominion Plate Black 40 Joe Thornton San Jose Sharks 1
Dominion Plate Black 41 Logan Couture San Jose Sharks 1
Dominion Plate Black 42 Jeremy Roenick San Jose Sharks 1
Dominion Plate Black 43 Alex Pietrangelo St. Louis Blues 1
Dominion Plate Black 44 T.J. Oshie St. Louis Blues 1
Dominion Plate Black 45 Brett Hull St. Louis Blues 1
Dominion Plate Black 46 Pavel Bure Vancouver Canucks 1
Dominion Plate Black 47 Daniel Sedin Vancouver Canucks 1
Dominion Plate Black 48 Cory Schneider Vancouver Canucks 1
Dominion Plate Black 49 Tyler Seguin Boston Bruins 1
Dominion Plate Black 50 Tuukka Rask Boston Bruins 1
Dominion Plate Black 51 Cam Neely Boston Bruins 1
Dominion Plate Black 52 Ryan Miller Buffalo Sabres 1
Dominion Plate Black 53 Thomas Vanek Buffalo Sabres 1
Dominion Plate Black 54 Pierre Turgeon Buffalo Sabres 1
Dominion Plate Black 55 Cody Hodgson Buffalo Sabres 1
Dominion Plate Black 56 Jordan Staal Carolina Hurricanes 1
Dominion Plate Black 57 Eric Staal Carolina Hurricanes 1
Dominion Plate Black 58 Cam Ward Carolina Hurricanes 1
Dominion Plate Black 59 Scott Clemmensen Florida Panthers 1
Dominion Plate Black 60 George Parros Florida Panthers 1
Dominion Plate Black 61 John Vanbiesbrouck Florida Panthers 1
Dominion Plate Black 62 Carey Price Montreal Canadiens 1
Dominion Plate Black 63 Patrick Roy Montreal Canadiens 1
Dominion Plate Black 64 Michael Ryder Montreal Canadiens 1
Dominion Plate Black 65 Ilya Kovalchuk New Jersey Devils 1
Dominion Plate Black 66 Adam Henrique New Jersey Devils 1
Dominion Plate Black 67 Martin Brodeur New Jersey Devils 1
Dominion Plate Black 68 John Tavares New York Islanders 1
Dominion Plate Black 69 Pat LaFontaine New York Islanders 1
Dominion Plate Black 70 Matt Moulson New York Islanders 1
Dominion Plate Black 71 Rick Nash New York Rangers 1
Dominion Plate Black 72 Henrik Lundqvist New York Rangers 1
Dominion Plate Black 73 Mike Richter New York Rangers 1
Dominion Plate Black 74 Marian Gaborik Columbus Blue Jackets 1
Dominion Plate Black 75 Daniel Alfredsson Ottawa Senators 1
Dominion Plate Black 76 Mika Zibanejad Ottawa Senators 1
Dominion Plate Black 77 Erik Karlsson Ottawa Senators 1
Dominion Plate Black 78 Claude Giroux Philadelphia Flyers 1
Dominion Plate Black 79 Simon Gagne Philadelphia Flyers 1
Dominion Plate Black 80 Eric Lindros Philadelphia Flyers 1
Dominion Plate Black 81 Sidney Crosby Pittsburgh Penguins 1
Dominion Plate Black 82 Mario Lemieux Pittsburgh Penguins 1
Dominion Plate Black 83 Marc-Andre Fleury Pittsburgh Penguins 1
Dominion Plate Black 84 Evgeni Malkin Pittsburgh Penguins 1
Dominion Plate Black 85 Vincent Lecavalier Tampa Bay Lightning 1
Dominion Plate Black 86 Steven Stamkos Tampa Bay Lightning 1
Dominion Plate Black 87 Anders Lindback Tampa Bay Lightning 1
Dominion Plate Black 88 James van Riemsdyk Toronto Maple Leafs 1
Dominion Plate Black 89 Felix Potvin Toronto Maple Leafs 1
Dominion Plate Black 90 Phil Kessel Toronto Maple Leafs 1
Dominion Plate Black 91 Nazem Kadri Toronto Maple Leafs 1
Dominion Plate Black 92 Alex Ovechkin Washington Capitals 1
Dominion Plate Black 93 Nicklas Backstrom Washington Capitals 1
Dominion Plate Black 94 Braden Holtby Washington Capitals 1
Dominion Plate Black 95 Mike Gartner Washington Capitals 1
Dominion Plate Black 96 Andrew Ladd Winnipeg Jets 1
Dominion Plate Black 97 Mark Scheifele Winnipeg Jets 1
Dominion Plate Black 98 Ondrej Pavelec Winnipeg Jets 1
Dominion Plate Black 99 Dustin Byfuglien Winnipeg Jets 1
Dominion Plate Black 100 Dale Hawerchuk Winnipeg Jets 1
Dominion Plate Cyan 1 Teemu Selanne Anaheim Ducks 1
Dominion Plate Cyan 2 Corey Perry Anaheim Ducks 1
Dominion Plate Cyan 3 Cam Fowler Anaheim Ducks 1
Dominion Plate Cyan 4 Jarome Iginla Pittsburgh Penguins 1
Dominion Plate Cyan 5 Miikka Kiprusoff Calgary Flames 1
Dominion Plate Cyan 6 Al MacInnis Calgary Flames 1
Dominion Plate Cyan 7 Patrick Kane Chicago Blackhawks 1
Dominion Plate Cyan 8 Jonathan Toews Chicago Blackhawks 1
Dominion Plate Cyan 9 Ed Belfour Chicago Blackhawks 1
Dominion Plate Cyan 10 Gabriel Landeskog Colorado Avalanche 1
Dominion Plate Cyan 11 Joe Sakic Colorado Avalanche 1
Dominion Plate Cyan 12 Matt Duchene Colorado Avalanche 1
Dominion Plate Cyan 13 Artem Anisimov Columbus Blue Jackets 1
Dominion Plate Cyan 14 Sergei Bobrovsky Columbus Blue Jackets 1
Dominion Plate Cyan 15 Jack Johnson Columbus Blue Jackets 1
Dominion Plate Cyan 16 Jaromir Jagr Boston Bruins 1
Dominion Plate Cyan 17 Loui Eriksson Dallas Stars 1
Dominion Plate Cyan 18 Mike Modano Dallas Stars 1
Dominion Plate Cyan 19 Henrik Zetterberg Detroit Red Wings 1
Dominion Plate Cyan 20 Gordie Howe (R) Detroit Red Wings 1
Dominion Plate Cyan 21 Steve Yzerman Detroit Red Wings 1
Dominion Plate Cyan 22 Pavel Datsyuk Detroit Red Wings 1
Dominion Plate Cyan 23 Mark Messier Edmonton Oilers 1
Dominion Plate Cyan 24 Ryan Nugent-Hopkins Edmonton Oilers 1
Dominion Plate Cyan 25 Taylor Hall Edmonton Oilers 1
Dominion Plate Cyan 26 Jordan Eberle Edmonton Oilers 1
Dominion Plate Cyan 27 Jonathan Quick Los Angeles Kings 1
Dominion Plate Cyan 28 Anze Kopitar Los Angeles Kings 1
Dominion Plate Cyan 29 Luc Robitaille Los Angeles Kings 1
Dominion Plate Cyan 30 Dustin Brown Los Angeles Kings 1
Dominion Plate Cyan 31 Zach Parise Minnesota Wild 1
Dominion Plate Cyan 32 Niklas Backstrom Minnesota Wild 1
Dominion Plate Cyan 33 Ryan Suter Minnesota Wild 1
Dominion Plate Cyan 34 Pekka Rinne Nashville Predators 1
Dominion Plate Cyan 35 Craig Smith Nashville Predators 1
Dominion Plate Cyan 36 Shea Weber Nashville Predators 1
Dominion Plate Cyan 37 Mike Smith Phoenix Coyotes 1
Dominion Plate Cyan 38 Oliver Ekman-Larsson Phoenix Coyotes 1
Dominion Plate Cyan 39 Mikkel Boedker Phoenix Coyotes 1
Dominion Plate Cyan 40 Joe Thornton San Jose Sharks 1
Dominion Plate Cyan 41 Logan Couture San Jose Sharks 1
Dominion Plate Cyan 42 Jeremy Roenick San Jose Sharks 1
Dominion Plate Cyan 43 Alex Pietrangelo St. Louis Blues 1
Dominion Plate Cyan 44 T.J. Oshie St. Louis Blues 1
Dominion Plate Cyan 45 Brett Hull St. Louis Blues 1
Dominion Plate Cyan 46 Pavel Bure Vancouver Canucks 1
Dominion Plate Cyan 47 Daniel Sedin Vancouver Canucks 1
Dominion Plate Cyan 48 Cory Schneider Vancouver Canucks 1
Dominion Plate Cyan 49 Tyler Seguin Boston Bruins 1
Dominion Plate Cyan 50 Tuukka Rask Boston Bruins 1
Dominion Plate Cyan 51 Cam Neely Boston Bruins 1
Dominion Plate Cyan 52 Ryan Miller Buffalo Sabres 1
Dominion Plate Cyan 53 Thomas Vanek Buffalo Sabres 1
Dominion Plate Cyan 54 Pierre Turgeon Buffalo Sabres 1
Dominion Plate Cyan 55 Cody Hodgson Buffalo Sabres 1
Dominion Plate Cyan 56 Jordan Staal Carolina Hurricanes 1
Dominion Plate Cyan 57 Eric Staal Carolina Hurricanes 1
Dominion Plate Cyan 58 Cam Ward Carolina Hurricanes 1
Dominion Plate Cyan 59 Scott Clemmensen Florida Panthers 1
Dominion Plate Cyan 60 George Parros Florida Panthers 1
Dominion Plate Cyan 61 John Vanbiesbrouck Florida Panthers 1
Dominion Plate Cyan 62 Carey Price Montreal Canadiens 1
Dominion Plate Cyan 63 Patrick Roy Montreal Canadiens 1
Dominion Plate Cyan 64 Michael Ryder Montreal Canadiens 1
Dominion Plate Cyan 65 Ilya Kovalchuk New Jersey Devils 1
Dominion Plate Cyan 66 Adam Henrique New Jersey Devils 1
Dominion Plate Cyan 67 Martin Brodeur New Jersey Devils 1
Dominion Plate Cyan 68 John Tavares New York Islanders 1
Dominion Plate Cyan 69 Pat LaFontaine New York Islanders 1
Dominion Plate Cyan 70 Matt Moulson New York Islanders 1
Dominion Plate Cyan 71 Rick Nash New York Rangers 1
Dominion Plate Cyan 72 Henrik Lundqvist New York Rangers 1
Dominion Plate Cyan 73 Mike Richter New York Rangers 1
Dominion Plate Cyan 74 Marian Gaborik Columbus Blue Jackets 1
Dominion Plate Cyan 75 Daniel Alfredsson Ottawa Senators 1
Dominion Plate Cyan 76 Mika Zibanejad Ottawa Senators 1
Dominion Plate Cyan 77 Erik Karlsson Ottawa Senators 1
Dominion Plate Cyan 78 Claude Giroux Philadelphia Flyers 1
Dominion Plate Cyan 79 Simon Gagne Philadelphia Flyers 1
Dominion Plate Cyan 80 Eric Lindros Philadelphia Flyers 1
Dominion Plate Cyan 81 Sidney Crosby Pittsburgh Penguins 1
Dominion Plate Cyan 82 Mario Lemieux Pittsburgh Penguins 1
Dominion Plate Cyan 83 Marc-Andre Fleury Pittsburgh Penguins 1
Dominion Plate Cyan 84 Evgeni Malkin Pittsburgh Penguins 1
Dominion Plate Cyan 85 Vincent Lecavalier Tampa Bay Lightning 1
Dominion Plate Cyan 86 Steven Stamkos Tampa Bay Lightning 1
Dominion Plate Cyan 87 Anders Lindback Tampa Bay Lightning 1
Dominion Plate Cyan 88 James van Riemsdyk Toronto Maple Leafs 1
Dominion Plate Cyan 89 Felix Potvin Toronto Maple Leafs 1
Dominion Plate Cyan 90 Phil Kessel Toronto Maple Leafs 1
Dominion Plate Cyan 91 Nazem Kadri Toronto Maple Leafs 1
Dominion Plate Cyan 92 Alex Ovechkin Washington Capitals 1
Dominion Plate Cyan 93 Nicklas Backstrom Washington Capitals 1
Dominion Plate Cyan 94 Braden Holtby Washington Capitals 1
Dominion Plate Cyan 95 Mike Gartner Washington Capitals 1
Dominion Plate Cyan 96 Andrew Ladd Winnipeg Jets 1
Dominion Plate Cyan 97 Mark Scheifele Winnipeg Jets 1
Dominion Plate Cyan 98 Ondrej Pavelec Winnipeg Jets 1
Dominion Plate Cyan 99 Dustin Byfuglien Winnipeg Jets 1
Dominion Plate Cyan 100 Dale Hawerchuk Winnipeg Jets 1
Dominion Plate Magenta 1 Teemu Selanne Anaheim Ducks 1
Dominion Plate Magenta 2 Corey Perry Anaheim Ducks 1
Dominion Plate Magenta 3 Cam Fowler Anaheim Ducks 1
Dominion Plate Magenta 4 Jarome Iginla Pittsburgh Penguins 1
Dominion Plate Magenta 5 Miikka Kiprusoff Calgary Flames 1
Dominion Plate Magenta 6 Al MacInnis Calgary Flames 1
Dominion Plate Magenta 7 Patrick Kane Chicago Blackhawks 1
Dominion Plate Magenta 8 Jonathan Toews Chicago Blackhawks 1
Dominion Plate Magenta 9 Ed Belfour Chicago Blackhawks 1
Dominion Plate Magenta 10 Gabriel Landeskog Colorado Avalanche 1
Dominion Plate Magenta 11 Joe Sakic Colorado Avalanche 1
Dominion Plate Magenta 12 Matt Duchene Colorado Avalanche 1
Dominion Plate Magenta 13 Artem Anisimov Columbus Blue Jackets 1
Dominion Plate Magenta 14 Sergei Bobrovsky Columbus Blue Jackets 1
Dominion Plate Magenta 15 Jack Johnson Columbus Blue Jackets 1
Dominion Plate Magenta 16 Jaromir Jagr Boston Bruins 1
Dominion Plate Magenta 17 Loui Eriksson Dallas Stars 1
Dominion Plate Magenta 18 Mike Modano Dallas Stars 1
Dominion Plate Magenta 19 Henrik Zetterberg Detroit Red Wings 1
Dominion Plate Magenta 20 Gordie Howe (R) Detroit Red Wings 1
Dominion Plate Magenta 21 Steve Yzerman Detroit Red Wings 1
Dominion Plate Magenta 22 Pavel Datsyuk Detroit Red Wings 1
Dominion Plate Magenta 23 Mark Messier Edmonton Oilers 1
Dominion Plate Magenta 24 Ryan Nugent-Hopkins Edmonton Oilers 1
Dominion Plate Magenta 25 Taylor Hall Edmonton Oilers 1
Dominion Plate Magenta 26 Jordan Eberle Edmonton Oilers 1
Dominion Plate Magenta 27 Jonathan Quick Los Angeles Kings 1
Dominion Plate Magenta 28 Anze Kopitar Los Angeles Kings 1
Dominion Plate Magenta 29 Luc Robitaille Los Angeles Kings 1
Dominion Plate Magenta 30 Dustin Brown Los Angeles Kings 1
Dominion Plate Magenta 31 Zach Parise Minnesota Wild 1
Dominion Plate Magenta 32 Niklas Backstrom Minnesota Wild 1
Dominion Plate Magenta 33 Ryan Suter Minnesota Wild 1
Dominion Plate Magenta 34 Pekka Rinne Nashville Predators 1
Dominion Plate Magenta 35 Craig Smith Nashville Predators 1
Dominion Plate Magenta 36 Shea Weber Nashville Predators 1
Dominion Plate Magenta 37 Mike Smith Phoenix Coyotes 1
Dominion Plate Magenta 38 Oliver Ekman-Larsson Phoenix Coyotes 1
Dominion Plate Magenta 39 Mikkel Boedker Phoenix Coyotes 1
Dominion Plate Magenta 40 Joe Thornton San Jose Sharks 1
Dominion Plate Magenta 41 Logan Couture San Jose Sharks 1
Dominion Plate Magenta 42 Jeremy Roenick San Jose Sharks 1
Dominion Plate Magenta 43 Alex Pietrangelo St. Louis Blues 1
Dominion Plate Magenta 44 T.J. Oshie St. Louis Blues 1
Dominion Plate Magenta 45 Brett Hull St. Louis Blues 1
Dominion Plate Magenta 46 Pavel Bure Vancouver Canucks 1
Dominion Plate Magenta 47 Daniel Sedin Vancouver Canucks 1
Dominion Plate Magenta 48 Cory Schneider Vancouver Canucks 1
Dominion Plate Magenta 49 Tyler Seguin Boston Bruins 1
Dominion Plate Magenta 50 Tuukka Rask Boston Bruins 1
Dominion Plate Magenta 51 Cam Neely Boston Bruins 1
Dominion Plate Magenta 52 Ryan Miller Buffalo Sabres 1
Dominion Plate Magenta 53 Thomas Vanek Buffalo Sabres 1
Dominion Plate Magenta 54 Pierre Turgeon Buffalo Sabres 1
Dominion Plate Magenta 55 Cody Hodgson Buffalo Sabres 1
Dominion Plate Magenta 56 Jordan Staal Carolina Hurricanes 1
Dominion Plate Magenta 57 Eric Staal Carolina Hurricanes 1
Dominion Plate Magenta 58 Cam Ward Carolina Hurricanes 1
Dominion Plate Magenta 59 Scott Clemmensen Florida Panthers 1
Dominion Plate Magenta 60 George Parros Florida Panthers 1
Dominion Plate Magenta 61 John Vanbiesbrouck Florida Panthers 1
Dominion Plate Magenta 62 Carey Price Montreal Canadiens 1
Dominion Plate Magenta 63 Patrick Roy Montreal Canadiens 1
Dominion Plate Magenta 64 Michael Ryder Montreal Canadiens 1
Dominion Plate Magenta 65 Ilya Kovalchuk New Jersey Devils 1
Dominion Plate Magenta 66 Adam Henrique New Jersey Devils 1
Dominion Plate Magenta 67 Martin Brodeur New Jersey Devils 1
Dominion Plate Magenta 68 John Tavares New York Islanders 1
Dominion Plate Magenta 69 Pat LaFontaine New York Islanders 1
Dominion Plate Magenta 70 Matt Moulson New York Islanders 1
Dominion Plate Magenta 71 Rick Nash New York Rangers 1
Dominion Plate Magenta 72 Henrik Lundqvist New York Rangers 1
Dominion Plate Magenta 73 Mike Richter New York Rangers 1
Dominion Plate Magenta 74 Marian Gaborik Columbus Blue Jackets 1
Dominion Plate Magenta 75 Daniel Alfredsson Ottawa Senators 1
Dominion Plate Magenta 76 Mika Zibanejad Ottawa Senators 1
Dominion Plate Magenta 77 Erik Karlsson Ottawa Senators 1
Dominion Plate Magenta 78 Claude Giroux Philadelphia Flyers 1
Dominion Plate Magenta 79 Simon Gagne Philadelphia Flyers 1
Dominion Plate Magenta 80 Eric Lindros Philadelphia Flyers 1
Dominion Plate Magenta 81 Sidney Crosby Pittsburgh Penguins 1
Dominion Plate Magenta 82 Mario Lemieux Pittsburgh Penguins 1
Dominion Plate Magenta 83 Marc-Andre Fleury Pittsburgh Penguins 1
Dominion Plate Magenta 84 Evgeni Malkin Pittsburgh Penguins 1
Dominion Plate Magenta 85 Vincent Lecavalier Tampa Bay Lightning 1
Dominion Plate Magenta 86 Steven Stamkos Tampa Bay Lightning 1
Dominion Plate Magenta 87 Anders Lindback Tampa Bay Lightning 1
Dominion Plate Magenta 88 James van Riemsdyk Toronto Maple Leafs 1
Dominion Plate Magenta 89 Felix Potvin Toronto Maple Leafs 1
Dominion Plate Magenta 90 Phil Kessel Toronto Maple Leafs 1
Dominion Plate Magenta 91 Nazem Kadri Toronto Maple Leafs 1
Dominion Plate Magenta 92 Alex Ovechkin Washington Capitals 1
Dominion Plate Magenta 93 Nicklas Backstrom Washington Capitals 1
Dominion Plate Magenta 94 Braden Holtby Washington Capitals 1
Dominion Plate Magenta 95 Mike Gartner Washington Capitals 1
Dominion Plate Magenta 96 Andrew Ladd Winnipeg Jets 1
Dominion Plate Magenta 97 Mark Scheifele Winnipeg Jets 1
Dominion Plate Magenta 98 Ondrej Pavelec Winnipeg Jets 1
Dominion Plate Magenta 99 Dustin Byfuglien Winnipeg Jets 1
Dominion Plate Magenta 100 Dale Hawerchuk Winnipeg Jets 1
Dominion Plate Yellow 1 Teemu Selanne Anaheim Ducks 1
Dominion Plate Yellow 2 Corey Perry Anaheim Ducks 1
Dominion Plate Yellow 3 Cam Fowler Anaheim Ducks 1
Dominion Plate Yellow 4 Jarome Iginla Pittsburgh Penguins 1
Dominion Plate Yellow 5 Miikka Kiprusoff Calgary Flames 1
Dominion Plate Yellow 6 Al MacInnis Calgary Flames 1
Dominion Plate Yellow 7 Patrick Kane Chicago Blackhawks 1
Dominion Plate Yellow 8 Jonathan Toews Chicago Blackhawks 1
Dominion Plate Yellow 9 Ed Belfour Chicago Blackhawks 1
Dominion Plate Yellow 10 Gabriel Landeskog Colorado Avalanche 1
Dominion Plate Yellow 11 Joe Sakic Colorado Avalanche 1
Dominion Plate Yellow 12 Matt Duchene Colorado Avalanche 1
Dominion Plate Yellow 13 Artem Anisimov Columbus Blue Jackets 1
Dominion Plate Yellow 14 Sergei Bobrovsky Columbus Blue Jackets 1
Dominion Plate Yellow 15 Jack Johnson Columbus Blue Jackets 1
Dominion Plate Yellow 16 Jaromir Jagr Boston Bruins 1
Dominion Plate Yellow 17 Loui Eriksson Dallas Stars 1
Dominion Plate Yellow 18 Mike Modano Dallas Stars 1
Dominion Plate Yellow 19 Henrik Zetterberg Detroit Red Wings 1
Dominion Plate Yellow 20 Gordie Howe (R) Detroit Red Wings 1
Dominion Plate Yellow 21 Steve Yzerman Detroit Red Wings 1
Dominion Plate Yellow 22 Pavel Datsyuk Detroit Red Wings 1
Dominion Plate Yellow 23 Mark Messier Edmonton Oilers 1
Dominion Plate Yellow 24 Ryan Nugent-Hopkins Edmonton Oilers 1
Dominion Plate Yellow 25 Taylor Hall Edmonton Oilers 1
Dominion Plate Yellow 26 Jordan Eberle Edmonton Oilers 1
Dominion Plate Yellow 27 Jonathan Quick Los Angeles Kings 1
Dominion Plate Yellow 28 Anze Kopitar Los Angeles Kings 1
Dominion Plate Yellow 29 Luc Robitaille Los Angeles Kings 1
Dominion Plate Yellow 30 Dustin Brown Los Angeles Kings 1
Dominion Plate Yellow 31 Zach Parise Minnesota Wild 1
Dominion Plate Yellow 32 Niklas Backstrom Minnesota Wild 1
Dominion Plate Yellow 33 Ryan Suter Minnesota Wild 1
Dominion Plate Yellow 34 Pekka Rinne Nashville Predators 1
Dominion Plate Yellow 35 Craig Smith Nashville Predators 1
Dominion Plate Yellow 36 Shea Weber Nashville Predators 1
Dominion Plate Yellow 37 Mike Smith Phoenix Coyotes 1
Dominion Plate Yellow 38 Oliver Ekman-Larsson Phoenix Coyotes 1
Dominion Plate Yellow 39 Mikkel Boedker Phoenix Coyotes 1
Dominion Plate Yellow 40 Joe Thornton San Jose Sharks 1
Dominion Plate Yellow 41 Logan Couture San Jose Sharks 1
Dominion Plate Yellow 42 Jeremy Roenick San Jose Sharks 1
Dominion Plate Yellow 43 Alex Pietrangelo St. Louis Blues 1
Dominion Plate Yellow 44 T.J. Oshie St. Louis Blues 1
Dominion Plate Yellow 45 Brett Hull St. Louis Blues 1
Dominion Plate Yellow 46 Pavel Bure Vancouver Canucks 1
Dominion Plate Yellow 47 Daniel Sedin Vancouver Canucks 1
Dominion Plate Yellow 48 Cory Schneider Vancouver Canucks 1
Dominion Plate Yellow 49 Tyler Seguin Boston Bruins 1
Dominion Plate Yellow 50 Tuukka Rask Boston Bruins 1
Dominion Plate Yellow 51 Cam Neely Boston Bruins 1
Dominion Plate Yellow 52 Ryan Miller Buffalo Sabres 1
Dominion Plate Yellow 53 Thomas Vanek Buffalo Sabres 1
Dominion Plate Yellow 54 Pierre Turgeon Buffalo Sabres 1
Dominion Plate Yellow 55 Cody Hodgson Buffalo Sabres 1
Dominion Plate Yellow 56 Jordan Staal Carolina Hurricanes 1
Dominion Plate Yellow 57 Eric Staal Carolina Hurricanes 1
Dominion Plate Yellow 58 Cam Ward Carolina Hurricanes 1
Dominion Plate Yellow 59 Scott Clemmensen Florida Panthers 1
Dominion Plate Yellow 60 George Parros Florida Panthers 1
Dominion Plate Yellow 61 John Vanbiesbrouck Florida Panthers 1
Dominion Plate Yellow 62 Carey Price Montreal Canadiens 1
Dominion Plate Yellow 63 Patrick Roy Montreal Canadiens 1
Dominion Plate Yellow 64 Michael Ryder Montreal Canadiens 1
Dominion Plate Yellow 65 Ilya Kovalchuk New Jersey Devils 1
Dominion Plate Yellow 66 Adam Henrique New Jersey Devils 1
Dominion Plate Yellow 67 Martin Brodeur New Jersey Devils 1
Dominion Plate Yellow 68 John Tavares New York Islanders 1
Dominion Plate Yellow 69 Pat LaFontaine New York Islanders 1
Dominion Plate Yellow 70 Matt Moulson New York Islanders 1
Dominion Plate Yellow 71 Rick Nash New York Rangers 1
Dominion Plate Yellow 72 Henrik Lundqvist New York Rangers 1
Dominion Plate Yellow 73 Mike Richter New York Rangers 1
Dominion Plate Yellow 74 Marian Gaborik Columbus Blue Jackets 1
Dominion Plate Yellow 75 Daniel Alfredsson Ottawa Senators 1
Dominion Plate Yellow 76 Mika Zibanejad Ottawa Senators 1
Dominion Plate Yellow 77 Erik Karlsson Ottawa Senators 1
Dominion Plate Yellow 78 Claude Giroux Philadelphia Flyers 1
Dominion Plate Yellow 79 Simon Gagne Philadelphia Flyers 1
Dominion Plate Yellow 80 Eric Lindros Philadelphia Flyers 1
Dominion Plate Yellow 81 Sidney Crosby Pittsburgh Penguins 1
Dominion Plate Yellow 82 Mario Lemieux Pittsburgh Penguins 1
Dominion Plate Yellow 83 Marc-Andre Fleury Pittsburgh Penguins 1
Dominion Plate Yellow 84 Evgeni Malkin Pittsburgh Penguins 1
Dominion Plate Yellow 85 Vincent Lecavalier Tampa Bay Lightning 1
Dominion Plate Yellow 86 Steven Stamkos Tampa Bay Lightning 1
Dominion Plate Yellow 87 Anders Lindback Tampa Bay Lightning 1
Dominion Plate Yellow 88 James van Riemsdyk Toronto Maple Leafs 1
Dominion Plate Yellow 89 Felix Potvin Toronto Maple Leafs 1
Dominion Plate Yellow 90 Phil Kessel Toronto Maple Leafs 1
Dominion Plate Yellow 91 Nazem Kadri Toronto Maple Leafs 1
Dominion Plate Yellow 92 Alex Ovechkin Washington Capitals 1
Dominion Plate Yellow 93 Nicklas Backstrom Washington Capitals 1
Dominion Plate Yellow 94 Braden Holtby Washington Capitals 1
Dominion Plate Yellow 95 Mike Gartner Washington Capitals 1
Dominion Plate Yellow 96 Andrew Ladd Winnipeg Jets 1
Dominion Plate Yellow 97 Mark Scheifele Winnipeg Jets 1
Dominion Plate Yellow 98 Ondrej Pavelec Winnipeg Jets 1
Dominion Plate Yellow 99 Dustin Byfuglien Winnipeg Jets 1
Dominion Plate Yellow 100 Dale Hawerchuk Winnipeg Jets 1
Dominion Rookie Autograph Patch 101 Mat Clark Anaheim Ducks 99
Dominion Rookie Autograph Patch 102 Max Sauve Chicago Blackhawks 99
Dominion Rookie Autograph Patch 103 Michael Hutchinson Boston Bruins 99
Dominion Rookie Autograph Patch 104 Torey Krug Boston Bruins 99
Dominion Rookie Autograph Patch 105 Carter Camper Boston Bruins 99
Dominion Rookie Autograph Patch 106 Lane MacDermid Dallas Stars 99
Dominion Rookie Autograph Patch 107 Travis Turnbull Buffalo Sabres 99
Dominion Rookie Autograph Patch 108 Akim Aliu Calgary Flames 99
Dominion Rookie Autograph Patch 109 Sven Baertschi Calgary Flames 99
Dominion Rookie Autograph Patch 110 Jeremy Welsh Carolina Hurricanes 99
Dominion Rookie Autograph Patch 111 Brandon Bollig Chicago Blackhawks 99
Dominion Rookie Autograph Patch 112 Mike Connolly Colorado Avalanche 99
Dominion Rookie Autograph Patch 113 Tyson Barrie Colorado Avalanche 99
Dominion Rookie Autograph Patch 114 Andrew Joudrey Columbus Blue Jackets 99
Dominion Rookie Autograph Patch 115 Cody Goloubef Columbus Blue Jackets 99
Dominion Rookie Autograph Patch 116 Dalton Prout Columbus Blue Jackets 99
Dominion Rookie Autograph Patch 117 Shawn Hunwick Columbus Blue Jackets 99
Dominion Rookie Autograph Patch 118 Brenden Dillon Dallas Stars 99
Dominion Rookie Autograph Patch 119 Reilly Smith Dallas Stars 99
Dominion Rookie Autograph Patch 120 Ryan Garbutt Dallas Stars 99
Dominion Rookie Autograph Patch 121 Scott Glennie Dallas Stars 99
Dominion Rookie Autograph Patch 122 Riley Sheahan Detroit Red Wings 99
Dominion Rookie Autograph Patch 123 Philippe Cornet Edmonton Oilers 99
Dominion Rookie Autograph Patch 124 Colby Robak Florida Panthers 99
Dominion Rookie Autograph Patch 125 Jordan Nolan Los Angeles Kings 99
Dominion Rookie Autograph Patch 126 Chay Genoway Washington Capitals 99
Dominion Rookie Autograph Patch 127 Jason Zucker Minnesota Wild 99
Dominion Rookie Autograph Patch 128 Kris Foucault Minnesota Wild 99
Dominion Rookie Autograph Patch 129 Tyler Cuma Minnesota Wild 99
Dominion Rookie Autograph Patch 130 Gabriel Dumont Montreal Canadiens 99
Dominion Rookie Autograph Patch 131 Robert Mayer Montreal Canadiens 99
Dominion Rookie Autograph Patch 132 Chet Pickard Nashville Predators 99
Dominion Rookie Autograph Patch 133 Aaron Ness New York Islanders 99
Dominion Rookie Autograph Patch 134 Casey Cizikas New York Islanders 99
Dominion Rookie Autograph Patch 135 Matt Donovan New York Islanders 99
Dominion Rookie Autograph Patch 136 Matt Watkins New York Islanders 99
Dominion Rookie Autograph Patch 137 Chris Kreider New York Rangers 99
Dominion Rookie Autograph Patch 138 Jakob Silfverberg Ottawa Senators 99
Dominion Rookie Autograph Patch 139 Mark Stone Ottawa Senators 99
Dominion Rookie Autograph Patch 140 Brandon Manning Philadelphia Flyers 99
Dominion Rookie Autograph Patch 141 Michael Stone Phoenix Coyotes 99
Dominion Rookie Autograph Patch 142 Tyson Sexsmith San Jose Sharks 99
Dominion Rookie Autograph Patch 143 Jaden Schwartz St. Louis Blues 99
Dominion Rookie Autograph Patch 144 Jake Allen St. Louis Blues 99
Dominion Rookie Autograph Patch 145 J.T. Brown Tampa Bay Lightning 99
Dominion Rookie Autograph Patch 146 Carter Ashton Toronto Maple Leafs 99
Dominion Rookie Autograph Patch 147 Jussi Rynnas Toronto Maple Leafs 99
Dominion Rookie Autograph Patch 148 Ryan Hamilton Toronto Maple Leafs 99
Dominion Rookie Autograph Patch Parallel 101 Mat Clark Anaheim Ducks 73
Dominion Rookie Autograph Patch Parallel 102 Max Sauve Chicago Blackhawks 74
Dominion Rookie Autograph Patch Parallel 103 Michael Hutchinson Boston Bruins 70
Dominion Rookie Autograph Patch Parallel 104 Torey Krug Boston Bruins 47
Dominion Rookie Autograph Patch Parallel 105 Carter Camper Boston Bruins 58
Dominion Rookie Autograph Patch Parallel 106 Lane MacDermid Dallas Stars 64
Dominion Rookie Autograph Patch Parallel 107 Travis Turnbull Buffalo Sabres 65
Dominion Rookie Autograph Patch Parallel 108 Akim Aliu Calgary Flames 29
Dominion Rookie Autograph Patch Parallel 109 Sven Baertschi Calgary Flames 47
Dominion Rookie Autograph Patch Parallel 110 Jeremy Welsh Carolina Hurricanes 23
Dominion Rookie Autograph Patch Parallel 111 Brandon Bollig Chicago Blackhawks 52
Dominion Rookie Autograph Patch Parallel 112 Mike Connolly Colorado Avalanche 18
Dominion Rookie Autograph Patch Parallel 113 Tyson Barrie Colorado Avalanche 41
Dominion Rookie Autograph Patch Parallel 114 Andrew Joudrey Columbus Blue Jackets 23
Dominion Rookie Autograph Patch Parallel 115 Cody Goloubef Columbus Blue Jackets 48
Dominion Rookie Autograph Patch Parallel 116 Dalton Prout Columbus Blue Jackets 47
Dominion Rookie Autograph Patch Parallel 117 Shawn Hunwick Columbus Blue Jackets 31
Dominion Rookie Autograph Patch Parallel 118 Brenden Dillon Dallas Stars 4
Dominion Rookie Autograph Patch Parallel 119 Reilly Smith Dallas Stars 18
Dominion Rookie Autograph Patch Parallel 120 Ryan Garbutt Dallas Stars 40
Dominion Rookie Autograph Patch Parallel 121 Scott Glennie Dallas Stars 15
Dominion Rookie Autograph Patch Parallel 122 Riley Sheahan Detroit Red Wings 15
Dominion Rookie Autograph Patch Parallel 124 Colby Robak Florida Panthers 47
Dominion Rookie Autograph Patch Parallel 125 Jordan Nolan Los Angeles Kings 71
Dominion Rookie Autograph Patch Parallel 126 Chay Genoway Washington Capitals 47
Dominion Rookie Autograph Patch Parallel 127 Jason Zucker Minnesota Wild 16
Dominion Rookie Autograph Patch Parallel 128 Kris Foucault Minnesota Wild 72
Dominion Rookie Autograph Patch Parallel 129 Tyler Cuma Minnesota Wild 65
Dominion Rookie Autograph Patch Parallel 130 Gabriel Dumont Montreal Canadiens 37
Dominion Rookie Autograph Patch Parallel 131 Robert Mayer Montreal Canadiens 65
Dominion Rookie Autograph Patch Parallel 132 Chet Pickard Nashville Predators 37
Dominion Rookie Autograph Patch Parallel 133 Aaron Ness New York Islanders 55
Dominion Rookie Autograph Patch Parallel 134 Casey Cizikas New York Islanders 53
Dominion Rookie Autograph Patch Parallel 135 Matt Donovan New York Islanders 46
Dominion Rookie Autograph Patch Parallel 136 Matt Watkins New York Islanders 50
Dominion Rookie Autograph Patch Parallel 137 Chris Kreider New York Rangers 20
Dominion Rookie Autograph Patch Parallel 138 Jakob Silfverberg Ottawa Senators 33
Dominion Rookie Autograph Patch Parallel 139 Mark Stone Ottawa Senators 16
Dominion Rookie Autograph Patch Parallel 140 Brandon Manning Philadelphia Flyers 23
Dominion Rookie Autograph Patch Parallel 141 Michael Stone Phoenix Coyotes 26
Dominion Rookie Autograph Patch Parallel 142 Tyson Sexsmith San Jose Sharks 37
Dominion Rookie Autograph Patch Parallel 143 Jaden Schwartz St. Louis Blues 9
Dominion Rookie Autograph Patch Parallel 144 Jake Allen St. Louis Blues 34
Dominion Rookie Autograph Patch Parallel 145 J.T. Brown Tampa Bay Lightning 19
Dominion Rookie Autograph Patch Parallel 146 Carter Ashton Toronto Maple Leafs 37
Dominion Rookie Autograph Patch Parallel 147 Jussi Rynnas Toronto Maple Leafs 40
Dominion Rookie Autograph Patch Parallel 148 Ryan Hamilton Toronto Maple Leafs 48
Dominion Rookie Ensign 1 Mat Clark Anaheim Ducks 1
Dominion Rookie Ensign 2 Max Sauve Chicago Blackhawks 1
Dominion Rookie Ensign 3 Michael Hutchinson Boston Bruins 1
Dominion Rookie Ensign 4 Torey Krug Boston Bruins 1
Dominion Rookie Ensign 5 Carter Camper Boston Bruins 1
Dominion Rookie Ensign 6 Lane MacDermid Dallas Stars 1
Dominion Rookie Ensign 7 Travis Turnbull Buffalo Sabres 1
Dominion Rookie Ensign 8 Akim Aliu Calgary Flames 1
Dominion Rookie Ensign 9 Sven Baertschi Calgary Flames 1
Dominion Rookie Ensign 10 Jeremy Welsh Carolina Hurricanes 1
Dominion Rookie Ensign 11 Brandon Bollig Chicago Blackhawks 1
Dominion Rookie Ensign 12 Mike Connolly Colorado Avalanche 1
Dominion Rookie Ensign 13 Tyson Barrie Colorado Avalanche 1
Dominion Rookie Ensign 14 Andrew Joudrey Columbus Blue Jackets 1
Dominion Rookie Ensign 15 Cody Goloubef Columbus Blue Jackets 1
Dominion Rookie Ensign 16 Dalton Prout Columbus Blue Jackets 1
Dominion Rookie Ensign 17 Shawn Hunwick Columbus Blue Jackets 1
Dominion Rookie Ensign 18 Brenden Dillon Dallas Stars 1
Dominion Rookie Ensign 19 Reilly Smith Dallas Stars 1
Dominion Rookie Ensign 20 Ryan Garbutt Dallas Stars 1
Dominion Rookie Ensign 21 Scott Glennie Dallas Stars 1
Dominion Rookie Ensign 22 Riley Sheahan Detroit Red Wings 1
Dominion Rookie Ensign 23 Philippe Cornet Edmonton Oilers 1
Dominion Rookie Ensign 24 Colby Robak Florida Panthers 1
Dominion Rookie Ensign 25 Jordan Nolan Los Angeles Kings 1
Dominion Rookie Ensign 26 Chay Genoway Washington Capitals 1
Dominion Rookie Ensign 27 Jason Zucker Minnesota Wild 1
Dominion Rookie Ensign 28 Kris Foucault Minnesota Wild 1
Dominion Rookie Ensign 29 Tyler Cuma Minnesota Wild 1
Dominion Rookie Ensign 30 Gabriel Dumont Montreal Canadiens 1
Dominion Rookie Ensign 31 Robert Mayer Montreal Canadiens 1
Dominion Rookie Ensign 32 Chet Pickard Nashville Predators 1
Dominion Rookie Ensign 33 Aaron Ness New York Islanders 1
Dominion Rookie Ensign 34 Casey Cizikas New York Islanders 1
Dominion Rookie Ensign 35 Matt Donovan New York Islanders 1
Dominion Rookie Ensign 36 Matt Watkins New York Islanders 1
Dominion Rookie Ensign 37 Chris Kreider New York Rangers 1
Dominion Rookie Ensign 38 Jakob Silfverberg Ottawa Senators 1
Dominion Rookie Ensign 39 Mark Stone Ottawa Senators 1
Dominion Rookie Ensign 40 Brandon Manning Philadelphia Flyers 1
Dominion Rookie Ensign 41 Michael Stone Phoenix Coyotes 1
Dominion Rookie Ensign 42 Tyson Sexsmith San Jose Sharks 1
Dominion Rookie Ensign 43 Jaden Schwartz St. Louis Blues 1
Dominion Rookie Ensign 44 Jake Allen St. Louis Blues 1
Dominion Rookie Ensign 45 J.T. Brown Tampa Bay Lightning 1
Dominion Rookie Ensign 46 Carter Ashton Toronto Maple Leafs 1
Dominion Rookie Ensign 47 Jussi Rynnas Toronto Maple Leafs 1
Dominion Rookie Ensign 48 Ryan Hamilton Toronto Maple Leafs 1
Genuine Letters 1 John Vanbiesbrouck Philadelphia Flyers 13
Genuine Letters 2 Teemu Selanne Anaheim Ducks 7
Genuine Letters 3 Al Iafrate Toronto Maple Leafs 7
Genuine Letters 4 Patrick Sharp Chicago Blackhawks 5
Genuine Letters 5 Rod Brind'Amour Philadelphia Flyers 10
Genuine Letters 6 Tim Kerr Philadelphia Flyers 4
Genuine Letters 7 Steve Yzerman Detroit Red Wings 7
Genuine Letters 8 Ray Emery Chicago Blackhawks 5
Genuine Letters 9 Corey Perry Anaheim Ducks 5
Genuine Letters 10 Bob Gainey Montreal Canadiens 6
Genuine Letters 11 Sidney Crosby Pittsburgh Penguins 6
Genuine Letters 12 Brian Campbell Florida Panthers 8
Genuine Letters 13 Adam Foote Colorado Avalanche 5
Genuine Letters 14 Cam Fowler Anaheim Ducks 6
Genuine Letters 15 Matthew Lombardi Anaheim Ducks 8
Genuine Letters 16 Colton Orr Toronto Maple Leafs 3
Genuine Letters 17 Dan Girardi New York Rangers 7
Genuine Letters 18 Daniel Alfredsson Ottawa Senators 10
Genuine Letters 19 Dave Andreychuk New Jersey Devils 10
Genuine Letters 20 Brent Seabrook Chicago Blackhawks 8
Genuine Letters 21 Chris Stewart St. Louis Blues 7
Genuine Letters 22 Erik Karlsson Ottawa Senators 8
Genuine Letters 23 Evgeni Malkin Pittsburgh Penguins 6
Genuine Letters 24 Henrik Lundqvist New York Rangers 9
Genuine Letters 25 Henrik Zetterberg Detroit Red Wings 10
Genuine Letters 26 Ilya Bryzgalov Philadelphia Flyers 9
Genuine Letters 27 Ilya Kovalchuk New Jersey Devils 9
Genuine Letters 28 Jason Pominville Minnesota Wild 10
Genuine Letters 29 Jason Spezza Ottawa Senators 6
Genuine Letters 30 Marian Gaborik Columbus Blue Jackets 7
Genuine Letters 31 Martin Hanzal Phoenix Coyotes 6
Genuine Letters 32 Michael Del Zotto New York Rangers 8
Genuine Letters 33 Mike Green Washington Capitals 5
Genuine Letters 34 Mike Richards Los Angeles Kings 8
Genuine Letters 35 Milan Lucic Boston Bruins 5
Genuine Letters 36 Ondrej Pavelec Winnipeg Jets 7
Genuine Letters 37 Paul Bissonnette Phoenix Coyotes 11
Genuine Letters 38 Scott Clemmensen Florida Panthers 10
Genuine Letters 39 Gabriel Landeskog Colorado Avalanche 9
Genuine Letters 40 Shawn Horcoff Edmonton Oilers 7
Genuine Letters 41 Steven Stamkos Tampa Bay Lightning 7
Genuine Letters 42 Stu Grimson Nashville Predators 7
Genuine Letters 43 Thomas Vanek Buffalo Sabres 5
Genuine Letters 45 Victor Hedman Tampa Bay Lightning 6
Genuine Letters 46 Jeff Skinner Carolina Hurricanes 7
Genuine Letters 47 Zdeno Chara Boston Bruins 5
Genuine Letters 48 Mike Gartner New York Rangers 7
Genuine Letters 49 Michel Goulet Quebec Nordiques 6
Genuine Letters 50 Chris Kunitz Pittsburgh Penguins 6
Genuine Letters 51 Pierre Turgeon Montreal Canadiens 7
Genuine Letters 52 Darryl Sydor Dallas Stars 5
Genuine Letters 53 Marty McSorley Edmonton Oilers 8
Genuine Letters 54 Jordan Eberle Edmonton Oilers 6
Genuine Letters 55 Dustin Byfuglien Winnipeg Jets 9
Genuine Letters 56 Drew Stafford Buffalo Sabres 8
Genuine Letters 57 Pat Falloon Pittsburgh Penguins 7
Genuine Letters 58 Alex Tanguay Calgary Flames 7
Genuine Letters 59 Kjell Samuelsson Philadelphia Flyers 10
Genuine Letters 60 Ryan Nugent-Hopkins Edmonton Oilers 13
Genuine Letters 61 Corey Crawford Chicago Blackhawks 8
Genuine Letters 62 Zac Rinaldo Philadelphia Flyers 7
Genuine Letters 63 Wayne Simmonds Philadelphia Flyers 8
Genuine Letters 64 Slava Voynov Los Angeles Kings 6
Genuine Letters 65 Tuukka Rask Boston Bruins 4
Genuine Letters 66 Semyon Varlamov Colorado Avalanche 8
Genuine Letters 67 T.J. Oshie St. Louis Blues 5
Genuine Letters 68 Saku Koivu Anaheim Ducks 5
Genuine Letters 69 Patrick Kane Chicago Blackhawks 4
Genuine Letters 70 Ryan O'Reilly Colorado Avalanche 7
Genuine Letters 71 Ryan Malone Tampa Bay Lightning 6
Genuine Letters 72 Jonathan Toews Chicago Blackhawks 4
Genuine Letters 73 Kris Letang Pittsburgh Penguins 6
Genuine Letters 74 Patrice Bergeron Boston Bruins 8
Genuine Letters 75 Pat Verbeek Hartford Whalers 7
Genuine Letters 76 Nathan Horton Boston Bruins 6
Genuine Letters 77 Miikka Kiprusoff Calgary Flames 9
Genuine Letters 78 Simon Despres Pittsburgh Penguins 7
Genuine Letters 79 Steve Downie Colorado Avalanche 6
Genuine Letters 80 Justin Williams Los Angeles Kings 8
Genuine Marks 1 Gordie Howe (R) Hartford Whalers 10
Genuine Marks 3 Al MacInnis St. Louis Blues 8
Genuine Marks 4 Alex Ovechkin Washington Capitals 8
Genuine Marks 8 Bernie Nicholls Los Angeles Kings 8
Genuine Marks 9 Bernie Parent Philadelphia Flyers 6
Genuine Marks 10 Bill Barber Philadelphia Flyers 6
Genuine Marks 11 Bobby Ryan Anaheim Ducks 4
Genuine Marks 12 Brad Richards New York Rangers 8
Genuine Marks 14 Brayden Schenn Philadelphia Flyers 6
Genuine Marks 16 Taylor Hall Edmonton Oilers 4
Genuine Marks 17 Brenden Morrow Pittsburgh Penguins 6
Genuine Marks 18 Brett Hull St. Louis Blues 4
Genuine Marks 19 Brian Elliott St. Louis Blues 7
Genuine Marks 20 Brian Gionta Montreal Canadiens 6
Genuine Marks 21 Cal Clutterbuck Minnesota Wild 11
Genuine Marks 22 Cam Neely Boston Bruins 5
Genuine Marks 25 Chris Chelios Detroit Red Wings 7
Genuine Marks 28 Colin Wilson Nashville Predators 6
Genuine Marks 29 Cory Schneider Vancouver Canucks 9
Genuine Marks 30 Craig Anderson Ottawa Senators 8
Genuine Marks 32 Dan Boyle San Jose Sharks 5
Genuine Marks 34 Daniel Briere Philadelphia Flyers 6
Genuine Marks 35 David Backes St. Louis Blues 6
Genuine Marks 40 Dustin Brown Los Angeles Kings 5
Genuine Marks 41 Rod Brind'Amour Carolina Hurricanes 10
Genuine Marks 42 Eric Lindros Philadelphia Flyers 7
Genuine Marks 43 Felix Potvin Toronto Maple Leafs 6
Genuine Marks 44 Grant Fuhr Los Angeles Kings 4
Genuine Marks 46 Igor Larionov Detroit Red Wings 8
Genuine Marks 48 Rogie Vachon Los Angeles Kings 6
Genuine Marks 49 Jarome Iginla Pittsburgh Penguins 6
Genuine Marks 51 Jaroslav Halak St. Louis Blues 5
Genuine Marks 52 Jay Bouwmeester St. Louis Blues 11
Genuine Marks 54 Ron Francis Hartford Whalers 7
Genuine Marks 55 Jeremy Roenick Los Angeles Kings 7
Genuine Marks 56 Jhonas Enroth Buffalo Sabres 6
Genuine Marks 57 Jimmy Howard Detroit Red Wings 6
Genuine Marks 58 Joe Pavelski San Jose Sharks 8
Genuine Marks 59 Joe Sakic Quebec Nordiques 5
Genuine Marks 60 Joe Thornton San Jose Sharks 8
Genuine Marks 61 Joe Vitale Pittsburgh Penguins 6
Genuine Marks 62 John LeClair Philadelphia Flyers 7
Genuine Marks 63 John Tavares New York Islanders 7
Genuine Marks 64 Jonas Hiller Anaheim Ducks 6
Genuine Marks 66 Ron Hextall Philadelphia Flyers 7
Genuine Marks 68 Keith Primeau Philadelphia Flyers 7
Genuine Marks 69 Keith Yandle Phoenix Coyotes 6
Genuine Marks 72 Ryan Miller Buffalo Sabres 6
Genuine Marks 75 Luc Robitaille Los Angeles Kings 10
Genuine Marks 78 Mark Howe Philadelphia Flyers 4
Genuine Marks 81 Martin St. Louis Tampa Bay Lightning 7
Genuine Marks 82 Mason Raymond Vancouver Canucks 7
Genuine Marks 83 Matt Duchene Colorado Avalanche 7
Genuine Marks 84 Matt Moulson New York Islanders 7
Genuine Marks 85 Matt Read Philadelphia Flyers 4
Genuine Marks 86 Max Pacioretty Montreal Canadiens 10
Genuine Marks 88 Mikael Backlund Calgary Flames 8
Genuine Marks 91 Niklas Backstrom Minnesota Wild 9
Genuine Marks 93 Nikolai Kulemin Toronto Maple Leafs 7
Genuine Marks 95 Patrick Marleau San Jose Sharks 7
Genuine Marks 96 Patrick Roy Montreal Canadiens 3
Genuine Marks 98 Phil Kessel Toronto Maple Leafs 6
Genuine Marks 99 Ray Bourque Boston Bruins 7
Genuine Marks 100 Reggie Leach Philadelphia Flyers 5
Holo Gold 1 Craig Anderson Ottawa Senators 5
Holo Gold 2 Dave Andreychuk Tampa Bay Lightning 5
Holo Gold 3 Artem Anisimov Columbus Blue Jackets 5
Holo Gold 4 David Backes St. Louis Blues 5
Holo Gold 5 Mikael Backlund Calgary Flames 5
Holo Gold 6 Niklas Backstrom Minnesota Wild 5
Holo Gold 7 Ed Belfour Chicago Blackhawks 5
Holo Gold 8 Jamie Benn Dallas Stars 5
Holo Gold 9 Sergei Bobrovsky Columbus Blue Jackets 5
Holo Gold 10 Ray Bourque Boston Bruins 5
Holo Gold 11 Martin Brodeur New Jersey Devils 5
Holo Gold 12 Pavel Bure Florida Panthers 5
Holo Gold 13 Alexander Burmistrov Winnipeg Jets 5
Holo Gold 14 Bobby Clarke Philadelphia Flyers 5
Holo Gold 15 Scott Clemmensen Florida Panthers 5
Holo Gold 16 Logan Couture San Jose Sharks 5
Holo Gold 17 Sidney Crosby Pittsburgh Penguins 5
Holo Gold 18 Pavel Datsyuk Detroit Red Wings 5
Holo Gold 19 Devan Dubnyk Edmonton Oilers 5
Holo Gold 20 Matt Duchene Colorado Avalanche 5
Holo Gold 21 Jordan Eberle Edmonton Oilers 5
Holo Gold 22 Loui Eriksson Dallas Stars 5
Holo Gold 23 Mike Fisher Nashville Predators 5
Holo Gold 24 Marc-Andre Fleury Pittsburgh Penguins 5
Holo Gold 25 Ryan Getzlaf Anaheim Ducks 5
Holo Gold 26 Doug Gilmour Toronto Maple Leafs 5
Holo Gold 27 Brian Gionta Montreal Canadiens 5
Holo Gold 28 Claude Giroux Philadelphia Flyers 5
Holo Gold 29 Taylor Hall Edmonton Oilers 5
Holo Gold 30 Dale Hawerchuk Winnipeg Jets 5
Holo Gold 31 Adam Henrique New Jersey Devils 5
Holo Gold 32 Cody Hodgson Buffalo Sabres 5
Holo Gold 33 Braden Holtby Washington Capitals 5
Holo Gold 34 Gordie Howe (R) Detroit Red Wings 5
Holo Gold 35 Brett Hull St. Louis Blues 5
Holo Gold 36 Jarome Iginla Pittsburgh Penguins 5
Holo Gold 37 Jaromir Jagr Boston Bruins 5
Holo Gold 38 Ryan Johansen Columbus Blue Jackets 5
Holo Gold 39 Ed Jovanovski Florida Panthers 5
Holo Gold 40 Patrick Kane Chicago Blackhawks 5
Holo Gold 41 Erik Karlsson Ottawa Senators 5
Holo Gold 42 Phil Kessel Toronto Maple Leafs 5
Holo Gold 43 Olaf Kolzig Washington Capitals 5
Holo Gold 44 Anze Kopitar Los Angeles Kings 5
Holo Gold 45 Andrew Ladd Winnipeg Jets 5
Holo Gold 46 Pat LaFontaine Buffalo Sabres 5
Holo Gold 47 Gabriel Landeskog Colorado Avalanche 5
Holo Gold 48 Adam Larsson New Jersey Devils 5
Holo Gold 49 Brian Leetch New York Rangers 5
Holo Gold 50 Mario Lemieux Pittsburgh Penguins 5
Holo Gold 51 Anders Lindback Tampa Bay Lightning 5
Holo Gold 52 Eric Lindros Philadelphia Flyers 5
Holo Gold 53 Henrik Lundqvist New York Rangers 5
Holo Gold 54 Al MacInnis St. Louis Blues 5
Holo Gold 55 Evgeni Malkin Pittsburgh Penguins 5
Holo Gold 56 Mark Messier Edmonton Oilers 5
Holo Gold 57 Stan Mikita Chicago Blackhawks 5
Holo Gold 58 Ryan Miller Buffalo Sabres 5
Holo Gold 59 Mike Modano Dallas Stars 5
Holo Gold 60 Matt Moulson New York Islanders 5
Holo Gold 61 Kirk Muller Montreal Canadiens 5
Holo Gold 62 Rick Nash New York Rangers 5
Holo Gold 63 Joe Nieuwendyk Calgary Flames 5
Holo Gold 64 Owen Nolan Quebec Nordiques 5
Holo Gold 65 Ryan Nugent-Hopkins Edmonton Oilers 5
Holo Gold 66 Alex Ovechkin Washington Capitals 5
Holo Gold 67 Max Pacioretty Montreal Canadiens 5
Holo Gold 68 Zach Parise Minnesota Wild 5
Holo Gold 69 Ondrej Pavelec Winnipeg Jets 5
Holo Gold 70 Joe Pavelski San Jose Sharks 5
Holo Gold 71 Alex Pietrangelo St. Louis Blues 5
Holo Gold 72 Felix Potvin New York Islanders 5
Holo Gold 73 Carey Price Montreal Canadiens 5
Holo Gold 74 Jonathan Quick Los Angeles Kings 5
Holo Gold 75 Tuukka Rask Boston Bruins 5
Holo Gold 76 Matt Read Philadelphia Flyers 5
Holo Gold 77 James Reimer Toronto Maple Leafs 5
Holo Gold 78 Mike Richards Los Angeles Kings 5
Holo Gold 79 Pekka Rinne Nashville Predators 5
Holo Gold 80 Luc Robitaille Los Angeles Kings 5
Holo Gold 81 Patrick Roy Montreal Canadiens 5
Holo Gold 82 Bobby Ryan Anaheim Ducks 5
Holo Gold 83 Joe Sakic Quebec Nordiques 5
Holo Gold 84 Tyler Seguin Boston Bruins 5
Holo Gold 85 Teemu Selanne Anaheim Ducks 5
Holo Gold 86 Jeff Skinner Carolina Hurricanes 5
Holo Gold 87 Billy Smith New York Islanders 5
Holo Gold 88 Craig Smith Nashville Predators 5
Holo Gold 89 Mike Smith Phoenix Coyotes 5
Holo Gold 90 Eric Staal Carolina Hurricanes 5
Holo Gold 91 Steven Stamkos Tampa Bay Lightning 5
Holo Gold 92 Ryan Suter Minnesota Wild 5
Holo Gold 93 John Tavares New York Islanders 5
Holo Gold 94 Joe Thornton San Jose Sharks 5
Holo Gold 95 Jonathan Toews Chicago Blackhawks 5
Holo Gold 96 Keith Yandle Phoenix Coyotes 5
Holo Gold 97 Cam Ward Carolina Hurricanes 5
Holo Gold 98 Steve Yzerman Detroit Red Wings 5
Holo Gold 99 Henrik Zetterberg Detroit Red Wings 5
Holo Gold 100 Mika Zibanejad Ottawa Senators 5
Holo Silver 1 Craig Anderson Ottawa Senators 10
Holo Silver 2 Dave Andreychuk Tampa Bay Lightning 10
Holo Silver 3 Artem Anisimov Columbus Blue Jackets 10
Holo Silver 4 David Backes St. Louis Blues 10
Holo Silver 5 Mikael Backlund Calgary Flames 10
Holo Silver 6 Niklas Backstrom Minnesota Wild 10
Holo Silver 7 Ed Belfour Chicago Blackhawks 10
Holo Silver 8 Jamie Benn Dallas Stars 10
Holo Silver 9 Sergei Bobrovsky Columbus Blue Jackets 10
Holo Silver 10 Ray Bourque Boston Bruins 10
Holo Silver 11 Martin Brodeur New Jersey Devils 10
Holo Silver 12 Pavel Bure Florida Panthers 10
Holo Silver 13 Alexander Burmistrov Winnipeg Jets 10
Holo Silver 14 Bobby Clarke Philadelphia Flyers 10
Holo Silver 15 Scott Clemmensen Florida Panthers 10
Holo Silver 16 Logan Couture San Jose Sharks 10
Holo Silver 17 Sidney Crosby Pittsburgh Penguins 10
Holo Silver 18 Pavel Datsyuk Detroit Red Wings 10
Holo Silver 19 Devan Dubnyk Edmonton Oilers 10
Holo Silver 20 Matt Duchene Colorado Avalanche 10
Holo Silver 21 Jordan Eberle Edmonton Oilers 10
Holo Silver 22 Loui Eriksson Dallas Stars 10
Holo Silver 23 Mike Fisher Nashville Predators 10
Holo Silver 24 Marc-Andre Fleury Pittsburgh Penguins 10
Holo Silver 25 Ryan Getzlaf Anaheim Ducks 10
Holo Silver 26 Doug Gilmour Toronto Maple Leafs 10
Holo Silver 27 Brian Gionta Montreal Canadiens 10
Holo Silver 28 Claude Giroux Philadelphia Flyers 10
Holo Silver 29 Taylor Hall Edmonton Oilers 10
Holo Silver 30 Dale Hawerchuk Winnipeg Jets 10
Holo Silver 31 Adam Henrique New Jersey Devils 10
Holo Silver 32 Cody Hodgson Buffalo Sabres 10
Holo Silver 33 Braden Holtby Washington Capitals 10
Holo Silver 34 Gordie Howe (R) Detroit Red Wings 10
Holo Silver 35 Brett Hull St. Louis Blues 10
Holo Silver 36 Jarome Iginla Pittsburgh Penguins 10
Holo Silver 37 Jaromir Jagr Boston Bruins 10
Holo Silver 38 Ryan Johansen Columbus Blue Jackets 10
Holo Silver 39 Ed Jovanovski Florida Panthers 10
Holo Silver 40 Patrick Kane Chicago Blackhawks 10
Holo Silver 41 Erik Karlsson Ottawa Senators 10
Holo Silver 42 Phil Kessel Toronto Maple Leafs 10
Holo Silver 43 Olaf Kolzig Washington Capitals 10
Holo Silver 44 Anze Kopitar Los Angeles Kings 10
Holo Silver 45 Andrew Ladd Winnipeg Jets 10
Holo Silver 46 Pat LaFontaine Buffalo Sabres 10
Holo Silver 47 Gabriel Landeskog Colorado Avalanche 10
Holo Silver 48 Adam Larsson New Jersey Devils 10
Holo Silver 49 Brian Leetch New York Rangers 10
Holo Silver 50 Mario Lemieux Pittsburgh Penguins 10
Holo Silver 51 Anders Lindback Tampa Bay Lightning 10
Holo Silver 52 Eric Lindros Philadelphia Flyers 10
Holo Silver 53 Henrik Lundqvist New York Rangers 10
Holo Silver 54 Al MacInnis St. Louis Blues 10
Holo Silver 55 Evgeni Malkin Pittsburgh Penguins 10
Holo Silver 56 Mark Messier Edmonton Oilers 10
Holo Silver 57 Stan Mikita Chicago Blackhawks 10
Holo Silver 58 Ryan Miller Buffalo Sabres 10
Holo Silver 59 Mike Modano Dallas Stars 10
Holo Silver 60 Matt Moulson New York Islanders 10
Holo Silver 61 Kirk Muller Montreal Canadiens 10
Holo Silver 62 Rick Nash New York Rangers 10
Holo Silver 63 Joe Nieuwendyk Calgary Flames 10
Holo Silver 64 Owen Nolan Quebec Nordiques 10
Holo Silver 65 Ryan Nugent-Hopkins Edmonton Oilers 10
Holo Silver 66 Alex Ovechkin Washington Capitals 10
Holo Silver 67 Max Pacioretty Montreal Canadiens 10
Holo Silver 68 Zach Parise Minnesota Wild 10
Holo Silver 69 Ondrej Pavelec Winnipeg Jets 10
Holo Silver 70 Joe Pavelski San Jose Sharks 10
Holo Silver 71 Alex Pietrangelo St. Louis Blues 10
Holo Silver 72 Felix Potvin New York Islanders 10
Holo Silver 73 Carey Price Montreal Canadiens 10
Holo Silver 74 Jonathan Quick Los Angeles Kings 10
Holo Silver 75 Tuukka Rask Boston Bruins 10
Holo Silver 76 Matt Read Philadelphia Flyers 10
Holo Silver 77 James Reimer Toronto Maple Leafs 10
Holo Silver 78 Mike Richards Los Angeles Kings 10
Holo Silver 79 Pekka Rinne Nashville Predators 10
Holo Silver 80 Luc Robitaille Los Angeles Kings 10
Holo Silver 81 Patrick Roy Montreal Canadiens 10
Holo Silver 82 Bobby Ryan Anaheim Ducks 10
Holo Silver 83 Joe Sakic Quebec Nordiques 10
Holo Silver 84 Tyler Seguin Boston Bruins 10
Holo Silver 85 Teemu Selanne Anaheim Ducks 10
Holo Silver 86 Jeff Skinner Carolina Hurricanes 10
Holo Silver 87 Billy Smith New York Islanders 10
Holo Silver 88 Craig Smith Nashville Predators 10
Holo Silver 89 Mike Smith Phoenix Coyotes 10
Holo Silver 90 Eric Staal Carolina Hurricanes 10
Holo Silver 91 Steven Stamkos Tampa Bay Lightning 10
Holo Silver 92 Ryan Suter Minnesota Wild 10
Holo Silver 93 John Tavares New York Islanders 10
Holo Silver 94 Joe Thornton San Jose Sharks 10
Holo Silver 95 Jonathan Toews Chicago Blackhawks 10
Holo Silver 96 Keith Yandle Phoenix Coyotes 10
Holo Silver 97 Cam Ward Carolina Hurricanes 10
Holo Silver 98 Steve Yzerman Detroit Red Wings 10
Holo Silver 99 Henrik Zetterberg Detroit Red Wings 10
Holo Silver 100 Mika Zibanejad Ottawa Senators 10
Prime Authentics 1 Adam Foote Colorado Avalanche 1
Prime Authentics 2 Adam Larsson New Jersey Devils 2
Prime Authentics 3 Alec Martinez Los Angeles Kings 1
Prime Authentics 4 Ales Hemsky Edmonton Oilers 5
Prime Authentics 5 Alex Ovechkin Washington Capitals 4
Prime Authentics 6 Alexander Burmistrov Winnipeg Jets 2
Prime Authentics 7 Jonathan Toews Chicago Blackhawks 1
Prime Authentics 8 Anze Kopitar Los Angeles Kings 5
Prime Authentics 9 Barret Jackman St. Louis Blues 1
Prime Authentics 10 Bobby Ryan Anaheim Ducks 4
Prime Authentics 11 Brayden Schenn Philadelphia Flyers 2
Prime Authentics 12 Brendan Shanahan Detroit Red Wings 2
Prime Authentics 13 Brenden Morrow Pittsburgh Penguins 3
Prime Authentics 14 Brett Hull Detroit Red Wings 3
Prime Authentics 15 Duncan Keith Chicago Blackhawks 1
Prime Authentics 16 Brooks Orpik Pittsburgh Penguins 2
Prime Authentics 17 Chris Chelios Detroit Red Wings 3
Prime Authentics 18 Chris Kunitz Pittsburgh Penguins 2
Prime Authentics 19 Corey Perry Anaheim Ducks 2
Prime Authentics 20 Cory Schneider Vancouver Canucks 1
Prime Authentics 21 Curtis Glencross Calgary Flames 2
Prime Authentics 22 Dana Tyrell Tampa Bay Lightning 4
Prime Authentics 23 Daniel Briere Philadelphia Flyers 3
Prime Authentics 24 Ray Emery Chicago Blackhawks 1
Prime Authentics 25 David Krejci Boston Bruins 4
Prime Authentics 26 Zdeno Chara Boston Bruins 4
Prime Authentics 27 Devan Dubnyk Edmonton Oilers 5
Prime Authentics 28 Drew Doughty Los Angeles Kings 4
Prime Authentics 29 Dustin Brown Los Angeles Kings 3
Prime Authentics 30 Dustin Byfuglien Winnipeg Jets 2
Prime Authentics 31 Dwight King Los Angeles Kings 2
Prime Authentics 32 Erik Johnson Colorado Avalanche 2
Prime Authentics 33 Evgeni Malkin Pittsburgh Penguins 4
Prime Authentics 34 Frans Nielsen New York Islanders 1
Prime Authentics 35 Gabriel Landeskog Colorado Avalanche 3
Prime Authentics 36 Henrik Zetterberg Detroit Red Wings 2
Prime Authentics 37 Igor Larionov Detroit Red Wings 2
Prime Authentics 38 Jacob Josefson New Jersey Devils 1
Prime Authentics 39 James Neal Pittsburgh Penguins 5
Prime Authentics 40 Jarome Iginla Pittsburgh Penguins 1
Prime Authentics 41 Corey Crawford Chicago Blackhawks 1
Prime Authentics 42 Jason Pominville Minnesota Wild 2
Prime Authentics 43 Jay Bouwmeester St. Louis Blues 2
Prime Authentics 44 Jean-Sebastien Giguere Colorado Avalanche 2
Prime Authentics 45 Jimmy Howard Detroit Red Wings 3
Prime Authentics 46 Joe Nieuwendyk Dallas Stars 1
Prime Authentics 47 Joe Pavelski San Jose Sharks 3
Prime Authentics 48 Joe Thornton San Jose Sharks 2
Prime Authentics 49 Johan Franzen Detroit Red Wings 2
Prime Authentics 50 Jonathan Quick Los Angeles Kings 5
Prime Authentics 51 Jordan Eberle Edmonton Oilers 5
Prime Authentics 52 Josh Gorges Montreal Canadiens 2
Prime Authentics 53 Justin Williams Los Angeles Kings 2
Prime Authentics 54 Kari Lehtonen Dallas Stars 4
Prime Authentics 55 Keith Yandle Phoenix Coyotes 1
Prime Authentics 56 Niklas Backstrom Minnesota Wild 2
Prime Authentics 57 Kris Letang Pittsburgh Penguins 4
Prime Authentics 58 Logan Couture San Jose Sharks 1
Prime Authentics 59 Loui Eriksson Dallas Stars 3
Prime Authentics 60 Marc-Andre Fleury Pittsburgh Penguins 4
Prime Authentics 61 Marc-Edouard Vlasic San Jose Sharks 3
Prime Authentics 62 Tyler Seguin Boston Bruins 2
Prime Authentics 63 Martin Brodeur New Jersey Devils 1
Prime Authentics 64 Martin Hanzal Phoenix Coyotes 2
Prime Authentics 65 Matt Duchene Colorado Avalanche 2
Prime Authentics 66 Matt Greene Los Angeles Kings 1
Prime Authentics 67 Matt Read Philadelphia Flyers 2
Prime Authentics 68 Max Pacioretty Montreal Canadiens 1
Prime Authentics 69 Miikka Kiprusoff Calgary Flames 2
Prime Authentics 70 Mike Richards Los Angeles Kings 3
Prime Authentics 71 Mikhail Grabovski Toronto Maple Leafs 4
Prime Authentics 72 Milan Lucic Boston Bruins 2
Prime Authentics 73 Nicklas Lidstrom Detroit Red Wings 3
Prime Authentics 74 Ondrej Pavelec Winnipeg Jets 4
Prime Authentics 75 P.K. Subban Montreal Canadiens 1
Prime Authentics 76 Patrick Kane Chicago Blackhawks 1
Prime Authentics 77 Patrick Sharp Chicago Blackhawks 2
Prime Authentics 78 Paul Bissonnette Phoenix Coyotes 1
Prime Authentics 79 Pavel Datsyuk Detroit Red Wings 2
Prime Authentics 80 Pekka Rinne Nashville Predators 3
Prime Authentics 81 Cody Hodgson Buffalo Sabres 1
Prime Authentics 82 Ryan Getzlaf Anaheim Ducks 5
Prime Authentics 83 Ryan Kesler Vancouver Canucks 1
Prime Authentics 84 Ryan Malone Tampa Bay Lightning 5
Prime Authentics 85 Ryan Nugent-Hopkins Edmonton Oilers 4
Prime Authentics 86 Ryane Clowe New York Rangers 2
Prime Authentics 87 Saku Koivu Anaheim Ducks 4
Prime Authentics 88 Sam Gagner Edmonton Oilers 5
Prime Authentics 89 Scott Clemmensen Florida Panthers 4
Prime Authentics 90 Sean Couturier Philadelphia Flyers 2
Prime Authentics 91 Shane Doan Phoenix Coyotes 2
Prime Authentics 92 Shea Weber Nashville Predators 3
Prime Authentics 93 Sidney Crosby Pittsburgh Penguins 5
Prime Authentics 94 Simon Despres Pittsburgh Penguins 2
Prime Authentics 95 Steve Downie Colorado Avalanche 1
Prime Authentics 96 Steven Stamkos Tampa Bay Lightning 1
Prime Authentics 97 Wayne Simmonds Philadelphia Flyers 3
Prime Authentics 98 Taylor Hall Edmonton Oilers 4
Prime Authentics 99 Teemu Selanne Anaheim Ducks 1
Prime Authentics 100 Travis Zajac New Jersey Devils 2
Prime Bonus 1 Anze Kopitar Los Angeles Kings 7 2011-12 Prime Genuine Marks #3
Prime Bonus 2 Bobby Ryan Anaheim Ducks 4 2011-12 Prime Genuine Marks #6
Prime Bonus 3 Brad Richards New York Rangers 8 2011-12 Prime Genuine Marks #7
Prime Bonus 4 Brandon Dubinsky New York Rangers 8 2011-12 Prime Genuine Marks #8
Prime Bonus 5 Brenden Morrow Dallas Stars 6 2011-12 Prime Genuine Marks #10
Prime Bonus 6 Claude Giroux Philadelphia Flyers 6 2011-12 Prime Genuine Marks #17
Prime Bonus 7 Daniel Briere Philadelphia Flyers 6 2011-12 Prime Genuine Marks #23
Prime Bonus 8 Denis Savard Chicago Blackhawks 6 2011-12 Prime Genuine Marks #24
Prime Bonus 9 Dion Phaneuf Toronto Maple Leafs 7 2011-12 Prime Genuine Marks #25
Prime Bonus 10 Doug Gilmour St. Louis Blues 7 2011-12 Prime Genuine Marks #27
Prime Bonus 11 Dustin Byfuglien Winnipeg Jets 9 2011-12 Prime Genuine Marks #29
Prime Bonus 13 Jack Johnson Columbus Blue Jackets 7 2011-12 Prime Genuine Marks #35
Prime Bonus 14 James Neal Pittsburgh Penguins 4 2011-12 Prime Genuine Marks #36
Prime Bonus 15 James van Riemsdyk Philadelphia Flyers 11 2011-12 Prime Genuine Marks #37
Prime Bonus 16 Jamie Benn Dallas Stars 4 2011-12 Prime Genuine Marks #38
Prime Bonus 18 Jaromir Jagr Philadelphia Flyers 4 2011-12 Prime Genuine Marks #40
Prime Bonus 19 John Tavares New York Islanders 7 2011-12 Prime Genuine Marks #48
Prime Bonus 20 Kari Lehtonen Dallas Stars 8 2011-12 Prime Genuine Marks #53
Prime Bonus 21 Kris Letang Pittsburgh Penguins 6 2011-12 Prime Genuine Marks #54
Prime Bonus 23 Luke Schenn Toronto Maple Leafs 6 2011-12 Prime Genuine Marks #57
Prime Bonus 24 Marcel Dionne Los Angeles Kings 6 2011-12 Prime Genuine Marks #60
Prime Bonus 25 Matt Duchene Colorado Avalanche 7 2011-12 Prime Genuine Marks #66
Prime Bonus 26 Nikolai Khabibulin Edmonton Oilers 10 2011-12 Prime Genuine Marks #70
Prime Bonus 27 Pat LaFontaine New York Islanders 10 2011-12 Prime Genuine Marks #71
Prime Bonus 28 Patrice Bergeron Boston Bruins 8 2011-12 Prime Genuine Marks #72
Prime Bonus 29 Pavel Datsyuk Detroit Red Wings 7 2011-12 Prime Genuine Marks #76
Prime Bonus 30 Pekka Rinne Nashville Predators 5 2011-12 Prime Genuine Marks #77
Prime Bonus 31 Ryan Getzlaf Anaheim Ducks 7 2011-12 Prime Genuine Marks #87
Prime Bonus 32 Sam Gagner Edmonton Oilers 6 2011-12 Prime Genuine Marks #91
Prime Bonus 33 Shea Weber Nashville Predators 5 2011-12 Prime Genuine Marks #93
Prime Bonus 34 Tomas Vokoun Washington Capitals 6 2011-12 Prime Genuine Marks #97
Prime Bonus 35 Vincent Lecavalier Tampa Bay Lightning 10 2011-12 Prime Genuine Marks #99
Prime Bonus 36 Zach Parise New Jersey Devils 6 2011-12 Prime Genuine Marks #100
Prime Bonus 37 Matt Moulson New York Islanders 75 2011-12 Prime Namesakes #52
Prime Bonus 38 Cody Eakin Washington Capitals 10 2011-12 Prime Rookies Black #163
Prime Bonus 41 Cam Ward Carolina Hurricanes 99 2011-12 Prime Signatures #14
Prime Bonus 42 Dale Hawerchuk Winnipeg Jets 99 2011-12 Prime Signatures #23
Prime Bonus 43 Jack Johnson Columbus Blue Jackets 99 2011-12 Prime Signatures #29
Prime Bonus 44 Matt Read Philadelphia Flyers 99 2011-12 Prime Signatures #35
Prime Bonus 45 Sam Gagner Edmonton Oilers 99 2011-12 Prime Signatures #41
Prime Bonus 46 Pekka Rinne Nashville Predators 50 2011-12 Prime Signatures #45
Prime Bonus 47 Tyler Seguin Boston Bruins 99 2011-12 Prime Signatures #65
Prime Bonus 48 Zach Parise New Jersey Devils 99 2011-12 Prime Signatures #67
Prime Bonus 49 Cam Ward Carolina Hurricanes 50 2011-12 Prime Signatures Gold #14
Prime Bonus 50 Dale Hawerchuk Winnipeg Jets 50 2011-12 Prime Signatures Gold #23
Prime Bonus 51 Jack Johnson Columbus Blue Jackets 50 2011-12 Prime Signatures Gold #29
Prime Bonus 52 Matt Read Philadelphia Flyers 50 2011-12 Prime Signatures Gold #35
Prime Bonus 53 Sam Gagner Edmonton Oilers 50 2011-12 Prime Signatures Gold #41
Prime Bonus 54 Pekka Rinne Nashville Predators 25 2011-12 Prime Signatures Gold #45
Prime Bonus 55 Tyler Seguin Boston Bruins 50 2011-12 Prime Signatures Gold #65
Prime Bonus 56 Zach Parise New Jersey Devils 50 2011-12 Prime Signatures Gold #67
Prime Bonus 57 Cam Ward Carolina Hurricanes 25 2011-12 Prime Signatures Holo Silver #14
Prime Bonus 58 Dale Hawerchuk Winnipeg Jets 25 2011-12 Prime Signatures Holo Silver #23
Prime Bonus 59 Jack Johnson Columbus Blue Jackets 25 2011-12 Prime Signatures Holo Silver #29
Prime Bonus 60 Matt Read Philadelphia Flyers 25 2011-12 Prime Signatures Holo Silver #35
Prime Bonus 61 Sam Gagner Edmonton Oilers 25 2011-12 Prime Signatures Holo Silver #41
Prime Bonus 62 Pekka Rinne Nashville Predators 10 2011-12 Prime Signatures Holo Silver #45
Prime Bonus 63 Tyler Seguin Boston Bruins 25 2011-12 Prime Signatures Holo Silver #65
Prime Bonus 64 Zach Parise New Jersey Devils 25 2011-12 Prime Signatures Holo Silver #67
Prime Bonus 65 John Tavares New York Islanders 25 2011-12 Prime Signatures Dual #5
Prime Bonus 65 Eric Lindros Philadelphia Flyers 2011-12 Prime Signatures Dual #5
Prime Bonus 66 Curtis Joseph Toronto Maple Leafs 25 2011-12 Prime Signatures Dual #9
Prime Bonus 66 Felix Potvin Toronto Maple Leafs 2011-12 Prime Signatures Dual #9
Prime Bonus 67 Mike Modano Detroit Red Wings 25 2011-12 Prime Signatures Dual #11
Prime Bonus 67 Pavel Datsyuk Detroit Red Wings 2011-12 Prime Signatures Dual #11
Prime Bonus 69 Daniel Briere Philadelphia Flyers 25 2011-12 Prime Signatures Dual #15
Prime Bonus 69 Chris Pronger Philadelphia Flyers 2011-12 Prime Signatures Dual #15
Prime Bonus 70 Bernie Nicholls Los Angeles Kings 25 2011-12 Prime Signatures Dual #16
Prime Bonus 70 Luc Robitaille Los Angeles Kings 2011-12 Prime Signatures Dual #16
Prime Bonus 71 Kris Letang Pittsburgh Penguins 25 2011-12 Prime Signatures Dual #20
Prime Bonus 71 Simon Despres Pittsburgh Penguins 2011-12 Prime Signatures Dual #20
Prime Bonus 72 John Tavares New York Islanders 15 2011-12 Prime Signatures Dual Gold #5
Prime Bonus 72 Eric Lindros Philadelphia Flyers 2011-12 Prime Signatures Dual Gold #5
Prime Bonus 73 Curtis Joseph Toronto Maple Leafs 15 2011-12 Prime Signatures Dual Gold #9
Prime Bonus 73 Felix Potvin Toronto Maple Leafs 2011-12 Prime Signatures Dual Gold #9
Prime Bonus 74 Mike Modano Detroit Red Wings 15 2011-12 Prime Signatures Dual Gold #11
Prime Bonus 74 Pavel Datsyuk Detroit Red Wings 2011-12 Prime Signatures Dual Gold #11
Prime Bonus 75 Daniel Briere Philadelphia Flyers 15 2011-12 Prime Signatures Dual Gold #15
Prime Bonus 75 Chris Pronger Philadelphia Flyers 2011-12 Prime Signatures Dual Gold #15
Prime Bonus 76 Luc Robitaille Los Angeles Kings 15 2011-12 Prime Signatures Dual Gold #16
Prime Bonus 76 Bernie Nicholls Los Angeles Kings 2011-12 Prime Signatures Dual Gold #16
Prime Bonus 77 Kris Letang Pittsburgh Penguins 15 2011-12 Prime Signatures Dual Gold #20
Prime Bonus 77 Simon Despres Pittsburgh Penguins 2011-12 Prime Signatures Dual Gold #20
Prime Bonus 78 John Tavares New York Islanders 5 2011-12 Prime Signatures Dual Holo Silver #5
Prime Bonus 78 Eric Lindros Philadelphia Flyers 2011-12 Prime Signatures Dual Holo Silver #5
Prime Bonus 79 Curtis Joseph Toronto Maple Leafs 5 2011-12 Prime Signatures Dual Holo Silver #9
Prime Bonus 79 Felix Potvin Toronto Maple Leafs 2011-12 Prime Signatures Dual Holo Silver #9
Prime Bonus 80 Mike Modano Detroit Red Wings 5 2011-12 Prime Signatures Dual Holo Silver #11
Prime Bonus 80 Pavel Datsyuk Detroit Red Wings 2011-12 Prime Signatures Dual Holo Silver #11
Prime Bonus 81 Daniel Briere Philadelphia Flyers 5 2011-12 Prime Signatures Dual Holo Silver #15
Prime Bonus 81 Chris Pronger Philadelphia Flyers 2011-12 Prime Signatures Dual Holo Silver #15
Prime Bonus 82 Luc Robitaille Los Angeles Kings 5 2011-12 Prime Signatures Dual Holo Silver #16
Prime Bonus 82 Bernie Nicholls Los Angeles Kings 2011-12 Prime Signatures Dual Holo Silver #16
Prime Bonus 83 Kris Letang Pittsburgh Penguins 5 2011-12 Prime Signatures Dual Holo Silver #20
Prime Bonus 83 Simon Despres Pittsburgh Penguins 2011-12 Prime Signatures Dual Holo Silver #20
Prime Bonus 84 Greg Nemisz Calgary Flames 5 2011-12 Prime Time Rookies Auto Patch #41
Prime Bonus 85 Joe Colborne Toronto Maple Leafs 15 2011-12 Prime Time Rookies Auto Prime #19
Prime Bonus 86 Slava Voynov Los Angeles Kings 15 2011-12 Prime Time Rookies Auto Prime #36
Prime Bonus 87 Harri Sateri San Jose Sharks 15 2011-12 Prime Time Rookies Auto Prime #37
Prime Bonus 88 Greg Nemisz Calgary Flames 15 2011-12 Prime Time Rookies Auto Prime #41
Prime Bonus 89 Erik Gustafsson Philadelphia Flyers 15 2011-12 Prime Time Rookies Auto Prime #47
Prime Bonus 90 Tomas Vincour Dallas Stars 50 2011-12 Prime Time Rookies Auto Jersey #22
Prime Bonus 91 Slava Voynov Los Angeles Kings 50 2011-12 Prime Time Rookies Auto Jersey #36
Prime Bonus 92 Harri Sateri San Jose Sharks 50 2011-12 Prime Time Rookies Auto Jersey #37
Prime Bonus 93 Greg Nemisz Calgary Flames 50 2011-12 Prime Time Rookies Auto Jersey #41
Prime Bonus 94 Ryan Getzlaf Anaheim Ducks 1 2011-12 Prime Black Autograph #3
Prime Bonus 95 Cam Ward Carolina Hurricanes 1 2011-12 Prime Black Autograph #14
Prime Bonus 96 Eric Staal Carolina Hurricanes 1 2011-12 Prime Black Autograph #15
Prime Bonus 97 Bobby Hull Chicago Blackhawks 1 2011-12 Prime Black Autograph #17
Prime Bonus 98 Matt Duchene Colorado Avalanche 1 2011-12 Prime Black Autograph #23
Prime Bonus 99 Jack Johnson Columbus Blue Jackets 1 2011-12 Prime Black Autograph #25
Prime Bonus 100 Brenden Morrow Dallas Stars 1 2011-12 Prime Black Autograph #27
Prime Bonus 101 Jamie Benn Dallas Stars 1 2011-12 Prime Black Autograph #29
Prime Bonus 102 Kari Lehtonen Dallas Stars 1 2011-12 Prime Black Autograph #30
Prime Bonus 103 Anze Kopitar Los Angeles Kings 1 2011-12 Prime Black Autograph #43
Prime Bonus 104 Carey Price Montreal Canadiens 1 2011-12 Prime Black Autograph #49
Prime Bonus 105 Pekka Rinne Nashville Predators 1 2011-12 Prime Black Autograph #53
Prime Bonus 106 Shea Weber Nashville Predators 1 2011-12 Prime Black Autograph #54
Prime Bonus 107 Zach Parise New Jersey Devils 1 2011-12 Prime Black Autograph #57
Prime Bonus 108 Brad Richards New York Rangers 1 2011-12 Prime Black Autograph #60
Prime Bonus 109 Marian Gaborik New York Rangers 1 2011-12 Prime Black Autograph #62
Prime Bonus 110 Claude Giroux Philadelphia Flyers 1 2011-12 Prime Black Autograph #67
Prime Bonus 111 Jaromir Jagr Philadelphia Flyers 1 2011-12 Prime Black Autograph #69
Prime Bonus 112 Shane Doan Phoenix Coyotes 1 2011-12 Prime Black Autograph #72
Prime Bonus 113 Kris Letang Pittsburgh Penguins 1 2011-12 Prime Black Autograph #74
Prime Bonus 114 Joe Thornton San Jose Sharks 1 2011-12 Prime Black Autograph #79
Prime Bonus 115 Vincent Lecavalier Tampa Bay Lightning 1 2011-12 Prime Black Autograph #85
Prime Bonus 116 Doug Gilmour Toronto Maple Leafs 1 2011-12 Prime Black Autograph #87
Prime Bonus 117 Tomas Vokoun Washington Capitals 1 2011-12 Prime Black Autograph #96
Prime Bonus 118 Alexander Burmistrov Winnipeg Jets 1 2011-12 Prime Black Autograph #97
Prime Bonus 119 Andrew Ladd Winnipeg Jets 1 2011-12 Prime Black Autograph #98
Prime Bonus 120 Dustin Byfuglien Winnipeg Jets 1 2011-12 Prime Black Autograph #99
Prime Colors Logo 1 Adam Foote Colorado Avalanche 23
Prime Colors Logo 2 Alex Tanguay Calgary Flames 26
Prime Colors Logo 3 Bobby Ryan Anaheim Ducks 17
Prime Colors Logo 4 Brendan Shanahan Detroit Red Wings 24
Prime Colors Logo 5 Cam Neely Boston Bruins 22
Prime Colors Logo 6 Chris Chelios Detroit Red Wings 19
Prime Colors Logo 7 Darryl Sydor Dallas Stars 20
Prime Colors Logo 8 Dave Andreychuk Buffalo Sabres 19
Prime Colors Logo 9 David Krejci Boston Bruins 25
Prime Colors Logo 10 David Steckel Toronto Maple Leafs 17
Prime Colors Logo 11 Dustin Byfuglien Winnipeg Jets 24
Prime Colors Logo 12 Erik Johnson Colorado Avalanche 17
Prime Colors Logo 13 Gabriel Landeskog Colorado Avalanche 24
Prime Colors Logo 14 Jean-Sebastien Giguere Colorado Avalanche 14
Prime Colors Logo 15 Jarome Iginla Calgary Flames 26
Prime Colors Logo 16 Jay Bouwmeester Calgary Flames 26
Prime Colors Logo 17 Jeremy Roenick Philadelphia Flyers 17
Prime Colors Logo 18 Jimmy Howard Detroit Red Wings 17
Prime Colors Logo 19 Joe Sakic Colorado Avalanche 27
Prime Colors Logo 20 Joe Thornton San Jose Sharks 21
Prime Colors Logo 21 Jonathan Quick Los Angeles Kings 16
Prime Colors Logo 22 Kari Lehtonen Dallas Stars 18
Prime Colors Logo 23 Loui Eriksson Dallas Stars 18
Prime Colors Logo 24 Mario Lemieux Pittsburgh Penguins 19
Prime Colors Logo 25 Matt Read Philadelphia Flyers 18
Prime Colors Logo 26 Matt Stajan Calgary Flames 27
Prime Colors Logo 27 Michel Goulet Quebec Nordiques 14
Prime Colors Logo 28 Miikka Kiprusoff Calgary Flames 25
Prime Colors Logo 29 Mike Gartner New York Rangers 20
Prime Colors Logo 30 Milan Hejduk Colorado Avalanche 26
Prime Colors Logo 31 Milan Lucic Boston Bruins 20
Prime Colors Logo 32 Nathan Horton Boston Bruins 22
Prime Colors Logo 33 Nick Fotiu New York Rangers 16
Prime Colors Logo 34 Nicklas Backstrom Washington Capitals 18
Prime Colors Logo 35 Pat Falloon Pittsburgh Penguins 25
Prime Colors Logo 36 Patrick Sharp Chicago Blackhawks 15
Prime Colors Logo 37 Paul Coffey Los Angeles Kings 16
Prime Colors Logo 38 Paul Stastny Colorado Avalanche 13
Prime Colors Logo 39 Pekka Rinne Nashville Predators 18
Prime Colors Logo 40 Pierre Turgeon Colorado Avalanche 29
Prime Colors Logo 41 Roberto Luongo Vancouver Canucks 10
Prime Colors Logo 42 Rod Brind'Amour Carolina Hurricanes 25
Prime Colors Logo 43 Ryan Kesler Vancouver Canucks 29
Prime Colors Logo 44 Ryan O'Reilly Colorado Avalanche 17
Prime Colors Logo 45 Semyon Varlamov Colorado Avalanche 14
Prime Colors Logo 46 Shea Weber Nashville Predators 18
Prime Colors Logo 47 Steve Downie Colorado Avalanche 24
Prime Colors Logo 48 Teemu Selanne Anaheim Ducks 17
Prime Colors Logo 49 Trevor Daley Dallas Stars 21
Prime Colors Logo 50 Tuukka Rask Boston Bruins 20
Prime Colors Logo 51 Tyler Seguin Boston Bruins 21
Prime Colors Logo 52 Wayne Simmonds Philadelphia Flyers 18
Prime Colors Logo 53 Zac Rinaldo Philadelphia Flyers 18
Prime Colors Logo 54 Zach Parise New Jersey Devils 25
Prime Colors Logo 55 Zdeno Chara Boston Bruins 20
Prime Colors Logo 56 Al Iafrate Toronto Maple Leafs 16
Prime Colors Logo 57 Al MacInnis St. Louis Blues 18
Prime Colors Logo 58 Alex Ovechkin Washington Capitals 20
Prime Colors Logo 59 Paul Coffey Detroit Red Wings 15
Prime Colors Logo 60 Rob Blake Los Angeles Kings 20
Prime Colors Logo 61 Alexander Burmistrov Winnipeg Jets 12
Prime Colors Logo 62 Alexandre Burrows Vancouver Canucks 27
Prime Colors Logo 63 Brian Boyle New York Rangers 16
Prime Colors Logo 64 Brian Campbell Florida Panthers 26
Prime Colors Logo 65 Brian Gionta Montreal Canadiens 18
Prime Colors Logo 66 Cory Schneider Vancouver Canucks 23
Prime Colors Logo 67 Daniel Alfredsson Ottawa Senators 20
Prime Colors Logo 68 David Legwand Nashville Predators 16
Prime Colors Logo 69 Duncan Keith Chicago Blackhawks 17
Prime Colors Logo 70 Jason Spezza Ottawa Senators 21
Prime Colors Logo 71 Jonathan Toews Chicago Blackhawks 17
Prime Colors Logo 72 Joe Nieuwendyk Dallas Stars 23
Prime Colors Logo 73 Joffrey Lupul Toronto Maple Leafs 13
Prime Colors Logo 74 John Tavares New York Islanders 21
Prime Colors Logo 75 Mike Richards Philadelphia Flyers 18
Prime Colors Logo 76 Marian Hossa Chicago Blackhawks 23
Prime Colors Logo 77 Justin Williams Los Angeles Kings 20
Prime Colors Logo 78 Marc-Edouard Vlasic San Jose Sharks 22
Prime Colors Logo 79 Ondrej Pavelec Winnipeg Jets 24
Prime Colors Logo 80 Paul Bissonnette Phoenix Coyotes 22
Prime Colors Logo 81 Niklas Backstrom Minnesota Wild 22
Prime Colors Logo 82 Saku Koivu Anaheim Ducks 20
Prime Colors Logo 83 Vincent Lecavalier Tampa Bay Lightning 24
Prime Colors Logo 84 Tyler Ennis Buffalo Sabres 18
Prime Colors Logo 85 Thomas Vanek Buffalo Sabres 28
Prime Colors Logo 86 Stu Grimson Nashville Predators 18
Prime Colors Logo 87 Scott Clemmensen Florida Panthers 25
Prime Colors Logo 88 Rogie Vachon Los Angeles Kings 12
Prime Colors Logo 89 Grant Fuhr Buffalo Sabres 21
Prime Colors Logo 90 Evgenii Dadonov Florida Panthers 20
Prime Colors Logo 91 Milan Michalek Ottawa Senators 22
Prime Colors Logo 92 Marty McSorley Edmonton Oilers 20
Prime Colors Logo 93 Chris Neil Ottawa Senators 23
Prime Colors Logo 94 Brett Hull Dallas Stars 21
Prime Colors Logo 95 Martin Hanzal Phoenix Coyotes 14
Prime Colors Logo 96 Frans Nielsen New York Islanders 22
Prime Colors Logo 97 Ray Bourque Boston Bruins 17
Prime Colors Logo 98 Joe Pavelski San Jose Sharks 20
Prime Colors Logo 99 Jamie Benn Dallas Stars 17
Prime Colors Logo 100 Curtis Glencross Calgary Flames 25
Prime Colors Logo 101 Chris Kunitz Pittsburgh Penguins 28
Prime Colors Logo 102 Derick Brassard Columbus Blue Jackets 17
Prime Colors Logo 103 Marc-Andre Fleury Pittsburgh Penguins 18
Prime Colors Logo 104 Henrik Lundqvist New York Rangers 15
Prime Colors Logo 105 Sidney Crosby Pittsburgh Penguins 17
Prime Colors Logo 106 Ilya Kovalchuk New Jersey Devils 22
Prime Colors Logo 107 Andrei Markov Montreal Canadiens 18
Prime Colors Logo 108 Keith Yandle Phoenix Coyotes 23
Prime Colors Logo 109 Corey Perry Anaheim Ducks 18
Prime Colors Logo 110 David Backes St. Louis Blues 18
Prime Colors Logo 111 Scott Hartnell Philadelphia Flyers 18
Prime Colors Logo 112 Josh Gorges Montreal Canadiens 15
Prime Colors Logo 113 Ray Emery Chicago Blackhawks 21
Prime Colors Logo 114 Taylor Hall Edmonton Oilers 20
Prime Colors Logo 115 Sam Gagner Edmonton Oilers 24
Prime Colors Logo 116 Jaroslav Halak St. Louis Blues 20
Prime Colors Logo 117 Karl Alzner Washington Capitals 19
Prime Colors Logo 118 Kyle Okposo New York Islanders 22
Prime Colors Logo 119 Jason Pominville Buffalo Sabres 20
Prime Colors Logo 120 Corey Crawford Chicago Blackhawks 23
Prime Colors Numbers 1 Adam Foote Colorado Avalanche 6
Prime Colors Numbers 2 Alex Tanguay Calgary Flames 16
Prime Colors Numbers 3 Bobby Ryan Anaheim Ducks 4
Prime Colors Numbers 4 Brendan Shanahan Detroit Red Wings 6
Prime Colors Numbers 5 Cam Neely Boston Bruins 4
Prime Colors Numbers 6 Chris Chelios Detroit Red Wings 6
Prime Colors Numbers 7 Darryl Sydor Dallas Stars 8
Prime Colors Numbers 8 Dave Andreychuk Buffalo Sabres 6
Prime Colors Numbers 9 David Krejci Boston Bruins 8
Prime Colors Numbers 10 David Steckel Toronto Maple Leafs 6
Prime Colors Numbers 11 Dustin Byfuglien Winnipeg Jets 6
Prime Colors Numbers 12 Erik Johnson Colorado Avalanche 4
Prime Colors Numbers 13 Gabriel Landeskog Colorado Avalanche 6
Prime Colors Numbers 14 Jean-Sebastien Giguere Colorado Avalanche 6
Prime Colors Numbers 15 Jarome Iginla Calgary Flames 6
Prime Colors Numbers 16 Jay Bouwmeester Calgary Flames 4
Prime Colors Numbers 17 Jeremy Roenick Philadelphia Flyers 8
Prime Colors Numbers 18 Jimmy Howard Detroit Red Wings 6
Prime Colors Numbers 19 Joe Sakic Colorado Avalanche 6
Prime Colors Numbers 20 Joe Thornton San Jose Sharks 2
Prime Colors Numbers 21 Jonathan Quick Los Angeles Kings 8
Prime Colors Numbers 22 Kari Lehtonen Dallas Stars 6
Prime Colors Numbers 23 Loui Eriksson Dallas Stars 2
Prime Colors Numbers 24 Mario Lemieux Pittsburgh Penguins 8
Prime Colors Numbers 25 Matt Read Philadelphia Flyers 6
Prime Colors Numbers 26 Matt Stajan Calgary Flames 6
Prime Colors Numbers 27 Michel Goulet Quebec Nordiques 6
Prime Colors Numbers 28 Miikka Kiprusoff Calgary Flames 8
Prime Colors Numbers 29 Mike Gartner New York Rangers 6
Prime Colors Numbers 30 Milan Hejduk Colorado Avalanche 6
Prime Colors Numbers 31 Milan Lucic Boston Bruins 6
Prime Colors Numbers 32 Nathan Horton Boston Bruins 6
Prime Colors Numbers 33 Nick Fotiu New York Rangers 6
Prime Colors Numbers 34 Nicklas Backstrom Washington Capitals 6
Prime Colors Numbers 35 Pat Falloon Pittsburgh Penguins 8
Prime Colors Numbers 36 Patrick Sharp Chicago Blackhawks 6
Prime Colors Numbers 37 Paul Coffey Los Angeles Kings 6
Prime Colors Numbers 38 Paul Stastny Colorado Avalanche 4
Prime Colors Numbers 39 Pekka Rinne Nashville Predators 6
Prime Colors Numbers 40 Pierre Turgeon Colorado Avalanche 6
Prime Colors Numbers 42 Rod Brind'Amour Carolina Hurricanes 6
Prime Colors Numbers 43 Ryan Kesler Vancouver Canucks 4
Prime Colors Numbers 44 Ryan O'Reilly Colorado Avalanche 6
Prime Colors Numbers 45 Semyon Varlamov Colorado Avalanche 2
Prime Colors Numbers 46 Shea Weber Nashville Predators 4
Prime Colors Numbers 47 Steve Downie Colorado Avalanche 6
Prime Colors Numbers 48 Teemu Selanne Anaheim Ducks 4
Prime Colors Numbers 49 Trevor Daley Dallas Stars 4
Prime Colors Numbers 50 Tuukka Rask Boston Bruins 8
Prime Colors Numbers 51 Tyler Seguin Boston Bruins 6
Prime Colors Numbers 52 Wayne Simmonds Philadelphia Flyers 6
Prime Colors Numbers 53 Zac Rinaldo Philadelphia Flyers 6
Prime Colors Numbers 54 Zach Parise New Jersey Devils 4
Prime Colors Numbers 55 Zdeno Chara Boston Bruins 6
Prime Colors Numbers 56 Al Iafrate Toronto Maple Leafs 6
Prime Colors Numbers 57 Al MacInnis St. Louis Blues 4
Prime Colors Numbers 58 Alex Ovechkin Washington Capitals 4
Prime Colors Numbers 59 Paul Coffey Detroit Red Wings 6
Prime Colors Numbers 60 Rob Blake Los Angeles Kings 4
Prime Colors Numbers 61 Alexander Burmistrov Winnipeg Jets 4
Prime Colors Numbers 62 Alexandre Burrows Vancouver Canucks 4
Prime Colors Numbers 63 Brian Boyle New York Rangers 4
Prime Colors Numbers 64 Brian Campbell Florida Panthers 6
Prime Colors Numbers 65 Brian Gionta Montreal Canadiens 6
Prime Colors Numbers 66 Cory Schneider Vancouver Canucks 4
Prime Colors Numbers 67 Daniel Alfredsson Ottawa Senators 4
Prime Colors Numbers 68 David Legwand Nashville Predators 4
Prime Colors Numbers 69 Duncan Keith Chicago Blackhawks 4
Prime Colors Numbers 70 Jason Spezza Ottawa Senators 6
Prime Colors Numbers 71 Jonathan Toews Chicago Blackhawks 6
Prime Colors Numbers 72 Joe Nieuwendyk Dallas Stars 6
Prime Colors Numbers 73 Joffrey Lupul Toronto Maple Leafs 6
Prime Colors Numbers 74 John Tavares New York Islanders 4
Prime Colors Numbers 75 Mike Richards Philadelphia Flyers 6
Prime Colors Numbers 76 Marian Hossa Chicago Blackhawks 6
Prime Colors Numbers 77 Justin Williams Los Angeles Kings 6
Prime Colors Numbers 78 Marc-Edouard Vlasic San Jose Sharks 2
Prime Colors Numbers 79 Ondrej Pavelec Winnipeg Jets 4
Prime Colors Numbers 80 Paul Bissonnette Phoenix Coyotes 4
Prime Colors Numbers 81 Niklas Backstrom Minnesota Wild 6
Prime Colors Numbers 82 Saku Koivu Anaheim Ducks 4
Prime Colors Numbers 83 Vincent Lecavalier Tampa Bay Lightning 4
Prime Colors Numbers 84 Tyler Ennis Buffalo Sabres 2
Prime Colors Numbers 85 Thomas Vanek Buffalo Sabres 8
Prime Colors Numbers 86 Stu Grimson Nashville Predators 4
Prime Colors Numbers 87 Scott Clemmensen Florida Panthers 6
Prime Colors Numbers 88 Rogie Vachon Los Angeles Kings 2
Prime Colors Numbers 89 Grant Fuhr Buffalo Sabres 6
Prime Colors Numbers 90 Evgenii Dadonov Florida Panthers 6
Prime Colors Numbers 91 Milan Michalek Ottawa Senators 4
Prime Colors Numbers 92 Marty McSorley Edmonton Oilers 6
Prime Colors Numbers 93 Chris Neil Ottawa Senators 4
Prime Colors Numbers 94 Brett Hull Dallas Stars 6
Prime Colors Numbers 95 Martin Hanzal Phoenix Coyotes 4
Prime Colors Numbers 96 Frans Nielsen New York Islanders 2
Prime Colors Numbers 97 Ray Bourque Boston Bruins 6
Prime Colors Numbers 98 Joe Pavelski San Jose Sharks 1
Prime Colors Numbers 99 Jamie Benn Dallas Stars 6
Prime Colors Numbers 100 Curtis Glencross Calgary Flames 8
Prime Colors Numbers 101 Wendel Clark Toronto Maple Leafs 6
Prime Colors Numbers 102 Alex Pietrangelo St. Louis Blues 4
Prime Colors Numbers 103 Marc-Andre Fleury Pittsburgh Penguins 6
Prime Colors Numbers 104 Patrick Marleau San Jose Sharks 2
Prime Colors Numbers 105 Sidney Crosby Pittsburgh Penguins 6
Prime Colors Numbers 106 Martin St. Louis Tampa Bay Lightning 6
Prime Colors Numbers 107 Andrei Markov Montreal Canadiens 4
Prime Colors Numbers 108 Carey Price Montreal Canadiens 4
Prime Colors Numbers 109 Corey Perry Anaheim Ducks 6
Prime Colors Numbers 110 Dion Phaneuf Toronto Maple Leafs 4
Prime Colors Numbers 111 Evgeni Malkin Pittsburgh Penguins 6
Prime Colors Numbers 112 Josh Gorges Montreal Canadiens 6
Prime Colors Numbers 113 Kevin Shattenkirk St. Louis Blues 6
Prime Colors Numbers 114 Taylor Hall Edmonton Oilers 4
Prime Colors Numbers 115 Patrick Roy Montreal Canadiens 6
Prime Colors Patch 1 Adam Foote Colorado Avalanche 12
Prime Colors Patch 2 Alex Tanguay Calgary Flames 6
Prime Colors Patch 3 Bobby Ryan Anaheim Ducks 2
Prime Colors Patch 4 Brendan Shanahan Detroit Red Wings 8
Prime Colors Patch 5 Cam Neely Boston Bruins 4
Prime Colors Patch 6 Chris Chelios Detroit Red Wings 3
Prime Colors Patch 7 Darryl Sydor Dallas Stars 15
Prime Colors Patch 8 Dave Andreychuk Buffalo Sabres 10
Prime Colors Patch 9 David Krejci Boston Bruins 8
Prime Colors Patch 10 David Steckel Toronto Maple Leafs 14
Prime Colors Patch 11 Dustin Byfuglien Winnipeg Jets 10
Prime Colors Patch 12 Erik Johnson Colorado Avalanche 8
Prime Colors Patch 13 Gabriel Landeskog Colorado Avalanche 6
Prime Colors Patch 14 Jean-Sebastien Giguere Colorado Avalanche 8
Prime Colors Patch 15 Jarome Iginla Calgary Flames 8
Prime Colors Patch 16 Jay Bouwmeester Calgary Flames 8
Prime Colors Patch 17 Jeremy Roenick Philadelphia Flyers 13
Prime Colors Patch 18 Jimmy Howard Detroit Red Wings 2
Prime Colors Patch 19 Joe Sakic Colorado Avalanche 10
Prime Colors Patch 20 Joe Thornton San Jose Sharks 10
Prime Colors Patch 21 Jonathan Quick Los Angeles Kings 12
Prime Colors Patch 22 Kari Lehtonen Dallas Stars 11
Prime Colors Patch 23 Loui Eriksson Dallas Stars 6
Prime Colors Patch 24 Mario Lemieux Pittsburgh Penguins 12
Prime Colors Patch 25 Matt Read Philadelphia Flyers 4
Prime Colors Patch 26 Matt Stajan Calgary Flames 6
Prime Colors Patch 27 Michel Goulet Quebec Nordiques 6
Prime Colors Patch 28 Miikka Kiprusoff Calgary Flames 6
Prime Colors Patch 29 Mike Gartner New York Rangers 4
Prime Colors Patch 30 Milan Hejduk Colorado Avalanche 4
Prime Colors Patch 31 Milan Lucic Boston Bruins 8
Prime Colors Patch 32 Nathan Horton Boston Bruins 6
Prime Colors Patch 33 Nick Fotiu New York Rangers 6
Prime Colors Patch 34 Nicklas Backstrom Washington Capitals 10
Prime Colors Patch 35 Pat Falloon Pittsburgh Penguins 3
Prime Colors Patch 36 Patrick Sharp Chicago Blackhawks 12
Prime Colors Patch 37 Paul Coffey Los Angeles Kings 6
Prime Colors Patch 38 Paul Stastny Colorado Avalanche 6
Prime Colors Patch 39 Pekka Rinne Nashville Predators 8
Prime Colors Patch 40 Pierre Turgeon Colorado Avalanche 14
Prime Colors Patch 41 Roberto Luongo Vancouver Canucks 8
Prime Colors Patch 42 Rod Brind'Amour Carolina Hurricanes 6
Prime Colors Patch 43 Ryan Kesler Vancouver Canucks 4
Prime Colors Patch 44 Ryan O'Reilly Colorado Avalanche 6
Prime Colors Patch 45 Semyon Varlamov Colorado Avalanche 4
Prime Colors Patch 46 Shea Weber Nashville Predators 6
Prime Colors Patch 47 Steve Downie Colorado Avalanche 8
Prime Colors Patch 48 Teemu Selanne Anaheim Ducks 6
Prime Colors Patch 49 Trevor Daley Dallas Stars 15
Prime Colors Patch 50 Tuukka Rask Boston Bruins 8
Prime Colors Patch 51 Tyler Seguin Boston Bruins 8
Prime Colors Patch 52 Wayne Simmonds Philadelphia Flyers 4
Prime Colors Patch 53 Zac Rinaldo Philadelphia Flyers 4
Prime Colors Patch 54 Zach Parise New Jersey Devils 2
Prime Colors Patch 55 Zdeno Chara Boston Bruins 6
Prime Colors Patch 56 Al Iafrate Toronto Maple Leafs 16
Prime Colors Patch 57 Al MacInnis St. Louis Blues 10
Prime Colors Patch 58 Alex Ovechkin Washington Capitals 10
Prime Colors Patch 59 Paul Coffey Detroit Red Wings 6
Prime Colors Patch 60 Rob Blake Los Angeles Kings 8
Prime Colors Patch 61 Alexander Burmistrov Winnipeg Jets 8
Prime Colors Patch 62 Alexandre Burrows Vancouver Canucks 7
Prime Colors Patch 63 Brian Boyle New York Rangers 2
Prime Colors Patch 64 Brian Campbell Florida Panthers 8
Prime Colors Patch 65 Brian Gionta Montreal Canadiens 3
Prime Colors Patch 66 Cory Schneider Vancouver Canucks 4
Prime Colors Patch 67 Daniel Alfredsson Ottawa Senators 6
Prime Colors Patch 68 David Legwand Nashville Predators 6
Prime Colors Patch 69 Duncan Keith Chicago Blackhawks 8
Prime Colors Patch 70 Jason Spezza Ottawa Senators 8
Prime Colors Patch 71 Jonathan Toews Chicago Blackhawks 2
Prime Colors Patch 72 Joe Nieuwendyk Dallas Stars 12
Prime Colors Patch 73 Joffrey Lupul Toronto Maple Leafs 4
Prime Colors Patch 74 John Tavares New York Islanders 4
Prime Colors Patch 75 Mike Richards Philadelphia Flyers 1
Prime Colors Patch 76 Marian Hossa Chicago Blackhawks 8
Prime Colors Patch 77 Justin Williams Los Angeles Kings 8
Prime Colors Patch 78 Marc-Edouard Vlasic San Jose Sharks 8
Prime Colors Patch 79 Ondrej Pavelec Winnipeg Jets 10
Prime Colors Patch 80 Paul Bissonnette Phoenix Coyotes 4
Prime Colors Patch 81 Niklas Backstrom Minnesota Wild 6
Prime Colors Patch 82 Saku Koivu Anaheim Ducks 6
Prime Colors Patch 83 Vincent Lecavalier Tampa Bay Lightning 10
Prime Colors Patch 84 Tyler Ennis Buffalo Sabres 2
Prime Colors Patch 85 Thomas Vanek Buffalo Sabres 8
Prime Colors Patch 86 Stu Grimson Nashville Predators 6
Prime Colors Patch 87 Scott Clemmensen Florida Panthers 4
Prime Colors Patch 88 Rogie Vachon Los Angeles Kings 8
Prime Colors Patch 89 Grant Fuhr Buffalo Sabres 6
Prime Colors Patch 90 Evgenii Dadonov Florida Panthers 4
Prime Colors Patch 91 Milan Michalek Ottawa Senators 7
Prime Colors Patch 92 Marty McSorley Edmonton Oilers 6
Prime Colors Patch 93 Chris Neil Ottawa Senators 4
Prime Colors Patch 94 Brett Hull Dallas Stars 6
Prime Colors Patch 95 Martin Hanzal Phoenix Coyotes 8
Prime Colors Patch 96 Frans Nielsen New York Islanders 6
Prime Colors Patch 97 Ray Bourque Boston Bruins 6
Prime Colors Patch 98 Joe Pavelski San Jose Sharks 4
Prime Colors Patch 99 Jamie Benn Dallas Stars 6
Prime Colors Patch 100 Curtis Glencross Calgary Flames 8
Prime Colors Patch 101 Wendel Clark Toronto Maple Leafs 4
Prime Colors Patch 102 Derick Brassard Columbus Blue Jackets 4
Prime Colors Patch 103 Drew Doughty Los Angeles Kings 4
Prime Colors Patch 104 Patrick Marleau San Jose Sharks 6
Prime Colors Patch 105 Derek Dorsett Columbus Blue Jackets 4
Prime Colors Patch 106 Martin St. Louis Tampa Bay Lightning 4
Prime Colors Patch 107 Patrick Roy Montreal Canadiens 2
Prime Colors Patch 108 Steven Stamkos Tampa Bay Lightning 2
Prime Colors Patch 109 Matt Moulson New York Islanders 4
Prime Colors Patch 110 Dion Phaneuf Toronto Maple Leafs 4
Prime Colors Patch 111 Evgeni Malkin Pittsburgh Penguins 6
Prime Colors Patch 112 Michal Neuvirth Washington Capitals 6
Prime Colors Patch 113 Karl Alzner Washington Capitals 8
Prime Colors Patch 114 Jeff Skinner Carolina Hurricanes 2
Prime Colors Patch 115 Ryan Malone Tampa Bay Lightning 8
Prime Coverage 1 Igor Larionov Detroit Red Wings 10
Prime Coverage 1 Igor Larionov Detroit Red Wings
Prime Coverage 1 Igor Larionov Detroit Red Wings
Prime Coverage 1 Igor Larionov Detroit Red Wings
Prime Coverage 2 Ilya Kovalchuk New Jersey Devils 10
Prime Coverage 2 Ilya Kovalchuk New Jersey Devils
Prime Coverage 2 Ilya Kovalchuk New Jersey Devils
Prime Coverage 2 Ilya Kovalchuk New Jersey Devils
Prime Coverage 3 Mike Richards Los Angeles Kings 10
Prime Coverage 3 Mike Richards Los Angeles Kings
Prime Coverage 3 Mike Richards Los Angeles Kings
Prime Coverage 3 Mike Richards Los Angeles Kings
Prime Coverage 4 Joe Pavelski San Jose Sharks 10
Prime Coverage 4 Joe Pavelski San Jose Sharks
Prime Coverage 4 Joe Pavelski San Jose Sharks
Prime Coverage 4 Joe Pavelski San Jose Sharks
Prime Coverage 5 Alex Ovechkin Washington Capitals 10
Prime Coverage 5 Alex Ovechkin Washington Capitals
Prime Coverage 5 Alex Ovechkin Washington Capitals
Prime Coverage 5 Alex Ovechkin Washington Capitals
Prime Coverage 6 Carl Hagelin New York Rangers 10
Prime Coverage 6 Carl Hagelin New York Rangers
Prime Coverage 6 Carl Hagelin New York Rangers
Prime Coverage 6 Carl Hagelin New York Rangers
Prime Coverage 7 Sean Couturier Philadelphia Flyers 10
Prime Coverage 7 Sean Couturier Philadelphia Flyers
Prime Coverage 7 Sean Couturier Philadelphia Flyers
Prime Coverage 7 Sean Couturier Philadelphia Flyers
Prime Coverage 8 Patrick Kane Chicago Blackhawks 10
Prime Coverage 8 Patrick Kane Chicago Blackhawks
Prime Coverage 8 Patrick Kane Chicago Blackhawks
Prime Coverage 8 Patrick Kane Chicago Blackhawks
Prime Coverage 9 Brett Hull Detroit Red Wings 10
Prime Coverage 9 Brett Hull Detroit Red Wings
Prime Coverage 9 Brett Hull Detroit Red Wings
Prime Coverage 9 Brett Hull Detroit Red Wings
Prime Coverage 10 James van Riemsdyk Toronto Maple Leafs 10
Prime Coverage 10 James van Riemsdyk Toronto Maple Leafs
Prime Coverage 10 James van Riemsdyk Toronto Maple Leafs
Prime Coverage 10 James van Riemsdyk Toronto Maple Leafs
Prime Coverage 11 Zach Parise Minnesota Wild 10
Prime Coverage 11 Zach Parise Minnesota Wild
Prime Coverage 11 Zach Parise Minnesota Wild
Prime Coverage 11 Zach Parise Minnesota Wild
Prime Coverage 12 Luc Robitaille Los Angeles Kings 10
Prime Coverage 12 Luc Robitaille Los Angeles Kings
Prime Coverage 12 Luc Robitaille Los Angeles Kings
Prime Coverage 12 Luc Robitaille Los Angeles Kings
Prime Coverage 13 Marian Gaborik Columbus Blue Jackets 10
Prime Coverage 13 Marian Gaborik Columbus Blue Jackets
Prime Coverage 13 Marian Gaborik Columbus Blue Jackets
Prime Coverage 13 Marian Gaborik Columbus Blue Jackets
Prime Coverage 14 Joe Nieuwendyk New Jersey Devils 10
Prime Coverage 14 Joe Nieuwendyk New Jersey Devils
Prime Coverage 14 Joe Nieuwendyk New Jersey Devils
Prime Coverage 14 Joe Nieuwendyk New Jersey Devils
Prime Coverage 15 Brad Richards New York Rangers 10
Prime Coverage 15 Brad Richards New York Rangers
Prime Coverage 15 Brad Richards New York Rangers
Prime Coverage 15 Brad Richards New York Rangers
Prime Coverage 16 Claude Giroux Philadelphia Flyers 10
Prime Coverage 16 Claude Giroux Philadelphia Flyers
Prime Coverage 16 Claude Giroux Philadelphia Flyers
Prime Coverage 16 Claude Giroux Philadelphia Flyers
Prime Coverage 17 Adam Henrique New Jersey Devils 10
Prime Coverage 17 Adam Henrique New Jersey Devils
Prime Coverage 17 Adam Henrique New Jersey Devils
Prime Coverage 17 Adam Henrique New Jersey Devils
Prime Coverage 18 Jeff Carter Los Angeles Kings 10
Prime Coverage 18 Jeff Carter Los Angeles Kings
Prime Coverage 18 Jeff Carter Los Angeles Kings
Prime Coverage 18 Jeff Carter Los Angeles Kings
Prime Coverage 19 Matt Read Philadelphia Flyers 10
Prime Coverage 19 Matt Read Philadelphia Flyers
Prime Coverage 19 Matt Read Philadelphia Flyers
Prime Coverage 19 Matt Read Philadelphia Flyers
Prime Duals 1 Akim Aliu Calgary Flames 200
Prime Duals 1 Sven Baertschi Calgary Flames
Prime Duals 2 Martin Brodeur New Jersey Devils 200
Prime Duals 2 Ilya Kovalchuk New Jersey Devils
Prime Duals 3 Jussi Rynnas Toronto Maple Leafs 200
Prime Duals 3 Carter Ashton Toronto Maple Leafs
Prime Duals 4 Robert Mayer Montreal Canadiens 200
Prime Duals 4 Carey Price Montreal Canadiens
Prime Duals 5 Reilly Smith Dallas Stars 200
Prime Duals 5 Ryan Garbutt Dallas Stars
Prime Duals 6 Teemu Selanne Anaheim Ducks 100
Prime Duals 6 Jaromir Jagr Boston Bruins
Prime Duals 7 J.T. Brown Tampa Bay Lightning 200
Prime Duals 7 Steven Stamkos Tampa Bay Lightning
Prime Duals 8 Dustin Byfuglien Winnipeg Jets 100
Prime Duals 8 Ondrej Pavelec Winnipeg Jets
Prime Duals 9 Alex Ovechkin Washington Capitals 100
Prime Duals 9 Braden Holtby Washington Capitals
Prime Duals 10 Chris Kreider New York Rangers 200
Prime Duals 10 Derek Stepan New York Rangers
Prime Duals 11 Cam Fowler Anaheim Ducks 200
Prime Duals 11 Jason Zucker Minnesota Wild
Prime Duals 12 Cody Goloubef Columbus Blue Jackets 200
Prime Duals 12 Jamie Benn Dallas Stars
Prime Duals 13 Cody Hodgson Buffalo Sabres 100
Prime Duals 13 P.K. Subban Montreal Canadiens
Prime Duals 14 Gordie Howe (R) Detroit Red Wings 15
Prime Duals 14 Mark Messier New York Rangers
Prime Duals 15 Ron Hextall Philadelphia Flyers 200
Prime Duals 15 Martin Brodeur New Jersey Devils
Prime Duals 16 Jonathan Quick Los Angeles Kings 200
Prime Duals 16 Willie Mitchell Los Angeles Kings
Prime Duals 17 Mike Richards Los Angeles Kings 100
Prime Duals 17 Dwight King Los Angeles Kings
Prime Duals 18 Rick Nash New York Rangers 100
Prime Duals 18 Marian Gaborik Columbus Blue Jackets
Prime Duals 19 Casey Cizikas New York Islanders 100
Prime Duals 19 John Tavares New York Islanders
Prime Duals 20 Marc-Andre Fleury Pittsburgh Penguins 100
Prime Duals 20 Chris Kunitz Pittsburgh Penguins
Prime Duals 21 Matt Duchene Colorado Avalanche 100
Prime Duals 21 Mike Connolly Colorado Avalanche
Prime Duals 22 Tyson Barrie Colorado Avalanche 200
Prime Duals 22 Erik Johnson Colorado Avalanche
Prime Duals 23 Tyler Bozak Toronto Maple Leafs 200
Prime Duals 23 Ryan Hamilton Toronto Maple Leafs
Prime Duals 24 Jason Zucker Minnesota Wild 200
Prime Duals 24 Tyler Cuma Minnesota Wild
Prime Duals 25 Jake Allen St. Louis Blues 200
Prime Duals 25 Jaden Schwartz St. Louis Blues
Prime Duals 26 Vincent Lecavalier Tampa Bay Lightning 200
Prime Duals 26 David Legwand Nashville Predators
Prime Duals 27 Riley Sheahan Detroit Red Wings 200
Prime Duals 27 Pavel Datsyuk Detroit Red Wings
Prime Duals 28 Brandon Bollig Chicago Blackhawks 100
Prime Duals 28 Jonathan Toews Chicago Blackhawks
Prime Duals 29 Sidney Crosby Pittsburgh Penguins 200
Prime Duals 29 Sidney Crosby Pittsburgh Penguins
Prime Duals 30 Bob Gainey Montreal Canadiens 100
Prime Duals 30 Patrick Roy Montreal Canadiens
Prime Duals 31 Patrick Roy Colorado Avalanche 100
Prime Duals 31 John Vanbiesbrouck Florida Panthers
Prime Duals 32 Joe Mullen Calgary Flames 100
Prime Duals 32 Joe Nieuwendyk Calgary Flames
Prime Duals 33 Jakob Silfverberg Ottawa Senators 200
Prime Duals 33 Mark Stone Ottawa Senators
Prime Duals 34 Michael Stone Phoenix Coyotes 200
Prime Duals 34 Keith Yandle Phoenix Coyotes
Prime Duals 35 Andrew Joudrey Columbus Blue Jackets 200
Prime Duals 35 Brad Marchand Boston Bruins
Prime Duals 36 Mark Messier New York Rangers 50
Prime Duals 36 Steve Yzerman Detroit Red Wings
Prime Duals 37 Ryan Miller Buffalo Sabres 200
Prime Duals 37 Brooks Orpik Pittsburgh Penguins
Prime Duals 38 Pavel Datsyuk Detroit Red Wings 200
Prime Duals 38 Brent Seabrook Chicago Blackhawks
Prime Duals 39 Daniel Briere Philadelphia Flyers 200
Prime Duals 39 David Krejci Boston Bruins
Prime Duals 40 Karl Alzner Washington Capitals 200
Prime Duals 40 Chris Kunitz Pittsburgh Penguins
Prime Duals 41 Kimmo Timonen Philadelphia Flyers 200
Prime Duals 41 Marc Staal New York Rangers
Prime Duals 42 Matt Watkins New York Islanders 200
Prime Duals 42 Matt Donovan New York Islanders
Prime Duals 43 Rod Brind'Amour Carolina Hurricanes 200
Prime Duals 43 Ales Hemsky Edmonton Oilers
Prime Duals 44 Marian Hossa Chicago Blackhawks 100
Prime Duals 44 Milan Hejduk Colorado Avalanche
Prime Duals 45 Shawn Hunwick Columbus Blue Jackets 200
Prime Duals 45 Dalton Prout Columbus Blue Jackets
Prime Duals 46 Michael Stone Phoenix Coyotes 200
Prime Duals 46 Mark Stone Ottawa Senators
Prime Duals 47 Eric Lindros Philadelphia Flyers 200
Prime Duals 47 Pat Falloon San Jose Sharks
Prime Duals 48 Mario Lemieux Pittsburgh Penguins 100
Prime Duals 48 Patrick Roy Montreal Canadiens
Prime Duals 49 Patrick Roy Montreal Canadiens 100
Prime Duals 49 Martin Brodeur New Jersey Devils
Prime Duals 50 Brett Hull St. Louis Blues 100
Prime Duals 50 Mario Lemieux Pittsburgh Penguins
Prime Duals Patch 1 Akim Aliu Calgary Flames 25
Prime Duals Patch 1 Sven Baertschi Calgary Flames
Prime Duals Patch 2 Martin Brodeur New Jersey Devils 25
Prime Duals Patch 2 Ilya Kovalchuk New Jersey Devils
Prime Duals Patch 3 Jussi Rynnas Toronto Maple Leafs 25
Prime Duals Patch 3 Carter Ashton Toronto Maple Leafs
Prime Duals Patch 4 Robert Mayer Montreal Canadiens 25
Prime Duals Patch 4 Carey Price Montreal Canadiens
Prime Duals Patch 5 Reilly Smith Dallas Stars 25
Prime Duals Patch 5 Ryan Garbutt Dallas Stars
Prime Duals Patch 6 Teemu Selanne Anaheim Ducks 10
Prime Duals Patch 6 Jaromir Jagr Boston Bruins
Prime Duals Patch 7 J.T. Brown Tampa Bay Lightning 25
Prime Duals Patch 7 Steven Stamkos Tampa Bay Lightning
Prime Duals Patch 8 Dustin Byfuglien Winnipeg Jets 25
Prime Duals Patch 8 Ondrej Pavelec Winnipeg Jets
Prime Duals Patch 9 Alex Ovechkin Washington Capitals 10
Prime Duals Patch 9 Braden Holtby Washington Capitals
Prime Duals Patch 10 Chris Kreider New York Rangers 25
Prime Duals Patch 10 Derek Stepan New York Rangers
Prime Duals Patch 11 Cam Fowler Anaheim Ducks 25
Prime Duals Patch 11 Jason Zucker Minnesota Wild
Prime Duals Patch 12 Cody Goloubef Columbus Blue Jackets 25
Prime Duals Patch 12 Jamie Benn Dallas Stars
Prime Duals Patch 13 Cody Hodgson Buffalo Sabres 25
Prime Duals Patch 13 P.K. Subban Montreal Canadiens
Prime Duals Patch 14 Gordie Howe (R) Detroit Red Wings 3
Prime Duals Patch 14 Mark Messier New York Rangers
Prime Duals Patch 15 Ron Hextall Philadelphia Flyers 10
Prime Duals Patch 15 Martin Brodeur New Jersey Devils
Prime Duals Patch 16 Jonathan Quick Los Angeles Kings 25
Prime Duals Patch 16 Willie Mitchell Los Angeles Kings
Prime Duals Patch 17 Mike Richards Los Angeles Kings 25
Prime Duals Patch 17 Dwight King Los Angeles Kings
Prime Duals Patch 18 Rick Nash New York Rangers 25
Prime Duals Patch 18 Marian Gaborik Columbus Blue Jackets
Prime Duals Patch 19 Casey Cizikas New York Islanders 10
Prime Duals Patch 19 John Tavares New York Islanders
Prime Duals Patch 20 Marc-Andre Fleury Pittsburgh Penguins 25
Prime Duals Patch 20 Chris Kunitz Pittsburgh Penguins
Prime Duals Patch 21 Matt Duchene Colorado Avalanche 25
Prime Duals Patch 21 Mike Connolly Colorado Avalanche
Prime Duals Patch 22 Tyson Barrie Colorado Avalanche 25
Prime Duals Patch 22 Erik Johnson Colorado Avalanche
Prime Duals Patch 23 Tyler Bozak Toronto Maple Leafs 25
Prime Duals Patch 23 Ryan Hamilton Toronto Maple Leafs
Prime Duals Patch 24 Jason Zucker Minnesota Wild 25
Prime Duals Patch 24 Tyler Cuma Minnesota Wild
Prime Duals Patch 25 Jake Allen St. Louis Blues 25
Prime Duals Patch 25 Jaden Schwartz St. Louis Blues
Prime Duals Patch 26 Vincent Lecavalier Tampa Bay Lightning 25
Prime Duals Patch 26 David Legwand Nashville Predators
Prime Duals Patch 27 Riley Sheahan Detroit Red Wings 25
Prime Duals Patch 27 Pavel Datsyuk Detroit Red Wings
Prime Duals Patch 28 Brandon Bollig Chicago Blackhawks 25
Prime Duals Patch 28 Jonathan Toews Chicago Blackhawks
Prime Duals Patch 29 Sidney Crosby Pittsburgh Penguins 25
Prime Duals Patch 29 Sidney Crosby Pittsburgh Penguins
Prime Duals Patch 30 Bob Gainey Montreal Canadiens 10
Prime Duals Patch 30 Patrick Roy Montreal Canadiens
Prime Duals Patch 31 Patrick Roy Colorado Avalanche 25
Prime Duals Patch 31 John Vanbiesbrouck Florida Panthers
Prime Duals Patch 32 Joe Mullen Calgary Flames 25
Prime Duals Patch 32 Joe Nieuwendyk Calgary Flames
Prime Duals Patch 33 Jakob Silfverberg Ottawa Senators 25
Prime Duals Patch 33 Mark Stone Ottawa Senators
Prime Duals Patch 34 Michael Stone Phoenix Coyotes 25
Prime Duals Patch 34 Keith Yandle Phoenix Coyotes
Prime Duals Patch 35 Andrew Joudrey Columbus Blue Jackets 25
Prime Duals Patch 35 Brad Marchand Boston Bruins
Prime Duals Patch 36 Mark Messier New York Rangers 10
Prime Duals Patch 36 Steve Yzerman Detroit Red Wings
Prime Duals Patch 37 Ryan Miller Buffalo Sabres 25
Prime Duals Patch 37 Brooks Orpik Pittsburgh Penguins
Prime Duals Patch 38 Pavel Datsyuk Detroit Red Wings 25
Prime Duals Patch 38 Brent Seabrook Chicago Blackhawks
Prime Duals Patch 39 Daniel Briere Philadelphia Flyers 25
Prime Duals Patch 39 David Krejci Boston Bruins
Prime Duals Patch 40 Karl Alzner Washington Capitals 25
Prime Duals Patch 40 Chris Kunitz Pittsburgh Penguins
Prime Duals Patch 41 Kimmo Timonen Philadelphia Flyers 25
Prime Duals Patch 41 Marc Staal New York Rangers
Prime Duals Patch 42 Matt Watkins New York Islanders 25
Prime Duals Patch 42 Matt Donovan New York Islanders
Prime Duals Patch 43 Rod Brind'Amour Carolina Hurricanes 25
Prime Duals Patch 43 Ales Hemsky Edmonton Oilers
Prime Duals Patch 44 Marian Hossa Chicago Blackhawks 25
Prime Duals Patch 44 Milan Hejduk Colorado Avalanche
Prime Duals Patch 45 Shawn Hunwick Columbus Blue Jackets 25
Prime Duals Patch 45 Dalton Prout Columbus Blue Jackets
Prime Duals Patch 46 Michael Stone Phoenix Coyotes 25
Prime Duals Patch 46 Mark Stone Ottawa Senators
Prime Duals Patch 47 Eric Lindros Philadelphia Flyers 25
Prime Duals Patch 47 Pat Falloon San Jose Sharks
Prime Duals Patch 48 Mario Lemieux Pittsburgh Penguins 10
Prime Duals Patch 48 Patrick Roy Montreal Canadiens
Prime Duals Patch 49 Patrick Roy Montreal Canadiens 10
Prime Duals Patch 49 Martin Brodeur New Jersey Devils
Prime Duals Patch 50 Brett Hull St. Louis Blues 10
Prime Duals Patch 50 Mario Lemieux Pittsburgh Penguins
Prime Duals Prime 1 Akim Aliu Calgary Flames 50
Prime Duals Prime 1 Sven Baertschi Calgary Flames
Prime Duals Prime 2 Martin Brodeur New Jersey Devils 50
Prime Duals Prime 2 Ilya Kovalchuk New Jersey Devils
Prime Duals Prime 3 Jussi Rynnas Toronto Maple Leafs 50
Prime Duals Prime 3 Carter Ashton Toronto Maple Leafs
Prime Duals Prime 4 Robert Mayer Montreal Canadiens 50
Prime Duals Prime 4 Carey Price Montreal Canadiens
Prime Duals Prime 5 Reilly Smith Dallas Stars 50
Prime Duals Prime 5 Ryan Garbutt Dallas Stars
Prime Duals Prime 6 Teemu Selanne Anaheim Ducks 25
Prime Duals Prime 6 Jaromir Jagr Boston Bruins
Prime Duals Prime 7 J.T. Brown Tampa Bay Lightning 50
Prime Duals Prime 7 Steven Stamkos Tampa Bay Lightning
Prime Duals Prime 8 Dustin Byfuglien Winnipeg Jets 50
Prime Duals Prime 8 Ondrej Pavelec Winnipeg Jets
Prime Duals Prime 9 Alex Ovechkin Washington Capitals 25
Prime Duals Prime 9 Braden Holtby Washington Capitals
Prime Duals Prime 10 Chris Kreider New York Rangers 50
Prime Duals Prime 10 Derek Stepan New York Rangers
Prime Duals Prime 11 Cam Fowler Anaheim Ducks 50
Prime Duals Prime 11 Jason Zucker Minnesota Wild
Prime Duals Prime 12 Cody Goloubef Columbus Blue Jackets 50
Prime Duals Prime 12 Jamie Benn Dallas Stars
Prime Duals Prime 13 Cody Hodgson Buffalo Sabres 50
Prime Duals Prime 13 P.K. Subban Montreal Canadiens
Prime Duals Prime 14 Gordie Howe (R) Detroit Red Wings 5
Prime Duals Prime 14 Mark Messier New York Rangers
Prime Duals Prime 15 Ron Hextall Philadelphia Flyers 25
Prime Duals Prime 15 Martin Brodeur New Jersey Devils
Prime Duals Prime 16 Jonathan Quick Los Angeles Kings 50
Prime Duals Prime 16 Willie Mitchell Los Angeles Kings
Prime Duals Prime 17 Mike Richards Los Angeles Kings 50
Prime Duals Prime 17 Dwight King Los Angeles Kings
Prime Duals Prime 18 Rick Nash New York Rangers 50
Prime Duals Prime 18 Marian Gaborik Columbus Blue Jackets
Prime Duals Prime 19 Casey Cizikas New York Islanders 25
Prime Duals Prime 19 John Tavares New York Islanders
Prime Duals Prime 20 Marc-Andre Fleury Pittsburgh Penguins 25
Prime Duals Prime 20 Chris Kunitz Pittsburgh Penguins
Prime Duals Prime 21 Matt Duchene Colorado Avalanche 50
Prime Duals Prime 21 Mike Connolly Colorado Avalanche
Prime Duals Prime 22 Tyson Barrie Colorado Avalanche 50
Prime Duals Prime 22 Erik Johnson Colorado Avalanche
Prime Duals Prime 23 Tyler Bozak Toronto Maple Leafs 50
Prime Duals Prime 23 Ryan Hamilton Toronto Maple Leafs
Prime Duals Prime 24 Jason Zucker Minnesota Wild 50
Prime Duals Prime 24 Tyler Cuma Minnesota Wild
Prime Duals Prime 25 Jake Allen St. Louis Blues 50
Prime Duals Prime 25 Jaden Schwartz St. Louis Blues
Prime Duals Prime 26 Vincent Lecavalier Tampa Bay Lightning 50
Prime Duals Prime 26 David Legwand Nashville Predators
Prime Duals Prime 27 Riley Sheahan Detroit Red Wings 50
Prime Duals Prime 27 Pavel Datsyuk Detroit Red Wings
Prime Duals Prime 28 Brandon Bollig Chicago Blackhawks 50
Prime Duals Prime 28 Jonathan Toews Chicago Blackhawks
Prime Duals Prime 29 Sidney Crosby Pittsburgh Penguins 50
Prime Duals Prime 29 Sidney Crosby Pittsburgh Penguins
Prime Duals Prime 30 Bob Gainey Montreal Canadiens 25
Prime Duals Prime 30 Patrick Roy Montreal Canadiens
Prime Duals Prime 31 Patrick Roy Colorado Avalanche 50
Prime Duals Prime 31 John Vanbiesbrouck Florida Panthers
Prime Duals Prime 32 Joe Mullen Calgary Flames 50
Prime Duals Prime 32 Joe Nieuwendyk Calgary Flames
Prime Duals Prime 33 Jakob Silfverberg Ottawa Senators 50
Prime Duals Prime 33 Mark Stone Ottawa Senators
Prime Duals Prime 34 Michael Stone Phoenix Coyotes 50
Prime Duals Prime 34 Keith Yandle Phoenix Coyotes
Prime Duals Prime 35 Andrew Joudrey Columbus Blue Jackets 50
Prime Duals Prime 35 Brad Marchand Boston Bruins
Prime Duals Prime 36 Mark Messier New York Rangers 25
Prime Duals Prime 36 Steve Yzerman Detroit Red Wings
Prime Duals Prime 37 Ryan Miller Buffalo Sabres 50
Prime Duals Prime 37 Brooks Orpik Pittsburgh Penguins
Prime Duals Prime 38 Pavel Datsyuk Detroit Red Wings 50
Prime Duals Prime 38 Brent Seabrook Chicago Blackhawks
Prime Duals Prime 39 Daniel Briere Philadelphia Flyers 50
Prime Duals Prime 39 David Krejci Boston Bruins
Prime Duals Prime 40 Karl Alzner Washington Capitals 50
Prime Duals Prime 40 Chris Kunitz Pittsburgh Penguins
Prime Duals Prime 41 Kimmo Timonen Philadelphia Flyers 50
Prime Duals Prime 41 Marc Staal New York Rangers
Prime Duals Prime 42 Matt Watkins New York Islanders 50
Prime Duals Prime 42 Matt Donovan New York Islanders
Prime Duals Prime 43 Rod Brind'Amour Carolina Hurricanes 50
Prime Duals Prime 43 Ales Hemsky Edmonton Oilers
Prime Duals Prime 44 Marian Hossa Chicago Blackhawks 50
Prime Duals Prime 44 Milan Hejduk Colorado Avalanche
Prime Duals Prime 45 Shawn Hunwick Columbus Blue Jackets 50
Prime Duals Prime 45 Dalton Prout Columbus Blue Jackets
Prime Duals Prime 46 Michael Stone Phoenix Coyotes 50
Prime Duals Prime 46 Mark Stone Ottawa Senators
Prime Duals Prime 47 Eric Lindros Philadelphia Flyers 50
Prime Duals Prime 47 Pat Falloon San Jose Sharks
Prime Duals Prime 48 Mario Lemieux Pittsburgh Penguins 25
Prime Duals Prime 48 Patrick Roy Montreal Canadiens
Prime Duals Prime 49 Patrick Roy Montreal Canadiens 25
Prime Duals Prime 49 Martin Brodeur New Jersey Devils
Prime Duals Prime 50 Brett Hull St. Louis Blues 25
Prime Duals Prime 50 Mario Lemieux Pittsburgh Penguins
Prime Gloves 1 Brandon Dubinsky Columbus Blue Jackets 25
Prime Gloves 2 Brett Hull Detroit Red Wings 25
Prime Gloves 3 Claude Giroux Philadelphia Flyers 25
Prime Gloves 4 Dany Heatley Minnesota Wild 25
Prime Gloves 5 Derek Stepan New York Rangers 25
Prime Gloves 6 Igor Larionov Detroit Red Wings 25
Prime Gloves 7 Ilya Kovalchuk New Jersey Devils 25
Prime Gloves 8 James van Riemsdyk Toronto Maple Leafs 25
Prime Gloves 9 Jeff Carter Los Angeles Kings 25
Prime Gloves 10 Joffrey Lupul Toronto Maple Leafs 25
Prime Gloves 11 Luc Robitaille Pittsburgh Penguins 25
Prime Gloves 12 Matt Read Philadelphia Flyers 25
Prime Gloves 13 Matthew Carle Tampa Bay Lightning 25
Prime Gloves 14 Mike Richards Los Angeles Kings 25
Prime Gloves 15 Milan Hejduk Colorado Avalanche 25
Prime Gloves 16 Patrick Kane Chicago Blackhawks 25
Prime Gloves 17 Sean Couturier Philadelphia Flyers 25
Prime Gloves 18 Marian Gaborik Columbus Blue Jackets 25
Prime Gloves 19 Joe Thornton San Jose Sharks 25
Prime Gloves 20 Chris Chelios Chicago Blackhawks 25
Prime Gloves Insignia 1 Brandon Dubinsky Columbus Blue Jackets 1
Prime Gloves Insignia 2 Brett Hull Detroit Red Wings 1
Prime Gloves Insignia 3 Claude Giroux Philadelphia Flyers 1
Prime Gloves Insignia 4 Dany Heatley Minnesota Wild 1
Prime Gloves Insignia 5 Derek Stepan New York Rangers 1
Prime Gloves Insignia 6 Igor Larionov Detroit Red Wings 1
Prime Gloves Insignia 7 Ilya Kovalchuk New Jersey Devils 1
Prime Gloves Insignia 8 James van Riemsdyk Toronto Maple Leafs 1
Prime Gloves Insignia 9 Jeff Carter Los Angeles Kings 1
Prime Gloves Insignia 10 Joffrey Lupul Toronto Maple Leafs 1
Prime Gloves Insignia 11 Luc Robitaille Pittsburgh Penguins 1
Prime Gloves Insignia 12 Matt Read Philadelphia Flyers 1
Prime Gloves Insignia 13 Matthew Carle Tampa Bay Lightning 1
Prime Gloves Insignia 14 Mike Richards Los Angeles Kings 1
Prime Gloves Insignia 15 Milan Hejduk Colorado Avalanche 1
Prime Gloves Insignia 16 Patrick Kane Chicago Blackhawks 1
Prime Gloves Insignia 17 Sean Couturier Philadelphia Flyers 1
Prime Gloves Insignia 18 Marian Gaborik Columbus Blue Jackets 1
Prime Gloves Insignia 19 Joe Thornton San Jose Sharks 1
Prime Gloves Insignia 20 Chris Chelios Chicago Blackhawks 1
Prime Laces 1 Adam Henrique New Jersey Devils 10
Prime Laces 2 Igor Larionov Detroit Red Wings 10
Prime Laces 3 Joe Nieuwendyk New Jersey Devils 10
Prime Laces 4 Mike Richards Los Angeles Kings 10
Prime Laces 5 Zach Parise Minnesota Wild 10
Prime Laces 6 Alex Ovechkin Washington Capitals 10
Prime Laces 7 Ilya Kovalchuk New Jersey Devils 10
Prime Laces 8 Brad Richards New York Rangers 10
Prime Laces 9 Dan Girardi New York Rangers 10
Prime Laces 10 Carl Hagelin New York Rangers 10
Prime Laces 11 Joe Pavelski San Jose Sharks 10
Prime Laces 12 Marian Gaborik Columbus Blue Jackets 10
Prime Namesakes 2 Andrew Joudrey Columbus Blue Jackets 75
Prime Namesakes 4 Cal Clutterbuck Minnesota Wild 75
Prime Namesakes 5 Casey Cizikas New York Islanders 75
Prime Namesakes 6 Chet Pickard Nashville Predators 75
Prime Namesakes 7 Chris Kreider New York Rangers 75
Prime Namesakes 8 Daniel Carcillo Chicago Blackhawks 75
Prime Namesakes 9 Gustav Nyquist Detroit Red Wings 75
Prime Namesakes 11 Jaden Schwartz St. Louis Blues 75
Prime Namesakes 12 Jakob Silfverberg Ottawa Senators 75
Prime Namesakes 13 James Reimer Toronto Maple Leafs 75
Prime Namesakes 14 James van Riemsdyk Toronto Maple Leafs 75
Prime Namesakes 15 Michael Stone Phoenix Coyotes 75
Prime Namesakes 16 Raphael Diaz Montreal Canadiens 75
Prime Namesakes 18 Roman Josi Nashville Predators 75
Prime Namesakes 19 Ryan Garbutt Dallas Stars 75
Prime Namesakes 20 Ryan Hamilton Toronto Maple Leafs 75
Prime Namesakes 21 Scott Glennie Dallas Stars 75
Prime Namesakes 22 Sven Baertschi Calgary Flames 75
Prime Namesakes 23 Tyson Barrie Colorado Avalanche 75
Prime Namesakes 24 Brayden Schenn Philadelphia Flyers 75
Prime Namesakes 25 Brett Hull St. Louis Blues 25
Prime Namesakes 26 Cory Emmerton Detroit Red Wings 75
Prime Namesakes 27 Derek Roy Dallas Stars 75
Prime Namesakes 28 Jhonas Enroth Buffalo Sabres 75
Prime Namesakes 29 Jimmy Howard Detroit Red Wings 75
Prime Namesakes 30 Jordan Nolan Los Angeles Kings 75
Prime Namesakes 32 Nazem Kadri Toronto Maple Leafs 75
Prime Namesakes 33 Tony Esposito Chicago Blackhawks 75
Prime Namesakes 34 Zach Parise Minnesota Wild 75
Prime Namesakes 35 Vincent Lecavalier Tampa Bay Lightning 75
Prime Namesakes 37 Gabriel Dumont Montreal Canadiens 75
Prime Namesakes 38 Harri Sateri San Jose Sharks 75
Prime Namesakes 40 J.T. Brown Tampa Bay Lightning 75
Prime Namesakes 41 John Tavares New York Islanders 25
Prime Namesakes 42 Mark Stone Ottawa Senators 75
Prime Namesakes 44 Mike Smith Phoenix Coyotes 75
Prime Namesakes 45 Akim Aliu Calgary Flames 75
Prime Namesakes 46 Andrew Ladd Winnipeg Jets 75
Prime Namesakes 47 Travis Turnbull Buffalo Sabres 75
Prime Namesakes 48 Lane MacDermid Dallas Stars 75
Prime Numbersakes 2 Gordie Howe (R) Detroit Red Wings 9
Prime Numbersakes 3 Joe Sakic Colorado Avalanche 25
Prime Numbersakes 4 Chris Kreider New York Rangers 25
Prime Numbersakes 8 Sven Baertschi Calgary Flames 25
Prime Numbersakes 9 Jakob Silfverberg Ottawa Senators 25
Prime Numbersakes 11 John Tavares New York Islanders 25
Prime Numbersakes 13 Leland Irving Calgary Flames 25
Prime Numbersakes 14 Loui Eriksson Dallas Stars 25
Prime Numbersakes 15 Cory Schneider Vancouver Canucks 25
Prime Numbersakes 19 Alex Pietrangelo St. Louis Blues 25
Prime Numbersakes 21 Pavel Datsyuk Detroit Red Wings 25
Prime Numbersakes 22 Martin St. Louis Tampa Bay Lightning 25
Prime Numbersakes 23 Ben Scrivens Toronto Maple Leafs 25
Prime Numbersakes 24 Eric Lindros Philadelphia Flyers 25
Prime Numbersakes 25 Steve Yzerman Detroit Red Wings 25
Prime Numbersakes 27 Jaden Schwartz St. Louis Blues 25
Prime Numbersakes 28 Reilly Smith Dallas Stars 25
Prime Numbersakes 29 John LeClair Philadelphia Flyers 25
Prime Numbersakes 30 Phil Kessel Toronto Maple Leafs 25
Prime Numbersakes 31 Ryan Johansen Columbus Blue Jackets 25
Prime Numbersakes 32 Brandon Saad Chicago Blackhawks 25
Prime Numbersakes 33 Sean Couturier Philadelphia Flyers 25
Prime Numbersakes 34 Alex Ovechkin Washington Capitals 25
Prime Numbersakes 36 Jordan Eberle Edmonton Oilers 25
Prime Numbersakes 37 Joe Pavelski San Jose Sharks 25
Prime Numbersakes 38 Jake Allen St. Louis Blues 25
Prime Numbersakes 40 Mika Zibanejad Ottawa Senators 25
Prime Numbersakes 41 Zach Parise Minnesota Wild 25
Prime Numbersakes 42 Ryan Garbutt Dallas Stars 25
Prime Numbersakes 43 Ryan Miller Buffalo Sabres 25
Prime Numbersakes 44 Michael Stone Phoenix Coyotes 25
Prime Numbersakes 45 Mike Smith Phoenix Coyotes 25
Prime Numbersakes 46 Ron Francis Pittsburgh Penguins 25
Prime Numbersakes 47 Eric Staal Carolina Hurricanes 25
Prime Numbersakes 48 Tyson Barrie Colorado Avalanche 25
Prime Numbersakes 49 Brad Boyes New York Islanders 25
Prime Numbersakes 50 Jordan Nolan Los Angeles Kings 25
Prime Quads 1 Carter Camper Boston Bruins 50
Prime Quads 1 Ryan Hamilton Toronto Maple Leafs
Prime Quads 1 Jussi Rynnas Toronto Maple Leafs
Prime Quads 1 Michael Hutchinson Boston Bruins
Prime Quads 2 Gordie Howe (R) Hartford Whalers 25
Prime Quads 2 Brett Hull St. Louis Blues
Prime Quads 2 Marcel Dionne Los Angeles Kings
Prime Quads 2 Mike Gartner New York Rangers
Prime Quads 3 Mark Messier New York Rangers 50
Prime Quads 3 Ray Bourque Boston Bruins
Prime Quads 3 Paul Coffey Los Angeles Kings
Prime Quads 3 Ron Francis Hartford Whalers
Prime Quads 4 Chris Pronger Philadelphia Flyers 50
Prime Quads 4 Jonathan Toews Chicago Blackhawks
Prime Quads 4 Roberto Luongo Vancouver Canucks
Prime Quads 4 Patrick Marleau San Jose Sharks
Prime Quads 5 Mike Richards Los Angeles Kings 50
Prime Quads 5 Martin Brodeur New Jersey Devils
Prime Quads 5 Brenden Morrow Pittsburgh Penguins
Prime Quads 5 Shea Weber Nashville Predators
Prime Quads 6 Brian Leetch New York Rangers 50
Prime Quads 6 John LeClair Philadelphia Flyers
Prime Quads 6 Pat LaFontaine New York Islanders
Prime Quads 6 Mike Modano Dallas Stars
Prime Quads 7 Mario Lemieux Pittsburgh Penguins 50
Prime Quads 7 Grant Fuhr Edmonton Oilers
Prime Quads 7 Michel Goulet Quebec Nordiques
Prime Quads 7 Ray Bourque Boston Bruins
Prime Quads 8 Bobby Clarke Philadelphia Flyers 50
Prime Quads 8 Bill Barber Philadelphia Flyers
Prime Quads 8 Bernie Parent Philadelphia Flyers
Prime Quads 8 Reggie Leach Philadelphia Flyers
Prime Quads 9 Tim Kerr Philadelphia Flyers 50
Prime Quads 9 Ron Hextall Philadelphia Flyers
Prime Quads 9 Mark Messier Edmonton Oilers
Prime Quads 9 Grant Fuhr Edmonton Oilers
Prime Quads 10 Mario Lemieux Pittsburgh Penguins 50
Prime Quads 10 Ron Francis Pittsburgh Penguins
Prime Quads 10 Jaromir Jagr Pittsburgh Penguins
Prime Quads 10 Paul Coffey Pittsburgh Penguins
Prime Quads 11 Steve Yzerman Detroit Red Wings 50
Prime Quads 11 Brendan Shanahan Detroit Red Wings
Prime Quads 11 Igor Larionov Detroit Red Wings
Prime Quads 11 Nicklas Lidstrom Detroit Red Wings
Prime Quads 12 Alex Ovechkin Washington Capitals 50
Prime Quads 12 Evgeni Malkin Pittsburgh Penguins
Prime Quads 12 Drew Stafford Buffalo Sabres
Prime Quads 12 Devan Dubnyk Edmonton Oilers
Prime Quads 13 Bobby Ryan Anaheim Ducks 50
Prime Quads 13 Carey Price Montreal Canadiens
Prime Quads 13 Anze Kopitar Los Angeles Kings
Prime Quads 13 Marc Staal New York Rangers
Prime Quads 14 Ed Belfour Chicago Blackhawks 50
Prime Quads 14 Doug Gilmour Toronto Maple Leafs
Prime Quads 14 Mark Howe Philadelphia Flyers
Prime Quads 14 Joe Nieuwendyk New Jersey Devils
Prime Quads 15 Brett Hull St. Louis Blues 50
Prime Quads 15 Brian Leetch New York Rangers
Prime Quads 15 Luc Robitaille Los Angeles Kings
Prime Quads 15 Steve Yzerman Detroit Red Wings
Prime Quads 16 Andrew Joudrey Columbus Blue Jackets 50
Prime Quads 16 Cody Goloubef Columbus Blue Jackets
Prime Quads 16 Dalton Prout Columbus Blue Jackets
Prime Quads 16 Shawn Hunwick Columbus Blue Jackets
Prime Quads 17 Francois Beauchemin Anaheim Ducks 50
Prime Quads 17 Jonas Hiller Anaheim Ducks
Prime Quads 17 Ryan Getzlaf Anaheim Ducks
Prime Quads 17 Teemu Selanne Anaheim Ducks
Prime Quads 18 Marc Staal New York Rangers 50
Prime Quads 18 Jordan Staal Carolina Hurricanes
Prime Quads 18 Brayden Schenn Philadelphia Flyers
Prime Quads 18 Luke Schenn Philadelphia Flyers
Prime Quads 19 Saku Koivu Anaheim Ducks 50
Prime Quads 19 Mikko Koivu Minnesota Wild
Prime Quads 19 Daniel Sedin Vancouver Canucks
Prime Quads 19 Henrik Sedin Vancouver Canucks
Prime Quads 20 Alex Pietrangelo St. Louis Blues 50
Prime Quads 20 Alex Ovechkin Washington Capitals
Prime Quads 20 Alexander Burmistrov Winnipeg Jets
Prime Quads 20 Alex Tanguay Calgary Flames
Prime Quads Patch 1 Jussi Rynnas Toronto Maple Leafs 5
Prime Quads Patch 1 Ryan Hamilton Toronto Maple Leafs
Prime Quads Patch 1 Carter Camper Boston Bruins
Prime Quads Patch 1 Michael Hutchinson Boston Bruins
Prime Quads Patch 2 Gordie Howe (R) Hartford Whalers 5
Prime Quads Patch 2 Brett Hull St. Louis Blues
Prime Quads Patch 2 Marcel Dionne Los Angeles Kings
Prime Quads Patch 2 Mike Gartner New York Rangers
Prime Quads Patch 3 Mark Messier New York Rangers 5
Prime Quads Patch 3 Ray Bourque Boston Bruins
Prime Quads Patch 3 Paul Coffey Los Angeles Kings
Prime Quads Patch 3 Ron Francis Hartford Whalers
Prime Quads Patch 4 Chris Pronger Philadelphia Flyers 5
Prime Quads Patch 4 Jonathan Toews Chicago Blackhawks
Prime Quads Patch 4 Roberto Luongo Vancouver Canucks
Prime Quads Patch 4 Patrick Marleau San Jose Sharks
Prime Quads Patch 5 Mike Richards Los Angeles Kings 5
Prime Quads Patch 5 Martin Brodeur New Jersey Devils
Prime Quads Patch 5 Brenden Morrow Pittsburgh Penguins
Prime Quads Patch 5 Shea Weber Nashville Predators
Prime Quads Patch 6 Brian Leetch New York Rangers 5
Prime Quads Patch 6 John LeClair Philadelphia Flyers
Prime Quads Patch 6 Pat LaFontaine New York Islanders
Prime Quads Patch 6 Mike Modano Dallas Stars
Prime Quads Patch 7 Mario Lemieux Pittsburgh Penguins 5
Prime Quads Patch 7 Grant Fuhr Edmonton Oilers
Prime Quads Patch 7 Michel Goulet Quebec Nordiques
Prime Quads Patch 7 Ray Bourque Boston Bruins
Prime Quads Patch 8 Bobby Clarke Philadelphia Flyers 5
Prime Quads Patch 8 Bill Barber Philadelphia Flyers
Prime Quads Patch 8 Bernie Parent Philadelphia Flyers
Prime Quads Patch 8 Reggie Leach Philadelphia Flyers
Prime Quads Patch 9 Tim Kerr Philadelphia Flyers 5
Prime Quads Patch 9 Ron Hextall Philadelphia Flyers
Prime Quads Patch 9 Mark Messier Edmonton Oilers
Prime Quads Patch 9 Grant Fuhr Edmonton Oilers
Prime Quads Patch 10 Mario Lemieux Pittsburgh Penguins 5
Prime Quads Patch 10 Ron Francis Pittsburgh Penguins
Prime Quads Patch 10 Jaromir Jagr Pittsburgh Penguins
Prime Quads Patch 10 Paul Coffey Pittsburgh Penguins
Prime Quads Patch 11 Steve Yzerman Detroit Red Wings 5
Prime Quads Patch 11 Brendan Shanahan Detroit Red Wings
Prime Quads Patch 11 Igor Larionov Detroit Red Wings
Prime Quads Patch 11 Nicklas Lidstrom Detroit Red Wings
Prime Quads Patch 12 Alex Ovechkin Washington Capitals 5
Prime Quads Patch 12 Evgeni Malkin Pittsburgh Penguins
Prime Quads Patch 12 Drew Stafford Buffalo Sabres
Prime Quads Patch 12 Devan Dubnyk Edmonton Oilers
Prime Quads Patch 13 Bobby Ryan Anaheim Ducks 5
Prime Quads Patch 13 Carey Price Montreal Canadiens
Prime Quads Patch 13 Anze Kopitar Los Angeles Kings
Prime Quads Patch 13 Marc Staal New York Rangers
Prime Quads Patch 14 Ed Belfour Chicago Blackhawks 5
Prime Quads Patch 14 Doug Gilmour Toronto Maple Leafs
Prime Quads Patch 14 Mark Howe Philadelphia Flyers
Prime Quads Patch 14 Joe Nieuwendyk New Jersey Devils
Prime Quads Patch 15 Brett Hull St. Louis Blues 5
Prime Quads Patch 15 Brian Leetch New York Rangers
Prime Quads Patch 15 Luc Robitaille Los Angeles Kings
Prime Quads Patch 15 Steve Yzerman Detroit Red Wings
Prime Quads Patch 16 Andrew Joudrey Columbus Blue Jackets 5
Prime Quads Patch 16 Cody Goloubef Columbus Blue Jackets
Prime Quads Patch 16 Dalton Prout Columbus Blue Jackets
Prime Quads Patch 16 Shawn Hunwick Columbus Blue Jackets
Prime Quads Patch 17 Francois Beauchemin Anaheim Ducks 5
Prime Quads Patch 17 Jonas Hiller Anaheim Ducks
Prime Quads Patch 17 Ryan Getzlaf Anaheim Ducks
Prime Quads Patch 17 Teemu Selanne Anaheim Ducks
Prime Quads Patch 18 Marc Staal New York Rangers 5
Prime Quads Patch 18 Jordan Staal Carolina Hurricanes
Prime Quads Patch 18 Brayden Schenn Philadelphia Flyers
Prime Quads Patch 18 Luke Schenn Philadelphia Flyers
Prime Quads Patch 19 Saku Koivu Anaheim Ducks 5
Prime Quads Patch 19 Mikko Koivu Minnesota Wild
Prime Quads Patch 19 Daniel Sedin Vancouver Canucks
Prime Quads Patch 19 Henrik Sedin Vancouver Canucks
Prime Quads Patch 20 Alex Pietrangelo St. Louis Blues 5
Prime Quads Patch 20 Alex Ovechkin Washington Capitals
Prime Quads Patch 20 Alexander Burmistrov Winnipeg Jets
Prime Quads Patch 20 Alex Tanguay Calgary Flames
Prime Quads Prime 1 Carter Camper Boston Bruins 15
Prime Quads Prime 1 Michael Hutchinson Boston Bruins
Prime Quads Prime 1 Ryan Hamilton Toronto Maple Leafs
Prime Quads Prime 1 Jussi Rynnas Toronto Maple Leafs
Prime Quads Prime 2 Gordie Howe (R) Hartford Whalers 15
Prime Quads Prime 2 Brett Hull St. Louis Blues
Prime Quads Prime 2 Marcel Dionne Los Angeles Kings
Prime Quads Prime 2 Mike Gartner New York Rangers
Prime Quads Prime 3 Mark Messier New York Rangers 15
Prime Quads Prime 3 Ray Bourque Boston Bruins
Prime Quads Prime 3 Paul Coffey Los Angeles Kings
Prime Quads Prime 3 Ron Francis Hartford Whalers
Prime Quads Prime 4 Chris Pronger Philadelphia Flyers 15
Prime Quads Prime 4 Jonathan Toews Chicago Blackhawks
Prime Quads Prime 4 Roberto Luongo Vancouver Canucks
Prime Quads Prime 4 Patrick Marleau San Jose Sharks
Prime Quads Prime 5 Mike Richards Los Angeles Kings 15
Prime Quads Prime 5 Martin Brodeur New Jersey Devils
Prime Quads Prime 5 Brenden Morrow Pittsburgh Penguins
Prime Quads Prime 5 Shea Weber Nashville Predators
Prime Quads Prime 6 Brian Leetch New York Rangers 15
Prime Quads Prime 6 John LeClair Philadelphia Flyers
Prime Quads Prime 6 Pat LaFontaine New York Islanders
Prime Quads Prime 6 Mike Modano Dallas Stars
Prime Quads Prime 7 Mario Lemieux Pittsburgh Penguins 15
Prime Quads Prime 7 Grant Fuhr Edmonton Oilers
Prime Quads Prime 7 Michel Goulet Quebec Nordiques
Prime Quads Prime 7 Ray Bourque Boston Bruins
Prime Quads Prime 8 Bobby Clarke Philadelphia Flyers 10
Prime Quads Prime 8 Bill Barber Philadelphia Flyers
Prime Quads Prime 8 Bernie Parent Philadelphia Flyers
Prime Quads Prime 8 Reggie Leach Philadelphia Flyers
Prime Quads Prime 9 Tim Kerr Philadelphia Flyers 15
Prime Quads Prime 9 Ron Hextall Philadelphia Flyers
Prime Quads Prime 9 Mark Messier Edmonton Oilers
Prime Quads Prime 9 Grant Fuhr Edmonton Oilers
Prime Quads Prime 10 Mario Lemieux Pittsburgh Penguins 15
Prime Quads Prime 10 Ron Francis Pittsburgh Penguins
Prime Quads Prime 10 Jaromir Jagr Pittsburgh Penguins
Prime Quads Prime 10 Paul Coffey Pittsburgh Penguins
Prime Quads Prime 11 Steve Yzerman Detroit Red Wings 15
Prime Quads Prime 11 Brendan Shanahan Detroit Red Wings
Prime Quads Prime 11 Igor Larionov Detroit Red Wings
Prime Quads Prime 11 Nicklas Lidstrom Detroit Red Wings
Prime Quads Prime 12 Alex Ovechkin Washington Capitals 15
Prime Quads Prime 12 Evgeni Malkin Pittsburgh Penguins
Prime Quads Prime 12 Drew Stafford Buffalo Sabres
Prime Quads Prime 12 Devan Dubnyk Edmonton Oilers
Prime Quads Prime 13 Bobby Ryan Anaheim Ducks 15
Prime Quads Prime 13 Carey Price Montreal Canadiens
Prime Quads Prime 13 Anze Kopitar Los Angeles Kings
Prime Quads Prime 13 Marc Staal New York Rangers
Prime Quads Prime 14 Ed Belfour Chicago Blackhawks 15
Prime Quads Prime 14 Doug Gilmour Toronto Maple Leafs
Prime Quads Prime 14 Mark Howe Philadelphia Flyers
Prime Quads Prime 14 Joe Nieuwendyk New Jersey Devils
Prime Quads Prime 15 Brett Hull St. Louis Blues 15
Prime Quads Prime 15 Brian Leetch New York Rangers
Prime Quads Prime 15 Luc Robitaille Los Angeles Kings
Prime Quads Prime 15 Steve Yzerman Detroit Red Wings
Prime Quads Prime 16 Andrew Joudrey Columbus Blue Jackets 15
Prime Quads Prime 16 Cody Goloubef Columbus Blue Jackets
Prime Quads Prime 16 Dalton Prout Columbus Blue Jackets
Prime Quads Prime 16 Shawn Hunwick Columbus Blue Jackets
Prime Quads Prime 17 Francois Beauchemin Anaheim Ducks 15
Prime Quads Prime 17 Jonas Hiller Anaheim Ducks
Prime Quads Prime 17 Ryan Getzlaf Anaheim Ducks
Prime Quads Prime 17 Teemu Selanne Anaheim Ducks
Prime Quads Prime 18 Marc Staal New York Rangers 15
Prime Quads Prime 18 Jordan Staal Carolina Hurricanes
Prime Quads Prime 18 Brayden Schenn Philadelphia Flyers
Prime Quads Prime 18 Luke Schenn Philadelphia Flyers
Prime Quads Prime 19 Saku Koivu Anaheim Ducks 15
Prime Quads Prime 19 Mikko Koivu Minnesota Wild
Prime Quads Prime 19 Daniel Sedin Vancouver Canucks
Prime Quads Prime 19 Henrik Sedin Vancouver Canucks
Prime Quads Prime 20 Alex Pietrangelo St. Louis Blues 15
Prime Quads Prime 20 Alex Ovechkin Washington Capitals
Prime Quads Prime 20 Alexander Burmistrov Winnipeg Jets
Prime Quads Prime 20 Alex Tanguay Calgary Flames
Prime Rookies 101 Mat Clark Anaheim Ducks 249
Prime Rookies 102 Max Sauve Chicago Blackhawks 249
Prime Rookies 103 Michael Hutchinson Boston Bruins 249
Prime Rookies 104 Torey Krug Boston Bruins 249
Prime Rookies 105 Carter Camper Boston Bruins 249
Prime Rookies 106 Lane MacDermid Dallas Stars 249
Prime Rookies 107 Travis Turnbull Buffalo Sabres 249
Prime Rookies 108 Akim Aliu Calgary Flames 249
Prime Rookies 109 Sven Baertschi Calgary Flames 249
Prime Rookies 110 Jeremy Welsh Carolina Hurricanes 249
Prime Rookies 111 Brandon Bollig Chicago Blackhawks 249
Prime Rookies 112 Mike Connolly Colorado Avalanche 249
Prime Rookies 113 Tyson Barrie Colorado Avalanche 249
Prime Rookies 114 Andrew Joudrey Columbus Blue Jackets 249
Prime Rookies 115 Cody Goloubef Columbus Blue Jackets 249
Prime Rookies 116 Dalton Prout Columbus Blue Jackets 249
Prime Rookies 117 Shawn Hunwick Columbus Blue Jackets 249
Prime Rookies 118 Brenden Dillon Dallas Stars 249
Prime Rookies 119 Reilly Smith Dallas Stars 249
Prime Rookies 120 Ryan Garbutt Dallas Stars 249
Prime Rookies 121 Scott Glennie Dallas Stars 249
Prime Rookies 122 Riley Sheahan Detroit Red Wings 249
Prime Rookies 123 Philippe Cornet Edmonton Oilers 249
Prime Rookies 124 Colby Robak Florida Panthers 249
Prime Rookies 125 Jordan Nolan Los Angeles Kings 249
Prime Rookies 126 Chay Genoway Washington Capitals 249
Prime Rookies 127 Jason Zucker Minnesota Wild 249
Prime Rookies 128 Kris Foucault Minnesota Wild 249
Prime Rookies 129 Tyler Cuma Minnesota Wild 249
Prime Rookies 130 Gabriel Dumont Montreal Canadiens 249
Prime Rookies 131 Robert Mayer Montreal Canadiens 249
Prime Rookies 132 Chet Pickard Nashville Predators 249
Prime Rookies 133 Aaron Ness New York Islanders 249
Prime Rookies 134 Casey Cizikas New York Islanders 249
Prime Rookies 135 Matt Donovan New York Islanders 249
Prime Rookies 136 Matt Watkins New York Islanders 249
Prime Rookies 137 Chris Kreider New York Rangers 249
Prime Rookies 138 Jakob Silfverberg Ottawa Senators 249
Prime Rookies 139 Mark Stone Ottawa Senators 249
Prime Rookies 140 Brandon Manning Philadelphia Flyers 249
Prime Rookies 141 Michael Stone Phoenix Coyotes 249
Prime Rookies 142 Tyson Sexsmith San Jose Sharks 249
Prime Rookies 143 Jaden Schwartz St. Louis Blues 249
Prime Rookies 144 Jake Allen St. Louis Blues 249
Prime Rookies 145 J.T. Brown Tampa Bay Lightning 249
Prime Rookies 146 Carter Ashton Toronto Maple Leafs 249
Prime Rookies 147 Jussi Rynnas Toronto Maple Leafs 249
Prime Rookies 148 Ryan Hamilton Toronto Maple Leafs 249
Prime Rookies Black 101 Mat Clark Anaheim Ducks 3
Prime Rookies Black 102 Max Sauve Chicago Blackhawks 3
Prime Rookies Black 103 Michael Hutchinson Boston Bruins 3
Prime Rookies Black 104 Torey Krug Boston Bruins 3
Prime Rookies Black 105 Carter Camper Boston Bruins 3
Prime Rookies Black 106 Lane MacDermid Dallas Stars 3
Prime Rookies Black 107 Travis Turnbull Buffalo Sabres 3
Prime Rookies Black 108 Akim Aliu Calgary Flames 3
Prime Rookies Black 109 Sven Baertschi Calgary Flames 3
Prime Rookies Black 110 Jeremy Welsh Carolina Hurricanes 3
Prime Rookies Black 111 Brandon Bollig Chicago Blackhawks 3
Prime Rookies Black 112 Mike Connolly Colorado Avalanche 3
Prime Rookies Black 113 Tyson Barrie Colorado Avalanche 3
Prime Rookies Black 114 Andrew Joudrey Columbus Blue Jackets 3
Prime Rookies Black 115 Cody Goloubef Columbus Blue Jackets 3
Prime Rookies Black 116 Dalton Prout Columbus Blue Jackets 3
Prime Rookies Black 117 Shawn Hunwick Columbus Blue Jackets 3
Prime Rookies Black 118 Brenden Dillon Dallas Stars 3
Prime Rookies Black 119 Reilly Smith Dallas Stars 3
Prime Rookies Black 120 Ryan Garbutt Dallas Stars 3
Prime Rookies Black 121 Scott Glennie Dallas Stars 3
Prime Rookies Black 122 Riley Sheahan Detroit Red Wings 3
Prime Rookies Black 123 Philippe Cornet Edmonton Oilers 3
Prime Rookies Black 124 Colby Robak Florida Panthers 3
Prime Rookies Black 125 Jordan Nolan Los Angeles Kings 3
Prime Rookies Black 126 Chay Genoway Washington Capitals 3
Prime Rookies Black 127 Jason Zucker Minnesota Wild 3
Prime Rookies Black 128 Kris Foucault Minnesota Wild 3
Prime Rookies Black 129 Tyler Cuma Minnesota Wild 3
Prime Rookies Black 130 Gabriel Dumont Montreal Canadiens 3
Prime Rookies Black 131 Robert Mayer Montreal Canadiens 3
Prime Rookies Black 132 Chet Pickard Nashville Predators 3
Prime Rookies Black 133 Aaron Ness New York Islanders 3
Prime Rookies Black 134 Casey Cizikas New York Islanders 3
Prime Rookies Black 135 Matt Donovan New York Islanders 3
Prime Rookies Black 136 Matt Watkins New York Islanders 3
Prime Rookies Black 137 Chris Kreider New York Rangers 3
Prime Rookies Black 138 Jakob Silfverberg Ottawa Senators 3
Prime Rookies Black 139 Mark Stone Ottawa Senators 3
Prime Rookies Black 140 Brandon Manning Philadelphia Flyers 3
Prime Rookies Black 141 Michael Stone Phoenix Coyotes 3
Prime Rookies Black 142 Tyson Sexsmith San Jose Sharks 3
Prime Rookies Black 143 Jaden Schwartz St. Louis Blues 3
Prime Rookies Black 145 J.T. Brown Tampa Bay Lightning 3
Prime Rookies Black 146 Carter Ashton Toronto Maple Leafs 3
Prime Rookies Black 147 Jussi Rynnas Toronto Maple Leafs 3
Prime Rookies Black 148 Ryan Hamilton Toronto Maple Leafs 3
Prime Rookies Holo Gold 101 Mat Clark Anaheim Ducks 25
Prime Rookies Holo Gold 102 Max Sauve Chicago Blackhawks 25
Prime Rookies Holo Gold 103 Michael Hutchinson Boston Bruins 25
Prime Rookies Holo Gold 104 Torey Krug Boston Bruins 25
Prime Rookies Holo Gold 105 Carter Camper Boston Bruins 25
Prime Rookies Holo Gold 106 Lane MacDermid Dallas Stars 25
Prime Rookies Holo Gold 107 Travis Turnbull Buffalo Sabres 25
Prime Rookies Holo Gold 108 Akim Aliu Calgary Flames 25
Prime Rookies Holo Gold 109 Sven Baertschi Calgary Flames 25
Prime Rookies Holo Gold 110 Jeremy Welsh Carolina Hurricanes 25
Prime Rookies Holo Gold 111 Brandon Bollig Chicago Blackhawks 25
Prime Rookies Holo Gold 112 Mike Connolly Colorado Avalanche 25
Prime Rookies Holo Gold 113 Tyson Barrie Colorado Avalanche 25
Prime Rookies Holo Gold 114 Andrew Joudrey Columbus Blue Jackets 25
Prime Rookies Holo Gold 115 Cody Goloubef Columbus Blue Jackets 25
Prime Rookies Holo Gold 116 Dalton Prout Columbus Blue Jackets 25
Prime Rookies Holo Gold 117 Shawn Hunwick Columbus Blue Jackets 25
Prime Rookies Holo Gold 118 Brenden Dillon Dallas Stars 25
Prime Rookies Holo Gold 119 Reilly Smith Dallas Stars 25
Prime Rookies Holo Gold 120 Ryan Garbutt Dallas Stars 25
Prime Rookies Holo Gold 121 Scott Glennie Dallas Stars 25
Prime Rookies Holo Gold 122 Riley Sheahan Detroit Red Wings 25
Prime Rookies Holo Gold 123 Philippe Cornet Edmonton Oilers 25
Prime Rookies Holo Gold 124 Colby Robak Florida Panthers 25
Prime Rookies Holo Gold 125 Jordan Nolan Los Angeles Kings 25
Prime Rookies Holo Gold 126 Chay Genoway Washington Capitals 25
Prime Rookies Holo Gold 127 Jason Zucker Minnesota Wild 25
Prime Rookies Holo Gold 128 Kris Foucault Minnesota Wild 25
Prime Rookies Holo Gold 129 Tyler Cuma Minnesota Wild 25
Prime Rookies Holo Gold 130 Gabriel Dumont Montreal Canadiens 25
Prime Rookies Holo Gold 131 Robert Mayer Montreal Canadiens 25
Prime Rookies Holo Gold 132 Chet Pickard Nashville Predators 25
Prime Rookies Holo Gold 133 Aaron Ness New York Islanders 25
Prime Rookies Holo Gold 134 Casey Cizikas New York Islanders 25
Prime Rookies Holo Gold 135 Matt Donovan New York Islanders 25
Prime Rookies Holo Gold 136 Matt Watkins New York Islanders 25
Prime Rookies Holo Gold 137 Chris Kreider New York Rangers 25
Prime Rookies Holo Gold 138 Jakob Silfverberg Ottawa Senators 25
Prime Rookies Holo Gold 139 Mark Stone Ottawa Senators 25
Prime Rookies Holo Gold 140 Brandon Manning Philadelphia Flyers 25
Prime Rookies Holo Gold 141 Michael Stone Phoenix Coyotes 25
Prime Rookies Holo Gold 142 Tyson Sexsmith San Jose Sharks 25
Prime Rookies Holo Gold 143 Jaden Schwartz St. Louis Blues 25
Prime Rookies Holo Gold 145 J.T. Brown Tampa Bay Lightning 25
Prime Rookies Holo Gold 146 Carter Ashton Toronto Maple Leafs 25
Prime Rookies Holo Gold 147 Jussi Rynnas Toronto Maple Leafs 25
Prime Rookies Holo Gold 148 Ryan Hamilton Toronto Maple Leafs 25
Prime Rookies Holo Silver 101 Mat Clark Anaheim Ducks 50
Prime Rookies Holo Silver 102 Max Sauve Chicago Blackhawks 50
Prime Rookies Holo Silver 103 Michael Hutchinson Boston Bruins 50
Prime Rookies Holo Silver 104 Torey Krug Boston Bruins 50
Prime Rookies Holo Silver 105 Carter Camper Boston Bruins 50
Prime Rookies Holo Silver 106 Lane MacDermid Dallas Stars 50
Prime Rookies Holo Silver 107 Travis Turnbull Buffalo Sabres 50
Prime Rookies Holo Silver 108 Akim Aliu Calgary Flames 50
Prime Rookies Holo Silver 109 Sven Baertschi Calgary Flames 50
Prime Rookies Holo Silver 110 Jeremy Welsh Carolina Hurricanes 50
Prime Rookies Holo Silver 111 Brandon Bollig Chicago Blackhawks 50
Prime Rookies Holo Silver 112 Mike Connolly Colorado Avalanche 50
Prime Rookies Holo Silver 113 Tyson Barrie Colorado Avalanche 50
Prime Rookies Holo Silver 114 Andrew Joudrey Columbus Blue Jackets 50
Prime Rookies Holo Silver 115 Cody Goloubef Columbus Blue Jackets 50
Prime Rookies Holo Silver 116 Dalton Prout Columbus Blue Jackets 50
Prime Rookies Holo Silver 117 Shawn Hunwick Columbus Blue Jackets 50
Prime Rookies Holo Silver 118 Brenden Dillon Dallas Stars 50
Prime Rookies Holo Silver 119 Reilly Smith Dallas Stars 50
Prime Rookies Holo Silver 120 Ryan Garbutt Dallas Stars 50
Prime Rookies Holo Silver 121 Scott Glennie Dallas Stars 50
Prime Rookies Holo Silver 122 Riley Sheahan Detroit Red Wings 50
Prime Rookies Holo Silver 123 Philippe Cornet Edmonton Oilers 50
Prime Rookies Holo Silver 124 Colby Robak Florida Panthers 50
Prime Rookies Holo Silver 125 Jordan Nolan Los Angeles Kings 50
Prime Rookies Holo Silver 126 Chay Genoway Washington Capitals 50
Prime Rookies Holo Silver 127 Jason Zucker Minnesota Wild 50
Prime Rookies Holo Silver 128 Kris Foucault Minnesota Wild 50
Prime Rookies Holo Silver 129 Tyler Cuma Minnesota Wild 50
Prime Rookies Holo Silver 130 Gabriel Dumont Montreal Canadiens 50
Prime Rookies Holo Silver 131 Robert Mayer Montreal Canadiens 50
Prime Rookies Holo Silver 132 Chet Pickard Nashville Predators 50
Prime Rookies Holo Silver 133 Aaron Ness New York Islanders 50
Prime Rookies Holo Silver 134 Casey Cizikas New York Islanders 50
Prime Rookies Holo Silver 135 Matt Donovan New York Islanders 50
Prime Rookies Holo Silver 136 Matt Watkins New York Islanders 50
Prime Rookies Holo Silver 137 Chris Kreider New York Rangers 50
Prime Rookies Holo Silver 138 Jakob Silfverberg Ottawa Senators 50
Prime Rookies Holo Silver 139 Mark Stone Ottawa Senators 50
Prime Rookies Holo Silver 140 Brandon Manning Philadelphia Flyers 50
Prime Rookies Holo Silver 141 Michael Stone Phoenix Coyotes 50
Prime Rookies Holo Silver 142 Tyson Sexsmith San Jose Sharks 50
Prime Rookies Holo Silver 143 Jaden Schwartz St. Louis Blues 50
Prime Rookies Holo Silver 145 J.T. Brown Tampa Bay Lightning 50
Prime Rookies Holo Silver 146 Carter Ashton Toronto Maple Leafs 50
Prime Rookies Holo Silver 147 Jussi Rynnas Toronto Maple Leafs 50
Prime Rookies Holo Silver 148 Ryan Hamilton Toronto Maple Leafs 50
Prime Rookies Jumbo Patch 101 Mat Clark Anaheim Ducks 5
Prime Rookies Jumbo Patch 102 Max Sauve Chicago Blackhawks 5
Prime Rookies Jumbo Patch 103 Michael Hutchinson Boston Bruins 5
Prime Rookies Jumbo Patch 104 Torey Krug Boston Bruins 5
Prime Rookies Jumbo Patch 105 Carter Camper Boston Bruins 5
Prime Rookies Jumbo Patch 106 Lane MacDermid Dallas Stars 5
Prime Rookies Jumbo Patch 107 Travis Turnbull Buffalo Sabres 5
Prime Rookies Jumbo Patch 108 Akim Aliu Calgary Flames 5
Prime Rookies Jumbo Patch 109 Sven Baertschi Calgary Flames 5
Prime Rookies Jumbo Patch 110 Jeremy Welsh Carolina Hurricanes 5
Prime Rookies Jumbo Patch 111 Brandon Bollig Chicago Blackhawks 5
Prime Rookies Jumbo Patch 112 Mike Connolly Colorado Avalanche 5
Prime Rookies Jumbo Patch 113 Tyson Barrie Colorado Avalanche 5
Prime Rookies Jumbo Patch 114 Andrew Joudrey Columbus Blue Jackets 5
Prime Rookies Jumbo Patch 115 Cody Goloubef Columbus Blue Jackets 5
Prime Rookies Jumbo Patch 116 Dalton Prout Columbus Blue Jackets 5
Prime Rookies Jumbo Patch 117 Shawn Hunwick Columbus Blue Jackets 5
Prime Rookies Jumbo Patch 118 Brenden Dillon Dallas Stars 5
Prime Rookies Jumbo Patch 119 Reilly Smith Dallas Stars 5
Prime Rookies Jumbo Patch 120 Ryan Garbutt Dallas Stars 5
Prime Rookies Jumbo Patch 121 Scott Glennie Dallas Stars 5
Prime Rookies Jumbo Patch 122 Riley Sheahan Detroit Red Wings 5
Prime Rookies Jumbo Patch 123 Philippe Cornet Edmonton Oilers 5
Prime Rookies Jumbo Patch 124 Colby Robak Florida Panthers 5
Prime Rookies Jumbo Patch 125 Jordan Nolan Los Angeles Kings 5
Prime Rookies Jumbo Patch 126 Chay Genoway Washington Capitals 5
Prime Rookies Jumbo Patch 127 Jason Zucker Minnesota Wild 5
Prime Rookies Jumbo Patch 128 Kris Foucault Minnesota Wild 5
Prime Rookies Jumbo Patch 129 Tyler Cuma Minnesota Wild 5
Prime Rookies Jumbo Patch 130 Gabriel Dumont Montreal Canadiens 5
Prime Rookies Jumbo Patch 131 Robert Mayer Montreal Canadiens 5
Prime Rookies Jumbo Patch 132 Chet Pickard Nashville Predators 5
Prime Rookies Jumbo Patch 133 Aaron Ness New York Islanders 5
Prime Rookies Jumbo Patch 134 Casey Cizikas New York Islanders 5
Prime Rookies Jumbo Patch 135 Matt Donovan New York Islanders 5
Prime Rookies Jumbo Patch 136 Matt Watkins New York Islanders 5
Prime Rookies Jumbo Patch 137 Chris Kreider New York Rangers 5
Prime Rookies Jumbo Patch 138 Jakob Silfverberg Ottawa Senators 5
Prime Rookies Jumbo Patch 139 Mark Stone Ottawa Senators 5
Prime Rookies Jumbo Patch 140 Brandon Manning Philadelphia Flyers 5
Prime Rookies Jumbo Patch 141 Michael Stone Phoenix Coyotes 5
Prime Rookies Jumbo Patch 142 Tyson Sexsmith San Jose Sharks 5
Prime Rookies Jumbo Patch 143 Jaden Schwartz St. Louis Blues 5
Prime Rookies Jumbo Patch 145 J.T. Brown Tampa Bay Lightning 5
Prime Rookies Jumbo Patch 146 Carter Ashton Toronto Maple Leafs 5
Prime Rookies Jumbo Patch 147 Jussi Rynnas Toronto Maple Leafs 5
Prime Rookies Jumbo Patch 148 Ryan Hamilton Toronto Maple Leafs 5
Prime Rookies NHL Logo 101 Mat Clark Anaheim Ducks 1
Prime Rookies NHL Logo 102 Max Sauve Chicago Blackhawks 1
Prime Rookies NHL Logo 103 Michael Hutchinson Boston Bruins 1
Prime Rookies NHL Logo 104 Torey Krug Boston Bruins 1
Prime Rookies NHL Logo 105 Carter Camper Boston Bruins 1
Prime Rookies NHL Logo 106 Lane MacDermid Dallas Stars 1
Prime Rookies NHL Logo 107 Travis Turnbull Buffalo Sabres 1
Prime Rookies NHL Logo 108 Akim Aliu Calgary Flames 1
Prime Rookies NHL Logo 109 Sven Baertschi Calgary Flames 1
Prime Rookies NHL Logo 110 Jeremy Welsh Carolina Hurricanes 1
Prime Rookies NHL Logo 111 Brandon Bollig Chicago Blackhawks 1
Prime Rookies NHL Logo 112 Mike Connolly Colorado Avalanche 1
Prime Rookies NHL Logo 113 Tyson Barrie Colorado Avalanche 1
Prime Rookies NHL Logo 114 Andrew Joudrey Columbus Blue Jackets 1
Prime Rookies NHL Logo 115 Cody Goloubef Columbus Blue Jackets 1
Prime Rookies NHL Logo 116 Dalton Prout Columbus Blue Jackets 1
Prime Rookies NHL Logo 117 Shawn Hunwick Columbus Blue Jackets 1
Prime Rookies NHL Logo 118 Brenden Dillon Dallas Stars 1
Prime Rookies NHL Logo 119 Reilly Smith Dallas Stars 1
Prime Rookies NHL Logo 120 Ryan Garbutt Dallas Stars 1
Prime Rookies NHL Logo 121 Scott Glennie Dallas Stars 1
Prime Rookies NHL Logo 122 Riley Sheahan Detroit Red Wings 1
Prime Rookies NHL Logo 123 Philippe Cornet Edmonton Oilers 1
Prime Rookies NHL Logo 124 Colby Robak Florida Panthers 1
Prime Rookies NHL Logo 125 Jordan Nolan Los Angeles Kings 1
Prime Rookies NHL Logo 126 Chay Genoway Washington Capitals 1
Prime Rookies NHL Logo 127 Jason Zucker Minnesota Wild 1
Prime Rookies NHL Logo 128 Kris Foucault Minnesota Wild 1
Prime Rookies NHL Logo 129 Tyler Cuma Minnesota Wild 1
Prime Rookies NHL Logo 130 Gabriel Dumont Montreal Canadiens 1
Prime Rookies NHL Logo 131 Robert Mayer Montreal Canadiens 1
Prime Rookies NHL Logo 132 Chet Pickard Nashville Predators 1
Prime Rookies NHL Logo 133 Aaron Ness New York Islanders 1
Prime Rookies NHL Logo 134 Casey Cizikas New York Islanders 1
Prime Rookies NHL Logo 135 Matt Donovan New York Islanders 1
Prime Rookies NHL Logo 136 Matt Watkins New York Islanders 1
Prime Rookies NHL Logo 137 Chris Kreider New York Rangers 1
Prime Rookies NHL Logo 138 Jakob Silfverberg Ottawa Senators 1
Prime Rookies NHL Logo 139 Mark Stone Ottawa Senators 1
Prime Rookies NHL Logo 140 Brandon Manning Philadelphia Flyers 1
Prime Rookies NHL Logo 141 Michael Stone Phoenix Coyotes 1
Prime Rookies NHL Logo 142 Tyson Sexsmith San Jose Sharks 1
Prime Rookies NHL Logo 143 Jaden Schwartz St. Louis Blues 1
Prime Rookies NHL Logo 145 J.T. Brown Tampa Bay Lightning 1
Prime Rookies NHL Logo 146 Carter Ashton Toronto Maple Leafs 1
Prime Rookies NHL Logo 147 Jussi Rynnas Toronto Maple Leafs 1
Prime Rookies NHL Logo 148 Ryan Hamilton Toronto Maple Leafs 1
Prime Signatures 1 Adam Henrique New Jersey Devils 99
Prime Signatures 2 Akim Aliu Calgary Flames 99
Prime Signatures 3 Alex Ovechkin Washington Capitals 25
Prime Signatures 5 Andrew Joudrey Columbus Blue Jackets 99
Prime Signatures 6 Andrew Ladd Winnipeg Jets 99
Prime Signatures 7 Bobby Ryan Anaheim Ducks 99
Prime Signatures 8 Brad Richards New York Rangers 50
Prime Signatures 10 Brayden Schenn Philadelphia Flyers 99
Prime Signatures 11 Brenden Dillon Dallas Stars 99
Prime Signatures 12 Brett Hull St. Louis Blues 25
Prime Signatures 13 Cal Clutterbuck Minnesota Wild 99
Prime Signatures 14 Casey Cizikas New York Islanders 99
Prime Signatures 15 Chet Pickard Nashville Predators 99
Prime Signatures 16 Chris Chelios Detroit Red Wings 25
Prime Signatures 17 Chris Kreider New York Rangers 99
Prime Signatures 19 Cory Schneider Vancouver Canucks 99
Prime Signatures 20 Craig Smith Nashville Predators 99
Prime Signatures 21 Eric Staal Carolina Hurricanes 50
Prime Signatures 24 Gordie Howe (R) Detroit Red Wings 10
Prime Signatures 25 Gustav Nyquist Detroit Red Wings 99
Prime Signatures 26 J.T. Brown Tampa Bay Lightning 99
Prime Signatures 27 Jaden Schwartz St. Louis Blues 99
Prime Signatures 28 Jakob Silfverberg Ottawa Senators 99
Prime Signatures 29 James Neal Pittsburgh Penguins 99
Prime Signatures 31 Jarome Iginla Pittsburgh Penguins 50
Prime Signatures 32 Joe Pavelski San Jose Sharks 99
Prime Signatures 33 Joe Sakic Colorado Avalanche 25
Prime Signatures 34 John LeClair Philadelphia Flyers 99
Prime Signatures 35 John Tavares New York Islanders 50
Prime Signatures 37 Jordin Tootoo Detroit Red Wings 99
Prime Signatures 38 Keith Primeau Detroit Red Wings 99
Prime Signatures 39 Keith Yandle Phoenix Coyotes 99
Prime Signatures 40 Kyle Turris Ottawa Senators 99
Prime Signatures 41 Leland Irving Calgary Flames 99
Prime Signatures 45 Mark Stone Ottawa Senators 99
Prime Signatures 47 Martin St. Louis Tampa Bay Lightning 50
Prime Signatures 48 Matt Duchene Colorado Avalanche 50
Prime Signatures 49 Matt Read Philadelphia Flyers 99
Prime Signatures 50 Michael Stone Phoenix Coyotes 99
Prime Signatures 51 Mika Zibanejad Ottawa Senators 25
Prime Signatures 52 Michael Hutchinson Boston Bruins 99
Prime Signatures 53 Mike Smith Phoenix Coyotes 99
Prime Signatures 54 Nazem Kadri Toronto Maple Leafs 99
Prime Signatures 55 Reilly Smith Dallas Stars 99
Prime Signatures 56 Riley Sheahan Detroit Red Wings 99
Prime Signatures 57 Robert Mayer Montreal Canadiens 99
Prime Signatures 58 Ryan Garbutt Dallas Stars 99
Prime Signatures 60 Ryan Nugent-Hopkins Edmonton Oilers 99
Prime Signatures 62 Simon Despres Pittsburgh Penguins 99
Prime Signatures 64 Sven Baertschi Calgary Flames 99
Prime Signatures 65 Taylor Hall Edmonton Oilers 50
Prime Signatures 66 Tomas Vokoun Pittsburgh Penguins 50
Prime Signatures 67 Tony Esposito Chicago Blackhawks 50
Prime Signatures 68 Tyson Barrie Colorado Avalanche 99
Prime Signatures 69 Zac Dalpe Carolina Hurricanes 99
Prime Signatures 70 Zack Kassian Vancouver Canucks 99
Prime Signatures Black 1 Adam Henrique New Jersey Devils 1
Prime Signatures Black 2 Akim Aliu Calgary Flames 1
Prime Signatures Black 3 Alex Ovechkin Washington Capitals 1
Prime Signatures Black 5 Andrew Joudrey Columbus Blue Jackets 1
Prime Signatures Black 6 Andrew Ladd Winnipeg Jets 1
Prime Signatures Black 7 Bobby Ryan Anaheim Ducks 1
Prime Signatures Black 8 Brad Richards New York Rangers 1
Prime Signatures Black 10 Brayden Schenn Philadelphia Flyers 1
Prime Signatures Black 11 Brenden Dillon Dallas Stars 1
Prime Signatures Black 12 Brett Hull St. Louis Blues 1
Prime Signatures Black 13 Cal Clutterbuck Minnesota Wild 1
Prime Signatures Black 14 Casey Cizikas New York Islanders 1
Prime Signatures Black 15 Chet Pickard Nashville Predators 1
Prime Signatures Black 16 Chris Chelios Detroit Red Wings 1
Prime Signatures Black 17 Chris Kreider New York Rangers 1
Prime Signatures Black 19 Cory Schneider Vancouver Canucks 1
Prime Signatures Black 20 Craig Smith Nashville Predators 1
Prime Signatures Black 21 Eric Staal Carolina Hurricanes 1
Prime Signatures Black 24 Gordie Howe (R) Detroit Red Wings 1
Prime Signatures Black 25 Gustav Nyquist Detroit Red Wings 1
Prime Signatures Black 26 J.T. Brown Tampa Bay Lightning 1
Prime Signatures Black 27 Jaden Schwartz St. Louis Blues 1
Prime Signatures Black 28 Jakob Silfverberg Ottawa Senators 1
Prime Signatures Black 29 James Neal Pittsburgh Penguins 1
Prime Signatures Black 31 Jarome Iginla Pittsburgh Penguins 1
Prime Signatures Black 32 Joe Pavelski San Jose Sharks 1
Prime Signatures Black 33 Joe Sakic Colorado Avalanche 1
Prime Signatures Black 34 John LeClair Philadelphia Flyers 1
Prime Signatures Black 35 John Tavares New York Islanders 1
Prime Signatures Black 37 Jordin Tootoo Detroit Red Wings 1
Prime Signatures Black 38 Keith Primeau Detroit Red Wings 1
Prime Signatures Black 39 Keith Yandle Phoenix Coyotes 1
Prime Signatures Black 40 Kyle Turris Ottawa Senators 1
Prime Signatures Black 41 Leland Irving Calgary Flames 1
Prime Signatures Black 45 Mark Stone Ottawa Senators 1
Prime Signatures Black 47 Martin St. Louis Tampa Bay Lightning 1
Prime Signatures Black 48 Matt Duchene Colorado Avalanche 1
Prime Signatures Black 49 Matt Read Philadelphia Flyers 1
Prime Signatures Black 50 Michael Stone Phoenix Coyotes 1
Prime Signatures Black 51 Mika Zibanejad Ottawa Senators 1
Prime Signatures Black 52 Michael Hutchinson Boston Bruins 1
Prime Signatures Black 53 Mike Smith Phoenix Coyotes 1
Prime Signatures Black 54 Nazem Kadri Toronto Maple Leafs 1
Prime Signatures Black 55 Reilly Smith Dallas Stars 1
Prime Signatures Black 56 Riley Sheahan Detroit Red Wings 1
Prime Signatures Black 57 Robert Mayer Montreal Canadiens 1
Prime Signatures Black 58 Ryan Garbutt Dallas Stars 1
Prime Signatures Black 60 Ryan Nugent-Hopkins Edmonton Oilers 1
Prime Signatures Black 62 Simon Despres Pittsburgh Penguins 1
Prime Signatures Black 64 Sven Baertschi Calgary Flames 1
Prime Signatures Black 65 Taylor Hall Edmonton Oilers 1
Prime Signatures Black 66 Tomas Vokoun Pittsburgh Penguins 1
Prime Signatures Black 67 Tony Esposito Chicago Blackhawks 1
Prime Signatures Black 68 Tyson Barrie Colorado Avalanche 1
Prime Signatures Black 69 Zac Dalpe Carolina Hurricanes 1
Prime Signatures Black 70 Zack Kassian Vancouver Canucks 1
Prime Signatures Dual 7 Gordie Howe (R) Detroit Red Wings 10
Prime Signatures Dual 7 Mark Howe Detroit Red Wings
Prime Signatures Dual 11 Reilly Smith Dallas Stars 50
Prime Signatures Dual 11 Brenden Dillon Dallas Stars
Prime Signatures Dual 13 Jussi Rynnas Toronto Maple Leafs 50
Prime Signatures Dual 13 Felix Potvin Toronto Maple Leafs
Prime Signatures Dual Black 5 Sven Baertschi Calgary Flames 1
Prime Signatures Dual Black 5 Leland Irving Calgary Flames
Prime Signatures Dual Black 7 Gordie Howe (R) Detroit Red Wings 1
Prime Signatures Dual Black 7 Mark Howe Detroit Red Wings
Prime Signatures Dual Black 11 Reilly Smith Dallas Stars 1
Prime Signatures Dual Black 11 Brenden Dillon Dallas Stars
Prime Signatures Dual Black 13 Jussi Rynnas Toronto Maple Leafs 1
Prime Signatures Dual Black 13 Felix Potvin Toronto Maple Leafs
Prime Signatures Dual Gold 7 Gordie Howe (R) Detroit Red Wings 5
Prime Signatures Dual Gold 7 Mark Howe Detroit Red Wings
Prime Signatures Dual Gold 11 Reilly Smith Dallas Stars 25
Prime Signatures Dual Gold 11 Brenden Dillon Dallas Stars
Prime Signatures Dual Gold 13 Jussi Rynnas Toronto Maple Leafs 25
Prime Signatures Dual Gold 13 Felix Potvin Toronto Maple Leafs
Prime Signatures Dual Holo Silver 7 Gordie Howe (R) Detroit Red Wings 3
Prime Signatures Dual Holo Silver 7 Mark Howe Detroit Red Wings
Prime Signatures Dual Holo Silver 11 Reilly Smith Dallas Stars 10
Prime Signatures Dual Holo Silver 11 Brenden Dillon Dallas Stars
Prime Signatures Dual Holo Silver 13 Jussi Rynnas Toronto Maple Leafs 10
Prime Signatures Dual Holo Silver 13 Felix Potvin Toronto Maple Leafs
Prime Signatures Gold 1 Adam Henrique New Jersey Devils 25
Prime Signatures Gold 2 Akim Aliu Calgary Flames 25
Prime Signatures Gold 3 Alex Ovechkin Washington Capitals 10
Prime Signatures Gold 5 Andrew Joudrey Columbus Blue Jackets 25
Prime Signatures Gold 6 Andrew Ladd Winnipeg Jets 25
Prime Signatures Gold 7 Bobby Ryan Anaheim Ducks 25
Prime Signatures Gold 8 Brad Richards New York Rangers 10
Prime Signatures Gold 10 Brayden Schenn Philadelphia Flyers 25
Prime Signatures Gold 11 Brenden Dillon Dallas Stars 25
Prime Signatures Gold 12 Brett Hull St. Louis Blues 10
Prime Signatures Gold 13 Cal Clutterbuck Minnesota Wild 25
Prime Signatures Gold 14 Casey Cizikas New York Islanders 25
Prime Signatures Gold 15 Chet Pickard Nashville Predators 25
Prime Signatures Gold 16 Chris Chelios Detroit Red Wings 10
Prime Signatures Gold 17 Chris Kreider New York Rangers 25
Prime Signatures Gold 19 Cory Schneider Vancouver Canucks 25
Prime Signatures Gold 20 Craig Smith Nashville Predators 25
Prime Signatures Gold 21 Eric Staal Carolina Hurricanes 10
Prime Signatures Gold 24 Gordie Howe (R) Detroit Red Wings 5
Prime Signatures Gold 25 Gustav Nyquist Detroit Red Wings 25
Prime Signatures Gold 26 J.T. Brown Tampa Bay Lightning 25
Prime Signatures Gold 27 Jaden Schwartz St. Louis Blues 25
Prime Signatures Gold 28 Jakob Silfverberg Ottawa Senators 25
Prime Signatures Gold 29 James Neal Pittsburgh Penguins 25
Prime Signatures Gold 31 Jarome Iginla Pittsburgh Penguins 10
Prime Signatures Gold 32 Joe Pavelski San Jose Sharks 25
Prime Signatures Gold 33 Joe Sakic Colorado Avalanche 10
Prime Signatures Gold 34 John LeClair Philadelphia Flyers 25
Prime Signatures Gold 35 John Tavares New York Islanders 10
Prime Signatures Gold 37 Jordin Tootoo Detroit Red Wings 25
Prime Signatures Gold 38 Keith Primeau Detroit Red Wings 25
Prime Signatures Gold 39 Keith Yandle Phoenix Coyotes 25
Prime Signatures Gold 40 Kyle Turris Ottawa Senators 25
Prime Signatures Gold 41 Leland Irving Calgary Flames 25
Prime Signatures Gold 45 Mark Stone Ottawa Senators 25
Prime Signatures Gold 47 Martin St. Louis Tampa Bay Lightning 10
Prime Signatures Gold 48 Matt Duchene Colorado Avalanche 10
Prime Signatures Gold 49 Matt Read Philadelphia Flyers 25
Prime Signatures Gold 50 Michael Stone Phoenix Coyotes 25
Prime Signatures Gold 51 Mika Zibanejad Ottawa Senators 10
Prime Signatures Gold 52 Michael Hutchinson Boston Bruins 25
Prime Signatures Gold 53 Mike Smith Phoenix Coyotes 25
Prime Signatures Gold 54 Nazem Kadri Toronto Maple Leafs 25
Prime Signatures Gold 55 Reilly Smith Dallas Stars 25
Prime Signatures Gold 56 Riley Sheahan Detroit Red Wings 25
Prime Signatures Gold 57 Robert Mayer Montreal Canadiens 25
Prime Signatures Gold 58 Ryan Garbutt Dallas Stars 25
Prime Signatures Gold 60 Ryan Nugent-Hopkins Edmonton Oilers 25
Prime Signatures Gold 62 Simon Despres Pittsburgh Penguins 25
Prime Signatures Gold 64 Sven Baertschi Calgary Flames 25
Prime Signatures Gold 65 Taylor Hall Edmonton Oilers 10
Prime Signatures Gold 66 Tomas Vokoun Pittsburgh Penguins 10
Prime Signatures Gold 67 Tony Esposito Chicago Blackhawks 10
Prime Signatures Gold 68 Tyson Barrie Colorado Avalanche 25
Prime Signatures Gold 69 Zac Dalpe Carolina Hurricanes 25
Prime Signatures Gold 70 Zack Kassian Vancouver Canucks 25
Prime Signatures Holo Silver 1 Adam Henrique New Jersey Devils 10
Prime Signatures Holo Silver 2 Akim Aliu Calgary Flames 10
Prime Signatures Holo Silver 3 Alex Ovechkin Washington Capitals 5
Prime Signatures Holo Silver 5 Andrew Joudrey Columbus Blue Jackets 10
Prime Signatures Holo Silver 6 Andrew Ladd Winnipeg Jets 10
Prime Signatures Holo Silver 7 Bobby Ryan Anaheim Ducks 10
Prime Signatures Holo Silver 8 Brad Richards New York Rangers 5
Prime Signatures Holo Silver 10 Brayden Schenn Philadelphia Flyers 10
Prime Signatures Holo Silver 11 Brenden Dillon Dallas Stars 10
Prime Signatures Holo Silver 12 Brett Hull St. Louis Blues 5
Prime Signatures Holo Silver 13 Cal Clutterbuck Minnesota Wild 10
Prime Signatures Holo Silver 14 Casey Cizikas New York Islanders 10
Prime Signatures Holo Silver 15 Chet Pickard Nashville Predators 10
Prime Signatures Holo Silver 16 Chris Chelios Detroit Red Wings 5
Prime Signatures Holo Silver 17 Chris Kreider New York Rangers 10
Prime Signatures Holo Silver 19 Cory Schneider Vancouver Canucks 10
Prime Signatures Holo Silver 20 Craig Smith Nashville Predators 10
Prime Signatures Holo Silver 21 Eric Staal Carolina Hurricanes 5
Prime Signatures Holo Silver 24 Gordie Howe (R) Detroit Red Wings 3
Prime Signatures Holo Silver 25 Gustav Nyquist Detroit Red Wings 10
Prime Signatures Holo Silver 26 J.T. Brown Tampa Bay Lightning 10
Prime Signatures Holo Silver 27 Jaden Schwartz St. Louis Blues 10
Prime Signatures Holo Silver 28 Jakob Silfverberg Ottawa Senators 10
Prime Signatures Holo Silver 29 James Neal Pittsburgh Penguins 10
Prime Signatures Holo Silver 31 Jarome Iginla Pittsburgh Penguins 5
Prime Signatures Holo Silver 32 Joe Pavelski San Jose Sharks 10
Prime Signatures Holo Silver 33 Joe Sakic Colorado Avalanche 5
Prime Signatures Holo Silver 34 John LeClair Philadelphia Flyers 10
Prime Signatures Holo Silver 35 John Tavares New York Islanders 5
Prime Signatures Holo Silver 37 Jordin Tootoo Detroit Red Wings 10
Prime Signatures Holo Silver 38 Keith Primeau Detroit Red Wings 10
Prime Signatures Holo Silver 39 Keith Yandle Phoenix Coyotes 10
Prime Signatures Holo Silver 40 Kyle Turris Ottawa Senators 10
Prime Signatures Holo Silver 41 Leland Irving Calgary Flames 10
Prime Signatures Holo Silver 45 Mark Stone Ottawa Senators 10
Prime Signatures Holo Silver 47 Martin St. Louis Tampa Bay Lightning 5
Prime Signatures Holo Silver 48 Matt Duchene Colorado Avalanche 5
Prime Signatures Holo Silver 49 Matt Read Philadelphia Flyers 10
Prime Signatures Holo Silver 50 Michael Stone Phoenix Coyotes 10
Prime Signatures Holo Silver 51 Mika Zibanejad Ottawa Senators 5
Prime Signatures Holo Silver 52 Michael Hutchinson Boston Bruins 10
Prime Signatures Holo Silver 53 Mike Smith Phoenix Coyotes 10
Prime Signatures Holo Silver 54 Nazem Kadri Toronto Maple Leafs 10
Prime Signatures Holo Silver 55 Reilly Smith Dallas Stars 10
Prime Signatures Holo Silver 56 Riley Sheahan Detroit Red Wings 10
Prime Signatures Holo Silver 57 Robert Mayer Montreal Canadiens 10
Prime Signatures Holo Silver 58 Ryan Garbutt Dallas Stars 10
Prime Signatures Holo Silver 60 Ryan Nugent-Hopkins Edmonton Oilers 10
Prime Signatures Holo Silver 62 Simon Despres Pittsburgh Penguins 10
Prime Signatures Holo Silver 64 Sven Baertschi Calgary Flames 10
Prime Signatures Holo Silver 65 Taylor Hall Edmonton Oilers 5
Prime Signatures Holo Silver 66 Tomas Vokoun Pittsburgh Penguins 5
Prime Signatures Holo Silver 67 Tony Esposito Chicago Blackhawks 5
Prime Signatures Holo Silver 68 Tyson Barrie Colorado Avalanche 10
Prime Signatures Holo Silver 69 Zac Dalpe Carolina Hurricanes 10
Prime Signatures Holo Silver 70 Zack Kassian Vancouver Canucks 10
Prime Signatures Trios 1 Chris Kreider New York Rangers 25
Prime Signatures Trios 1 Jakob Silfverberg Ottawa Senators
Prime Signatures Trios 1 Sven Baertschi Calgary Flames
Prime Signatures Trios Black 1 Chris Kreider New York Rangers 1
Prime Signatures Trios Black 1 Jakob Silfverberg Ottawa Senators
Prime Signatures Trios Black 1 Sven Baertschi Calgary Flames
Prime Signatures Trios Gold 1 Chris Kreider New York Rangers 10
Prime Signatures Trios Gold 1 Jakob Silfverberg Ottawa Senators
Prime Signatures Trios Gold 1 Sven Baertschi Calgary Flames
Prime Signatures Trios Holo Silver 1 Chris Kreider New York Rangers 5
Prime Signatures Trios Holo Silver 1 Jakob Silfverberg Ottawa Senators
Prime Signatures Trios Holo Silver 1 Sven Baertschi Calgary Flames
Prime Skates 1 Adam Henrique New Jersey Devils 25
Prime Skates 2 Igor Larionov Detroit Red Wings 25
Prime Skates 3 Joe Nieuwendyk New Jersey Devils 25
Prime Skates 4 Mike Richards Los Angeles Kings 25
Prime Skates 5 Zach Parise Minnesota Wild 25
Prime Skates 6 Alex Ovechkin Washington Capitals 25
Prime Skates 7 Ilya Kovalchuk New Jersey Devils 25
Prime Skates 8 Brad Richards New York Rangers 25
Prime Skates 9 Dan Girardi New York Rangers 25
Prime Skates 10 Carl Hagelin New York Rangers 25
Prime Skates 11 Joe Pavelski San Jose Sharks 25
Prime Skates 12 Marian Gaborik Columbus Blue Jackets 25
Prime Skates Extreme 1 Adam Henrique New Jersey Devils 1
Prime Skates Extreme 2 Igor Larionov Detroit Red Wings 1
Prime Skates Extreme 3 Joe Nieuwendyk New Jersey Devils 1
Prime Skates Extreme 4 Mike Richards Los Angeles Kings 1
Prime Skates Extreme 5 Zach Parise Minnesota Wild 1
Prime Skates Extreme 6 Alex Ovechkin Washington Capitals 1
Prime Skates Extreme 7 Ilya Kovalchuk New Jersey Devils 1
Prime Skates Extreme 8 Brad Richards New York Rangers 1
Prime Skates Extreme 9 Dan Girardi New York Rangers 1
Prime Skates Extreme 10 Carl Hagelin New York Rangers 1
Prime Skates Extreme 11 Joe Pavelski San Jose Sharks 1
Prime Skates Extreme 12 Marian Gaborik Columbus Blue Jackets 1
Prime Ties 1 Alex Tanguay Calgary Flames 1
Prime Ties 2 Carter Ashton Toronto Maple Leafs 1
Prime Ties 3 Curtis Glencross Calgary Flames 1
Prime Ties 4 Dan Girardi New York Rangers 1
Prime Ties 5 David Steckel Toronto Maple Leafs 1
Prime Ties 6 Dustin Byfuglien Winnipeg Jets 1
Prime Ties 7 Erik Johnson Colorado Avalanche 1
Prime Ties 8 Evgenii Dadonov Florida Panthers 1
Prime Ties 9 Frans Nielsen New York Islanders 1
Prime Ties 10 Gabriel Landeskog Colorado Avalanche 1
Prime Ties 11 Jean-Sebastien Giguere Colorado Avalanche 1
Prime Ties 12 Jason Pominville Buffalo Sabres 1
Prime Ties 13 Jay Bouwmeester Calgary Flames 1
Prime Ties 14 Jeremy Roenick Los Angeles Kings 1
Prime Ties 15 Keith Yandle Phoenix Coyotes 1
Prime Ties 16 Marc-Andre Fleury Pittsburgh Penguins 1
Prime Ties 17 Martin Hanzal Phoenix Coyotes 1
Prime Ties 18 Matt Stajan Calgary Flames 1
Prime Ties 19 Miikka Kiprusoff Calgary Flames 1
Prime Ties 20 Milan Hejduk Colorado Avalanche 1
Prime Ties 21 Milan Lucic Boston Bruins 1
Prime Ties 22 Nathan Horton Boston Bruins 1
Prime Ties 23 Nick Fotiu New York Rangers 1
Prime Ties 24 Patrick Sharp Chicago Blackhawks 1
Prime Ties 25 Paul Stastny Colorado Avalanche 1
Prime Ties 26 Pekka Rinne Nashville Predators 1
Prime Ties 27 Ryan O'Reilly Colorado Avalanche 1
Prime Ties 28 Semyon Varlamov Colorado Avalanche 1
Prime Ties 29 Shea Weber Nashville Predators 1
Prime Ties 30 Tyson Sexsmith San Jose Sharks 1
Prime Ties 31 Akim Aliu Calgary Flames 1
Prime Ties 32 Sven Baertschi Calgary Flames 1
Prime Ties 33 Shawn Hunwick Columbus Blue Jackets 1
Prime Ties 34 Joe Sakic Colorado Avalanche 1
Prime Ties 35 Zdeno Chara Boston Bruins 1
Prime Ties 36 John Tavares New York Islanders 1
Prime Ties 37 Marian Gaborik New York Rangers 1
Prime Ties 38 Max Sauve Chicago Blackhawks 1
Prime Ties 39 Travis Turnbull Buffalo Sabres 1
Prime Ties 40 Tyler Cuma Minnesota Wild 1
Prime Ties 41 Matt Watkins New York Islanders 1
Prime Ties 42 Jussi Rynnas Toronto Maple Leafs 1
Prime Ties 43 Chris Kreider New York Rangers 1
Prime Ties 44 Alexander Burmistrov Winnipeg Jets 1
Prime Ties 45 Carl Hagelin New York Rangers 1
Prime Ties 46 Dion Phaneuf Toronto Maple Leafs 1
Prime Ties 47 Henrik Lundqvist New York Rangers 1
Prime Ties 48 J.T. Brown Tampa Bay Lightning 1
Prime Ties 49 Jarome Iginla Calgary Flames 1
Prime Ties 50 Joffrey Lupul Toronto Maple Leafs 1
Prime Ties 51 Matt Duchene Colorado Avalanche 1
Prime Ties 52 Mikael Backlund Calgary Flames 1
Prime Ties 53 Paul Bissonnette Phoenix Coyotes 1
Prime Ties 54 Phil Kessel Toronto Maple Leafs 1
Prime Ties 55 Shane Doan Phoenix Coyotes 1
Prime Ties 56 Tim Thomas New York Islanders 1
Prime Ties 57 Tyler Seguin Boston Bruins 1
Prime Ties 58 Marc Staal New York Rangers 1
Prime Ties 59 Cody Hodgson Buffalo Sabres 1
Prime Ties 60 Ryan Hamilton Toronto Maple Leafs 1
Prime Ties 61 Jason Zucker Minnesota Wild 1
Prime Ties 62 Matt Donovan New York Islanders 1
Prime Ties 63 Andrew Joudrey Columbus Blue Jackets 1
Prime Ties 64 Torey Krug Boston Bruins 1
Prime Ties 65 Aaron Ness New York Islanders 1
Prime Ties 66 Drew Stafford Buffalo Sabres 1
Prime Ties 67 Chay Genoway Washington Capitals 1
Prime Ties 68 Michael Stone Phoenix Coyotes 1
Prime Ties 69 Dalton Prout Columbus Blue Jackets 1
Prime Ties 70 Mike Connolly Colorado Avalanche 1
Prime Ties 71 Kris Foucault Minnesota Wild 1
Prime Ties 72 Casey Cizikas New York Islanders 1
Prime Ties 73 Michael Hutchinson Boston Bruins 1
Prime Ties 74 Steven Stamkos Tampa Bay Lightning 1
Prime Ties 75 James Neal Pittsburgh Penguins 1
Prime Ties 76 Maxime Talbot Pittsburgh Penguins 1
Prime Ties 77 Matthew Lombardi Phoenix Coyotes 1
Prime Ties 78 Reilly Smith Dallas Stars 1
Prime Ties 79 Chris Kreider New York Rangers 1
Prime Ties 80 Jaden Schwartz St. Louis Blues 1
Prime Ties 81 Carter Ashton Toronto Maple Leafs 1
Prime Ties 82 Jussi Rynnas Toronto Maple Leafs 1
Prime Ties 83 Jake Allen St. Louis Blues 1
Prime Ties 84 Scott Glennie Dallas Stars 1
Prime Ties 85 Tyson Barrie Colorado Avalanche 1
Prime Ties 86 Cody Goloubef Columbus Blue Jackets 1
Prime Ties 87 Joe Thornton San Jose Sharks 1
Prime Time Rookies 1 Ryan Hamilton Toronto Maple Leafs 99
Prime Time Rookies 2 Jussi Rynnas Toronto Maple Leafs 99
Prime Time Rookies 3 Carter Ashton Toronto Maple Leafs 99
Prime Time Rookies 4 J.T. Brown Tampa Bay Lightning 99
Prime Time Rookies 5 Jake Allen St. Louis Blues 99
Prime Time Rookies 6 Jaden Schwartz St. Louis Blues 99
Prime Time Rookies 7 Tyson Sexsmith San Jose Sharks 99
Prime Time Rookies 8 Michael Stone Phoenix Coyotes 99
Prime Time Rookies 9 Brandon Manning Philadelphia Flyers 99
Prime Time Rookies 10 Mark Stone Ottawa Senators 99
Prime Time Rookies 11 Jakob Silfverberg Ottawa Senators 99
Prime Time Rookies 12 Chris Kreider New York Rangers 99
Prime Time Rookies 13 Matt Watkins New York Islanders 99
Prime Time Rookies 14 Matt Donovan New York Islanders 99
Prime Time Rookies 15 Casey Cizikas New York Islanders 99
Prime Time Rookies 16 Aaron Ness New York Islanders 99
Prime Time Rookies 17 Chet Pickard Nashville Predators 25
Prime Time Rookies 18 Robert Mayer Montreal Canadiens 99
Prime Time Rookies 19 Gabriel Dumont Montreal Canadiens 99
Prime Time Rookies 20 Tyler Cuma Minnesota Wild 99
Prime Time Rookies 21 Kris Foucault Minnesota Wild 99
Prime Time Rookies 22 Jason Zucker Minnesota Wild 99
Prime Time Rookies 23 Chay Genoway Washington Capitals 99
Prime Time Rookies 24 Jordan Nolan Los Angeles Kings 99
Prime Time Rookies 25 Colby Robak Florida Panthers 99
Prime Time Rookies 26 Philippe Cornet Edmonton Oilers 99
Prime Time Rookies 27 Riley Sheahan Detroit Red Wings 99
Prime Time Rookies 28 Scott Glennie Dallas Stars 99
Prime Time Rookies 29 Ryan Garbutt Dallas Stars 99
Prime Time Rookies 30 Reilly Smith Dallas Stars 99
Prime Time Rookies 31 Brenden Dillon Dallas Stars 99
Prime Time Rookies 32 Shawn Hunwick Columbus Blue Jackets 99
Prime Time Rookies 33 Dalton Prout Columbus Blue Jackets 99
Prime Time Rookies 34 Cody Goloubef Columbus Blue Jackets 99
Prime Time Rookies 35 Andrew Joudrey Columbus Blue Jackets 99
Prime Time Rookies 36 Tyson Barrie Colorado Avalanche 99
Prime Time Rookies 37 Mike Connolly Colorado Avalanche 99
Prime Time Rookies 38 Brandon Bollig Chicago Blackhawks 99
Prime Time Rookies 39 Jeremy Welsh Carolina Hurricanes 99
Prime Time Rookies 40 Sven Baertschi Calgary Flames 99
Prime Time Rookies 41 Akim Aliu Calgary Flames 99
Prime Time Rookies 42 Travis Turnbull Buffalo Sabres 99
Prime Time Rookies 43 Lane MacDermid Dallas Stars 99
Prime Time Rookies 44 Carter Camper Boston Bruins 99
Prime Time Rookies 45 Torey Krug Boston Bruins 99
Prime Time Rookies 46 Michael Hutchinson Boston Bruins 99
Prime Time Rookies 47 Max Sauve Chicago Blackhawks 99
Prime Time Rookies 48 Mat Clark Anaheim Ducks 99
Prime Time Rookies Autograph 1 Ryan Hamilton Toronto Maple Leafs 50
Prime Time Rookies Autograph 2 Jussi Rynnas Toronto Maple Leafs 50
Prime Time Rookies Autograph 3 Carter Ashton Toronto Maple Leafs 50
Prime Time Rookies Autograph 4 J.T. Brown Tampa Bay Lightning 50
Prime Time Rookies Autograph 6 Jaden Schwartz St. Louis Blues 50
Prime Time Rookies Autograph 7 Tyson Sexsmith San Jose Sharks 50
Prime Time Rookies Autograph 8 Michael Stone Phoenix Coyotes 50
Prime Time Rookies Autograph 9 Brandon Manning Philadelphia Flyers 50
Prime Time Rookies Autograph 10 Mark Stone Ottawa Senators 50
Prime Time Rookies Autograph 11 Jakob Silfverberg Ottawa Senators 50
Prime Time Rookies Autograph 12 Chris Kreider New York Rangers 50
Prime Time Rookies Autograph 13 Matt Watkins New York Islanders 50
Prime Time Rookies Autograph 14 Matt Donovan New York Islanders 50
Prime Time Rookies Autograph 15 Casey Cizikas New York Islanders 50
Prime Time Rookies Autograph 16 Aaron Ness New York Islanders 50
Prime Time Rookies Autograph 17 Chet Pickard Nashville Predators 10
Prime Time Rookies Autograph 18 Robert Mayer Montreal Canadiens 50
Prime Time Rookies Autograph 19 Gabriel Dumont Montreal Canadiens 50
Prime Time Rookies Autograph 20 Tyler Cuma Minnesota Wild 50
Prime Time Rookies Autograph 21 Kris Foucault Minnesota Wild 50
Prime Time Rookies Autograph 22 Jason Zucker Minnesota Wild 50
Prime Time Rookies Autograph 23 Chay Genoway Washington Capitals 50
Prime Time Rookies Autograph 24 Jordan Nolan Los Angeles Kings 50
Prime Time Rookies Autograph 25 Colby Robak Florida Panthers 50
Prime Time Rookies Autograph 26 Philippe Cornet Edmonton Oilers 50
Prime Time Rookies Autograph 27 Riley Sheahan Detroit Red Wings 50
Prime Time Rookies Autograph 28 Scott Glennie Dallas Stars 50
Prime Time Rookies Autograph 29 Ryan Garbutt Dallas Stars 50
Prime Time Rookies Autograph 30 Reilly Smith Dallas Stars 50
Prime Time Rookies Autograph 31 Brenden Dillon Dallas Stars 50
Prime Time Rookies Autograph 32 Shawn Hunwick Columbus Blue Jackets 50
Prime Time Rookies Autograph 33 Dalton Prout Columbus Blue Jackets 50
Prime Time Rookies Autograph 34 Cody Goloubef Columbus Blue Jackets 50
Prime Time Rookies Autograph 35 Andrew Joudrey Columbus Blue Jackets 50
Prime Time Rookies Autograph 36 Tyson Barrie Colorado Avalanche 50
Prime Time Rookies Autograph 37 Mike Connolly Colorado Avalanche 50
Prime Time Rookies Autograph 38 Brandon Bollig Chicago Blackhawks 10
Prime Time Rookies Autograph 39 Jeremy Welsh Carolina Hurricanes 50
Prime Time Rookies Autograph 40 Sven Baertschi Calgary Flames 50
Prime Time Rookies Autograph 41 Akim Aliu Calgary Flames 50
Prime Time Rookies Autograph 42 Travis Turnbull Buffalo Sabres 50
Prime Time Rookies Autograph 43 Lane MacDermid Dallas Stars 50
Prime Time Rookies Autograph 44 Carter Camper Boston Bruins 50
Prime Time Rookies Autograph 45 Torey Krug Boston Bruins 50
Prime Time Rookies Autograph 46 Michael Hutchinson Boston Bruins 50
Prime Time Rookies Autograph 47 Max Sauve Chicago Blackhawks 50
Prime Time Rookies Autograph 48 Mat Clark Anaheim Ducks 50
Prime Time Rookies Patch 1 Ryan Hamilton Toronto Maple Leafs 10
Prime Time Rookies Patch 2 Jussi Rynnas Toronto Maple Leafs 10
Prime Time Rookies Patch 3 Carter Ashton Toronto Maple Leafs 10
Prime Time Rookies Patch 4 J.T. Brown Tampa Bay Lightning 10
Prime Time Rookies Patch 5 Jake Allen St. Louis Blues 10
Prime Time Rookies Patch 6 Jaden Schwartz St. Louis Blues 10
Prime Time Rookies Patch 7 Tyson Sexsmith San Jose Sharks 10
Prime Time Rookies Patch 8 Michael Stone Phoenix Coyotes 10
Prime Time Rookies Patch 9 Brandon Manning Philadelphia Flyers 10
Prime Time Rookies Patch 10 Mark Stone Ottawa Senators 10
Prime Time Rookies Patch 11 Jakob Silfverberg Ottawa Senators 10
Prime Time Rookies Patch 12 Chris Kreider New York Rangers 10
Prime Time Rookies Patch 13 Matt Watkins New York Islanders 10
Prime Time Rookies Patch 14 Matt Donovan New York Islanders 10
Prime Time Rookies Patch 15 Casey Cizikas New York Islanders 10
Prime Time Rookies Patch 16 Aaron Ness New York Islanders 10
Prime Time Rookies Patch 17 Chet Pickard Nashville Predators 10
Prime Time Rookies Patch 18 Robert Mayer Montreal Canadiens 10
Prime Time Rookies Patch 19 Gabriel Dumont Montreal Canadiens 10
Prime Time Rookies Patch 20 Tyler Cuma Minnesota Wild 10
Prime Time Rookies Patch 21 Kris Foucault Minnesota Wild 10
Prime Time Rookies Patch 22 Jason Zucker Minnesota Wild 10
Prime Time Rookies Patch 23 Chay Genoway Washington Capitals 10
Prime Time Rookies Patch 24 Jordan Nolan Los Angeles Kings 10
Prime Time Rookies Patch 25 Colby Robak Florida Panthers 10
Prime Time Rookies Patch 27 Riley Sheahan Detroit Red Wings 10
Prime Time Rookies Patch 28 Scott Glennie Dallas Stars 10
Prime Time Rookies Patch 29 Ryan Garbutt Dallas Stars 10
Prime Time Rookies Patch 30 Reilly Smith Dallas Stars 10
Prime Time Rookies Patch 31 Brenden Dillon Dallas Stars 10
Prime Time Rookies Patch 32 Shawn Hunwick Columbus Blue Jackets 10
Prime Time Rookies Patch 33 Dalton Prout Columbus Blue Jackets 10
Prime Time Rookies Patch 34 Cody Goloubef Columbus Blue Jackets 10
Prime Time Rookies Patch 35 Andrew Joudrey Columbus Blue Jackets 10
Prime Time Rookies Patch 36 Tyson Barrie Colorado Avalanche 10
Prime Time Rookies Patch 37 Mike Connolly Colorado Avalanche 10
Prime Time Rookies Patch 38 Brandon Bollig Chicago Blackhawks 10
Prime Time Rookies Patch 39 Jeremy Welsh Carolina Hurricanes 10
Prime Time Rookies Patch 40 Sven Baertschi Calgary Flames 10
Prime Time Rookies Patch 41 Akim Aliu Calgary Flames 10
Prime Time Rookies Patch 42 Travis Turnbull Buffalo Sabres 10
Prime Time Rookies Patch 43 Lane MacDermid Dallas Stars 10
Prime Time Rookies Patch 44 Carter Camper Boston Bruins 10
Prime Time Rookies Patch 45 Torey Krug Boston Bruins 10
Prime Time Rookies Patch 46 Michael Hutchinson Boston Bruins 10
Prime Time Rookies Patch 47 Max Sauve Chicago Blackhawks 10
Prime Time Rookies Patch 48 Mat Clark Anaheim Ducks 10
Prime Time Rookies Patch Autograph 1 Ryan Hamilton Toronto Maple Leafs 5
Prime Time Rookies Patch Autograph 2 Jussi Rynnas Toronto Maple Leafs 5
Prime Time Rookies Patch Autograph 3 Carter Ashton Toronto Maple Leafs 5
Prime Time Rookies Patch Autograph 4 J.T. Brown Tampa Bay Lightning 5
Prime Time Rookies Patch Autograph 6 Jaden Schwartz St. Louis Blues 5
Prime Time Rookies Patch Autograph 7 Tyson Sexsmith San Jose Sharks 5
Prime Time Rookies Patch Autograph 8 Michael Stone Phoenix Coyotes 5
Prime Time Rookies Patch Autograph 9 Brandon Manning Philadelphia Flyers 5
Prime Time Rookies Patch Autograph 10 Mark Stone Ottawa Senators 5
Prime Time Rookies Patch Autograph 11 Jakob Silfverberg Ottawa Senators 5
Prime Time Rookies Patch Autograph 12 Chris Kreider New York Rangers 5
Prime Time Rookies Patch Autograph 13 Matt Watkins New York Islanders 5
Prime Time Rookies Patch Autograph 14 Matt Donovan New York Islanders 5
Prime Time Rookies Patch Autograph 15 Casey Cizikas New York Islanders 5
Prime Time Rookies Patch Autograph 16 Aaron Ness New York Islanders 5
Prime Time Rookies Patch Autograph 17 Chet Pickard Nashville Predators 5
Prime Time Rookies Patch Autograph 18 Robert Mayer Montreal Canadiens 5
Prime Time Rookies Patch Autograph 19 Gabriel Dumont Montreal Canadiens 5
Prime Time Rookies Patch Autograph 20 Tyler Cuma Minnesota Wild 5
Prime Time Rookies Patch Autograph 21 Kris Foucault Minnesota Wild 5
Prime Time Rookies Patch Autograph 22 Jason Zucker Minnesota Wild 5
Prime Time Rookies Patch Autograph 23 Chay Genoway Washington Capitals 5
Prime Time Rookies Patch Autograph 24 Jordan Nolan Los Angeles Kings 5
Prime Time Rookies Patch Autograph 25 Colby Robak Florida Panthers 5
Prime Time Rookies Patch Autograph 26 Philippe Cornet Edmonton Oilers 5
Prime Time Rookies Patch Autograph 27 Riley Sheahan Detroit Red Wings 5
Prime Time Rookies Patch Autograph 28 Scott Glennie Dallas Stars 5
Prime Time Rookies Patch Autograph 29 Ryan Garbutt Dallas Stars 5
Prime Time Rookies Patch Autograph 30 Reilly Smith Dallas Stars 5
Prime Time Rookies Patch Autograph 31 Brenden Dillon Dallas Stars 5
Prime Time Rookies Patch Autograph 32 Shawn Hunwick Columbus Blue Jackets 5
Prime Time Rookies Patch Autograph 33 Dalton Prout Columbus Blue Jackets 5
Prime Time Rookies Patch Autograph 34 Cody Goloubef Columbus Blue Jackets 5
Prime Time Rookies Patch Autograph 35 Andrew Joudrey Columbus Blue Jackets 5
Prime Time Rookies Patch Autograph 36 Tyson Barrie Colorado Avalanche 5
Prime Time Rookies Patch Autograph 37 Mike Connolly Colorado Avalanche 5
Prime Time Rookies Patch Autograph 38 Brandon Bollig Chicago Blackhawks 5
Prime Time Rookies Patch Autograph 39 Jeremy Welsh Carolina Hurricanes 5
Prime Time Rookies Patch Autograph 40 Sven Baertschi Calgary Flames 5
Prime Time Rookies Patch Autograph 41 Akim Aliu Calgary Flames 5
Prime Time Rookies Patch Autograph 42 Travis Turnbull Buffalo Sabres 5
Prime Time Rookies Patch Autograph 43 Lane MacDermid Dallas Stars 5
Prime Time Rookies Patch Autograph 44 Carter Camper Boston Bruins 5
Prime Time Rookies Patch Autograph 45 Torey Krug Boston Bruins 5
Prime Time Rookies Patch Autograph 46 Michael Hutchinson Boston Bruins 5
Prime Time Rookies Patch Autograph 47 Max Sauve Chicago Blackhawks 5
Prime Time Rookies Patch Autograph 48 Mat Clark Anaheim Ducks 5
Prime Trios 1 Andrej Sekera Buffalo Sabres 100
Prime Trios 1 Jhonas Enroth Buffalo Sabres
Prime Trios 1 Tyler Ennis Buffalo Sabres
Prime Trios 2 Cody Hodgson Buffalo Sabres 100
Prime Trios 2 Travis Turnbull Buffalo Sabres
Prime Trios 2 Ryan Miller Buffalo Sabres
Prime Trios 3 Bobby Clarke Philadelphia Flyers 100
Prime Trios 3 Eric Lindros Philadelphia Flyers
Prime Trios 3 Keith Primeau Philadelphia Flyers
Prime Trios 4 Brayden Schenn Philadelphia Flyers 100
Prime Trios 4 Brandon Manning Philadelphia Flyers
Prime Trios 4 Sean Couturier Philadelphia Flyers
Prime Trios 5 Brad Richards New York Rangers 100
Prime Trios 5 Marc Staal New York Rangers
Prime Trios 5 Henrik Lundqvist New York Rangers
Prime Trios 6 Carl Hagelin New York Rangers 100
Prime Trios 6 Chris Kreider New York Rangers
Prime Trios 6 Dan Girardi New York Rangers
Prime Trios 7 Cam Neely Boston Bruins 100
Prime Trios 7 Ray Bourque Boston Bruins
Prime Trios 7 Rick Middleton Boston Bruins
Prime Trios 8 Tyler Seguin Boston Bruins 100
Prime Trios 8 Tuukka Rask Boston Bruins
Prime Trios 8 Zdeno Chara Boston Bruins
Prime Trios 9 Taylor Hall Edmonton Oilers 100
Prime Trios 9 Ales Hemsky Edmonton Oilers
Prime Trios 9 Shawn Horcoff Edmonton Oilers
Prime Trios 10 Ryan Nugent-Hopkins Edmonton Oilers 100
Prime Trios 10 Philippe Cornet Edmonton Oilers
Prime Trios 10 Ryan Jones Edmonton Oilers
Prime Trios 11 Max Pacioretty Montreal Canadiens 100
Prime Trios 11 Josh Gorges Montreal Canadiens
Prime Trios 11 Lars Eller Montreal Canadiens
Prime Trios 12 Brian Gionta Montreal Canadiens 100
Prime Trios 12 Andrei Markov Montreal Canadiens
Prime Trios 12 Gabriel Dumont Montreal Canadiens
Prime Trios 13 Robert Mayer Montreal Canadiens 100
Prime Trios 13 Carey Price Montreal Canadiens
Prime Trios 13 Patrick Roy Montreal Canadiens
Prime Trios 14 Aaron Ness New York Islanders 100
Prime Trios 14 Frans Nielsen New York Islanders
Prime Trios 14 Pat LaFontaine New York Islanders
Prime Trios 15 Duncan Keith Chicago Blackhawks 100
Prime Trios 15 Ray Emery Chicago Blackhawks
Prime Trios 15 Corey Crawford Chicago Blackhawks
Prime Trios 16 John Tavares New York Islanders 100
Prime Trios 16 Matt Donovan New York Islanders
Prime Trios 16 Matt Watkins New York Islanders
Prime Trios 17 Casey Cizikas New York Islanders 100
Prime Trios 17 Evgeni Nabokov New York Islanders
Prime Trios 17 Lubomir Visnovsky New York Islanders
Prime Trios 18 Eric Lindros Philadelphia Flyers 100
Prime Trios 18 Alex Ovechkin Washington Capitals
Prime Trios 18 Ryan Nugent-Hopkins Edmonton Oilers
Prime Trios 19 Patrick Marleau San Jose Sharks 100
Prime Trios 19 Bobby Ryan Anaheim Ducks
Prime Trios 19 Tyler Seguin Boston Bruins
Prime Trios 20 Jonathan Toews Chicago Blackhawks 100
Prime Trios 20 Matt Duchene Colorado Avalanche
Prime Trios 20 Pat LaFontaine New York Islanders
Prime Trios 21 Ryan Miller Buffalo Sabres 100
Prime Trios 21 Chris Kreider New York Rangers
Prime Trios 21 Phil Kessel Toronto Maple Leafs
Prime Trios 22 Loui Eriksson Dallas Stars 100
Prime Trios 22 Gabriel Landeskog Colorado Avalanche
Prime Trios 22 Jakob Silfverberg Ottawa Senators
Prime Trios 23 Carl Hagelin New York Rangers 100
Prime Trios 23 Daniel Alfredsson Ottawa Senators
Prime Trios 23 Nicklas Lidstrom Detroit Red Wings
Prime Trios 24 Jake Allen St. Louis Blues 100
Prime Trios 24 Reilly Smith Dallas Stars
Prime Trios 24 Cody Goloubef Columbus Blue Jackets
Prime Trios 25 Tyson Barrie Colorado Avalanche 100
Prime Trios 25 Ryan Garbutt Dallas Stars
Prime Trios 25 Jordan Nolan Los Angeles Kings
Prime Trios 26 Pavel Datsyuk Detroit Red Wings 100
Prime Trios 26 Ilya Bryzgalov Philadelphia Flyers
Prime Trios 26 Alex Ovechkin Washington Capitals
Prime Trios 27 Evgeni Malkin Pittsburgh Penguins 100
Prime Trios 27 Ilya Kovalchuk New Jersey Devils
Prime Trios 27 Nikolai Kulemin Toronto Maple Leafs
Prime Trios 28 Jake Allen St. Louis Blues 100
Prime Trios 28 Jaden Schwartz St. Louis Blues
Prime Trios 28 Barret Jackman St. Louis Blues
Prime Trios 29 Saku Koivu Anaheim Ducks 100
Prime Trios 29 Corey Perry Anaheim Ducks
Prime Trios 29 Mat Clark Anaheim Ducks
Prime Trios 30 Al Iafrate Washington Capitals 100
Prime Trios 30 Al MacInnis St. Louis Blues
Prime Trios 30 Zdeno Chara Boston Bruins
Prime Trios Patch 1 Andrej Sekera Buffalo Sabres 10
Prime Trios Patch 1 Jhonas Enroth Buffalo Sabres
Prime Trios Patch 1 Tyler Ennis Buffalo Sabres
Prime Trios Patch 2 Cody Hodgson Buffalo Sabres 10
Prime Trios Patch 2 Travis Turnbull Buffalo Sabres
Prime Trios Patch 2 Ryan Miller Buffalo Sabres
Prime Trios Patch 3 Bobby Clarke Philadelphia Flyers 5
Prime Trios Patch 3 Eric Lindros Philadelphia Flyers
Prime Trios Patch 3 Keith Primeau Philadelphia Flyers
Prime Trios Patch 4 Brayden Schenn Philadelphia Flyers 10
Prime Trios Patch 4 Brandon Manning Philadelphia Flyers
Prime Trios Patch 4 Sean Couturier Philadelphia Flyers
Prime Trios Patch 5 Brad Richards New York Rangers 10
Prime Trios Patch 5 Marc Staal New York Rangers
Prime Trios Patch 5 Henrik Lundqvist New York Rangers
Prime Trios Patch 6 Carl Hagelin New York Rangers 10
Prime Trios Patch 6 Chris Kreider New York Rangers
Prime Trios Patch 6 Dan Girardi New York Rangers
Prime Trios Patch 7 Cam Neely Boston Bruins 10
Prime Trios Patch 7 Ray Bourque Boston Bruins
Prime Trios Patch 7 Rick Middleton Boston Bruins
Prime Trios Patch 8 Tyler Seguin Boston Bruins 10
Prime Trios Patch 8 Tuukka Rask Boston Bruins
Prime Trios Patch 8 Zdeno Chara Boston Bruins
Prime Trios Patch 9 Taylor Hall Edmonton Oilers 10
Prime Trios Patch 9 Ales Hemsky Edmonton Oilers
Prime Trios Patch 9 Shawn Horcoff Edmonton Oilers
Prime Trios Patch 10 Ryan Nugent-Hopkins Edmonton Oilers 5
Prime Trios Patch 10 Philippe Cornet Edmonton Oilers
Prime Trios Patch 10 Ryan Jones Edmonton Oilers
Prime Trios Patch 11 Max Pacioretty Montreal Canadiens 10
Prime Trios Patch 11 Josh Gorges Montreal Canadiens
Prime Trios Patch 11 Lars Eller Montreal Canadiens
Prime Trios Patch 12 Brian Gionta Montreal Canadiens 10
Prime Trios Patch 12 Andrei Markov Montreal Canadiens
Prime Trios Patch 12 Gabriel Dumont Montreal Canadiens
Prime Trios Patch 13 Robert Mayer Montreal Canadiens 10
Prime Trios Patch 13 Carey Price Montreal Canadiens
Prime Trios Patch 13 Patrick Roy Montreal Canadiens
Prime Trios Patch 14 Pat LaFontaine New York Islanders 10
Prime Trios Patch 14 Aaron Ness New York Islanders
Prime Trios Patch 14 Frans Nielsen New York Islanders
Prime Trios Patch 15 Ray Emery Chicago Blackhawks 10
Prime Trios Patch 15 Duncan Keith Chicago Blackhawks
Prime Trios Patch 15 Corey Crawford Chicago Blackhawks
Prime Trios Patch 16 John Tavares New York Islanders 10
Prime Trios Patch 16 Matt Donovan New York Islanders
Prime Trios Patch 16 Matt Watkins New York Islanders
Prime Trios Patch 17 Casey Cizikas New York Islanders 10
Prime Trios Patch 17 Evgeni Nabokov New York Islanders
Prime Trios Patch 17 Lubomir Visnovsky New York Islanders
Prime Trios Patch 18 Eric Lindros Philadelphia Flyers 10
Prime Trios Patch 18 Alex Ovechkin Washington Capitals
Prime Trios Patch 18 Ryan Nugent-Hopkins Edmonton Oilers
Prime Trios Patch 19 Patrick Marleau San Jose Sharks 10
Prime Trios Patch 19 Bobby Ryan Anaheim Ducks
Prime Trios Patch 19 Tyler Seguin Boston Bruins
Prime Trios Patch 20 Jonathan Toews Chicago Blackhawks 10
Prime Trios Patch 20 Matt Duchene Colorado Avalanche
Prime Trios Patch 20 Pat LaFontaine New York Islanders
Prime Trios Patch 21 Ryan Miller Buffalo Sabres 10
Prime Trios Patch 21 Chris Kreider New York Rangers
Prime Trios Patch 21 Phil Kessel Toronto Maple Leafs
Prime Trios Patch 22 Loui Eriksson Dallas Stars 10
Prime Trios Patch 22 Gabriel Landeskog Colorado Avalanche
Prime Trios Patch 22 Jakob Silfverberg Ottawa Senators
Prime Trios Patch 23 Carl Hagelin New York Rangers 10
Prime Trios Patch 23 Daniel Alfredsson Ottawa Senators
Prime Trios Patch 23 Nicklas Lidstrom Detroit Red Wings
Prime Trios Patch 24 Jake Allen St. Louis Blues 10
Prime Trios Patch 24 Reilly Smith Dallas Stars
Prime Trios Patch 24 Cody Goloubef Columbus Blue Jackets
Prime Trios Patch 25 Tyson Barrie Colorado Avalanche 10
Prime Trios Patch 25 Ryan Garbutt Dallas Stars
Prime Trios Patch 25 Jordan Nolan Los Angeles Kings
Prime Trios Patch 26 Pavel Datsyuk Detroit Red Wings 10
Prime Trios Patch 26 Ilya Bryzgalov Philadelphia Flyers
Prime Trios Patch 26 Alex Ovechkin Washington Capitals
Prime Trios Patch 27 Evgeni Malkin Pittsburgh Penguins 10
Prime Trios Patch 27 Ilya Kovalchuk New Jersey Devils
Prime Trios Patch 27 Nikolai Kulemin Toronto Maple Leafs
Prime Trios Patch 28 Jake Allen St. Louis Blues 10
Prime Trios Patch 28 Jaden Schwartz St. Louis Blues
Prime Trios Patch 28 Barret Jackman St. Louis Blues
Prime Trios Patch 29 Saku Koivu Anaheim Ducks 10
Prime Trios Patch 29 Corey Perry Anaheim Ducks
Prime Trios Patch 29 Mat Clark Anaheim Ducks
Prime Trios Patch 30 Al Iafrate Washington Capitals 10
Prime Trios Patch 30 Al MacInnis St. Louis Blues
Prime Trios Patch 30 Zdeno Chara Boston Bruins
Prime Trios Prime 1 Jhonas Enroth Buffalo Sabres 25
Prime Trios Prime 1 Andrej Sekera Buffalo Sabres
Prime Trios Prime 1 Tyler Ennis Buffalo Sabres
Prime Trios Prime 2 Cody Hodgson Buffalo Sabres 25
Prime Trios Prime 2 Travis Turnbull Buffalo Sabres
Prime Trios Prime 2 Ryan Miller Buffalo Sabres
Prime Trios Prime 3 Bobby Clarke Philadelphia Flyers 15
Prime Trios Prime 3 Eric Lindros Philadelphia Flyers
Prime Trios Prime 3 Keith Primeau Philadelphia Flyers
Prime Trios Prime 4 Brayden Schenn Philadelphia Flyers 25
Prime Trios Prime 4 Brandon Manning Philadelphia Flyers
Prime Trios Prime 4 Sean Couturier Philadelphia Flyers
Prime Trios Prime 5 Brad Richards New York Rangers 25
Prime Trios Prime 5 Marc Staal New York Rangers
Prime Trios Prime 5 Henrik Lundqvist New York Rangers
Prime Trios Prime 6 Carl Hagelin New York Rangers 25
Prime Trios Prime 6 Chris Kreider New York Rangers
Prime Trios Prime 6 Dan Girardi New York Rangers
Prime Trios Prime 7 Cam Neely Boston Bruins 25
Prime Trios Prime 7 Ray Bourque Boston Bruins
Prime Trios Prime 7 Rick Middleton Boston Bruins
Prime Trios Prime 8 Tyler Seguin Boston Bruins 25
Prime Trios Prime 8 Tuukka Rask Boston Bruins
Prime Trios Prime 8 Zdeno Chara Boston Bruins
Prime Trios Prime 9 Taylor Hall Edmonton Oilers 25
Prime Trios Prime 9 Ales Hemsky Edmonton Oilers
Prime Trios Prime 9 Shawn Horcoff Edmonton Oilers
Prime Trios Prime 10 Ryan Nugent-Hopkins Edmonton Oilers 25
Prime Trios Prime 10 Philippe Cornet Edmonton Oilers
Prime Trios Prime 10 Ryan Jones Edmonton Oilers
Prime Trios Prime 11 Max Pacioretty Montreal Canadiens 25
Prime Trios Prime 11 Josh Gorges Montreal Canadiens
Prime Trios Prime 11 Lars Eller Montreal Canadiens
Prime Trios Prime 12 Brian Gionta Montreal Canadiens 25
Prime Trios Prime 12 Andrei Markov Montreal Canadiens
Prime Trios Prime 12 Gabriel Dumont Montreal Canadiens
Prime Trios Prime 13 Robert Mayer Montreal Canadiens 25
Prime Trios Prime 13 Carey Price Montreal Canadiens
Prime Trios Prime 13 Patrick Roy Montreal Canadiens
Prime Trios Prime 14 Pat LaFontaine New York Islanders 25
Prime Trios Prime 14 Aaron Ness New York Islanders
Prime Trios Prime 14 Frans Nielsen New York Islanders
Prime Trios Prime 15 Ray Emery Chicago Blackhawks 25
Prime Trios Prime 15 Duncan Keith Chicago Blackhawks
Prime Trios Prime 15 Corey Crawford Chicago Blackhawks
Prime Trios Prime 16 John Tavares New York Islanders 25
Prime Trios Prime 16 Matt Donovan New York Islanders
Prime Trios Prime 16 Matt Watkins New York Islanders
Prime Trios Prime 17 Casey Cizikas New York Islanders 25
Prime Trios Prime 17 Evgeni Nabokov New York Islanders
Prime Trios Prime 17 Lubomir Visnovsky New York Islanders
Prime Trios Prime 18 Eric Lindros Philadelphia Flyers 25
Prime Trios Prime 18 Alex Ovechkin Washington Capitals
Prime Trios Prime 18 Ryan Nugent-Hopkins Edmonton Oilers
Prime Trios Prime 19 Patrick Marleau San Jose Sharks 25
Prime Trios Prime 19 Bobby Ryan Anaheim Ducks
Prime Trios Prime 19 Tyler Seguin Boston Bruins
Prime Trios Prime 20 Jonathan Toews Chicago Blackhawks 25
Prime Trios Prime 20 Matt Duchene Colorado Avalanche
Prime Trios Prime 20 Pat LaFontaine New York Islanders
Prime Trios Prime 21 Ryan Miller Buffalo Sabres 25
Prime Trios Prime 21 Chris Kreider New York Rangers
Prime Trios Prime 21 Phil Kessel Toronto Maple Leafs
Prime Trios Prime 22 Loui Eriksson Dallas Stars 25
Prime Trios Prime 22 Gabriel Landeskog Colorado Avalanche
Prime Trios Prime 22 Jakob Silfverberg Ottawa Senators
Prime Trios Prime 23 Carl Hagelin New York Rangers 25
Prime Trios Prime 23 Daniel Alfredsson Ottawa Senators
Prime Trios Prime 23 Nicklas Lidstrom Detroit Red Wings
Prime Trios Prime 24 Jake Allen St. Louis Blues 25
Prime Trios Prime 24 Reilly Smith Dallas Stars
Prime Trios Prime 24 Cody Goloubef Columbus Blue Jackets
Prime Trios Prime 25 Tyson Barrie Colorado Avalanche 25
Prime Trios Prime 25 Ryan Garbutt Dallas Stars
Prime Trios Prime 25 Jordan Nolan Los Angeles Kings
Prime Trios Prime 26 Pavel Datsyuk Detroit Red Wings 25
Prime Trios Prime 26 Ilya Bryzgalov Philadelphia Flyers
Prime Trios Prime 26 Alex Ovechkin Washington Capitals
Prime Trios Prime 27 Evgeni Malkin Pittsburgh Penguins 25
Prime Trios Prime 27 Ilya Kovalchuk New Jersey Devils
Prime Trios Prime 27 Nikolai Kulemin Toronto Maple Leafs
Prime Trios Prime 28 Jake Allen St. Louis Blues 25
Prime Trios Prime 28 Jaden Schwartz St. Louis Blues
Prime Trios Prime 28 Barret Jackman St. Louis Blues
Prime Trios Prime 29 Saku Koivu Anaheim Ducks 25
Prime Trios Prime 29 Corey Perry Anaheim Ducks
Prime Trios Prime 29 Mat Clark Anaheim Ducks
Prime Trios Prime 30 Al Iafrate Washington Capitals 25
Prime Trios Prime 30 Al MacInnis St. Louis Blues
Prime Trios Prime 30 Zdeno Chara Boston Bruins
Remarkable Prime 1 Mark Messier Vancouver Canucks 5
Remarkable Prime 2 Teemu Selanne Anaheim Ducks 4
Remarkable Prime 3 Rod Brind'Amour Carolina Hurricanes 3
Remarkable Prime 4 Evgenii Dadonov Florida Panthers 3
Remarkable Prime 5 Dave Andreychuk New Jersey Devils 3
Remarkable Prime 6 Alex Ovechkin Washington Capitals 1
Remarkable Prime 7 Bernie Parent Philadelphia Flyers 2
Remarkable Prime 8 Dave Taylor Los Angeles Kings 2
Remarkable Prime 9 Eric Lindros Philadelphia Flyers 4
Remarkable Prime 10 Jeff Carter Los Angeles Kings 2
Remarkable Prime 11 Jeremy Roenick Philadelphia Flyers 3
Remarkable Prime 12 Joffrey Lupul Toronto Maple Leafs 2
Remarkable Prime 13 Jonathan Toews Chicago Blackhawks 3
Remarkable Prime 14 Karl Alzner Washington Capitals 2
Remarkable Prime 15 Luc Robitaille Pittsburgh Penguins 3
Remarkable Prime 16 Mario Lemieux Pittsburgh Penguins 3
Remarkable Prime 17 Milan Hejduk Colorado Avalanche 2
Remarkable Prime 18 Nikolai Kulemin Toronto Maple Leafs 4
Remarkable Prime 19 Ray Bourque Boston Bruins 2
Remarkable Prime 20 Ron Francis Carolina Hurricanes 4
Remarkable Prime 21 Rick Tocchet Pittsburgh Penguins 3
Remarkable Prime 22 Rogie Vachon Los Angeles Kings 3
Remarkable Prime 23 Vincent Lecavalier Tampa Bay Lightning 3
Remarkable Prime 24 Saku Koivu Anaheim Ducks 4
Seams Incredible 1 Adam Foote Colorado Avalanche 10
Seams Incredible 2 Adam Larsson New Jersey Devils 10
Seams Incredible 3 Ales Hemsky Edmonton Oilers 10
Seams Incredible 4 Alex Ovechkin Washington Capitals 7
Seams Incredible 5 Alex Tanguay Calgary Flames 6
Seams Incredible 6 Alexander Burmistrov Winnipeg Jets 6
Seams Incredible 7 Antti Niemi San Jose Sharks 10
Seams Incredible 8 Anze Kopitar Los Angeles Kings 10
Seams Incredible 9 Bobby Ryan Anaheim Ducks 6
Seams Incredible 10 Brandon Bollig Chicago Blackhawks 10
Seams Incredible 11 Brian Elliott St. Louis Blues 10
Seams Incredible 12 Cam Fowler Anaheim Ducks 6
Seams Incredible 13 Carey Price Montreal Canadiens 4
Seams Incredible 14 Chet Pickard Nashville Predators 10
Seams Incredible 15 Chris Kreider New York Rangers 10
Seams Incredible 16 Corey Perry Anaheim Ducks 6
Seams Incredible 17 Curtis Glencross Calgary Flames 5
Seams Incredible 18 Daniel Briere Philadelphia Flyers 9
Seams Incredible 19 David Backes St. Louis Blues 8
Seams Incredible 20 Devan Dubnyk Edmonton Oilers 10
Seams Incredible 21 Evgeni Malkin Pittsburgh Penguins 5
Seams Incredible 22 Gabriel Landeskog Colorado Avalanche 10
Seams Incredible 23 Henrik Lundqvist New York Rangers 10
Seams Incredible 24 Ilya Bryzgalov Philadelphia Flyers 9
Seams Incredible 25 Jaden Schwartz St. Louis Blues 10
Seams Incredible 26 Jake Allen St. Louis Blues 10
Seams Incredible 27 Jakob Silfverberg Ottawa Senators 10
Seams Incredible 28 James van Riemsdyk Toronto Maple Leafs 4
Seams Incredible 29 Jamie Benn Dallas Stars 10
Seams Incredible 30 Jaromir Jagr Boston Bruins 5
Seams Incredible 31 Jean-Sebastien Giguere Colorado Avalanche 10
Seams Incredible 32 Joe Thornton San Jose Sharks 10
Seams Incredible 33 John Tavares New York Islanders 6
Seams Incredible 34 Jonas Hiller Anaheim Ducks 8
Seams Incredible 35 Jonathan Quick Los Angeles Kings 10
Seams Incredible 36 Jonathan Toews Chicago Blackhawks 8
Seams Incredible 37 Jordan Eberle Edmonton Oilers 9
Seams Incredible 38 Jordan Staal Carolina Hurricanes 7
Seams Incredible 39 Josh Gorges Montreal Canadiens 10
Seams Incredible 40 Kari Lehtonen Dallas Stars 8
Seams Incredible 41 Kevin Shattenkirk St. Louis Blues 8
Seams Incredible 42 Kris Letang Pittsburgh Penguins 5
Seams Incredible 43 Lars Eller Montreal Canadiens 10
Seams Incredible 44 Logan Couture San Jose Sharks 10
Seams Incredible 45 Loui Eriksson Dallas Stars 8
Seams Incredible 46 Luke Schenn Philadelphia Flyers 4
Seams Incredible 47 Marc-Andre Fleury Pittsburgh Penguins 8
Seams Incredible 48 Marian Gaborik Columbus Blue Jackets 10
Seams Incredible 49 Marian Hossa Chicago Blackhawks 5
Seams Incredible 50 Martin Brodeur New Jersey Devils 10
Seams Incredible 51 Martin Hanzal Phoenix Coyotes 7
Seams Incredible 52 Martin St. Louis Tampa Bay Lightning 4
Seams Incredible 53 Matt Duchene Colorado Avalanche 10
Seams Incredible 54 Matt Read Philadelphia Flyers 5
Seams Incredible 55 Matt Stajan Calgary Flames 6
Seams Incredible 56 Max Pacioretty Montreal Canadiens 10
Seams Incredible 57 Miikka Kiprusoff Calgary Flames 7
Seams Incredible 58 Mike Smith Phoenix Coyotes 6
Seams Incredible 59 Mikhail Grabovski Toronto Maple Leafs 10
Seams Incredible 60 Milan Hejduk Colorado Avalanche 10
Seams Incredible 61 Milan Lucic Boston Bruins 10
Seams Incredible 63 P.K. Subban Montreal Canadiens 10
Seams Incredible 64 Paul Bissonnette Phoenix Coyotes 5
Seams Incredible 65 Pekka Rinne Nashville Predators 10
Seams Incredible 66 Reilly Smith Dallas Stars 10
Seams Incredible 67 Riley Sheahan Detroit Red Wings 10
Seams Incredible 68 Roberto Luongo Vancouver Canucks 10
Seams Incredible 69 Ryan Getzlaf Anaheim Ducks 6
Seams Incredible 70 Ryan Jones Edmonton Oilers 10
Seams Incredible 71 Ryan Kesler Vancouver Canucks 7
Seams Incredible 72 Ryan Nugent-Hopkins Edmonton Oilers 9
Seams Incredible 73 Saku Koivu Anaheim Ducks 8
Seams Incredible 74 Sam Gagner Edmonton Oilers 10
Seams Incredible 75 Scott Clemmensen Florida Panthers 10
Seams Incredible 76 Sean Couturier Philadelphia Flyers 5
Seams Incredible 77 Semyon Varlamov Colorado Avalanche 10
Seams Incredible 78 Shawn Horcoff Edmonton Oilers 7
Seams Incredible 79 Shea Weber Nashville Predators 10
Seams Incredible 80 Sidney Crosby Pittsburgh Penguins 6
Seams Incredible 81 Simon Despres Pittsburgh Penguins 6
Seams Incredible 82 Steve Downie Colorado Avalanche 9
Seams Incredible 83 Steven Stamkos Tampa Bay Lightning 4
Seams Incredible 84 Sven Baertschi Calgary Flames 10
Seams Incredible 85 T.J. Oshie St. Louis Blues 7
Seams Incredible 86 Taylor Hall Edmonton Oilers 10
Seams Incredible 87 Travis Zajac New Jersey Devils 10
Seams Incredible 88 Tuukka Rask Boston Bruins 10
Seams Incredible 89 Tyler Seguin Boston Bruins 10
Seams Incredible 90 Tyson Barrie Colorado Avalanche 10
Seams Incredible 91 Vincent Lecavalier Tampa Bay Lightning 3
Seams Incredible 92 Wayne Simmonds Philadelphia Flyers 4
Seams Incredible 93 Zach Parise Minnesota Wild 8
Seams Incredible 94 Zdeno Chara Boston Bruins 10
Seams Incredible 95 Marc Staal New York Rangers 10
Seams Incredible 96 Tyson Sexsmith San Jose Sharks 10
Seams Incredible 97 J.T. Brown Tampa Bay Lightning 10
Seams Incredible 98 Carter Ashton Toronto Maple Leafs 10
Seams Incredible 99 Brenden Dillon Dallas Stars 10
Seams Incredible 100 Jason Zucker Minnesota Wild 10
Showcase Dual Patches 1 Carter Ashton Toronto Maple Leafs 1
Showcase Dual Patches 2 Jake Allen St. Louis Blues 1
Showcase Dual Patches 3 Jussi Rynnas Toronto Maple Leafs 1
Showcase Dual Patches 4 Scott Glennie Dallas Stars 1
Showcase Dual Patches 5 Reilly Smith Dallas Stars 1
Showcase Dual Patches 6 Chris Kreider New York Rangers 1
Showcase Dual Patches 7 Tyson Barrie Colorado Avalanche 1
Showcase Dual Patches 8 Jaden Schwartz St. Louis Blues 1
Showcase Logo Patch Extreme 1 Carter Ashton Toronto Maple Leafs 1
Showcase Logo Patch Extreme 2 Jake Allen St. Louis Blues 1
Showcase Logo Patch Extreme 3 Jussi Rynnas Toronto Maple Leafs 1
Showcase Logo Patch Extreme 4 Scott Glennie Dallas Stars 1
Showcase Logo Patch Extreme 5 Reilly Smith Dallas Stars 1
Showcase Logo Patch Extreme 6 Chris Kreider New York Rangers 1
Showcase Logo Patch Extreme 7 Tyson Barrie Colorado Avalanche 1
Showcase Logo Patch Extreme 8 Jaden Schwartz St. Louis Blues 1
Showcase Logo Patch Left Side 1 Carter Ashton Toronto Maple Leafs 2
Showcase Logo Patch Left Side 2 Jake Allen St. Louis Blues 2
Showcase Logo Patch Left Side 3 Jussi Rynnas Toronto Maple Leafs 2
Showcase Logo Patch Left Side 4 Scott Glennie Dallas Stars 2
Showcase Logo Patch Left Side 5 Reilly Smith Dallas Stars 2
Showcase Logo Patch Left Side 6 Chris Kreider New York Rangers 2
Showcase Logo Patch Left Side 7 Tyson Barrie Colorado Avalanche 2
Showcase Logo Patch Left Side 8 Jaden Schwartz St. Louis Blues 2
Showcase Logo Patch Right Side 1 Carter Ashton Toronto Maple Leafs 2
Showcase Logo Patch Right Side 2 Jake Allen St. Louis Blues 2
Showcase Logo Patch Right Side 3 Jussi Rynnas Toronto Maple Leafs 2
Showcase Logo Patch Right Side 4 Scott Glennie Dallas Stars 2
Showcase Logo Patch Right Side 5 Reilly Smith Dallas Stars 2
Showcase Logo Patch Right Side 6 Chris Kreider New York Rangers 2
Showcase Logo Patch Right Side 7 Tyson Barrie Colorado Avalanche 2
Showcase Logo Patch Right Side 8 Jaden Schwartz St. Louis Blues 2
Showcase Patches 1 Carter Ashton Toronto Maple Leafs 15
Showcase Patches 2 Jake Allen St. Louis Blues 15
Showcase Patches 3 Jussi Rynnas Toronto Maple Leafs 15
Showcase Patches 4 Scott Glennie Dallas Stars 15
Showcase Patches 5 Reilly Smith Dallas Stars 15
Showcase Patches 6 Chris Kreider New York Rangers 15
Showcase Patches 7 Tyson Barrie Colorado Avalanche 15
Showcase Patches 8 Jaden Schwartz St. Louis Blues 15
Showcase Prime Colors 1 Carter Ashton Toronto Maple Leafs 35
Showcase Prime Colors 2 Jake Allen St. Louis Blues 35
Showcase Prime Colors 3 Jussi Rynnas Toronto Maple Leafs 35
Showcase Prime Colors 4 Scott Glennie Dallas Stars 35
Showcase Prime Colors 5 Reilly Smith Dallas Stars 35
Showcase Prime Colors 6 Chris Kreider New York Rangers 35
Showcase Prime Colors 7 Tyson Barrie Colorado Avalanche 35
Showcase Prime Colors 8 Jaden Schwartz St. Louis Blues 35
Showcase Swatches 1 Chris Kreider New York Rangers 25
Showcase Swatches 2 Jaden Schwartz St. Louis Blues 25
Showcase Swatches 3 Pat Falloon Pittsburgh Penguins 25
Showcase Swatches 4 Gordie Howe (R) Hartford Whalers 10
Showcase Swatches 5 Alex Ovechkin Washington Capitals 25
Showcase Swatches 6 Al Iafrate Toronto Maple Leafs 25
Showcase Swatches 7 Al MacInnis St. Louis Blues 25
Showcase Swatches 8 Alex Tanguay Calgary Flames 25
Showcase Swatches 9 Andrew Cogliano Anaheim Ducks 25
Showcase Swatches 10 Artem Anisimov Columbus Blue Jackets 25
Showcase Swatches 11 Akim Aliu Calgary Flames 25
Showcase Swatches 12 Anze Kopitar Los Angeles Kings 25
Showcase Swatches 13 Barret Jackman St. Louis Blues 25
Showcase Swatches 14 Bernie Nicholls Los Angeles Kings 25
Showcase Swatches 15 Bobby Clarke Philadelphia Flyers 25
Showcase Swatches 16 Bobby Ryan Anaheim Ducks 25
Showcase Swatches 17 Zach Parise Minnesota Wild 25
Showcase Swatches 18 Wojtek Wolski Washington Capitals 25
Showcase Swatches 19 Wayne Simmonds Philadelphia Flyers 25
Showcase Swatches 20 Wade Redden Boston Bruins 25
Showcase Swatches 21 Vincent Lecavalier Tampa Bay Lightning 25
Showcase Swatches 22 Valtteri Filppula Detroit Red Wings 25
Showcase Swatches 23 Tyson Barrie Colorado Avalanche 25
Showcase Swatches 24 Tyler Seguin Boston Bruins 25
Showcase Swatches 25 Tuukka Rask Boston Bruins 25
Showcase Swatches 26 Ilya Kovalchuk New Jersey Devils 25
Showcase Swatches 27 Teemu Selanne Anaheim Ducks 25
Showcase Swatches 28 Taylor Hall Edmonton Oilers 25
Showcase Swatches 29 Stu Grimson Nashville Predators 25
Showcase Swatches 30 Steven Stamkos Tampa Bay Lightning 25
Showcase Swatches 31 Steve Yzerman Detroit Red Wings 25
Showcase Swatches 32 Sidney Crosby Pittsburgh Penguins 25
Showcase Swatches 33 Shea Weber Nashville Predators 25
Showcase Swatches 34 Shawn Horcoff Edmonton Oilers 25
Showcase Swatches 35 Saku Koivu Anaheim Ducks 25
Showcase Swatches 36 Ryan Miller Buffalo Sabres 25
Showcase Swatches 37 Ryan Kesler Vancouver Canucks 25
Showcase Swatches 38 Brandon Bollig Chicago Blackhawks 25
Showcase Swatches 39 Brandon Prust Montreal Canadiens 25
Showcase Swatches 40 Brendan Shanahan New York Rangers 25
Showcase Swatches 41 Brian Elliott St. Louis Blues 25
Showcase Swatches 42 Jake Allen St. Louis Blues 25
Showcase Swatches 43 James van Riemsdyk Toronto Maple Leafs 25
Showcase Swatches 44 Jamie Benn Dallas Stars 25
Showcase Swatches 45 Jonathan Quick Los Angeles Kings 25
Showcase Swatches 46 Jussi Rynnas Toronto Maple Leafs 25
Showcase Swatches 47 Luke Schenn Philadelphia Flyers 25
Showcase Swatches 48 Martin Brodeur New Jersey Devils 25
Showcase Swatches 49 Martin St. Louis Tampa Bay Lightning 25
Showcase Swatches 50 Nicklas Lidstrom Detroit Red Wings 25
Showcase Swatches 51 Ondrej Pavelec Winnipeg Jets 25
Showcase Swatches 52 Pavel Datsyuk Detroit Red Wings 25
Showcase Swatches 53 Ron Francis Hartford Whalers 25
Showcase Swatches 54 Ryan Garbutt Dallas Stars 25
Showcase Swatches 55 Cal Clutterbuck Minnesota Wild 25
Showcase Swatches 56 Cam Neely Vancouver Canucks 25
Showcase Swatches 57 Carey Price Montreal Canadiens 25
Showcase Swatches 58 Claude Giroux Philadelphia Flyers 25
Showcase Swatches 59 Corey Perry Anaheim Ducks 25
Showcase Swatches 60 James Neal Pittsburgh Penguins 25
Showcase Swatches 61 Joe Thornton San Jose Sharks 25
Showcase Swatches 62 Jonathan Toews Chicago Blackhawks 25
Showcase Swatches 63 Sven Baertschi Calgary Flames 25
Showcase Swatches 64 Casey Cizikas New York Islanders 25
Showcase Swatches 65 Brenden Morrow Pittsburgh Penguins 25
Showcase Swatches 66 Dany Heatley Minnesota Wild 25
Showcase Swatches 67 Frans Nielsen New York Islanders 25
Showcase Swatches 68 Jeremy Roenick Los Angeles Kings 25
Showcase Swatches 69 Joe Sakic Colorado Avalanche 25
Showcase Swatches 70 John LeClair Philadelphia Flyers 25
Showcase Swatches 71 Kari Lehtonen Dallas Stars 25
Showcase Swatches 72 Matt Stajan Calgary Flames 25
Showcase Swatches 73 Milan Lucic Boston Bruins 25
Showcase Swatches 74 Henrik Lundqvist New York Rangers 25
Showcase Swatches 75 Nikolai Kulemin Toronto Maple Leafs 25
Showcase Swatches 76 Patrick Marleau San Jose Sharks 25
Showcase Swatches 77 Pekka Rinne Nashville Predators 25
Showcase Swatches 78 Roberto Luongo Vancouver Canucks 25
Showcase Swatches 79 Dustin Brown Los Angeles Kings 25
Showcase Swatches 80 Paul Bissonnette Phoenix Coyotes 25