Panini revives boxed update set for Score hockey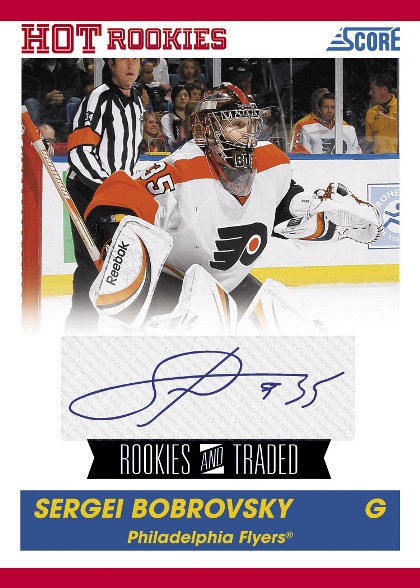 By Chris Olds | BSCM Editor
We all know that this year's Score hockey set was a throwback product to the early 1990s with its retro design, autographed buybacks and emphasis on cardboard and collecting vs. the big-money autographed hits at just 99 cents a pack. (Ironically, the tough-pull autos turned out to be hits, but I digress…)
On Tuesday, Panini America announced another nod to the past for the product line as it unveiled plans for a 2010-11 Score Rookies & Traded set that will arrive in June with 99 cards five parallels and a rookie autograph in each and every box for a relative throwback price — $19.99.
It's been awhile since a season-capping boxed set was mass distributed this way, rather than in packs. For collectors who remember the Score Rookies & Traded sets in hockey and baseball (and Score Supplemental in football), it might add some additional retro kick.
"One of the first Rookies and Traded sets was memorable for the Eric Lindros baseball card, but this one is all-hockey, all the time," said Al Muir, Panini America NHL Brand Manager. "The first 34 cards of the set feature new cards of the season's hottest rookies — Taylor Hall, Jeff Skinner and Tyler Seguin among them — veteran players who swapped sweaters — including Michael Grabner, Tomas Kaberle and Erik Johnson — and a few key free agent signings, most notably Colorado's Peter Forsberg."
Oh, and that 99-card checklist? Turns out that there is a modern-day chase here as well. The 100th card in the set, the company said, will be found in every 20th set. It's a mystery card of an NHL legend who has never appeared on a card before.
Let the speculation begin …