Panini reveals rookie redemptions for 2012-13 Certified and Limited hockey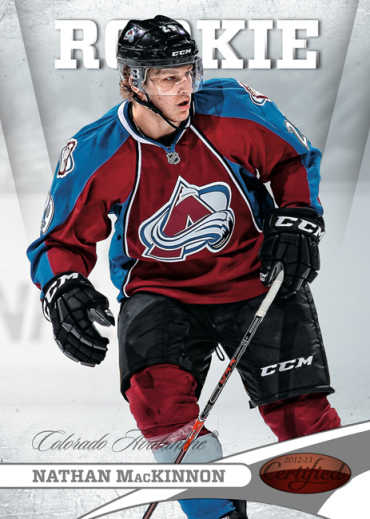 By Susan Lulgjuraj | Beckett Hockey Editor
Panini America announced the checklists for the rookie redemptions in 2012-13 Certified Hockey and 2012-13 Limited Hockey.
The players include a slew of those featured in the Double Rookie Class such as Nail Yakupov, Tomas Hertl and Nathan MacKinnon.
Below are the checklists for the redemptions for the two products.
2012-13 Certified Hockey (numbered to 499)
R1. Nail Yakupov, Edmonton Oilers
R2. Alex Galchenyuk, Montreal Canadiens
R3. Jonathan Huberdeau, Florida Panthers
R4. Brendan Gallagher, Montreal Canadiens
R5. Dougie Hamilton, Boston Bruins
R6. Vladimir Tarasenko, St. Louis Blues
R7. Mikhail Grigorenko, Buffalo Sabres
R8. Sean Monahan, Calgary Flames
R9. Seth Jones, Nashville Predators
R10. Morgan Rielly, Toronto Maple Leafs
R11. Tomas Hertl, San Jose Sharks
R12. Jacob Trouba, Winnipeg Jets
R13. Ryan Murray, Columbus Blue Jackets
R14. Aleksander Barkov, Florida Panthers
R15. Nathan MacKinnon, Colorado Avalanche
2012-13 Limited Hockey (numbered to 499)
1. Anaheim Ducks (Etem, Rakell, Lindholm, Fasth)
2. Boston Bruins (Hamilton, Spooner, Soderberg)
3. Buffalo Sabres (Grigorenko, Girgensons, Pysyk, Ristolainen)
4. Calgary Flames (Monahan, Street)
5. Carolina Hurricanes (Lindholm, Staal, Murphy)
6. Chicago Blackhawks (Nordstrom, LeBlanc)
7. Colorado Avalanche (MacKinnon, Pickard)
8. Columbus Blue Jackets (Jenner, Murray)
9. Dallas Stars (Nichushkin, Chiasson, Roussel, Campbell)
10. Detroit Red Wings (Lashoff, DeKeyser, Mrazek)
11. Edmonton Oilers (Yakupov, Schultz)
12. Florida Panthers (Barkov, Huberdeau, Howden)
13. Los Angeles Kings (Toffoli, Pearson)
14. Minnesota Wild (Granlund, Coyle, Dumba, Brodin)
15. Montreal Canadiens (Galchenyuk, Gallagher, Beaulieu, Tinordi)
16. Nashville Predators (Forsberg, Jones)
17. New Jersey Devils (Brunner, Matteau)
18. New York Islanders (Nelson, Hickey)
19. New York Rangers (Miller, Fast)
20. Ottawa Senators (Conacher, Pageau)
21. Philadelphia Flyers (Laughton, McGinn)
22. Phoenix Coyotes (Brown, Lessio)
23. Pittsburgh Penguins (Bennett, Maatta)
24. St. Louis Blues (Tarasenko)
25. San Jose Sharks (Hertl, Nieto, Irwin)
26. Tampa Bay Lightning (Killorn, Panik, Palat, Gudas)
27. Toronto Maple Leafs (Rielly)
28. Vancouver Canucks (Jensen, Schroeder)
29. Washington Capitals (Carrick, Wilson)
30. Winnipeg Jets (Peluso, Trouba)
Susan Lulgjuraj is an editor at Beckett Media. You can email her here with questions, comments or ideas. Follow her on Twitter here. Follow Beckett Media on Facebook and Twitter.