Panini releases short-print info on Score Hockey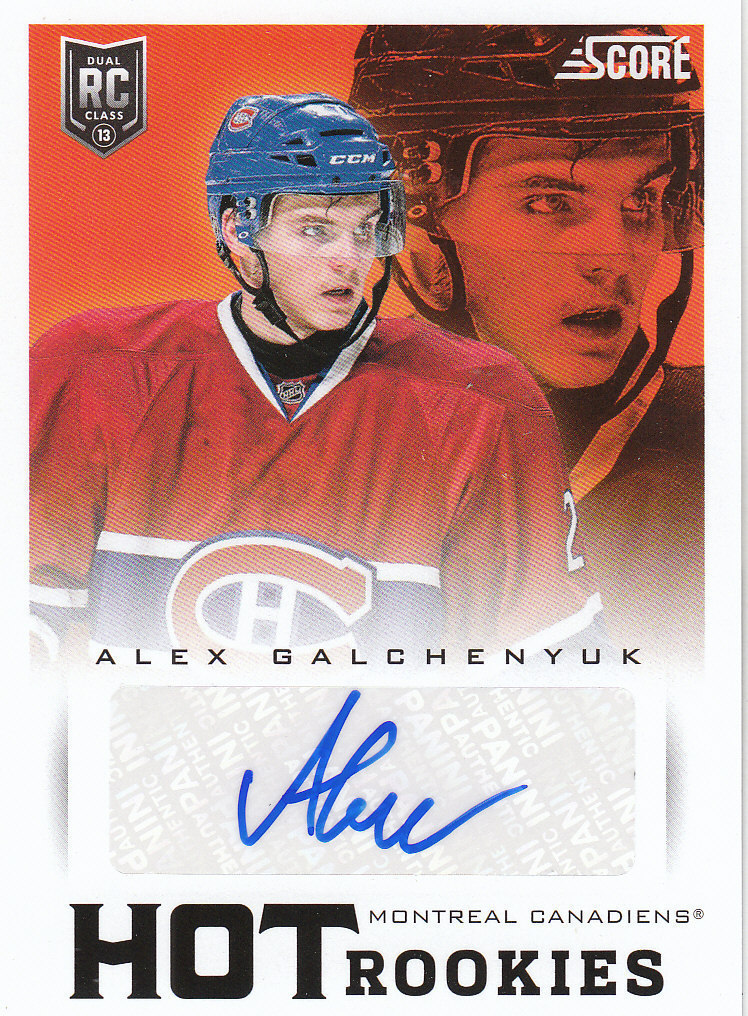 By Susan Lulgjuraj | Beckett Hockey Editor
Score Hockey has been for a week. Collectors have noticed a few trends through box breaks – some cards are tougher to pull than others.
Below is a list of the short-printed hits in 2013-14 Score Hockey.
So, how tough are these pulls?
So far,  few eBay auctions have popped up for Nail Yakupov
or Jonathan Huberdeau autographs and two Alex Galchenyuk
autographs finished at $98 and $80, respectively.
However, a completed auction
for a Yakupov Score autograph sold for $170.
The super short-print cards have a 100 or less copies.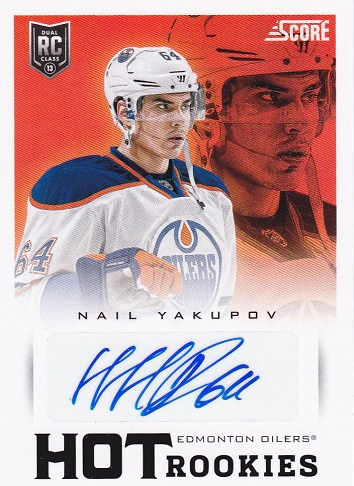 2013-14 Score Shortprints Report
Team 8's Jersey Buffalo Sabres #T8-SAB
Team 8's Jersey Florida Panthers #T8-FLA
Team 8's Jersey Los Angeles Kings #T8-LAK
Team 8's Jersey Detroit Red Wings #T8-DET
Team 8's Jersey Nashville Predators #T8-NAS
Team 8's Jersey New Jersey Devils #T8-DEV
Team 8's Jersey Tampa Bay Lightning #T8-TBL
Team 8's Jersey San Jose Sharks #T8-SJS
Team 8's Jersey Vancouver Canucks #T8-VAN
Team 8's Jersey Winnipeg Jets #T8-JET
Team 8's Jersey Toronto/Montreal #T8-RVL
Team 8's Jersey Chicago Blackhawks #T8-CHI
Team 8's Jersey Pittsburgh Penguins #T8-PIT
Team 8's Jersey Calgary/Edmonton #T8-ALB
Team 8's Jersey Pittsburgh/Washington #T8-PICA
Team 8's Jersey St. Louis/Nashville #T8-STNA
ReCollection Collection All 90-91 Score US versions are 20 or less (Blue Score Logo)
ReCollection Collection All 90-91 Score Bilingual versions are 5 or less (Red Score Logo)
ReCollection Collection All-90-91 Score Rookie & Traded are 15 or less (Yellow Border)
Score Signatures Mikael Samuelsson SSP
Score Signatures Pascal Leclaire SSP
Score Signatures Peter Regin
Score Signatures Chris Summers
Score Signatures Dana Tyrell
Score Signatures Zach Hamill
Score Signatures Justin Falk
Score Signatures Luca Caputi
Score Signatures Keith Aulie
Hot Rookie Signatures Ryan Murphy
Hot Rookie Signatures J.T. Miller
Hot Rookie Signatures Jonas Brodin
Hot Rookie Signatures Jack Campbell
Hot Rookie Signatures Brendan Gallagher
Hot Rookie Signatures Thomas Hickey
Hot Rookie Signatures Emerson Etem
Hot Rookie Signatures Stefan Matteau
Hot Rookie Signatures Justin Schultz
Hot Rookie Signatures Mikhail Grigorenko
Hot Rookie Signatures Alex Galchenyuk SSP
Hot Rookie Signatures Doug Hamilton
Hot Rookie Signatures Vladamir Tarasenko
Hot Rookie Signatures Jonathan Huberdeau SSP
Hot Rookie Signatures Mikael Granlund SSP
Hot Rookie Signatures Nail Yakupov SSP
Susan Lulgjuraj is an editor of Beckett Hockey. You can email her here with questions, comments or ideas. Follow her on Twitter here. Follow Beckett Media on Facebook and Twitter.