Panini previews 2012 NHL Draft Swag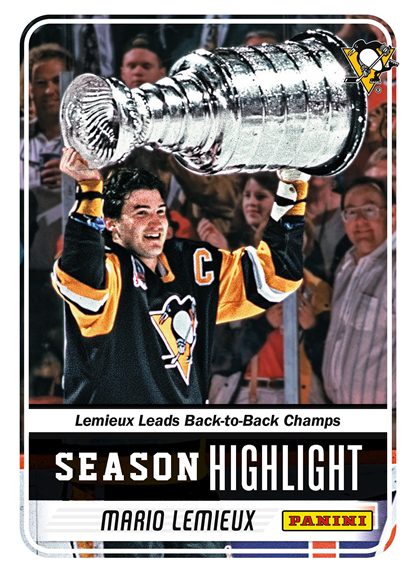 By Andrew Tolentino | Hockey Editor
Once again making its presence known at the NHL Draft, Panini America will appear in Pittsburgh later this week with a Penguin-themed plethora.
Yesterday the company revealed a seven-card Pittsburgh Penguins team set and two more commemorative cards that will be available as a part of the on-site wrapper redemption program.
Taking design notes from the 2011-12 Pinnacle Hockey line, the team set features the following prolific Pens:
1 – Sidney Crosby
2 – Evgeni Malkin
3 – Marc-Andre Fleury
4  – James Neal
5 – Kris Letang
6 – Jordan Staal
7 – Simon Despres
The two commemorative cards pay tribute to Pittsburgh's Stanley Cup championships with Mario Lemieux and Evgeni Malkin hoisting Lord Stanley's prize during their respective eras. Lemieux's card highlights the team's back-to-back championship seasons (1990-91 and 1991-92), and Malkin is seen celebrating the 2009 run.
If you're among the lucky fans attending the 2012 NHL Draft, you can snag these promos by bringing one of the following qualifying products to the Panini booth:
Three unopened hobby packs of 2011-12 Pinnacle Hockey
Three unopened hobby packs of 2011-12 Contenders Hockey
Three unopened hobby packs of 2011-12 Elite Hockey
On the other hand, if you're like the majority of the hockey collecting world, stick around to see when and where these land on the secondary market and pay attention to Panini's blog and Beckett.com to find out how you can snag the swag.