Product preview: 2011-12 Crown Royale Hockey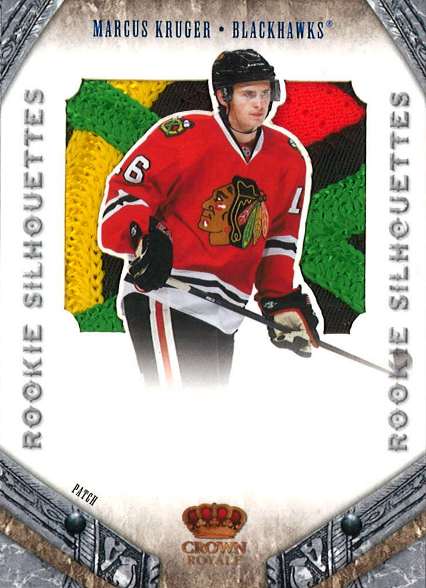 By Susan Lulgjuraj | Contributing Editor
When a card design is successful, it's difficult to replicate that idea without getting stale.
But sometimes a design is so well-received, all it takes is just a minor tweak to make them stand out again to collectors. In Panini America's 2011-12 Crown Royale Hockey – due out Jan. 18 – the Rookie Silhouettes Rookies Cards seem to be another fan favorite based on early reactions.
Panini debuted the design last year with 2010 Crown Royale Football and 2010-11 Crown Royale Hockey. The cards feature on -card autographs below a cut-out of the player. Behind the player is an over-sized player worn jersey piece, usually in the form of a fantastic looking patch. Some of the pictures in the gallery include pre-signature images of the silhouette cards.
These cards seem to be the pinnacle of Crown Royale, but the product certainly has other things to offer collectors.
For $100, collectors will get a four-pack box with five cards in each pack. The hits include two autographs and two memorabilia cards in every box.
Some of the other subsets in Crown Royale, include die-cuts and Crown Royale Ice Kings (hockey legends' on-card autographs).
Several of the signers for the set are listed as Jaromir Jagr, Steven Stamkos, Martin Brodeur and Alex Ovechkin.
Susan Lulgjuraj is a contributing editor for Beckett Media. You can email Susan here. Follow her on Twitter here.