Panini prepares NBA Finals promotion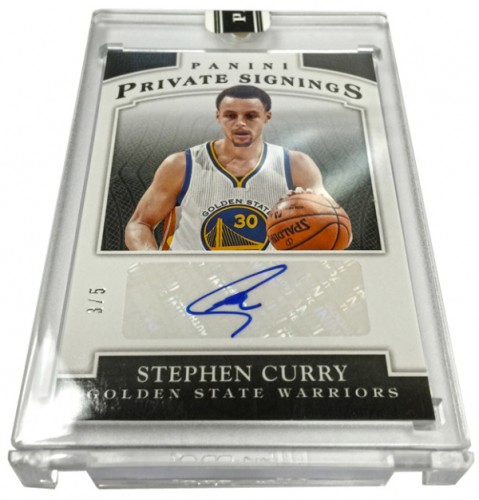 By Stephen Laroche | Beckett Basketball Editor
While basketball fans around the world prepare to watch the opening game of the 2015 NBA Finals between the Cleveland Cavaliers and the Golden State Warriors, collectors will be able to enjoy a special bonus courtesy of Panini America in the form of special promotional packs that will contain some seriously limited autographed cards.
Those that make a qualifying purchase on iCollectPanini.com will receive a one-card pack for every $100 spent on the site and every card inside is numbered to 25 copies or less. Some of them will be one-of-one HyperPlaid parallels which could prove to be very popular on the secondary market. The roster of signers includes a strong mix of current stars, hot rookies and revered legends and they will only be available while supplies last.
What will you need to break to receive one of these packs? Look for an extensive gallery and find out more after the jump.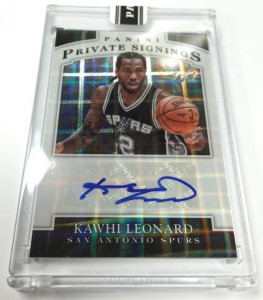 Collectors will need to purchase boxes of eligible products via Panini's online store to get a pack and the roster includes several 2014-15 basketball releases in Gold Standard, Donruss, Totally Certified, Prizm, and NBA Hoops along with last season's editions of Pinnacle and Timeless Treasures.
The largest of three sets created for this promotion is Private Signings, which features 59 different cards. The other two collections focus on this season's freshman performers and Private Signings Rookies will bear a signature, the Rookie Signatures Materials are potentially even more appealing due to the presence of a piece of memorabilia. All of these cards are limited to 25 copies or less and they will have the previously mentioned HyperPlaid parallel version.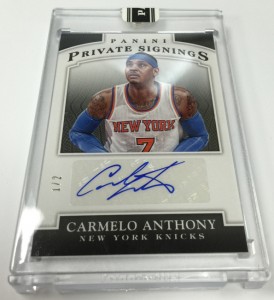 Private Signings
Andre Drummond, Detroit Pistons
Anfernee Hardaway, Orlando Magic
Bill Russell, Boston Celtics
Bill Walton, Portland Trail Blazers
Blake Griffin, Los Angeles Clippers
Bradley Beal, Washington Wizards
Carmelo Anthony, New York Knicks
Chris Andersen, Miami Heat
Chris Bosh, Miami Heat
Chris Mullin, Golden State Warriors
Clyde Drexler, Houston Rockets
David Robinson, San Antonio Spurs
Dennis Rodman, Detroit Pistons
Dikembe Mutombo, Denver Nuggets
Dominique Wilkins, Atlanta Hawks
Dwyane Wade, Miami Heat
Gary Payton, Seattle SuperSonics
George Gervin, San Antonio Spurs
Giannis Antetokounmpo, Milwaukee Bucks
Grant Hill, Phoenix Suns
Hakeem Olajuwon, Houston Rockets
Harrison Barnes, Golden State Warriors
Isiah Thomas, Detroit Pistons
James Worthy, Los Angeles Lakers
Jason Kidd, Dallas Mavericks
Jerry West, Los Angeles Lakers
Jim Jackson, Dallas Mavericks
John Havlicek, Boston Celtics
John Wall, Washington Wizards
Julius Erving, Philadelphia 76ers
Kareem Abdul-Jabbar, Los Angeles Lakers
Karl Malone, Utah Jazz
Kawhi Leonard, San Antonio Spurs
Kevin Durant, Oklahoma City Thunder
Kevin Love, Cleveland Cavaliers
Kevin McHale, Boston Celtics
Kobe Bryant, Los Angeles Lakers
Kyle Korver, Atlanta Hawks
Kyrie Irving, Cleveland Cavaliers
LaMarcus Aldridge, Portland Trail Blazers
Larry Bird, Boston Celtics
Larry Johnson, Charlotte Hornets
Magic Johnson, Los Angeles Lakers
Manu Ginobili, San Antonio Spurs
Mitch Richmond, Sacramento Kings
Nick Young, Los Angeles Lakers
Paul George, Indiana Pacers
Ray Allen, Miami Heat
Rick Barry, Golden State Warriors
Scottie Pippen, Chicago Bulls
Shaquille O'Neal, Los Angeles Lakers
Shaquille O'Neal, Miami Heat
Stephen Curry, Golden State Warriors
Steve Nash, Phoenix Suns
Toni Kukoc, Chicago Bulls
Tracy McGrady, Toronto Raptors
Trey Burke, Utah Jazz
Walt Frazier, New York Knicks
Yao Ming, Houston Rockets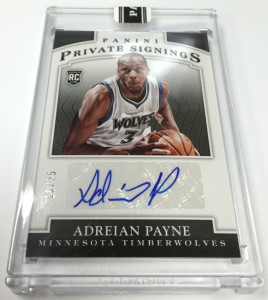 Private Signings Rookies
Adreian Payne, Minnesota Timberwolves
Andrew Wiggins, Minnesota Timberwolves
Bojan Bogdanovic, Brooklyn Nets
Damien Inglis, Milwaukee Bucks
Dante Exum, Utah Jazz
Doug McDermott, Chicago Bulls
Gary Harris, Denver Nuggets
Glenn Robinson III, Philadelphia 76ers
Jabari Parker, Milwaukee Bucks
James Ennis, Miami Heat
Joe Harris, Cleveland Cavaliers
Joel Embiid, Philadelphia 76ers
Johnny O'Bryant, Milwaukee Bucks
Jordan Adams, Memphis Grizzlies
Jordan Clarkson, Los Angeles Lakers
Julius Randle, Los Angeles Lakers
Jusuf Nurkic, Denver Nuggets
K.J. McDaniels, Houston Rockets
Kyle Anderson, San Antonio Spurs
Marcus Smart, Boston Celtics
Mitch McGary, Oklahoma City Thunder
Nik Stauskas, Sacramento Kings
Nikola Mirotic, Chicago Bulls
Noah Vonleh, Charlotte Hornets
Rodney Hood, Utah Jazz
Russ Smith, Memphis Grizzlies
Shabazz Napier, Miami Heat
Spencer Dinwiddie, Detroit Pistons
T.J. Warren, Phoenix Suns
Zach LaVine, Minnesota Timberwolves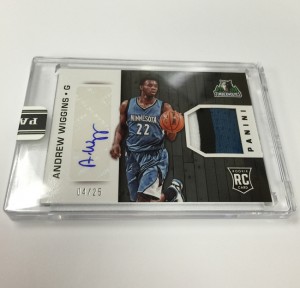 Rookie Signatures Materials
Andrew Wiggins, Minnesota Timberwolves
Dante Exum, Utah Jazz
Doug McDermott, Chicago Bulls
James Young, Boston Celtics
Joel Embiid, Philadelphia 76ers
Julius Randle, Los Angeles Lakers
Marcus Smart, Boston Celtics
Nik Stauskas, Sacramento Kings
Shabazz Napier, Miami Heat
Zach LaVine, Minnesota Timberwolves
Stephen Laroche is the editor of Beckett Basketball and Beckett Hockey magazines. Have a comment, question or idea? Send an e-mail to him at slaroche@beckett.com. Follow him on Twitter @Stephen_Laroche.