Panini Prepares for NFL Draft with Prestige Preview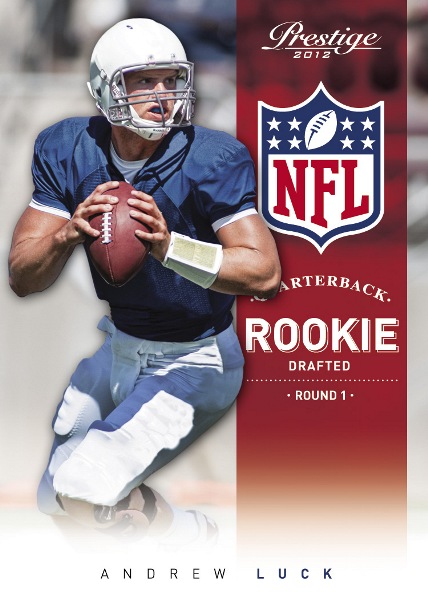 By Andrew Tolentino | Football Editor
Panini America previously offered a subtle sneak peek at 2012 Prestige Football by showing off  the first Tebow-Jets and Manning-Broncos cards. The manufacturer continued to pipe the hype today with more details regarding its June 20 release.
Arming the hobby with the first official Rookie Cards from this year's newcomers, 2012 Prestige will be the platform for Panini's real(ish)-time reveal during this Thursday's 2012 NFL Draft.
Once players are picked, the company's quick-handed design team will dream up and deliver cards similar to the ones seen here, but with respective NFL logos and draft information. Each box will come loaded with 24 packs and a minimum of  two autographs (four hits guaranteed in total). Other box-level finds include: 24 Rookie Cards, one Alternate Rookie, three Extra Points Gold, two Extra Points Blue, two NFL Draft Tickets, three Prestigious Picks Gold, two Draft City Destination, two NFL Passport and six additional inserts or parallels.
The autograph game includes a number of hard-signed pieces found in the following forms:
NFL Draft Ticket Signatures
Draft City Destination Signatures
NFL Passport Signatures
Landing so early in the football card season, Prestige gets its prestige by delivering early Rookie Cards. Newcomers will be featured  in a 100-card Rookie subset headlined by Andrew Luck, Robert Griffin III, Trent Richardson, Ryan Tannehill, Justin Blackmon, Kendall Wright and other big names. Panini also noted that several other fresh faces, including Morris Claiborne, Matt Kalil, Dre Kirkpatrick, Melvin Ingram, Mark Barron, David Wilson and Lamar Miller will have signatures to supplement the increasingly intense autograph chase.
Stay tuned to Beckett.com for more details, preview images and draft-driven updates on the cards seen here.