Panini NFL Player of the Day Hobby Promo Launches 19th Year
For the 19th-consecutive season, the Panini NFL Player of the Day hobby shop promotion will give collectors across the country the chance to spend a day with an NFL player. More than 500 hobby shops across the U.S. are participating during the 2018 NFL season. For a list of participating shops, visit www.PaniniPOD.com.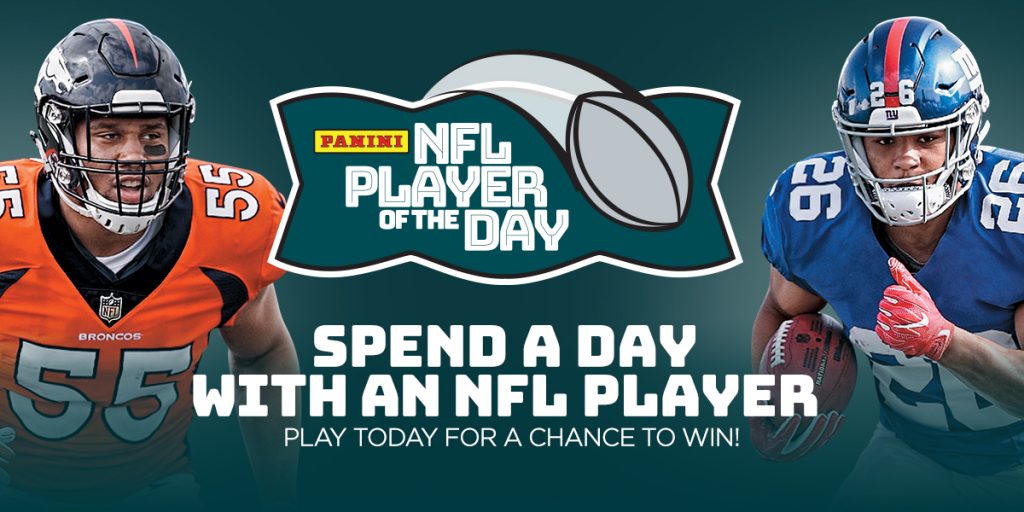 Last year, more than 150,000 NFL card collectors participated in the Panini NFL Player of the Day promotion, winning prizes such as exclusive cards, boxes and autographs. The grand prize winner, 26-year-old collector J.P. Murnan from Overland Park, Kan., spent a day with Kansas City Chiefs quarterback Patrick Mahomes II. J.P.'s friends and family also joined the fun, which included tossing the ball around with Mahomes in the front yard, opening a box of 2017 Panini Flawless, and hosting an autograph and photo session at J.P.'s favorite hobby shop—The Baseball Card Store in Overland Park.
Collectors this season can collect an exclusive 2018 Panini Player of the Day Football card set packed with veteran stars, rookies, memorabilia cards and autographs.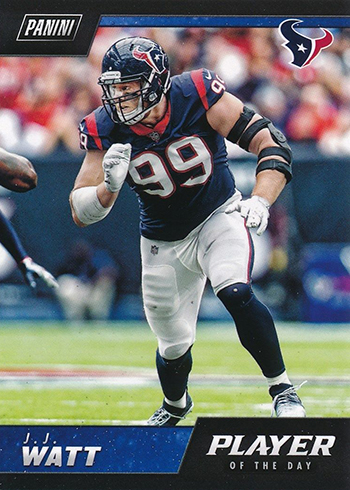 The autograph checklist is the biggest in the promotion's history, with more than 50 players that includes 21 rookies and several legends such as Troy Aikman, Steve Young, Deion Sanders.
In addition to visiting participating hobby shops, collectors can follow the Panini NFL Player of the Day promotion all season long on Twitter (@PaniniPOD) and Facebook for updates and chances to win prizes.
For nearly two decades, Panini and the NFLPA have brought collectors closer to NFL players. Past participating players have included Mahomes, K.J. Wright, Jeremy Langford, Terrence West, Antonio Brown, Prince Amukamara, Beanie Wells, Pierre Thomas, Patrick Crayton, Steve Slaton, AJ Feely, Maurice Jones-Drew, Chris Simms, Rudi Johnson, Donald Driver, Ed McCaffrey, Chad Pennington and Frank Wycheck.
2018 Panini Player of the Day Football Checklist
Base Set
40 cards.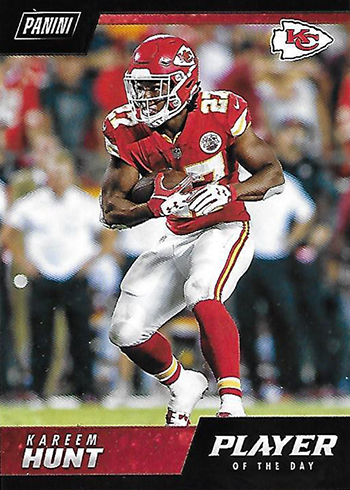 1 Larry Fitzgerald, Arizona Cardinals
2 Matt Ryan, Atlanta Falcons
3 Julio Jones, Atlanta Falcons
4 Cam Newton, Carolina Panthers
5 Luke Kuechly, Carolina Panthers
6 Mitchell Trubisky, Chicago Bears
7 A.J. Green, Cincinnati Bengals
8 Jarvis Landry, Cleveland Browns
9 Dak Prescott, Dallas Cowboys
10 Ezekiel Elliott, Dallas Cowboys
11 Von Miller, Denver Broncos
12 Matthew Stafford, Detroit Lions
13 Aaron Rodgers, Green Bay Packers
14 Deshaun Watson, Houston Texans
15 J.J. Watt, Houston Texans
16 Andrew Luck, Indianapolis Colts
17 Leonard Fournette, Jacksonville Jaguars
18 Patrick Mahomes II, Kansas City Chiefs
19 Kareem Hunt, Kansas City Chiefs
20 Jared Goff, Los Angeles Rams
21 Todd Gurley II, Los Angeles Rams
22 Philip Rivers, Los Angeles Chargers
23 Ryan Tannehill, Miami Dolphins
24 Kirk Cousins, Minnesota Vikings
25 Tom Brady, New England Patriots
26 Rob Gronkowski, New England Patriots
27 Drew Brees, New Orleans Saints
28 Alvin Kamara, New Orleans Saints
29 Odell Beckham Jr., New York Giants
30 Derek Carr, Oakland Raiders
31 Khalil Mack, Oakland Raiders
32 Carson Wentz, Philadelphia Eagles
33 Le'Veon Bell, Pittsburgh Steelers
34 Antonio Brown, Pittsburgh Steelers
35 Jimmy Garoppolo, San Francisco 49ers
36 Russell Wilson, Seattle Seahawks
37 LeSean McCoy, Buffalo Bills
38 Jameis Winston, Tampa Bay Buccaneers
39 Marcus Mariota, Tennessee Titans
40 Alex Smith, Washington Redskins
Rookie Player of the Day
10 cards.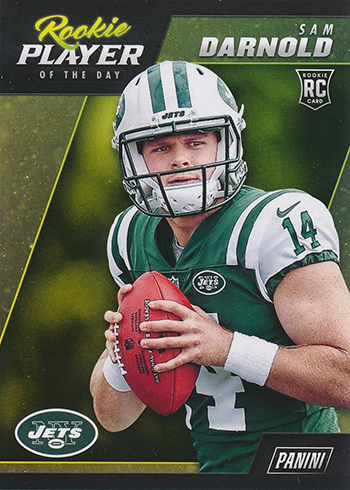 R1 Sam Darnold, New York Jets
R2 Josh Allen, Buffalo Bills
R3 Josh Rosen, Arizona Cardinals
R4 Lamar Jackson, Baltimore Ravens
R5 Baker Mayfield, Cleveland Browns
R6 Saquon Barkley, New York Giants
R7 Bradley Chubb, Denver Broncos
R8 Sony Michel, New England Patriots
R9 Calvin Ridley, Atlanta Falcons
R10 DJ Moore, Carolina Panthers
Autographs
50 cards.
Available through in-store giveaways and other Panini POD-themed contests.
AJ Aaron Jones, Green Bay Packers
BC Bradley Chubb, Denver Broncos
BC Brandin Cooks, Los Angeles Rams
CD Corey Davis, Tennessee Titans
CJ Calvin Johnson, Detroit Lions
CK Christian Kirk, Arizona Cardinals
CS Courtland Sutton, Denver Broncos
DF Devin Funchess, Carolina Panthers
DF D'Onta Foreman, Houston Texans
DG Dallas Goedert, Philadelphia Eagles
DO Dorian O'Daniel, Kansas City Chiefs
DP DeVante Parker, Miami Dolphins
DS Deion Sanders, Atlanta Falcons
DW Denzel Ward, Cleveland Browns
DW Dede Westbrook, Jacksonville Jaguars
EA Eli Apple, New York Giants
GB Giovani Bernard, Cincinnati Bengals
HH Hayden Hurst, Baltimore Ravens
HS Harrison Smith, Minnesota Vikings
JA Jonathan Allen, Washington Redskins
JH Jordan Howard, Chicago Bears
JJ Joshua Jackson, Green Bay Packers
JK John Kelly, Los Angeles Rams
JP Jabrill Peppers, Cleveland Browns
JR John Ross III, Cincinnati Bengals
KD Kenyan Drake, Alabama
KJ Kerryon Johnson, Detroit Lions
KL Kyle Lauletta, New York Giants
KM Kolton Miller, Oakland Raiders
KW K.J. Wright, Seattle Seahawks
LF Luke Falk, Tennessee Titans
MG Michael Gallup, Dallas Cowboys
MJ Matt Jones, Florida
ML Marshon Lattimore, New Orleans Saints
MW Mike White, Dallas Cowboys
MW Mike Williams, Los Angeles Chargers
PP Paul Perkins, UCLA
RJ Ronald Jones II, Tampa Bay Buccaneers
RW Raekwon McMillan, Miami Dolphins
RW Ricky Williams, New Orleans Saints
SM Sony Michel, New England Patriots
ST Solomon Thomas, San Francisco 49ers
SY Steve Young, San Francisco 49ers
TA Troy Aikman, Dallas Cowboys
TB Teddy Bridgewater, New York Jets
TE Tremaine Edmunds, Buffalo Bills
TL Tyquan Lewis, Indianapolis Colts
TL Tanner Lee, Jacksonville Jaguars
TW T.J. Watt, Pittsburgh Steelers
VB Vic Beasley Jr., Atlanta Falcons
Memorabilia Cards
50 cards.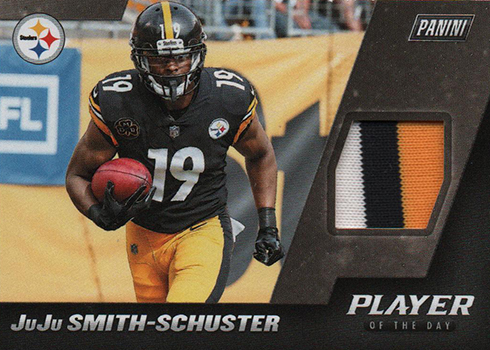 FB 1 Sam Darnold, New York Jets
FB 2 Josh Allen, Buffalo Bills
FB 3 Josh Rosen, Arizona Cardinals
FB 4 Lamar Jackson, Baltimore Ravens
FB 5 Baker Mayfield, Cleveland Browns
FB 6 Saquon Barkley, New York Giants
FB 7 Bradley Chubb, Denver Broncos
Fb 8 Sony Michel, New England Patriots
Fb 9 Calvin Ridley, Atlanta Falcons
FB 10 DJ Moore, Carolina Panthers
FB 11 Christian Kirk, Arizona Cardinals
FB 12 Nick Chubb, Cleveland Browns
FB 13 Michael Gallup, Dallas Cowboys
FB 14 Mike White, Dallas Cowboys
FB 15 Courtland Sutton, Denver Broncos
FB 16 Nyheim Hines, Indianapolis Colts
FB 17 Daurice Fountain, Indianapolis Colts
FB 18 DJ Chark Jr., Jacksonville Jaguars
FB 19 Kyle Lauletta, New York Giants
FB 20 Mason Rudolph, Pittsburgh Steelers
FB 21 Rashaad Penny, Seattle Seahawks
FB 22 Ronald Jones II, Tampa Bay Buccaneers
FB 23 Derrius Guice, Washington Redskins
FB 24 Ito Smith, Atlanta Falcons
FB 25 Kerryon Johnson, Detroit Lions
FB 26 Anthony Miller, Chicago Bears
FB 27 James Washington, Pittsburgh Steelers
FB 28 Dante Pettis, San Francisco 49ers
FB 29 Mike Gesicki, Miami Dolphins
FB30 Hayden Hurst, Baltimore Ravens
FB 31 Sam Darnold, New York Jets
FB 32 Josh Allen, Buffalo Bills
FB 33 Josh Rosen, Arizona Cardinals
FB 34 Lamar Jackson, Baltimore Ravens
FB 35 Baker Mayfield, Cleveland Browns
FB 36 Saquon Barkley, New York Giants
FB 37 Bradley Chubb, Denver Broncos
FB 38 Sony Michel, New England Patriots
FB 39 Calvin Ridley, Atlanta Falcons
FB 40 DJ Moore, Carolina Panthers
FB 41 Alvin Kamara, New Orleans Saints
FB 42 Patrick Mahomes II, Kansas City Chiefs
FB 43 Mitchell Trubisky, Chicago Bears
FB 44 Leonard Fournette, Jacksonville Jaguars
FB 45 Kareem Hunt, Kansas City Chiefs
FB 46 Deshaun Watson, Houston Texans
FB 47 Dalvin Cook, Minnesota Vikings
FB 48 Christian McCaffrey, Carolina Panthers
FB 49 JuJu Smith-Schuster, Pittsburgh Steelers
FB 50 Evan Engram, New York Giants