Panini NBA Player of the Day winner spends the day with Minnesota Timberwolves star Karl-Anthony Towns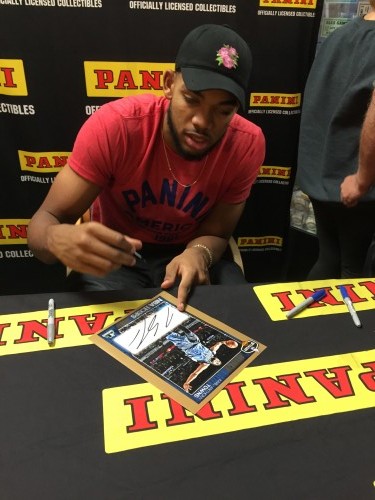 By Stephen Laroche | Beckett Basketball Editor
Last season, Panini America debuted its NBA Player of the Day promotion in hobby stores and thousands of collectors participated in order to win some great prizes – including the chance for one lucky winner to spend the day with an NBA player.
Brian Bolanda, a collector based out of Apple Valley, Minnesota, was the grand prize recipient and earlier today, he and a group of friends and family got a once-in-a-lifetime opportunity to meet and interact with the 2015-16 NBA Rookie of the Year and Minnesota Timberwolves star, Karl-Anthony Towns.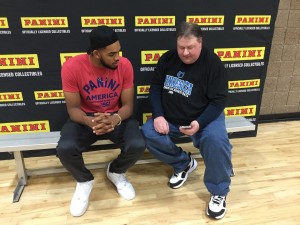 Beckett Basketball was able to speak with Towns after meeting Bolanda and before the excitement moved on to a public signing at the local card shop, The Ballpark, where the first boxes of 2016-17 NBA Hoops were expected to be broken as well.
"This is really exciting. You know, I haven't had a chance to really experience card shops like that here in Minnesota, so this will be my first one and this is an exciting moment.
"It's really cool to get a chance to get back and do a meet-and-great. Meeting the fans is going to be awesome. Apple Valley is much farther away than Minneapolis, so I'll get to meet a bunch of fans from different areas of Minnesota is going to be cool."
Towns, who worked in a card store as a teenager and is an active basketball card collector today, noted that he does not get out to shop for cards as much as he would like.
"It hasn't ever been easy," he laughed. "I'm seven feet tall! It makes it a little hard… I probably will be busting some packs and some boxes of card today and it's going to be a lot of fun."
What boxes has he broken over the past few months?
"Probably at the end of the season, that was the last time I opened a box. I keep them for special occasions. I definitely loved the Gold Standard. They were really nice to me and gave me a Kobe (Bryant) autograph card. That's pretty nice."
But has he been lucky enough to pull one of his own cards from a pack?
"No, I haven't. I haven't been able to acquire any of my own cards. I'm not that fortunate."
Towns, who is the cover subject for the NBA 2K17 video game, also has been getting his trading card fix through the Panini Dunk app.
"I enjoy the app," he said. "I enjoy it a lot. I spend a lot of my time playing the MyNBA2K app. I always stop by every day to make sure that I grab some Dunk cards."
How has his digital card collection progressed thus far?
"I'm just trying to finish off collections. I'm just trying to finish off anything I can, but I haven't even got my own card on the mobile one, so that's something I'm still going for."
In recent months, Dunk created an extremely limited set of National Treasures digital autographed patch cards and the Towns card was a reward for completing the set. Ultimately, just 14 were claimed and Towns was impressed by the card.
"That was dope. There's been a lot of great cards and Panini has been really, really great to me and a lot of the Dunk cards you can get in the app are awesome."
Heading into his sophomore season, Towns and the Timberwolves are a team on the rise and he spoke of what he and his teammates are looking to accomplish in 2016-17.
"Right now, we're doing what we're supposed to do. We've had a great training camp, we've had great practices. Now, we've just got to go out there and execute and be the team that we see ourselves being and definitely do great for ourselves."
Towns also had high praise for Kris Dunn, who will be making his debut with the Timberwolves this fall.
"He's been great. He works hard and he's a great defender. He gives us something this year that we can definitely use, which is another defensive presence."
The experience of being the focus of the Panini Player of the Day is an honor that was not lost on Towns.
"It's been great. I've been having a lot of fun and this is something that only Panini can make up."
Collectors looking for a chance at a similar experience can participate in the Panini NFL Player of the Day promotion which is presently running until November 30.
Stephen Laroche is the editor of Beckett Hockey, Beckett Basketball, and Beckett Sports Card Monthly magazines. Have a comment, question or idea? Send an e-mail to him at slaroche@beckett.com or follow him on Twitter @Stephen_Laroche.