Panini Makes Hockey Splash With Kakko, Kravtsov Agreements
Panini America created a stir in the sports-collectibles marketplace last month when it announced it had signed 2019 second-overall pick Kaapo Kakko to an exclusive autograph trading-card agreement. Today, we learn that the company's hockey plans are even bigger than initially suspected.
On Wednesday, Oct. 2, the company will release 2019-20 Score Hockey as a direct-to-consumer product available exclusively through iCollectPanini.com.
Added Prospect
The company's first hockey product in five years will include more than just Kakko, though. Panini is expected to announce later today the signing of fellow New York Rangers rookie Vitali Kravtsov as another exclusive autograph trading-card athlete.
Kravtsov, the ninth overall pick in the 2018 NHL Draft, showed well in training camp and, while he was among the team's last cuts on Monday morning, he's expected to earn a call-up to New York this season. The 19-year-old winger is sure to attract hobby attention with his ability to drive the attack and create the sort of offensive chances that become viral moments.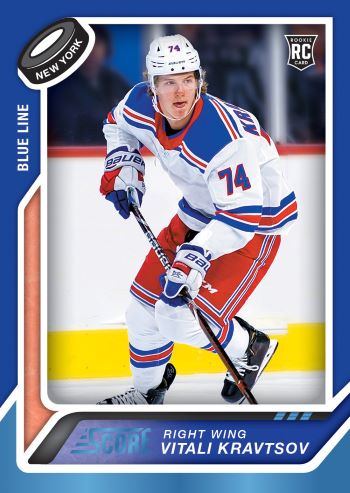 "He's an elite skater and playmaker," a scout told Beckett.com on Monday. "He's a player who makes things happen on his own. He processes the game quickly. He doesn't need much of an opening to generate a scoring chance."
Kravtsov was a force last season as an 18-year-old with Traktor Chelyabinsk of the Kontinental Hockey League, chipping in on nearly 27 percent of his team's goals. That's comparable to the impacts of Artemi Panarin and Evgeni Kuznetsov in their post-draft season in the KHL.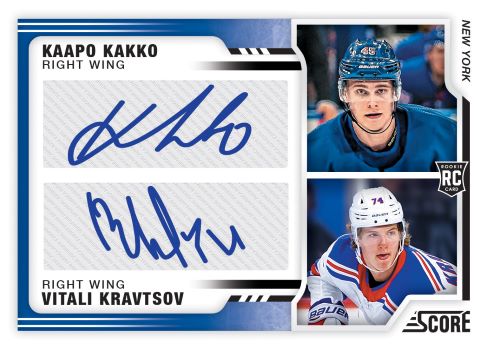 Packing a Punch
While Kakko and Kravtsov won't skate side by side when the season starts for the Rangers, they'll definitely join forces in Panini's 2019-20 Score Hockey. Each two-card pack of 2019-20 Score will include one card of either Kakko or Kravtsov, along with one autograph or parallel card featuring one or both players. Possible pulls include limited dual autographs, Black parallels (not numbered), Red Line (/99), Blue Line (/49), Goal Line (/25), Artist's Proof (/5) and Cracked Ice Master Proofs numbered to only one.
The price point of the product is not yet known.
Score will be the first of several Panini hockey releases to highlight the two young stars through their rookie campaigns.
Both Kakko and Kravtsov will be featured throughout the 2019-20 season on Panini's Instant platform – which celebrates real-time performances and milestones with cards available in real-time for just 24 hours on www.paniniamerica.net or the Panini Direct app.