Panini gives us a gander at 2011-12 Score Hockey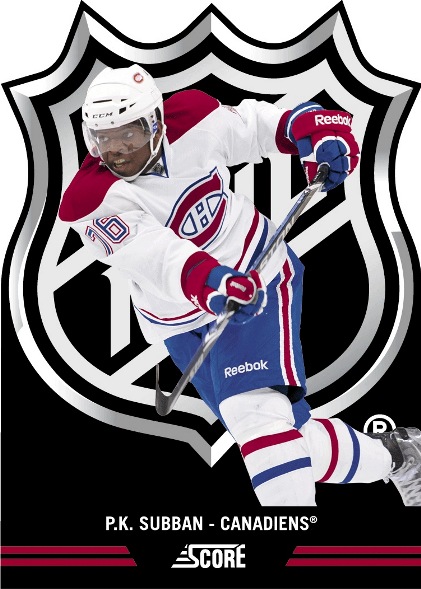 By Andrew Tolentino | Hockey Editor
After a full year of being back on the ice, Panini's hockey brands are ready for another round.
Wrapping up with high-end Dominion, the manufacturer will begin the new cycle with value-focused 2011-12 Score. Hockey fans will see the beginner level brand hit shelves in late October — just a few weeks after the revived Winnipeg Jets and the rest of the league takes off again.
Each 36-pack box brandishes high-percentage promises for completing the 500-card base set bolstered by the coveted Recollection Collection — a series of hard-signed cards bought back and autographed by legends like Mark Messier, Steve Yzerman, Patrick Roy and Ray Borque. Hits from current players can be found in the form of Hot Rookies and Score Signatures autographs.
Beyond the rare, but value-enhancing inclusions, 2011-12 Score features four familiar subsets …
Season Highlights
Playoff Highlights
Hot Rookies (45 in total)
Hot Rookies Short Prints
The by-the-box breakdown averages 36 glossy parallels,  18 Hot Rookies and one Gold Rush parallel. Black Ice parallels fall far less frequency at one per case.  Adding variety and quantity to the product, Panini announced a minimum 10 inserts including:
Making an Entrance (Three per box)
Net Cam (Three per box)
Sudden Death (Two per box)
First Goal (One per box)
Playoff Heroes (One per box)
NHL Shield Die-Cut (One per box)
Brand-spankin' new like First Goal and Making an Entrance cards, others making an entrance include Score B and The Franchise Retro inserts, Stanley Cup Champs and Santa Claus SPs. Panini also quietly revealed that there is one more "super-secret insert" that will be kept secret until further notice. What could it be?
Considering the inclusion of one "Santa Claus," I'm putting my money on the Easter Bunny.
Stay tuned to Beckett.com to discover the mystery as it is revealed.