Panini entertains Dallas crowd with college basketball favorites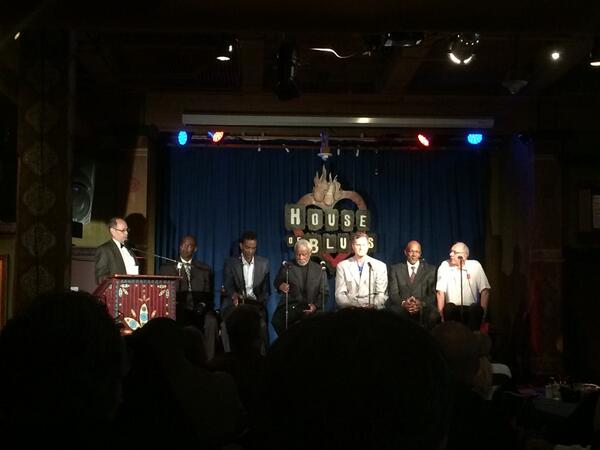 By Derek Ficken | Beckett Radio & Market Analyst
The NCAA National Championship wraps up today with the University of Kentucky against the University of Connecticut. Panini America got sports fans ready for the national title game with Panini March Memories Brunch, a roundtable discussion with six college basketball favorites at the House of Blues in Dallas.
The company also announced an exclusive agreement with NBA prospect Dante Exum, who attended the Sunday event. Exum's basketball cards will only appear Panini products, and he agreed to sign a number of memorabilia items for Panini Authentic.
Panini gathered many former players, including Danny Manning, Ralph Sampson, Christian Laettner, Clyde Drexler, and coaches Jim Boeheim and Nolan Richardson as the panelists. The hour-long discussions ranged from great NCAA moments to game-time preparation to advice for Exum.
One of the topics hit on the University of Kentucky's Aaron Harrison who sank a 3-pointer with 5 seconds left in Saturday's national semifinal to send the Wildcats to the championship game.
"Those big shots coming from a freshman are remarkable and I was lucky enough to hit some shots like that maybe in my career, but it was when I was a sophomore and a senior, and I missed some big shots as a freshman," said Laettner, who is no stranger to big shots during his days with Duke.
Laettner also said he "impressed by his moxy" on how Harrison can make big-time shots like the winner against Wisconsin to propel them into the Final on Monday.
Of course, Laettner couldn't talk mention impressive shots without someone mentioning one of the most famous college basketball moments in history. In the 1992 Elite Eight against Kentucky, Laettner hit a last-second, turn-around jumper to give Duke a 104-103 win – a moment that has gone down as one of the greatest in sports history.
Laettner told the crowd of about 50 the best part of the situation was how he just wanted to make the shot so he would have the chance to play a few more games with his Duke teammates such as Grant Hill and Bobby Hurley.
Richardson, who coached the Arkansas Razorbacks to an NCAA National Championship in 1994, talked about preparation.
"For me, we played basketball all year long, and for me, we prepare our basketball team for the National Championship game," Richardson said. "There's nothing that I can do that's going to help you win, but what we've done over the course of the year, that should be enough to prepare you. Win or lose, as long as you give them holy hell, we got a chance to win."
After his response, emcee Ernie Johnson, the host of NBA on TNT, joked there must be 15 people in the audience who want suit up for Richardson, who still has that motivational factor to win.
Exum had a portion of the discussion dedicated to him. Each panelist gave a quick speech on what Australia's new top basketballer and potential lottery pick for the upcoming NBA Draft, should expect in the NBA. Among the responses, Ralph Sampson said to "have a passion 24/7 to play the game."
Drexler commented by saying, "I would get bigger, stronger, and faster. I played 15 years in the NBA, and every year my thought was I got to get better."
Coach Jim Boeheim rounded out the question by being brutally honest.
"For the first time in your life, probably, you will get your ass kicked. A lot. And it is how you react to that and handle that." Boeheim said. "This is going to be the toughest thing you've ever seen in your life and it's how you handle it, how you bounce back, play through it and it's not going to happen right away. It's going to take time, a lot of time, and it's just how you handle it."
The Panini America event was a success as audience members were treated to an hour-long discussion with college basketball legends, a candid look into their thoughts on the future the game, and a look into the past on the greatest moments of their collegiate careers.
Listen to the entire discussion below. Tune into Beckett Radio every Thursday for the latest hobby discussion, and follow Beckett Radio on Twitter.