Panini Details 2014 Immaculate Collection FB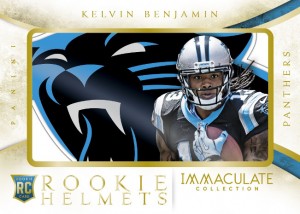 Following the high-end football debut of 2014 Flawless, Panini released more details, and more images, for its Immaculate Collection football brand. Boxes will include six cards and will deliver five autograph or memorabilia cards.
On-card autograph memorabilia cards include Premium Patches Autographs and Premium Patches Rookie Autographs. Large patch swatches appear in Team Logo, Jersey Number and Jersey Patch inserts. Immaculate Moments highlights some of the greatest moments in NFL history. Rookie Patch Autographs will be numbered to 99 or less with Acetate parallels numbered to the player's jersey number. Rookie Helmet Team Logos feature helmet decals from top rookies.
Other inserts will include Pro Bowl, Champions (both autographed), Immaculate Signatures Patches, and Immaculate Fours with four NFL shields on one card (numbered 1 of 1). Immaculate Collection is scheduled to release in late January. See the 10 preview images (renderings) below.