Panini creates special set for 2017 Basketball Hall of Fame inductees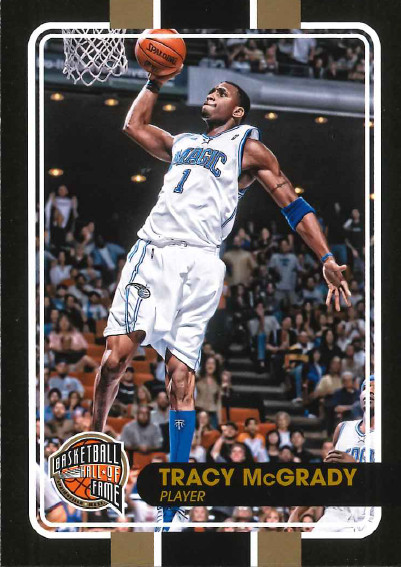 By Stephen Laroche | Beckett Basketball Editor
In what has become an annual tradition, Panini America will be giving out a special set of cards this weekend featuring members of the 2017 class of inductees for the Naismith Memorial Basketball Hall of Fame.
Available only at the Hall of Fame Reunion & Awards Dinner in Springfield this Saturday, the 12-card pack featuring Tracy McGrady, Rebecca Lobo, and nine other new members will be handed out as part of the gift bags given to attendees. As an additional bonus, there will also be a manufactured patch card created exclusively for the event.
"I love the fact we are able to capture the entire class," said Panini's Marketing Manager, Scott Prusha. "The process takes time, we have cards for the finalist to sign at the Final Four when they are announced. Then from there, we create the contributors and the set comes together. It's unique in that some of the Hall of Famers don't have a lot of cards, if any at all, so this might end up being their Rookie Card!"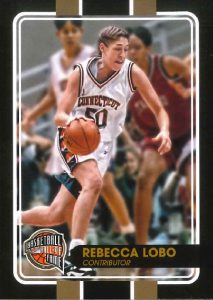 McGrady, a two-time NBA scoring that played for 15 seasons, is certainly the most familiar name to collectors in the Class of 2017 and there are over 5,000 cards – including over 1,000 different autograph cards – of him on the market.
Longtime hobbyists may recall the popularity of Lobo's cards in the early years of the WNBA. She has 88 different cards in the Beckett database, but just six of them are certified autographs which all came out in the 2007 Donruss Elite Extra Edition product which featured multiple sports.
As for the other members of the group, two-time AP College Coach of the Year Bill Self had several cards in Upper Deck collegiate-themed releases in the past while ABA legend George McGinnis has both vintage and modern cards which include autographs and memorabilia.
These are the first cards made by a major manufacturer of former Chicago Bulls General Manager Jerry Krause and there are no cards in the Beckett database of 2001 NCAA championship coach Muffet McGraw, pioneer Zachary Clayton, former Harlem Globetrotter Mannie Jackson, Greek league star Nick Galis, Texas high school coaching legend Robert Hughes, or NCAA administrator Tom Jernstedt.
Tickets for the Dinner and other Naismith Memorial Basketball Hall of Fame Induction Weekend events can be purchased here.
Stephen Laroche is the editor of Beckett Hockey, Beckett Basketball, and Beckett Sports Card Monthly magazines. Have a comment, question or idea? Send an e-mail to him at slaroche@beckett.com or follow him on Twitter @Stephen_Laroche.