Panini Confirms all short-printed RCs in 2011 Playoff Contenders Football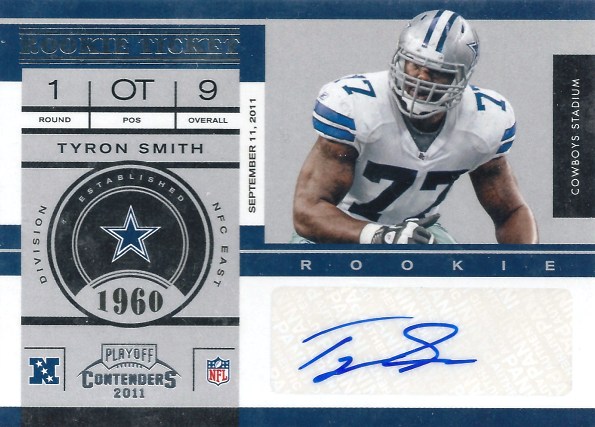 By Andrew Tolentino | Football Editor
With Panini America's 2011 Playoff Contenders Football product now live and flowing on the secondary market, some collectors have managed to glean which cards are short-printed and which cards are not. Today, the company put speculation to rest by revealing the entire list of those coveted, short-printed Rookie Cards that seem to fuel the chase year after year.
Offering good reason to go after certain short-print Rookie Ticket cards, the manufacturer pointed out a Tyron Smith card that recently sold for $475.  "Quick: When's the last time a Rookie Card of an offensive lineman sold for more than $450?" Panini's Tracy Hackler rhetorically pondered. "The fact of the matter is that Smith's is the shortest RC in the set with a print run of just 23 total copies."
Current anecdote aside, it's no secret that these cards have a history of selling well. Check out the lottery-like list of cards limited to 400 or less after the jump.
2011 Playoff Contenders Rookie Tickets
#185 Tyron Smith, Dallas Cowboys — 23
#140 Jeremy Kerley, New York Jets — 82
#102 Aaron williams, Buffalo Bills — 99
#115 Cameron Heyward, Pittsburgh Steelers — 99
#116 Cameron Jordan, New Orleans Saints — 99
#118 Cecil Shorts III, Jacksonville Jaguars — 99
#119 Charles Clay, Miami Dolphins — 99
#128 DeMarco Sampson, Arizona Cardinals — 99
#146 Julius Thomas, Denver Broncos — 99
#155 Jake Ballard, New York Giants — 99
#160 Nathan Enderle, Chicago Bears — 99
#162 Owen Marecic, Cleveland Browns — 99
#187 Weslye Saunders, Pittsburgh Steelers — 99
#196 Jacquian Williams, New York Giants — 99
#106 Aldon Smith, San Francisco 49ers — 102
#103 Adrian Clayborn, Tampa Bay Buccaneers — 114
#148 Kealoha Pilares, Carolina Panthers — 127
#157 Martez Wilson, New Orleans Saints — 134
#179 Stephen Burton, Minnesota Vikings — 140
#161 Niles Paul, Washington Redskins — 152
#122 D.J. Williams, Green Bay Packers — 171
#141 Jimmy Smith, Baltimore Ravens — 173
#105 Akeem Ayers, Tennessee Titans — 188
#171 Ronald Johnson, Philadelphia Eagles — 192
#183 Tyler Sash, New York Giants — 193
#135 Greg McElroy, New York Jets — 204
#165 Prince Amukamara, New York Giants — 213
#130 Dion Lewis, Philadelphia Eagles — 224
#151 Lance Kendricks, St. Louis Rams — 298
#167 Rahim Moore, Denver Broncos — 316
#199 Patrick Peterson, Arizona Cardinals — 343
#163 Phil Taylor, Cleveland Browns — 371
* Bolded lines indicate cards were inserted as redemptions
2011 Playoff Contenders Football Rookie Ink
A.J. Green — 25
Alex Green — 100
Andy Dalton — 100
Austin Pettis — 50
Bilal Powell — 25
Blaine Gabbert — 25
Cam Newton — 25
Christian Ponder — 50
Clyde Gates — 50
Colin Kaepernick — 100
Daniel Thomas — 100
Delone Carter — 100
DeMarco Murray — 100
Greg Little — 50
Jake Locker — 50
Jamie Harper — 100
Jerrel Jernigan — 50
Jonathan Baldwin — 100
Jordan Todman — 100
Julio Jones — 100
Kendall Hunter — 100
Kyle Rudolph — 100
Leonard Hankerson — 100
Marcell Dareus — 50
Mark Ingram — 100
Mikel Leshoure — 100
Randall Cobb — 100
Ryan Mallett — 25
Ryan Williams — 100
Shane Vereen — 100
Stevan Ridley — 50
Taiwan Jones — 25
Titus Young — 100
Torrey Smith — 100
Vincent Brown — 100
Von Miller — 100
2011 Playoff Contenders Football Rookie Ticket Photo Variation
A.J. Green — 25
Alex Green — 100
Andy Dalton — 100
Austin Pettis — 50
Bilal Powell — 25
Blaine Gabbert — 25
Cam Newton — 25
Christian Ponder — 50
Clyde Gates — 50
Colin Kaepernick — 250
Daniel Thomas — 100
Delone Carter — 100
DeMarco Murray — 250
Greg Little — 50
Jake Locker — 50
Jamie Harper — 250
Jerrel Jernigan — 50
Jonathan Baldwin — 250
Jordan Todman — 250
Julio Jones — 250
Kendall Hunter — 100
Kyle Rudolph — 100
Leonard Hankerson — 100
Marcell Dareus — 50
Mark Ingram — 100
Mikel Leshoure — 250
Randall Cobb — 250
Ryan Mallett — 25
Ryan Williams — 250
Shane Vereen — 250
Stevan Ridley — 50
Taiwan Jones — 25
Titus Young — 250
Torrey Smith — 250
Vincent Brown — 250
Von Miller — 100