Panini brings batting helmets back in cards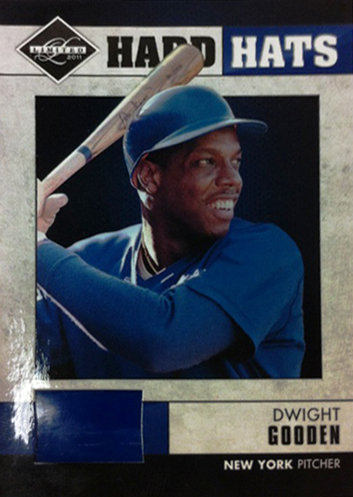 By Chris Olds | Beckett Baseball Editor
Along with bats, the batting helmet might be the most used and abused — yet still appealing — piece of game-used memorabilia available to collectors.
They get thrown, scuffed, caked with pine tar, cracked … you name it, they show it.
But when it comes to game-used memorabilia cards, there just aren't that many helmet cards to go around — not many at all — but Panini America is about to change that with its forthcoming (delayed) 2011 Limited baseball set, which arrives next week packing three autographs or memorabilia cards in every seven-card box. (Need a checklist from a past Limited set or an OPG? Click here.)
One of the memorabilia card options to be found in packs of Limited are Hard Hats, a return of the name introduced with the first batting helmet brand made by the former Donruss/Playoff company back in 2003. However, the first game-used batting helmet card was made by Fleer back in 2000 — and Topps had a selection of helmet cards in an early 2000s Bowman release.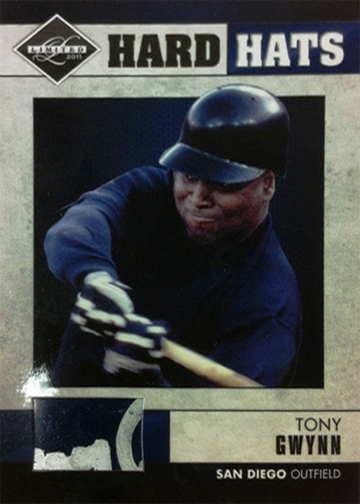 In all, just 150 different memorabilia cards have been made using game-used batting helmets — a likely product of the cost of acquiring the items (at times more expensive than a bat or jersey), the difficulty of cutting them up and the number of swatches that can be made from the item. That means batting helmet cards are more expensive to produce, per card, than say a game-used bat, which can generate many more pieces to be placed into many more cards.
The first batting helmet card, according to the Beckett.com database, appeared in 2000 Fleer Mystique, a Dave Winfield card limited to just 40 copies. The first larger-scale sets to include helmets were the 2001 Bowman Multiple Game Relics and 2001 Bowman Multiple Game Relics Autographs. These cards included a piece of game-used jerseys, bases and helmets for players in the 2000 All-Star Futures Game — all on one card.
In 2003, the Leaf set included 12 Hard Hats cards of top stars with each limited to just 100 copies. Some of the big names in there include George Brett, Tony Gwynn, Jeff Bagwell and Alex Rodriguez. The remainder of the 150 helmet cards in existence were scattered throughout 2005 Absolute Memorabilia in its Tools of The Trade inserts, which included as many as six memorabilia pieces from multiple types of items, and a small number of helmet cards in 2005 Prime Patches for three players: Paul Molitor, Rod Carew and Craig Biggio.
Panini declined to provide any additional info about the forthcoming Hard Hats, so details about the checklist are slim. But the checklist will include Tony Gwynn, Dwight Gooden and Kirk Gibson for starters, and collectors will soon start finding out more soon when they rip into packs.
Chris Olds is the editor of Beckett Baseball magazine. Have a comment, question or idea? Send an email to him at colds@beckett.com. Follow him on Twitter by clicking here.