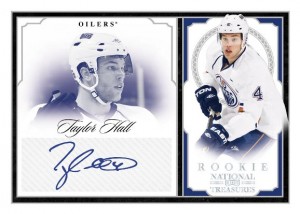 By Susan Lulgjuraj | Contributing Editor
When 2011 Zenith Hockey comes out on May 11, the question collectors will find themselves asking isn't whether to buy, but "Should I rip?"
Panini America is resurrecting Zenith Hockey and bringing back the product that started the trend of over-sized rip box-toppers. Some of the goodies collectors can find inside the Dare to Tear box toppers are Epix inserts, exclusive National Treasures and Donruss Elite Rookie Cards.
Each box ($10 SRP per pack) should yield three autographs or memorabilia cards with at least one autograph guaranteed, one Zenith-RC, four short-printed Legends, one Hot-Red parallel and one card of each insert: Gifted Grinders and Crease is the Word.
"The key to making this work is to force collectors to make a tough decision," said Al Muir, Panini America NHL Brand Manager. "Each Dare to Tear jumbo will feature either a true RC or one of hockey's greatest legends and it will be fairly limited. If you tear one, you're destroying a sure thing . . . but what you find inside might just make it worthwhile."
See a gallery after the jump:
Rip cards are not rare in the hobby anymore, but Zenith began the concept in the 1990s. At the time, it was a controversial idea, but rip cards have proven to be successful especially on the secondary market. The thought of getting a rare 1/1 piece is enough to get many to tear it open in hopes of finding a gem.
But Zenith isn't just about the box topper. There will be more than 200 Rookie Cards in the product.
"Obviously rookies have to be a compelling part of any modern program, but Zenith just developed into something else in a really organic way," Muir said. "We originally planned for 50 RCs, but there was a tremendous influx of first-year talent in December and January that forced us to reconsider the possibilities. We know collectors want to see these players and as quickly as possible, so Zenith provided the proverbial window of opportunity. As more rookies made their debuts, we reconfigured the product to add more and more of them."
While it may seem odd to some collectors that Panini is including National Treasures and Donruss Elite in the rip cards, it was done because Panini does not intend to make full sets of either product for hockey this year. However, the company wanted hockey fans to enjoy some of the high-end lines that basketball and football receive, but in a smaller dose.
"We'll definitely gauge how collectors respond to these in the secondary market," Muir said. "If the demand is there, we could certainly spin them off into their own entities as we move forward."
Susan Lulgjuraj is a contributing editor for Beckett Media. You can email Susan here. Follow her on Twitter here.